This apartment was redesigned with plenty of storage space for its family's growing collection of keepsakes.
This apartment was redesigned with plenty of storage space for its family's growing collection of keepsakes.
WHO A couple in their 50s and their two daughters. HOME Three-bedroom condominium apartment in Pasir Panjang. SIZE 1,400sqf.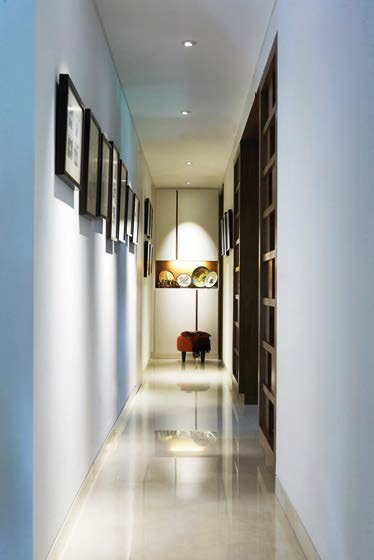 Having lived in this condominium unit for over two decades, homeowners Cecilia Tan and her husband wanted to clear the clutter that had accumulated. "I had wanted to spring clean the home for a long time!" quips Cecilia. Aside from desiring a neutral palette, the couple knew they needed plenty of storage space to accommodate their many travel souvenirs collected over the years.
They worked with Kelvin Bing, design director of Renaissance Planners & Designers, for the overhaul, which cost $400,000 (including furnishings). Besides display and storage units, marble flooring throughout the home give it an elegant and luxurious appeal, and designer furniture pieces in light and earthy tones create a welcoming ambience.
Along the corridor leading to the family room is a full-height display cabinet made of solid Sapele wood, which was designed to look like an oriental-style etagere, and provides sufficient space for Cecilia to showcase her Chinese teapot collection.
The kitchen has a sleek modern design, and is built with plenty of hidden storage space to keep it looking neat and clutter-free.
A similar design is adapted for the master bedroom, where Cecilia has her collection of bottled sand from places such as Africa and Bali. "Sand from different places has different grains and tones," Cecilia explains.
Also, what looks like a feature wall in the master bedroom conceals a wardrobe and cabinets where she keeps her evening gowns, bags, and other knick-knacks. Although she has many belongings, the space is always kept neat and tidy thanks to this storage solution! In the rest of the home, a special feature in the dining area is the large backlit mirror which, when lit, reveals words that celebrate the family's faith, etched at the back.
A mirror was applied on the false ceiling to visually enhance the height of the space. Kelvin separated the dry and wet kitchen with a sliding door, and the kitchen cabinetry is fitted with Blum's automated hydraulic system for opening and closing. Wood-look laminate from Lamitak is used for the cabinetry, tying together the now clean and contemporary aesthetic of the home.
WHERE TO GO
Renaissance Planners & Designers, TEL: 6291-1545.