This homeowner sees interior design as a process involving the dressing up of a home. His carefully curated collection of things French and European transports LYNN TAN into the heart of a Parisian maison.
Just beyond the foyer sits a sideboard from Stellar Works flanked by Luceplan Costanza standing lamps by Paolo Rizzatto and two Ren chairs, also from Stellar Works. 
Built-in furniture has been kept minimal as Wen wanted the flexibility to be able to move things around. The faded reddish patina of the Persian rug complements the brass of the coffee tables. 
Wen calculated the mouldings' height and size to ensure their proportions were just right for the interior. 
He played around with various furniture arrangements before settling on this layout. 
WHO LIVES HERE
A business owner and his wife
HOME A three-bedroom condominium on East Coast Road
SIZE 2,100 sq ft 
Trained as an interior designer, homeowner and businessman Wen, who is of Singaporean and Taiwanese descent, specialised in commercial projects in Taiwan and China before returning to Singapore in 2016 to join the family business. When he and wife Sheena bought their first home here, Wen knew he had to design it himself. "Having worked in markets like Taiwan and China, I have been exposed to all the big players and how versatile the design scene is. I was also going to source for many of the furniture pieces and materials overseas, so it would be easier to just do it myself," he rationalises.
He took a tabula rasa approach as the apartment was from the 1980s and in need of a major renovation. The floors, walls and ceiling were stripped bare and redone, the kitchen wall was hacked away and some of the unnecessary and awkward window openings were sealed up. Wen even rewired the whole place.
"I was inspired to create a contemporary French theme because I love Paris. I visit the French capital often as my sister lives there. It was also a challenge to see if I could pull off a French-style apartment in Singapore," he reveals.
The design itself was conceptualised in just two weeks, but the entire renovation took three to four months to complete as certain materials, like the Belgium cornices and some of the furnishings that were procured from stores or auction houses overseas, took some time to arrive. The most challenging aspect of the project was, in fact, furniture sourcing. "It was time-consuming as I was not always able to find what I wanted at the right price." 
To the left of the foyer is the dining area. An acacia wood dining table with an unusual blush undertone is complemented by a set of pink Gubi Beetle dining chairs. Brass chair legs offer the first hint of a French accent. 
As the couple seldom watch TV, Wen decided not to have a TV set in the living room as it "disrupts the lines". 
FOR WEN, APART FROM CRAFTING AN INTERIOR WITH A CONTEMPORARY FRENCH THEME, IT WAS ALSO ABOUT CREATING DIFFERENT VIBES WITHIN DIFFERENT ZONES. 
The original kitchen wall was replaced with telescopic sliding glass doors to create an open plan and the kitchen was given a more contemporary treatment with a monochromatic grey and white palette. Wen added an island on which a coffee machine now takes pride of place. Miunn bar stools by Finnish designer Karri Monni for Italian brand Lapalma complete the set-up.
An existing beam between the dining and living areas has been designed as part of a frame that establishes a notional separation between the two spaces while the herringbone flooring, light green walls and European elements such as wainscoting and white ceiling mouldings continue throughout.
"Many people tend to associate white with the French, but light green walls are common in France," Wen points out. Other pieces such as the coffee table and media console from French labels Maison Jansen and Ligne Roset accentuate the French theme in the living room.
A Lifesteel sofa and Boss armchair from Flexform have been woven into the scheme to add a contemporary touch. Green may be an uncommon shade for a sofa, but in this case, it echoes the hue of the walls perfectly while injecting colour into the interior. "I like Flexform furniture for their workmanship and design. Even though I can source for furniture directly from Europe through my contacts, the Flexform pieces are still considered reasonably-priced," Wen says.
Against one wall of the living room is a purposefully symmetrical composition that is "typical of the French". A pair of Happy Hour armchairs from Flexform sit on either side of a Ligne Roset Oxydation side table. On the wall behind them, two Zenith wall sconces from Baccarat flank a reproduction of an oil painting called Strawberry on Tinfoil by Han Wu-lin, Wen's uncle. In keeping with the language of symmetry, sections of the original French windows that extend the full width of the balcony outside the living room have been deliberately sealed off to create double-leaf doors with sheer drapes. 
The dining area is impeccably-styled with accessories from Baccarat such as the Louxor vase and Vega candlesticks. The French atelier has been renowned for its fine crystal and glassware since the reign of King Louis XV. 
A concealed door leading to the bedrooms and study allows the visual lines to continue undisrupted. 
Past a concealed door between the dining and living areas is the corridor leading to the bedrooms. The most striking aspect is the lighting, which imbues an otherwise utilitarian space with an ethereal quality. Light concealed behind the door frames bathes the transitional space in a diffused glow and makes it appear more spacious. "It is important to have a different hierarchy of lighting within the home. Using a combination of concealed lights, wall lights, downlights and pendant lights, you can vary the ambience of a space as well as alter the mood to cater to different groups and settings," says Wen.
The master bedroom is an oasis of calm. The furniture is simple and minimal as Wen did not want to clutter the space. He enclosed the existing balcony, which was narrow and impractical, and put it to much better use as a cosy alcove in the bedroom. In typical French style, the walk-in wardrobe and en-suite bathroom are hidden behind a concealed door. The original curved walls have been retained in most areas except for the walk-in wardrobe, where Wen concealed them with new, built-in carpentry to enhance functionality.
For Wen, apart from crafting an interior with a contemporary French theme, it was also about creating different vibes within different zones. He believes that "every space you sit in should feel like a different home" and that we should be mindful about looking out from a space, instead of just looking at it. "If it looks right from where you are seated, it will most probably look right from the outside in," he concludes.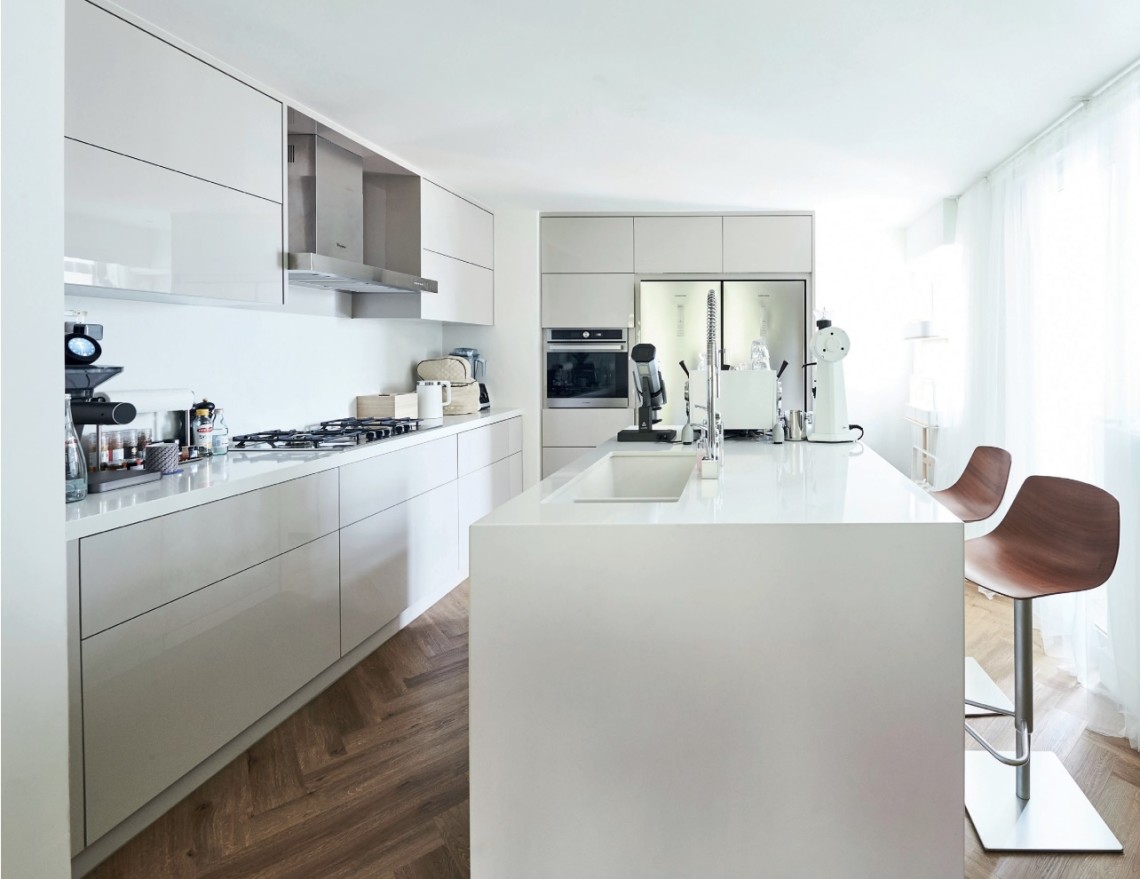 Wen starts his day with a caffeine fix in the kitchen, which sports a clean look while meeting all the functional requirements. 
Even the door knobs were not left to chance. The brass elements and egg-shaped profile are quintessentially French. 
Photography VERONICA TAY Art Direction KRISTY QUAH