Q: For more storage, I want to build my cabinets all the way up to the ceiling. Is there a way to access them more easily?
Q: For more storage, I want to build my cabinets all the way up to the ceiling. Is there a way to access them more easily?
A: If your home has more vertical rather than horizontal space, you'd definitely want to utilise its height as much as you can. You're right to build storage units as high as you can go, but they're only useful if you can reach them – to retrieve and place items, as well as for cleaning. The best-looking option is a ladder which slides across your wall of cabinets. Not only does it look great, by adding a vintage-industrial feel to your interiors, it is also convenient to use – you don't have to drag it out and keep it every time you need it.
Kelly Choong of Project File has designed such ladders for her clients, and she says they are popular with occupants of loft-style studio apartments. "They're usually made of power-coated steel as the material makes it easier for the ladder to slide, unlike wood. For a eight-feet-long cabinet with ladder, it will cost about $9,000." The highest ladder she has designed is 2.2m tall, but she says there is no height limitation except for your own fear of heights! The storage unit can have a mix of closed and open shelving, with the closed shelving nearer the ceiling, and the open shelves lower down. As the ladder has to be slanted to make it easier to climb, some allowance for space has to be made around the unit as well.
Q: I'm looking to buy a small apartment with a really high ceiling, as I heard I can build a loft bedroom to maximise the space. I'm keen, but how much would it cost and how do I go about doing that?
A: Small Office Home Office (Soho) apartments, which usually come with ceiling heights of 4.5m to 5m, are usually marketed with the assurance that the owners are able to build a loft level to maximise its tiny footprint. Buyers have to take into account the extra expense needed to build this mezzanine, and the regulations relating to its construction. For instance, the new structure cannot be mounted onto the existing wall and floor surfaces, and should be treated as a temporary addition, which can be removed when needed. Its design also needs the endorsement of a Professional Engineer to ensure that it is sound and, once that is approved, the drawings will be sent to the estate management for record.
For this Soho apartment in Kallang (pictured), the designer at Distinctidentity constructed the 300sqf loft level, its staircase and railing out of galvanised metal, which is stable due to its weight. "We usually provide a clearance of 2.1m at the top level, enough for a person to stand up," says the designer. As the homeowner was going to use the space as a study, the designer customised wooden study desks and shelves for the room, too. The total cost came up to between $40,000 and $50,000. For a cleaner finish, homeowners can consider using wood to build their loft, but that would be more expensive, advises the designer.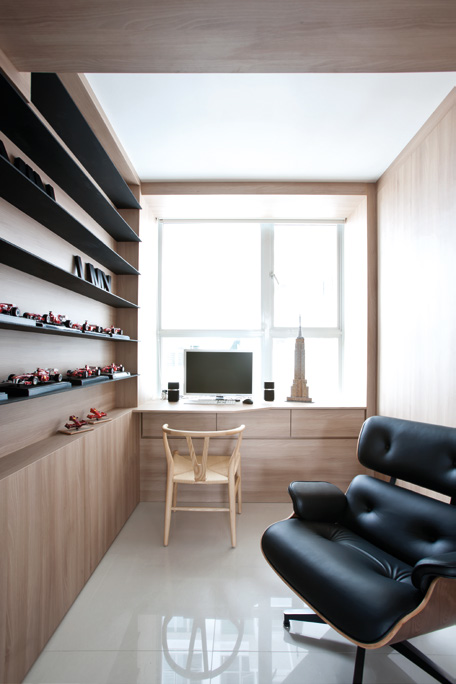 Q: My bedroom has a bay window. How can I maximise the space to be more functional?
A: Bay windows seem to be the bane of every homeowner's existence, particularly in a small, enclosed space such as a bedroom. However, there are ways to utilise the "top" of the window seat to suit a variety of purposes. Assuming your bed runs parallel to the window and that you're using the mattress as a seat, secure a piece of wood on top of the window seat. If the height of the window seat is too low, you can even add a row of drawers on top of the window seat and below the new countertop for useful storage.
Q: To conceal the electrical trunking in my living-dining room, my designer suggested a false ceiling of various heights. It will cost us at least $5,000. Is the expense necessary and is the concept sound?
A: This is a pretty subjective issue, as it depends on your sense of aesthetics. Some people cannot stand the sight of electrical trunking crisscrossing the ceiling. Other families aren't bothered. A stepped ceiling design is an effective way to conceal both wiring and air-conditioner cabling and ducting. It can also help to even out eyesores such as large ceiling beams bisecting an interior. The issue, when it comes to cost, is how elaborate and extensive the false ceiling will be. Often, contractors will suggest fancy tray ceilings over the dining table or living area that are purely decorative. Such embellishments only push up renovation costs. But also, if you don't have the luxury of a high ceiling, be mindful about how a false ceiling – especially one with various heights – will affect your ceiling height. Draw up a lighting plan with your contractor to determine where the air-con ducting needs to go and where you want your ceiling lights. You may only need ceiling lights along the perimeter if you consider using a floor lamp that arcs gracefully over the living area. Relying on table and floor lamps can save you the cost of an exorbitant ceiling job.
Q: I heard that we aren't allowed to conceal electrical trunking in HDB flats, but I really like the look of flat wall and ceiling surfaces. How can I get around this?
A: It is an HDB regulation that wiring shouldn't be concealed withint the reinforced concrete slabs, beams, columns, walls, wall plaster, or other finishes of its developments. Most homeowners camouflage white PVC trunking against white walls; some make the trunking stand out (think black electrical tracks against a white ceiling) for a trendy industrial look. Using plasterboard to hide the cable trunking will result in a neater finish and reduce visual clutter, but you will end up with a slightly smaller space and lower ceiling (and up your renovation costs). Repositioning your lights or rewiring in the future would also mean having to rip open the false wall or ceiling, and then reinstating it.
Q: My kid's bedroom has no space for a study table once we add the bed. How can I use the space-eating bay window that projects into the floor space ?
A: As the bay window is the brightest area of the room, you should try to site the desk or bed there. Depending on the room's proportions and layout, you can either place the bed on top of the wide window ledge, or build a desktop that sits on top of the ledge.
Q: I want to turn my third bedroom into an en suite walk-in closet. The room shares a wall with my bedroom. How can I do the renovation economically?
A: Minimise demolition costs by retaining two-thirds of the wall between your bedroom and walk-in wardrobe. Knocking through a double-width doorway is enough to make the space feel luxe, open and provide ventilation. Not only do you need the wall for one row of closets, the division defines the sleeping and dressing areas and keeps clutter out of sight. Make your layout easy to navigate and intuitive. If the room is square, place a low drawer unit in the centre for folded clothing. The closets can run along the two opposite walls. If there are windows in your new closet, turn the area underneath it into a dressing area with a mirror and table with drawers holding jewellery and watch trays and accessories such as belts and ties.
Q: I'd like to partition my dining area to create another room. How can I do this and which is the most affordable way?
A: You can choose from several materials for the partition, and each comes with different costs and considerations. Your choices include solid hollow concrete blocks, partition boards – which is made of gypsum – and glass, says Raymond Seow, design director of Free Space Intent. If you live in a HDB flat and would like to put up a wall made from concrete blocks, you will need permission from the Housing Board as it will result in additional weight and stress on the apartment level. Walls made of gypsum board and glass are lightweight and don't require official approval. Between glass and gypsum board, the choice is more of an aesthetic one, says Raymond. Glass, would, of course, allow more light to enter the space. You can also consider combining two materials, such as glass with partition boards. When it comes to dismantling the wall, the lightweight materials will be easier to take down as compared to a wall constructed with concrete blocks. In terms of cost, a partition made of concrete blocks can cost as much as double that of a wall made from gypsum board.
Q: I have a long rectangular living and dining area. How do I section off the space to have a proper dining area, but still keep the look clean?
I want some privacy for my dining space , which can be seen from the main door , but I don 't want to block out the light . A: Establish the space's presence without compromising privacy by using partitions, which will demarcate the two areas without separating them visually. For your living-dining space, you can use a tall open display shelf between the two areas. Show off your stylish accessories on them, but leave enough space so one can see through to the other side. If you have a low ceiling, choose a table-height console which will leave half of the vertical space open. You can even position furniture pieces, such as your sofa (with the back facing the dining area), so they zone the spaces naturally. The same principle applies to shielding the dining area from the main door without losing light and ventilation. Depending on your preferred decor, a slim panel made of timber strips, a framed glass panel or even a suspended sheer fabric panel, placed to "block" the view of the dining area, can serve both a practical and decorative function.
Q: I would like to replace my wardrobe with one that has a lot of storage space. Would you recommend a custom -made wardrobe or a store -bought one?
A: If your only consideration is maximising your storage space, then you should go for a custommade wardrobe which can be built right up to your ceiling. Your carpenter can also tailor the measurements of your storage compartments to the type of items you have – perhaps you have more dresses than tops or bottoms, or need more drawers for a large collection of accessories. You will also be able to choose a surface finishing to suit your space. But custom-made wardrobes usually cost more than store-bought ones, and may take a while to build. Also, they can't move with you. So, take into account your future plans. If you want a quick and no-mess solution, buy wardrobe modules and add extra storage space in the form of stylish boxes on top of the wardrobe, to maximise the space under the ceiling.
Q: My place is small and I have limited space for storage. How can I store my handbags and prevent them from going mouldy? I didn't factor storage for them when I first designed my home.
A: There is never really enough space for that growing bag collection! Although you didn't factor storage for bags into your initial design plan, there are easy ways you can still accommodate them. Make use of your vertical spaces, such as walls. According to a spokesman for White Space Living: "Find a plain wall and install some nice hooks, spacing them out based on the size of the biggest bag you have. Hang the bags in a random order to create a feature. Hanging them out in the open will also prevent the bags from getting mouldy easily. You can install a shelf to display bags that aren't suitable for hanging." As an instant fix, use storebought organisers from shops such as Howards Storage World and Ikea. To prevent mould from forming on leather bags, never tie them up in plastic bags, but in the breathable dust jackets they come in, or in old pillowcases. You can even hang the dust jackets by the cord on S-hooks off your closet railing.
Q: We added another wardrobe and shoe racks when we ran out of storage in our bedroom closet, But it 's all getting too messy. We really need to reorganise our storage. How do we start?
A: If you simply go out and buy a new closet or shoe rack every time you run out of storage, you'll end up with a jumble of heights, sizes, and styles. Banish this unsightly jumble by investing in a new, wall-to-wallstorage system. It's amazing how spacious and inviting your bedroom will look with a seamless wall of continuous, floor- to-ceiling closets. The reputable wardrobe specialists offer free consultation sessions, so you might like to invite a couple of them to examine your storage problems and offer their proposals. One of the main benefits of customising is that the specialists can design interior storage that suits your specific needs. For instance, well-ventilated shoe racks that suit different shoe styles, such as big wire racks for sports shoes and narrow, or tilted shelves for stilettos and office shoes. The shoes' storage can be seamlessly integrated with your wardrobe, so the whole room will look bigger and neater while maximising every inch of space.
Q: I have run out of space for my ever-expanding collection of clothes and shoes. The stuff in my walk-in wardrobe is so tightly crammed together, my clothes get wrinkled. Is there a solution?
A: The best solution, really, would be to toss stuff from several seasons ago, or clothes you've stopped wearing or seldom wear. If you insist on keeping everything, you need to get creative with your closet space. Take a good look at the open area (the walk space) between the closets. If it is fairly long (for example, about 2m), this would give you space for a full-height closet as capacious as your current closet. The solution is to convert a heavy-duty archive library system and fit it with poles and shelving units. Archive systems are designed to fit flat against each other, so no space is wasted. When you want something inside, you simply pull out a section to reveal the open shelves or racks. The heavy metal frames glide in and out smoothly on floor rails.
Q: I'm living in an old three-room HDB flat which has a kitchen floor that is lo wer than the rest of the flat. Is it possible to raise the floor to match the rest of the space?
A: The difference in height between your kitchen and living spaces was created for a very good reason – the step keeps water from the kitchen from flooding the living space during floor washings. For modern lifestyle, however, where less heavy cooking is done (unlike in the past), most kitchen floors would just require a light mop to clean off the oil and grease that might settle. If you want to level the spaces, you have to apply for permission from the HDB before you proceed, says designer Joey Khu. "According to new HDB rules, you have to use lightweight concrete to raise the floor. Available in slabs in dimensions of 600mm by 200mm, and in various depths, they can be bought from any raw building materials supplier." To achieve a more seamless connection of spaces without physically raising the floor, use new flooring to visually "bridge" them.
Q: I just bought a resale HDB flat with parquet floors that are badly scratched. My designer says they can't be resurfaced, and recommends replacing them with laminate flooring. Is this the best solution?
A: Parquet flooring is made of small, solid wood (usually teak) pieces placed together to form a pattern on the floor. Resurfacing should be able to remove light scratches, but if the marks are deep, even sanding down the wood won't be able to remove them. Your designer would then be right to recommend laminate flooring as an easy cover-up as the installation is fast and fuss-free, especially if you're keen to retain the look and feel of "wood" flooring. "Generally speaking, all sub-floor surfaces such as screed, wooden flooring, tile, stone slab or plastic floor coverings are suitable for the installation of floating laminate floors," says a spokesman for Floor Depot International. Laminate flooring is also more durable as it is scratch-resistant. To keep your flooring looking new and scratch-free, she suggests these three simple measures: Sweep regularly to prevent build-up of dust and dirt, wipe up water and other spills promptly to prevent water damage and warping, use area rugs in high-traffic areas, avoid walking over the floor with high-heeled shoes, never drag furniture over the flooring, and use furniture pads on the furniture legs.
Q: I regret not replacing the laminate flooring in my bedroom with real wood. Now, years later – is it possible for me to do this without destroying all the built -in furniture?
A: Besides real-wood flooring, you can also choose engineered wood, which looks the same as solid wood; and this answer applies to both types of flooring. To see if you can go ahead with switching your flooring, consider these two factors, says Brendon Goh, the director of sales and marketing at Wood & Wood Flooring. If you do replace your laminate flooring with wood, will the flooring levels of the adjoining spaces, such as the walkway outside the room, match up? The thickness of laminate flooring varies from 10mm to 15mm, so you have to choose a wood flooring of the same thickness, or else decide what variance is acceptable. Secondly, does your built-in furniture sit on the laminate flooring, or is the laminate flooring installed around it?
In the second scenario, there's less hassle to change the flooring, but take note of the thickness of the new timber flooring and see if the bottom of the built-in pieces butts against the timber flooring at the edges where the flooring meets the furniture. The first situation is more tricky as trimming off the laminate flooring at the edges of the built-in furniture requires extremely precise workmanship. This manual process might also damage the edges of the built-in structures. Installers can add a timer trimming to conceal these flaws after installing the new timber flooring, depending on the material of the built-in furniture. However, from an aesthetic viewpoint, this might not be ideal.
Q: I would love to have wood for my kitchen floor . Is it possible ? What materials can I use to lay over my kitchen tiles ?
A: Water spillage is common in kitchens, so it is not suitable to overlay your kitchen tiles with real wood or laminate flooring, unlike in a living room or bedroom. To achieve the look of wood but with the added toughness, durability and ease of maintenance for such an often used space, your best choice would be to install wood-lookalike homogenous tiles. These can be laid over your existing flooring. However, overlaying is advisable only if there is already a difference in levels between the kitchen and the area adjacent to it, such as a step up or down. Otherwise, there is no way to bridge the part where the flooring of different heights meet. If the existing flooring is sound and intact, with no cracked tiles and unevenness, conventional 10mm-thick timberlook tiles will be good enough to lay over it, says Terry Tan, director at stone and tile company Rice.
Q: I've heard that it is possible to overlay floor tiles without hacking. Is this advisable? If not, what else can I do?
A: If your flooring is in good condition (no broken tiles or gaps), and all you want is an aesthetic change, overlaying is a good option to consider as it can be done quickly with minimal mess. However, the new floor will be thicker and will no longer sit on the same level as other flooring materials when they meet, so it is advisable to overlay the flooring of the adjacent spaces as well. Simon Cheong of the Hafary Group recommends overlaying with tiles only for small areas of less than 100sqf, as the new tiles might "pop" up over time if they cover an area that is too large. "If the floor area is larger than 100sqf, laminate or vinyl flooring is recommended," he says.
Q: Do tile sizes matter in terms of making my space look bigger or smaller? Does the size affect the price?
A: Yes, tile size – particularly for flooring – definitely matters when it comes to the perception of spaces. A larger tile size means less grouting and joints, which makes the flooring look more seamless. Smaller tiles "break" the space up further. Besides that, "larger format tiles are said to have a more luxurious appeal," says Terry Tan of Rice. With less grouting, a larger tile size also means easier maintenance. If we were to make a direct comparison of say, Italian tiles, "a larger tile of, say, 90cm by 90cm is generally about 20 per cent more expensive than a traditional 60cm by 60cm tile," states Terry. Consider the size and shape of your surface area as well. Using huge tiles for a small footprint might not be worth the price tag. You'll need a wide surface area to better appreciate the (more expensive) larger tiles.
Q: Is there a choice of textures and colours for concrete screed? How different is it from the standard concrete floor at void decks?
A: First, let's clear the air about cement and concrete. Cement is a powder, and a component of concrete, so it is accurate to say concrete floor rather than cement floor. Says Raymond Seow, design director of Free Space Intent: "There are many different types of textures and colours for concrete screed. We get coloured concrete from suppliers, and mix it with regular concrete for the best results. As for the texture, it depends on how the worker mixes the raw materials and the way it is applied on the wall or floor. The concrete flooring at new HDB void decks is usually self-levelling, which provides a more durable, flatter and smoother surface. The older HDB void decks use the normal concrete screed." He adds that as self-levelling concrete is more expensive, most homeowners opt for regular concrete.
Q: I know wood veneer and wood-lookalike laminates are often used for furniture instead of solid wood. How do I tell the difference?
A: The plethora of materials available now lets us enjoy wood, or sometimes the look of it, in any shape or place! As veneer, laminates, and solid wood are very different materials, how and where they can be applied will differ. But with some close scrutiny, you'll be able to tell them apart. Dess Chew of interior design firm Three-D Conceptwerke shares these tips: Veneer is a thin layer of shaved wood that is normally applied on plywood. It is prone to scratches, and can't be sanded down as it's only a skin, so veneers are usually not placed in heavy-usage areas. As the thin skin wraps around the plywood, from the surface to the edges, there are no visible joint lines. The grains also tend to be more even, with little variation. On the other hand, there
Q: Can I apply concrete screed on a dry partition wall? Will it be able to carry the weight, and will it be more prone to crack lines as compared to a solid wall?
A: Solid walls are always the best surface to apply concrete screed. It can also be applied on a dry partition wall, but only if it's made of the thicker and heavier calcium silicate board, says Dess Chew of Three-D Conceptwerke. Still, if you're mounting something on this wall, make sure that you use the right mounting plug to prevent crack lines from appearing when the plug is hammered in. Crack lines will also appear as a result of temperature changes, so it doesn't matter if the screeding is done on a dry or solid wall. If the concrete screed surface is near a window and exposed to various temperature changes, there is a greater possibility of crack lines forming over time, explains Dess.
Q: I like the look of marble , but I heard it isn't very eco-friendly. What alternatives would you suggest?
A: Marble is a natural material quarried from the earth, so there are definitely environmental costs in the process of doing so. Being porous, more effort is also needed to maintain the material, such as applying a sealant annually. That might make marble not as "green" as other surfacing materials, such as ceramic tiles. Tiles might be hardier, but large amounts of energy are also required to produce them. If you're going with tiles, choose those which have recycled content. Also consider the end life of the product. Marble, being natural, can be recycled, which you might not be able to do with tiles. To replicate the look of marble, consider using laminates, engineered quartz, or marble-lookalike tiles. Laminates are suitable for both vertical and horizontal applications, but they are not scratch-proof or recyclable. Tiles are not advisable for use on countertops, while engineered quartz such as Silestone and Caesarstone can be used for walls or countertops. Made of natural quartz with pigments and polymer resins, engineered quartz is extremely hard and resilient, has antibacterial qualities, and stands up to stains, scratches and acids. Their durability is also what makes them sustainable, too.
Q: To find out more about marble flooring, can I check if marble comes in standard tile sizes? If there are defects, such as chips at the corners of the marble tiles, does that affect its look? And if there are cracks on the tiles, can they still be used?
A: Marble is cut in huge boulders at the quarry, and so are available in customised sizes. But for conventional flooring purposes, they also come in standard dimensions of 30cm x 60 cm and 60cm x 60 cm, says Simon Cheong of Hafary. Marble tiles are usually installed with rectified edges, which means straight edges (this is so the joint lines don't appear so visible), so any chips at the corners or along the edges of these tiles are noticeable, and will affect the overall look of the floor. If there are cracks on the tiles, they can still be used after they've been patched with marble glue and powder.