Black and white kitchens never go out of style. We suss out striking materials that let you reimagine this timeless combination.
1 INTERIOR MOTIF
The Picasso tiles by Capucino Ceramics are all about intricate patterns. They can be used on the wall or floor, livening up the space with their damaskinspired shapes and lines. Use these tiles either as the backsplash or accent wall in the kitchen to break up the monotony of solid black and white surfaces. These glazed tiles are built to withstand the rigours of cooking.
Available at Hafary
PHOTO HAFARY 
2 BRING A HIGH SHINE
As trends gravitate towards darker palettes, the classic black and white kitchen now wears a new look. Let black surfaces dominate and leave white surfaces as accents. Wall tiles like the Pun tiles by Ascot Ceramiche are perfect for elevating the black and white kitchen. The glossy finish brings an elegant yet youthful vibe to the space.
Available at Rice
PHOTO RICE
3 HEY HERRINGBONE
Patterns continue to charm homeowners. And why not do something new with classic marble? The Tele di Marmo series by Emil Ceramica offers marble in fresh formats including mosaic, strips and herringbone. Consider introducing herringbone patterns for your backsplash. These jazz up the black and white combination with subtle zigzags. To best highlight the stone, keep wall cabinets to the minimum.
Available at Rice
PHOTO RICE
4 BLACK IS BEAUTIFUL
This kitchen features a mix of shutters and doors – in white and black – to conceal kitchen storage. Silestone's Eternal Marquina quartz island in black with patterns in white becomes the focal point. Not only does the kitchen remain spacious, but it also takes on a dramatic look.
Available at Cosentino
PHOTO COSENTINO
5 BE FLOORED BY PATTERNS
With contemporary square patterns in white, black and grey, these Velvet tiles by Gayafores are perfect for reimagining the black and white kitchen. Create a dark border around the patterned tiles to demarcate the kitchen and highlight the island.
Available at Hafary
PHOTO HAFARY
"GLOSSY SURFACES WILL PRODUCE A LUXURIOUS TOUCH. MATTE SURFACES GIVE A CLASSIC, ELEGANT LOOK THAT IS SIMPLE AND NICE. NOTE THAT LAMINATES NOW HAVE DRY MATTE AND GRAINY TEXTURES THAT ADD CHARACTER."
– VINCENT ANG, PRINCIPAL CURATOR OF BLACK N WHITE HAUS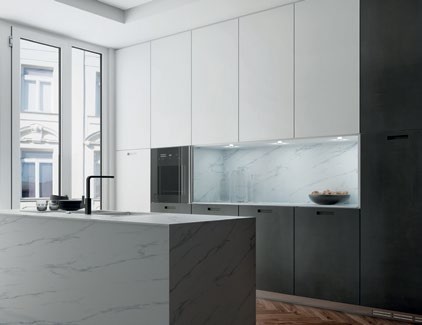 6 CONSIDER COLOURBLOCKING
This kitchen borrows the idea of colourblocking for cabinets. Black cabinets on the bottom and white cabinets above bring lightness to the space. Notice also the streamlined, handleless design, wood flooring and backsplash made of EDL Compact panels, all of which soften the colourblock look.
Available at EDL
PHOTO EDL
7 TREASURE ISLAND
Bold and textured custom storage, tubular cluster lighting and light wood-like tiles come together in this gorgeous space. Standing out from this is the Montblanc quartz countertop depicting fine marble vein and grey hints. For a greater impact, make the island a sleek monolith. Avoid cluttering the island and free up as much surface as possible for tasks like food preparation.
Available at Caesarstone 
PHOTO CAESARSTONE
8 CHAIN OF SOPHISTICATION
Patterns are undeniably fun, but they can get in the way of an upscale feel when not chosen well. This black and white kitchen features chain patterns on the backsplash and the front of the island. The subtle greys of the patterns are framed by black countertops. Other luxurious patterns to consider include damask, baroque and geometric designs.
Available at Hafary
PHOTO HAFARY
9 WRITE ON IT
If you'd like to make the most of your surfaces in the kitchen, using blackboard for your kitchen cabinet exteriors might just be the solution. The Uddevalla cabinet doors let you scribble with good old chalk! With white chalk in hand, you can have your black and white kitchen look down pat. Or stray from this combination without resorting to permanent changes by creating art with coloured chalk. Time to get creative with daily menus and love notes.
Available at Ikea
PHOTO IKEA
10 TWO IN ONE
A contemporary kitchen like this one, which also functions as a dining area, is ideal for hosting intimate dinners. The kitchen design also optimises the space with storage solutions built into the island-cum-dining area. Instead of creating a monolithic block, Olimpo slabs by Dekton form a table that rests on the storage units. The white marble-patterned surface contrasts with the black storage cabinets beautifully.
Available at Cosentino
PHOTO COSENTINO
TEXT ROSSARA JAMIL