Soothing hues and minimalist elements in this condominium apartment are an ode to the modernist principles of Japanese interior design. MICHELLE LEE takes a look.
RIGHT
Originally a small study area, KNQ Associates converted this into a tranquil tatami room.
OPPOSITE
A sliding screen, often found in traditional Japanese interiors, separates the tatami room from the rest of the living area.
WHO LIVES HERE
A bachelorette working in the healthcare industry HOME One-bedroom condominium apartment at Farrer Road SIZE 786 sq ft
Japanese decor often champions clean lines and a stripped-down simplicity - and this condominium apartment with a footprint of 786 sq ft is evocative of just that.
A professional in the healthcare industry who goes by Ms Khoo, the home owner tapped KNQ Associates to recreate a home that mirrors her fondness for the pared-back aesthetic of Japanese decor. "It's a dramatic change from what she liked before, when she approached us a decade ago to do up her previous home in a colourful, retro style" shares interior designer Stanley Tham of KNQ Associates.
The living area is dressed in a light, airy palette of white, light greys and natural wood textures with hints of stone finishes, creating a serene atmosphere with nature-inspired elements. The timber flooring, an existing feature of its previous home, complements the decor.
Against this backdrop, the owner's existing furniture, including a brilliant blue loveseat, oriental accents and bright art pieces lend unexpected pops of colour as well as touches of eclecticism and individuality.
Tatami rooms are a hallmark of Zen-inspired architecture, and made the top of Ms Khoo's decor list. Outfitted with shoji or sliding screens, and a tatami mat sourced by her, this tranquil spot in her abode further plays up the theme.
Storage space is a challenge in any small apartment, but KNQ Associates created ample storage with cabinetry cleverly concealed behind panelled walls, like at the kitchen area. The design team also did away with the kitchen's original partition walls, and in their place sits a long peninsular clad in a grey laminate, which doubles as a dining area and storage unit. It is topped with a matching compact surface countertop that blends seamlessly with the laminate. A sliding door separating the kitchen and dining counter can be opened for a sense of spaciousness and continuity, or closed to keep out the grease and fumes.
Borrowing inspiration from traditional Japanese bath houses, the walls and floor of the bathroom are laid with stone-look homogeneous tiles and wood-effect porcelain tiles. Contemporary furnishings like an illuminated mirror and metal fittings give it a degree of chic modernity.
Unlike the rest of the home, the master bedroom veers away from the Zen aesthetic. Instead, it focuses on a simple white, grey and black colour scheme with a classic-meets-modern sensibility. In all, the renovation cost roughly $55,000 and took about six weeks to complete.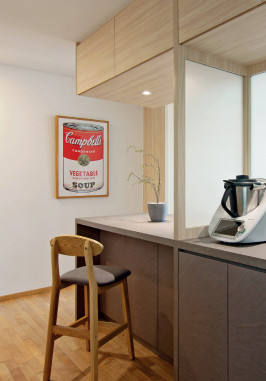 TOP
Floor-to-ceiling doors that lead out to a balcony let in an abundance of light and play up the light-coloured interiors.
RIGHT
The small kitchen is outfitted with plenty of hidden storage thanks to clever and stylish design strategies.
OPPOSITE
The kitchen walls are covered with cement screed and coated with paint to save on cost, while areas that easily get wet or grease splatters are installed with a coloured glass backing for easy maintenance.
RIGHT
A sliding door keeps cooking smells and grease in when closed, while the screen conceals countertop appliances.
BELOW RIGHT
Stone- and wood-effect tiles blend harmoniously, and allude to a sophisticated space.
OPPOSITE & BELOW LEFT
The master bedroom's largely white interiors with touches of grey, black and wood tones make for a restful ambience.
photos KNQ ASSOCIATES