This 13,000sqf store has a wide variety of stone finishes.
These super luxurious stone options cost over $50,000 per slab
From marble and granite to exotic stones like agate and onyx, well-known tile specialist Hafary has opened its latest showroom, The Stone Gallery by Hafary, to focus on a range of natural stones. The 13,000sqf space showcases an impressive selection of the natural material in all colours and patterns. Get design inspiration at every corner too, as there are many home-inspired settings within the large space.
Housing collections from four established Italian stone brands – Antolini, Salvatori, Petra Antiqua and Kreoo – the store showcases curated pieces that are unique and classy, with options suitable for all types of uses.
For example, 60-year-old brand Antolini has one of the best quarries in the world, and the brand carries over a thousand types of marble, granite, onyx, limestone, precious stones, shellstones and gemstones, which are shaped by international designers to offer interesting options for commercial and residential uses.
Salvatori collaborates with architects, designers and builders too, to come up with new ways of application and innovative solutions for interior design. Having worked with renowned brands including Armani and Louis Vuitton, Salvatori assures customers of its quality, practicality and style.
There are also one-of-akind pieces such as antique marble options by Petra Antiqua, which are elegant and artistic, having been refined by skilled craftsmen. Shop for furniture made of stone too – such as those made of marble and wood – from Kreoo's collection, which includes coffee tables, chairs and even bathroom sinks, in fluid forms.
When choosing your favourite slabs, have it laid out at the showroom's fully carpeted pre-laying zone, so you can view large slabs easily and better visualise how it will look in your home!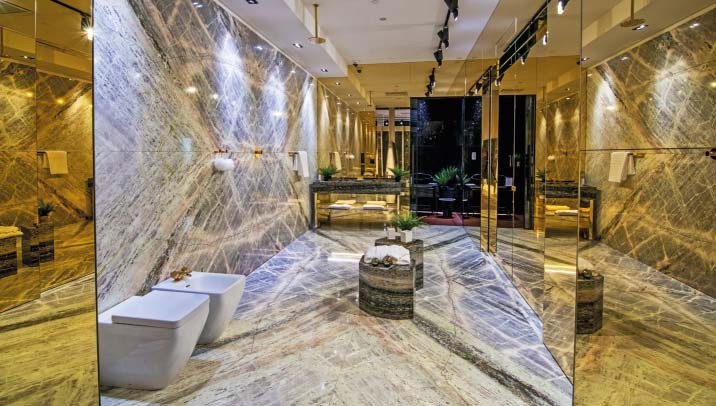 The Stone Gallery by Hafary is located at Level 7, World Furnishing Hub, 18 Sungei Kadut Street 2. By appointment only.