Serene and warm, Alizee Brion's beachfront home offers a glimpse into her personal world. KArie Monie finds out more.
In the living room, the Happiness armchair – with a cushion from Jalan Jalan – was designed by Damien Langlois-Meurinne for Se. It sits on a West Elm rug. The wooden side table is by Fineline.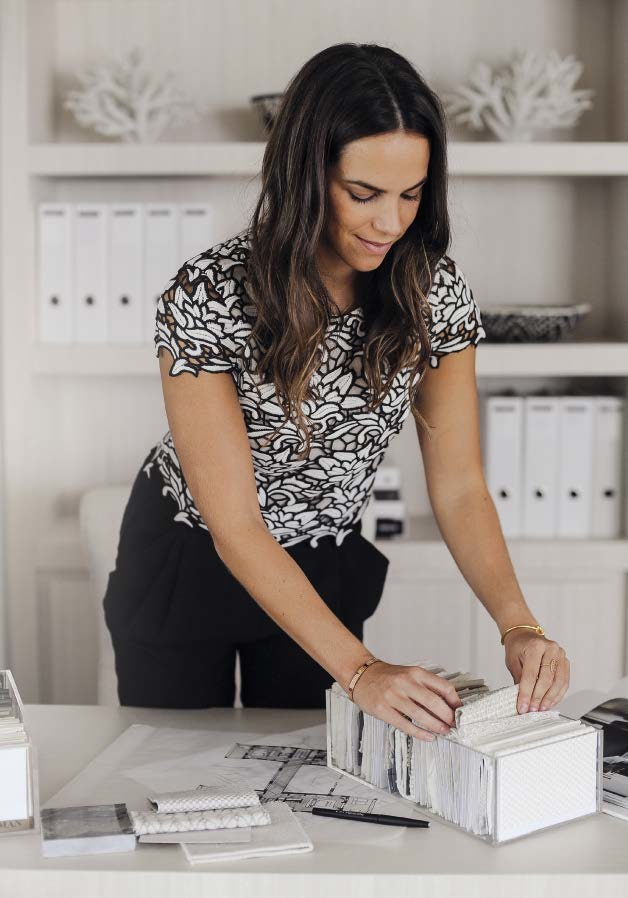 Born in Paris and raised in London with a master's degree in architecture from Columbia University, Alizee Brion's multifarious experiences have led her to the helm of her own international architectural and interior design studio, Light on White. now based in Miami, Alizee truly believes a home is about the individuals who reside in it.
With the Atlantic ocean as its backdrop, her home was not in its current state when she first encountered it. "When i bought the apartment, the interiors were very outdated, from the '80s," she remembers. "However, i saw the potential, with the beautiful views and generously proportioned spaces. The only challenge for the renovation was the low ceiling, but, with some clever reconfiguration of the AC ducts and overhead lighting, we were able to reduce the impact significantly." 
Pure Genius
The Dyson Pure Cool purifying fan utilises the latest technology to protect you and your family from pollutants the eye can't see.
A clean home is a top priority for those who take pride in the appearance of their dwellings, and also for parents protecting the health of their family. However, the way you clean your home could actually be affecting the air quality indoors. The wiping and sweeping of surfaces causes dust particles or pollutants to be lifted into the air where you inhale them, and some cleaning products contain ingredients that, while effective in keeping your tiles sparkly white, may leave behind harmful gases.
Other less obvious sources include harmful nitrogen dioxide that is released into the air during daily chores like cooking over a gas hob, as well as the formaldehyde and benzene that are a component in cigarette smoke, deodorants and even some candles. In fact, some of these allergens and pollutants are so tiny (0.1 microns) that they can penetrate the blood stream, possibly leading to even more serious health conditions affecting the lungs and heart.
This is especially worrying for adults with respiratory conditions and allergies, newborn babies, children and pregnant ladies.
Trapping pollutants with the right air purifier
However, there is a solution: air purifiers. An air purifier should, first and foremost, be able to detect pollutants, before effectively filtering them out. Subsequently, it should ideally project clean air into every part of the room, and the Dyson Pure Cool purifying fan is designed to do exactly this.
First, it determines the pollutants it should be capturing using three built-in sensors that detect ultra-fine particles, nitrogen dioxide and volatile organic compounds, while also measuring humidity and temperature. Next, the new and improved built-in filters ensure all forms of air pollutants are efficiently trapped within the unit. The activated carbon filters remove gases like benzene and nitrogen dioxide, while the glass high-efficiency particulate absorber (HEPA) filters capture up to 99.95 per cent of microscopic allergens and pollutants. After trapping the pollutants, the Dyson Pure Cool then projects the nowcleaner air into every corner of the room. This is made possible via its Air Multiplier technology and 350 degree oscillation. Unlike purifiers that simply create a "bubble" of clean air around the machine, these technologies enable the Dyson Pure Cool to project 290 litres of purified air every second, effectively circulating clean air throughout an entire room.
Exceptionally clean
Having recently moved into a new home, Young Lim, editor of Home & Decor, has been using the purifying fan to keep the air in his apartment clean. "My home was so dusty and dirty after the renovation that it made me cough and sneeze during the clean-up.
"I was really impressed when my symptoms subsided after using Dyson Pure Cool. This effective air purifier also allows me to monitor and track the condition of indoor air via the Dyson Link app. Now I know for certain how clean the air is and what's causing the increase in air contaminants." 
THE DYSON PURE COOL PURIFYING FAN IS AVAILABLE FROM WWW.SHOP.DYSON.COM.SG AND ALSO AT ALL MAJOR DEPARTMENT AND ELECTRICAL STORES.
After a complete makeover, Alizee and her husband fully moved in, in 2017. "i'd owned the apartment for a few years before but lived in it only some of the time as we also had a home in London," she explains.
Soon, her family will be four, with the couple's twins due in December, which motivated the current transformation of one of the two guest bedrooms into a nursery. "recognising the emotional impact that our environments can have on us, I gravitate towards clean lines and neutral tones, and a harmonious layering of textures that inspire a sense of calm," the designer says. Her philosophy is clearly reflected throughout her home, where the organic and bright palette – which honours her passion for white and her love of nature – evokes the coastal landscape and surroundings. Wood, marble and linen prevail.
"The key features include a lot of natural light streaming through the floor-to-ceiling sliding glass doors, and all the main spaces (living, dining, kitchen and the three bedrooms) have ocean views," Alizee says. "The first thing i do in the morning is open all the blinds and have a cup of tea, while looking at the sunrise over the ocean. if i have time, during the summer season, i go for a swim before work."
The breezy dwelling brings the outside in and conveys a soft, yet sophisticated, aesthetic. With its open plan – punctuated by smaller "pockets" of space to introduce a sense of intimacy – the apartment features pure lines and a contemporary feel, infused with warmth, through the use of various textures.
CHOCK-FULL OF CHOICES
Make shopping for your home an easy, fun and comprehensive experience that you'll enjoy!
Renovating the home can be a daunting and stressful process. So, when it comes to shopping for furniture and furnishings to dress up your space, make the experience as enjoyable, and as efficient, as possible. It will be helpful to visit one-stop shops that stock products from more than one category, as well as offer a wide variety of options and designs to suit your home.
As one of the largest furniture stores in town, Homes65's 53,000 sqf four-storey showroom The ever popular D-Tour is back! Join us on a delightful day out to learn decorating tips and get practical home design ideas. offers exquisite furniture, furnishings, home accessories and lifestyle goods sourced from leading brands around the world. From high-quality sofas, bed frames, dining sets and even outdoor furniture options, you will be spoilt for choice with designs ranging from minimalist to opulent styles. There are even customisable options for selected models, so you can choose colours and sizes that fit perfectly into your home.
Exclusively at Homes65 are pieces from over 10 designer brands from Italy, Germany, Greece, Portugal and Belgium, including A.Brito, Art Nova, Barel, Conte, CTS, Fratantoni Ceramiche, Ghyczy, Golden Night, Gorini, Minottitalia, Miazzo Elite Italia, Tonin Casa and Tonelli Design.
Looking for high quality wood furniture? Explore the collection from Japanese brand Clantree, which specialises in modern teak pieces crafted by top artisans using Laotian wood. There's also a wide selection of other wood options, ranging from acacia and suar to camphor, and many are created using traditional Japanese techniques. Complete the look with comfortable seats made from bamboo tatami mats from The Tatami Shop, and be assured that your home will be both stylish and cosy.
Of course, don't forget to get the perfect bed and mattress that will ensure you get a good night's rest in your new home. With a dedicated sleep centre in store, Homes65 allows you to try out various mattress types in the most relaxing and comfortable environment.
VISIT HOMES65 AT 65 MOHAMED SULTAN ROAD, WWW.HOMES65.SG.
FAST AND EFFECTIVE
Let the machine work for you and get your laundry done quick and fuss-free!
Weather in Singapore can get unpredictable at times; it can be sunny one moment and rainy another, especially during the approaching monsoon season towards the end of the year, when rainfall increases.
During those months, you might face the issue of laundry not drying as quickly as you'd like. This is especially problematic if you do not have space in your home for both a washer and dryer. Fret not, Samsung's QuickDrive washer dryer will come in handy.
Compared to other conventional models, the QuickDrive washer dryer takes only half the time required for a wash cycle. It can reduce energy consumption by up to 20 per cent, without compromising on cleaning performance(1). 
This is achieved with the 1 innovative Q-Drum, which comprises a main drum and backplate that rotates independently to make laundry move in a dynamic The ever popular D-Tour is back! Join us on a delightful day out to learn decorating tips and get practical home design ideas. action powered by dual forces. This makes washing more efficient. With this, you can wash and dry your outfits in just three hours(2) !
Never worry about forgetting pieces of laundry – like a stray sock or two – as the QuickDrive washer dryer comes with an AddWash door . You can even add in more detergent mid-cycle or hand-washed clothes (3) in for a final rinse, if you like. (4)
Control your washer dryer simply via your smartphone, or have it connected to your smart home ecosystem. Samsung's Q-rator AIpowered smart function lets you do that. The features of the Q-rator that serve to add to your convenience include:
• Laundry Recipe: This recommends the optimal wash cycle (5) based on the type of fabric, colour and soiled level of your wash load.
• Laundry Planner: This intelligently curates your laundry schedule (6,7) by allowing you to set a desired finishing time, so you can come home to clean clothes.
• HomeCare Wizard: This monitors your washing machine's condition and gives tips on how best to maintain it. It also provides you with quick and easy remote troubleshooting support.
You can be sure that your laundry will be washed clean, thanks to Samsung's EcoBubble technology. It froths detergent with air and water before the cycle begins, generating cleansing bubbles that penetrate fabrics and remove dirt faster than conventional detergent, so, even though you save time, cleanliness is not compromised. This lets you wash clothes as effectively in cool water as you would in warm water, while saving energy (8 9) .
Now, you can do your laundry in a fast, fuss-free and convenient way!
FIND OUT MORE ABOUT THE SAMSUNG QUICKDRIVE WASHER DRYER AT WWW.SAMSUNG.COM/SG/QUICKDRIVE.
1 Based on Samsung internal test results, Samsung WD7800M (QuickDrive system) saves up to 50% washing time and up to 20% energy as compared with WD6500K (conventional system), based on Cotton 40°C course, half load (washing performance within ±3%). Tested in accordance with IEC 60456:2010; individual results may vary.
2 Based on Intertek test results, Samsung WD68/7800N on Speed Wash+Dry course achieves up to 97% drying index in 180 minutes on average, based on an IEC standard load of 4kg (cotton pillow 3ea, cotton towel 3ea, synthetic/blends pillow 5ea, synthetic/ blends shirt 11ea), under certain defined test conditions. Individual results may vary. Additional drying for certain items may be required depending on volume and thickness.
3 The AddWash door may be opened only when the drum temperature is below 50°C.
4 Only fabric items, detergent and softener can be added.
5 Requires installation of Samsung SmartThings app on compatible Android or iOS mobile device, and Wi-Fi connectivity.
6 User is solely responsible for any consequence(s) that may result from user's implementation of the recommended wash cycle, including but not limited to any damage to the articles caused by incorrect or incomplete information provided by the user.
7 The wash cycle will be recommended solely based on desired end time, and may not be appropriate based on the type of fabric or soiled level of the articles being washed.
8 Based on Springboard Engineering test results, comparing the degree of dirt removal without mechanical action using bubble technology as compared with conventional detergent, under certain defined test conditions.
9 Based on VDE Testing and Certification Institute testing of Samsung WF1124ZAC, based on Super Eco Wash (Cold Wash) course (with EcoBubble) as compared with Cotton 40°C course (without EcoBubble). Tested in accordance with IEC 60456 5th edition; individual results may vary.

"It was a largely monochrome home, which was anything but cold," Alizee says. "now, it is absolutely our dream family home. i feel extremely serene and grounded here."
Bathed in natural light, the rooms flow into one another, creating a sense of harmony in this welcoming retreat. "i spend most of the time in the living room, which has a connected study area," the designer adds. "it is the heart of the apartment. one of my favourite pieces in the apartment is the Se wingback armchair sitting between the kitchen and the living room. it's not only a stunning, minimal piece, but it is also extremely comfortable. i placed it there so that when my husband is cooking in the kitchen, i can sit and chat with him."
in this oasis of calm and serenity, several pieces are an ode to Alizee's love for all things handmade or crafty. The hand-painted wallpaper by Porter Teleo in the master bedroom and the small side table in the dining room by Fernando Mastrangelo – made of cast concrete and salt crystals in a bespoke white colour and specially for the architect – are some of her favourites. 
photos Nathalie Priem