Reality TV shows about renovating and decorating provided this couple with all the inspiration they needed to transform their apartment!
Reality TV shows about renovating and decorating provided this couple with all the inspiration they needed to transform their apartment!
WHO A young couple
HOME A three-bedroom apartment in Telok Kurau
SIZE 950sqf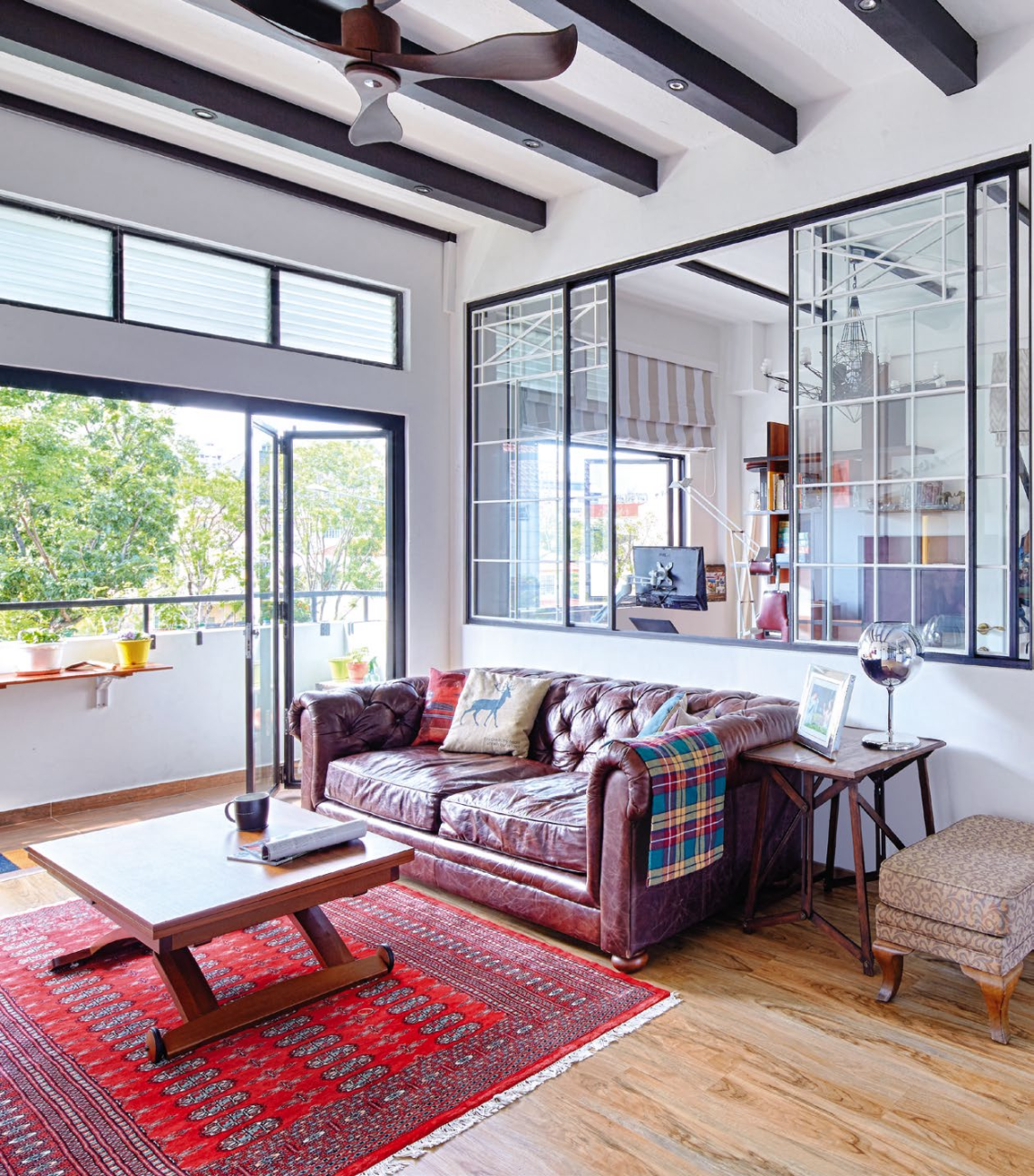 LEFT
This 60-year old apartment was transformed and given a new lease of life, with a trendy look infl uenced by various sources.
( RIGHT ) TOP
The whole kitchen was designed around the oven, which Dennis got from his cousin.
B OTTOM
The open-plan kitchen looks into both the living room and informal dining area, which consists of a counter and bar stools.
OPPOSITE
When guests visit for dinner, the living room becomes a dining space. The Calligaris coffee table can be converted into a dining table, and foldable chairs will be brought out.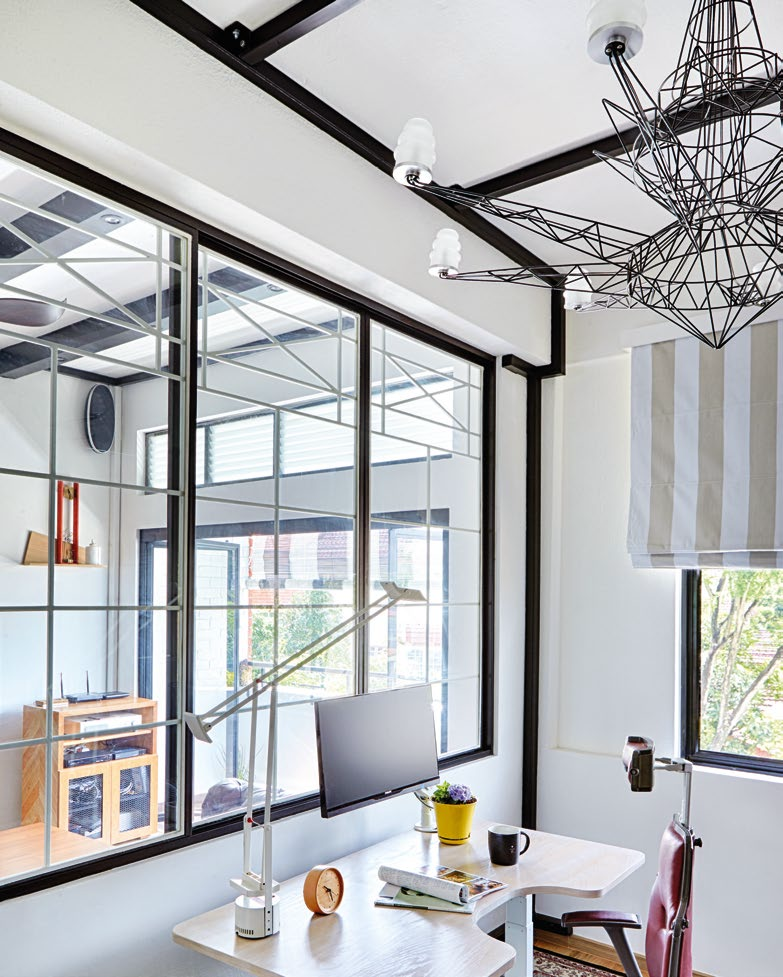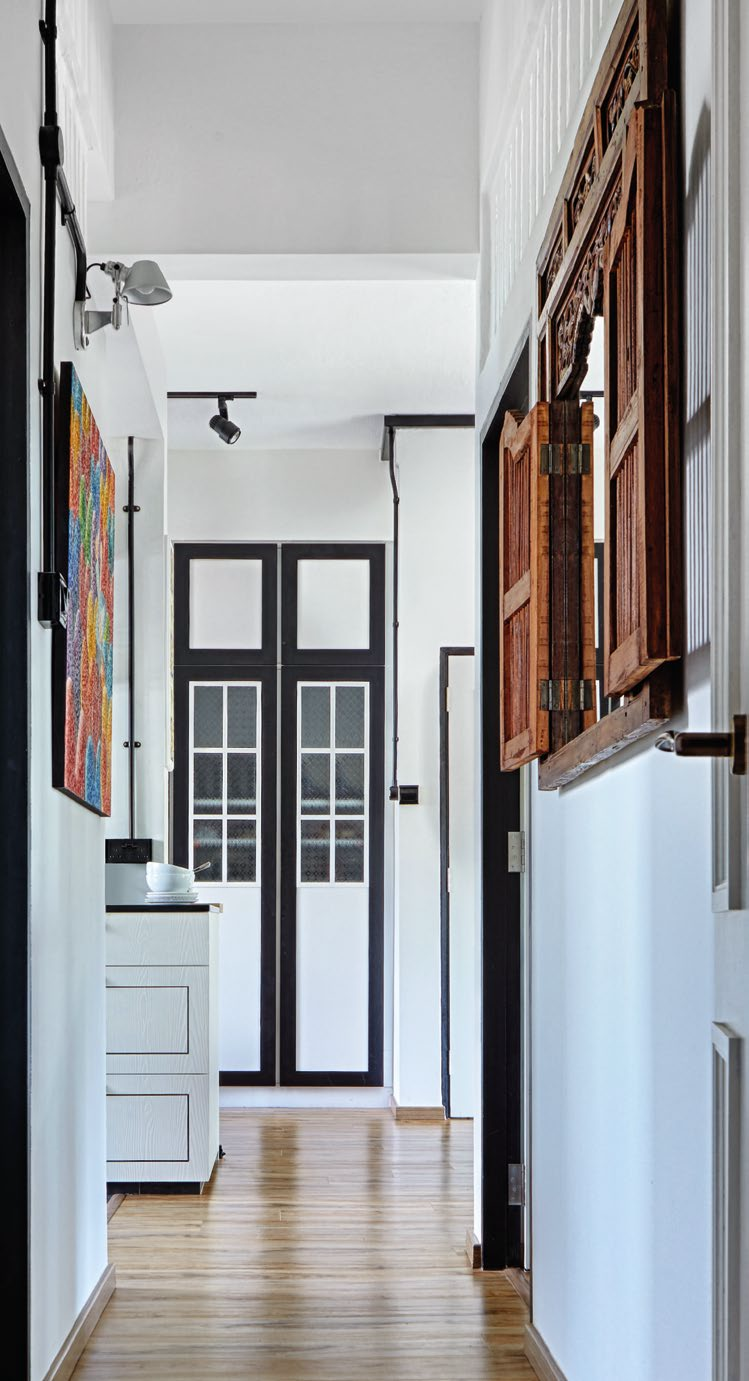 LEFT
The desk in the study is ergonomically designed, which is great for Dennis, who works from home. The table lamp is from John Erdos.
BOTTOM LEFT
A custom-made shelf with an angular design in the living area showcases cherished decor pieces from various countries.
BOTTOM RIGHT
A focal point in the kitchen and displayed on a shelf above the windows, this beautiful set of plates and bowls belonged to Dennis' grandmother – they were a gift on her wedding day.
OPPOSITE
The home has a wonderful sense of light and an airy feel – which was what drew the couple to the apartment.
LEFT
Wood-tone pieces make up the master bedroom. The window shutter headboard is from Taylor B, while the bedside tables are from Wihardja, and the trunk is from Teak Palace.
The old apartment was reworked structurally to open up its interiors, and given a trendy update that combines various styles and ideas.
If research is the key to a successful renovation project, Dennis Lim and Stacy Chai had it in the bag from day one. As they embarked on the journey of redecorating their apartment, they found all the inspiration they needed in reality TV shows. "We became addicted to home-renovating and decorating reality TV shows, and watched a lot of HDTV! It's where we got virtually all our ideas and inspiration," Dennis says.
The apartment is 60 years old, and while the couple wanted to give it an update, they also wanted to retain the original elements that gave it its historical charm. The result is a bespoke look reflective of their unique taste in decorating, with pieces sourced from all over the world and in various styles.
Interior designer Kelvin Teo of Space Sense was instrumental in the redesign and realisation of the couple's dream home. "Stacy and I are shopaholics!" Dennis admits with a laugh. "We were constantly seeing things on the shows we loved and just had to have, and would ask Kelvin to incorporate them," he adds. Work done included putting in new windows, adding sliding doors to the balcony, reconfiguring the bedroom (by removing a wall) and combining two smaller bathrooms to create a large one. Some ideas incorporated into the apartment – such as installing windows between the study and lounge areas – were inspired by heritage black-and-white colonial bungalows, especially those located around Newton, shares Dennis.
As Dennis is Peranakan-Chinese, he says he wanted his heritage to be reflected in the home's decor. In the kitchen, patterned tiles and a dish on display that belonged to his grandmother are examples of this important part of his identity.
The apartment's biggest appeal, however, is that it is so light-filled, open and breezy. "The high ceilings, in particular, were something we noticed right away!" he enthuses. "It's a joy to come home every day. Filled with light, and with birds singing in the trees outside, as well as having character, you can't help but love this home!"
WHERE TO GO
Space Sense Studio, TEL: 6746-9389 / 6858-5258.