Not only does the Laundrin fabric softener smell good and make your clothes easy to iron, its anti-crease and anti-static formula softens and reduces the friction against skin, too.
Not only does the Laundrin fabric softener smell good and make your clothes easy to iron, its anti-crease and anti-static formula softens and reduces the friction against skin, too. This Japanese brand uses 100 per cent plant-derived softening ingredients to create long-lasting scents, which include Classic Fiore and Romantic Flower. Additionally, its formaldehyde-free and anti-bacterial formula prevents odour-causing bacteria from multiplying.
Laundrin fabric softeners ($10.90 per 600ml bottle) are available at Fairprice, Don Don Donki, and Tokyu Hands stores islandwide.
ROUGH BEAUTY
Recently showcased at Milan Design Week, the Ripped and Teared and Coloured carpets by Nodus defy expectations. Hand-knotted in India, and made with ethical certification, the wool-viscose rug was inspired by ripped paper, says designer Joost van Bleiswijk.
More information at www.nodusrug.it.
GREEN WITH ENVY
Dutch designer Kiki van Eijk created the green desk and mirror for Italian furniture brand Exto, with the intention of showcasing high-quality Italian craft with a sculptural design that accentuates angular lines. The furniture set is functional, and also an art piece in its own right!
Find out more at extoworld.it.
HIGH LIGHTS
Add a touch of luxe to your home instantly with Lalique's Plumes lighting collection, where crystal lampshades are combined to create a visually impressive LED chandelier. Available in two shapes and sizes, the colourless lamps have a satin finish with chrome metal details, and can easily be controlled with a remote control dimmer.
Check out Lalique's Plumes lighting collection at www.lalique.com.
CLEAR & COLOURFUL
Make your wall a canvas for your favourite television shows and films with BenQ's latest projector. The Cineprime W2700 is the world's first 4K Digital Light Processing (DLP) projector that promises vibrant colours and clear imagery. The machine is lightweight and compact so it can fit perfectly in your living room or bedroom.
BenQ Cineprime W2700 is available for $2,699 at Lazada, Home Cinema Pit, Projectial, Firdouse Electronics and Mustafa. Find out more at www.benq.com.
NEWS
Refreshing New Looks Chinese restaurant Min Jiang's new premise at Dempsey is housed in a historical colonial building, with its Chinoiserie-style interiors designed by renowned architect and designer Ernesto Bedmar. The space sports textural elements from mosaic tiles, timber trellis to wood and rattan furniture. It is a cosy, modern eatery with an eight-seater bar, a brightly lit dining hall and three private rooms serving up Cantonese and Sichuan cuisines.
Min Jiang Dempsey is located at 7A and 7B Dempsey.
 
Picture Perfect
The guessing game as to whether a piece of art will look good on your walls is over. The Artling, an online gallery and art consultancy, has created an augmented reality feature on its app that gives an accurate scale and textural details of the artwork in your home. This makes it easier to visualise and decide on purchases.
Download The Artling app on https://www.apple.com/itunes.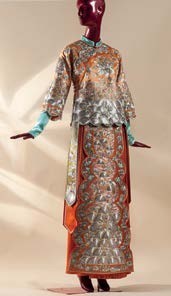 Iconic Fashion Statements
Singapore's Asian Civilisations Museum will be launching four blockbuster exhibitions, including a showcase of 29 iconic embroidered fashion pieces by well-known couturiere Guo Pei, including many intricate Chinese bridal gowns.
Guo Pei: Chinese Art and Couture runs from June 15-Sept 15 at Asian Civilisations Museum, www.acm.org.sg.
Green is In
Head down to town for interior design ideas and see how you can incorporate eco-friendly products, like green walls with preserved leaves, moss and flowers that require minimal maintenance, into your home! Mosscape, Nyee Phoe's debut pop-up concept store, combines decor ideas and lush wall art. It also o ers terrarium workshops and locally grown produce.
Mosscape pop-up store opens now till July 31 at Level 1 Scotts Square, www.mosscape.sg.
text DOMENICA TAN, ELIZA HAMIZAH