Entertaining your little ones during the school holidays can burn a big hole in your pocket. JASSMIN PETER-BERNTZEN susses out great places to play that won't cost you a cent.
Entertaining your little ones during the school holidays can burn a big hole in your pocket. JASSMIN PETER-BERNTZEN susses out great places to play that won't cost you a cent.
There has never been a more exciting time to be a kid in Singapore. Just look at the number of family-friendly places that keep popping up around the island to keep you busy every weekend, plus the special activities that are planned during holiday and festive seasons.
The only complaint? It can get a little costly sometimes to take the brood out for the day.
But did you know that the Lion City is teeming with free stuff to do as a family? Here's Young Parents' round-up of the top 20 free things to do in Singapore with kids.
CHILDREN'S GARDEN AT GARDENS BY THE BAY
It's all about having fun at this playscape, which has a dry and wet play area suitable for all ages. Junior will have a splashing good time with sway bridges, interactive stepping springs, water tunnels and fish sculptures.
Older kids will love scaling the two rainforest tree houses, running through tree canopies and hiking along the 130m long forest trail. If you're really lucky, you might even catch a performance at the sheltered amphitheatre. VISIT www.gardensbythebay.com.sg 
BISHAN PARK
Featuring one of the prettiest rivers, Bishan Park is a great place to spot fishes and stunning wildflowers, or ride your bikes and scooters along the open lawns.
There are plenty of playgrounds to try out as well, including a water play area and a treehouse adventure park with logs and ropes to climb on. Don't leave without visiting the dog run for some free cuddles from your furry friends (ask the owners for permission first). VISIT www.nparks.gov.sg
FIRE STATION OPEN HOUSES
Kids up at the crack of dawn on Saturdays? Take them to the nearest fire station between 9am and 11am for a free tour.
Your little firemen will love spraying with gigantic hoses, climbing fire trucks and "riding" motorbikes. If they are very lucky, they might even get to slide down the fireman's pole! Some fire stations don't host open houses; get the full list on the Singapore Civil Defence Force website. VISIT
www.scdf.gov.sg
FARMS
Escape into rural Singapore for some fresh air and one-on-one time with nature's best.  At Jurong Frog Farm, your little ones can jump into a frog pen with a net and gumboots to catch tadpoles or wrestle bullfrogs.
Head on over to Farmart Centre to cosy up to bunnies, hamsters and goats, then feed the koi fishes and say, "hello" to the prawns in the pond.
If the kids like reptiles, they can pet a red-eyed Elongata Tortoise and majestic Alligator turtle.
Our little island is also home to fruit and vegetables farm, Oh' Farms, plus a cow farm, Viknesh Dairy Farm, and goat farm, Hay Dairies. VISIT
www.kranjicountryside.com
,
www.ohfarms.com.sg
, www.jurongfrogfarm.com.sg and www.vikneshdairy.com 
THEMED OUTDOOR PLAYGROUNDS
Take your Thomas the Train-loving kid to the iconic tilted train at Tiong Bahru playground. After a recent upgrade, it offers even more climbing and sliding fun, plus a zipline, colourful maze and swings.
YP's other favourite outdoor playgrounds are the Battleship Playground at Sembawang Park, the nautical-themed gem at Marine Cove, the high-rope one at Woodlands Waterfront, the airplane playground at Seletar Aerospace Park, and the "dinosaur bones" playground at Canberra Park.
Also worth a shout out – Admiralty Park, the adventure wonderland made up of 26 slides.
ISTANA HERITAGE GALLERY
History buffs young and old will love getting a glimpse of Singapore's own Palace. Learn more about the building's past, peruse through the guest book to see if your favourite Queen or politician has visited, then marvel at the stunning state gifts received over the years.
Keep an eye out for the silver goblets and the bust of an Induna (a tribal councillor or headman) presented by the late South African President Nelson Mandela.
Inspired enough to check out the real deal? The Istana Grounds is open to public five days a year during major public holidays. Entrance is free, but get ready to queue.
VISIT
www.istana.gov.sg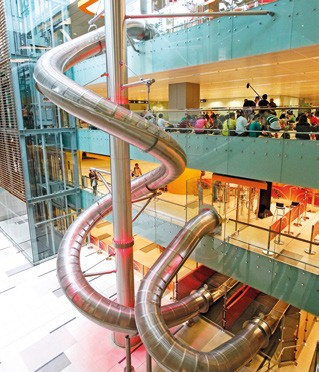 CHANGI AIRPORT
There are so many reasons to head East, even if you're not catching a fiight. For starters, free air-conditioned playgrounds at every terminal – including the newest one at Terminal 4 that's modelled like a gigantic chandelier, complete with climbing nets and slides.
Throw in free arts and crafts areas, endless trips on the sky train, plenty of space to run around and watch the airplanes land and take-off, plus great eateries, and it's no wonder Changi Airport is a favourite destination for affordable fun.
VISIT
www.changiairport.com
SCIENCE CENTRE OBSERVATORY
Are your tykes obsessed with outer space and planets? Let them stay up late and head down to the Omni-Theatre building between 7.45pm and 10 pm every Friday for a star and moon gazing session through portable telescopes and a smaller observation dome. Who knows, it might spark a love for astronomy in them.
VISIT
www.science.edu.sg
SINGAPORE DISCOVERY CENTRE
Give your older kids, and yourself, a crash course on the place you call home. Tour the Military Academy and Army Museum, where you will learn more about NSmen and then experience a simulated bomb explosion.
Then, take part in a 4D simulator ride and learn dance routines of the different races at a digital dance studio. The interactive fun continues outdoors at the Discovery Lake where you can take in a game of paintball or a round of pedal boating. VISIT www.sdc.com.sg
AIRFORCE MUSEUM
The highlight of this museum is the 2,000 sqm outdoor gallery, home to Singapore Air Force planes old and new.
Your future pilot will love exploring a range of planes, some on the ground and others suspended from a 16m high ceiling, including the Hawker Hunter, UH-1B Helicopter and A4-S Skyhawk.
You can also check out air defence artillery such as the Bloodhound Missile and aircraft engines like the Rolls Royce Bristol Viper.
VISIT
www.mindef.gov.sg
MALL PLAYGROUNDS
Kids behaving well during a shopping trip at the mall? Reward them with a stop at a playground. Most of the malls here have either an indoor or outdoor one in various themes that are fully equipped with activity stations, kiddie rides, tunnels, climbing structures, slides, and soft landing pads.
The best part? They have sitting areas for you to relax while keeping an eye on the kiddos. YP's favourites include, Paragon, Waterway Point, IMM, Marina Square, Suntec and Vivocity.
MARINA BARRAGE
The rooftop here is the go-to place for kite lovers who want to see their dragon or Minion-themed kites soar high up in the sky.
This windy little green pocket is also a great place for some scootering and has shaded spots where you can set up a picnic and enjoy spectacular views of the city skyline.
VISIT
www
.
pub
.
gov
.
sg
/
marinabarrage
MALL ROOFTOP WATER PLAY AREAS
Not that we need a reason to head to the mall, but knowing that it has a rooftop water play area makes it easier to get your shopping done and not feel guilty about not having something planned for the kiddos.
They come in various child-friendly themes and have colourful slides, splash pads and even gigantic water buckets that will soak everyone – including parents sitting on the sidelines, if you're not careful.
YPs' favourites are Kallang Wave Mall (next to the Sports Hub), Nex in Serangoon, Tampines 1, Waterway Point in Punggol, Westgate in Jurong East, Compass One in Sengkang and Changi City Point in Changi Business Park.
BOLLYWOOD VEGGIES
Your little nature-lover will enjoy exploring every nook and cranny of this 10-acre slice of paradise, which grows local veggies, herbs, fruits and flowers. Run through trellis arches, hide behind massive banana leaves and try to spot a squirrel or maybe even a monitor lizard.
It's rustic play at its best. Entrance is free, but you're encouraged to make a small donation.
VISIT
www
.
bollywoodveggies
.
com
BOTANIC GARDENS
Singapore's very own Unesco World Heritage Site is a great spot to stroll – and run – among lush greenery, set up a relaxing picnic, or indulge in some fish feeding action.
Free live music concerts are also held year-round at the Shaw Foundation Symphony Stage. The adjoining Jacob Ballas Children's Garden is a kid's wonderland made up of sand pits, maze-type play areas, tree houses and a water park. VISIT www.nparks.gov.sg/sbg
CONEY ISLAND PARK
Pack a picnic, mozzie spray, and water bottles, for a day of full-on outdoor adventures.
Explore the island on foot, or on bicycles and scooters. Uncover the beaches – there are five – or cut through the mangrove boardwalk and try to spot some of the 80 species of birds there.
Make a pit stop at the Casuarina Explorer, an obstacle course made entirely from trees and other things found in nature. Conquer the wooden bridge, hop along the stepping stones and climb over tree triangular tree logs.
VISIT
www
.
nparks
.
gov
.
sg
THE ANIMAL RESORT
The kampong spirit is very much alive at this little spot located along Seletar West Farmway that's home to a motley crew of animals, including a ravenous horse, a surly stork, fishes, peacocks, rabbits, guinea pigs and a cassowary, an unusual looking feathered friend.
Chickens, birds and geese roam freely, and you can feed them with grub sold at the farm for a small fee. YP also loves the old-school swings and climbing structures.
VISIT
www
.
theanimalresort
.
com
/
home
RESERVOIRS
More than just water catchment areas, Singapore's reservoirs are a great way to slip out of the crazy city life for a few hours.
Head to the scenic Lower Seletar Reservoir for a boardwalk stroll and to frolic in the water play area, which has a small stream, wading pool and jet streams and giant flower structures that spurt water. Or take the excitement up a notch at MacRitchie where you can visit with the resident macaques – hold on tight to your snacks – and do a tree top walk. VISIT www.nparks.gov.sg
SUNGEI BULOH WETLAND RESERVE
Singapore's first wetland reserve is the largest mangrove forest home to a wide diversity of flora and fauna, including migratory birds. Start off with the midcanopy walk, an elevated 120m-long boardwalk as you try to spot insects and birds.
Then, do the forest trail walk and come face-to-face with tiny mudskippers. Little ones will love the Junior Adventure Trail, a play area made up of steps, poles and even a pulley boat. Free guided tours are held on weekends; some are specially tailored for kids. VISIT www.nparks.gov.sg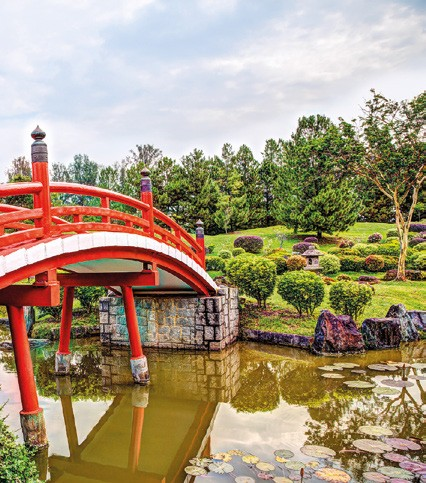 JURONG LAKE GARDENS (CHINESE AND JAPANESE GARDENS)
Sitting on the tranquil Jurong Lake are the magnificent Chinese and Japanese Gardens. The former has Chinese imperial style inspired architecture and lots of space to stroll through pavilions, bridges, tea houses and a stunning bonsai collection.
Climb the seven-storey pagoda and enjoy breathtaking views of the adjoining Japanese Gardens, which has Japanese styled pagodas originating from the Muromachi and Momoyama periods, arched bridges and rock waterfalls. Keep an eye out for the resident birds and monitor lizards. VISIT www.nparks.gov.sg 
PHOTOS JURONG LAKE GARDENS (CHINESE & JAPANESE GARDENS) 123RF CONEY ISLAND PARK THE STRAITS TIMES BOTANIC GARDENS & BISHAN PARK NPARKS FARM JURONG FROG FARM GARDENS BY THE BAY GARDENS BY THE BAY IMM PLAYGROUND CAPITALAND VIVOCITY SKYPARK VIVOCITY NEX NEX