The Indonesian island is seeing a surge in beach club developments, but can it maintain its momentum to become the Ibiza of South-east Asia?
THE NIGHT IS NOTHING
Finns, which reopens this month in Canggu, boasts an expansive beach front featuring a plethora of bars and restaurants, and facilities to launch a sensational party.
In the year 2000, a triumvirate of investors from Australia, Indonesia and the UK opened Ku De Ta, a Mediterranean-style beach club, in Seminyak, then a cluster of rice paddies and hamlets on Bali's west coast.
"Back in those days, all the action was in Kuta in the south, and whenever someone said let's go to Ku De Ta, people would say, 'That's miles away, you have to go down dirt roads and through rice fields'," says operations manager Justin Smyth. "But the owners' vision of a little slice of heaven at the end of the rainbow struck a chord with the Euro-centric crowd who wanted to get away from the craziness of Kuta."
Fast forward 19 years. Rapid urbanisation in Bali has seen the rice fields of Seminyak replaced with a slew of holiday villas, restaurants, boutiques and hotels. Yet Ku De Ta remains a crowd favourite in Bali, especially at dusk when the island's famous bloodred sunsets light up the sky in a panoramic fresco of colours.
But Ku De Ta is no longer the only place that tourists in Bali can visit to enjoy upmarket beach food in the comfort of a daybed, or to sip a tropical cocktail at the edge of an oceanfront pool. From Tropicola, a new beach and pool club where everything from the canary yellow parasols to the tutti frutti cocktails hark back to Miami Beach in the '80s, to Sundara, a Hemingwayesque bar and restaurant with a 57m-long beachfront infinity pool at the Four Seasons Jimbaran Bay, and an upcoming chapter of Ibiza's famous Cafe Del Mar franchise that will rent out VIP cabanas for $10,000, there are now 31 beach clubs in operation or under construction in Bali – nearly twice as many as two years ago.
"The more, the merrier. It'll only help make Bali the No. 1 beachclub destination in the world," says Tony Smith. A former professional football player from Australia, Smith now co-owns Finns Beach Club, an entertainment venue with 170m of beachfront frontage in the Balinese surfing hub of Canggu. The club is undergoing a multi-million-dollar expansion. When it reopens this month, Finns will offer holidaymakers a choice of nine bars; five restaurants including a rooftop bistro staffed by French chefs, French sommeliers and French maitre d's; a day spa; wine cellar; bakery; and a massive lagoon pool bridged by a party platform and pockmarked with 16 semi-submerged circular daybeds with lockable glove boxes and built-in phone chargers – a concept Smith "borrowed" from a beach club he visited in Ibiza.
"Ibiza may the home of beach clubs but we can do more unique and innovative things in terms of design here, because we're in a tropical paradise – and a probusiness paradise," he says. "People often talk about the challenges of investing in Indonesia but I don't see it that way. I've done business in Australia for a long time and, let me tell you, things are much easier here compared to in the Western society because the industry there is over-regulated. A lot of those regulations are good but some are just plain unnecessary. It's also a lot cheaper to build here – about 40 per cent of what it would cost in Australia. Gross operating profit is much better, too. A disciplined F&B operator can earn 30 per cent here – two to three times more than what they'd get in Australia."
SHOCK OF THE NEW
In 2011, Indonesian land developer and art collector Ronald Akili rewrote Bali's hospitality playbook with the launch of Potato Head Beach Club, a 2,000-seat-and sunbed venue built inside an amphitheatre covered with candy- coloured window shutters.
Set in the heart of the Seminyak beach, Potato Head has three restaurants and a massive freeform pool, hosts its own music festival that pulls in 7,000 ticket-holders over two days every August, and boasts high-tech sustainability practices that put the headquarters of the world's top conservation groups to shame. It is, according to Smith, probably the best beach club in the world.
Says managing director Andrew Steele, a hospitality veteran from Australia: "At that juncture in time, our founder, Ronald, saw an opportunity to do something very different – to create a venue with distinctly Indonesian architecture and a strong attachment to this country's history, but in a modern context. People fell in love with it. The coliseum covered with shutters is a nod to Indonesia's Dutch colonial period. The bricks used to build Katamama, our hotel next door, were all handmade in Bali – a cottage industry for temples that was going out of business until we revitalised it."
Steele attributes Potato Head's longevity on Bali's now hypercompetitive beach club scene to constant evolution. "We're always thinking of new ways to keep things interesting in terms of our music style, art and F&B. We've created different experiences and restaurants within the one venue, and they're not just about 'beachy' food. The menu at our Indonesian diner, Kuam, took our chefs three years to design. Ijen, our seafood restaurant, has a zero waste policy – everything from the plates down to the floor tiles are made from repurposed junk. Two years ago, we became the first venue in Bali to ban single-use plastic. We even have our own reverse osmosis plant that takes water 120m below ground level so we don't touch locals' water supply. And, if you look at our latest art installation – 5000 Lost Soles – it's made of flip-flops that were discarded on the beach to show people what happens every time they buy a new pair. They don't just disappear."
One thing Potato Head is not doing, Steele says, is bidding for superstar DJs against new megabeach clubs like Omnia, a colossal 3,000-capacity Disneyland for big kids set on the cliff tops of Uluwatu on Bali's south coast. Modelled after the Omnia mega-club at Caesars Palace Casino in Las Vegas, it features a curved infinity pool for "swim-dancing", a swim-up bar surrounded by VIP cabanas with plunge pools of their own, and a giant shimmering cube that seems to float above the ocean.
Industry sources interviewed in Bali claim Omnia pays superstar DJs six-figure sums to appear at the club, and that many of the Russian and Asian Instagram models that can be seen prancing around in high heels and g-string bikinis on the dance floor are actually contractors who've been paid to party.
Omnia's management says the venue doesn't share that kind of financial information. It did, however, invite this reporter to visit the venue on a recent Saturday afternoon, where some 2,000 holidaymakers were seen drinking and dancing during a shoulder season when other beach clubs were operating well below capacity.
"Of all the beach clubs in Bali, Omnia has carved itself a unique position by making itself a 'dayclub' and discouraging kids," says the marketing manager of a competing beach club who spoke on condition of anonymity. "It's all the more impressive, given it's not actually on a beach."
SURVIVAL OF THE FITTEST
On Dec 2, 2017, Ulu Cliffh ouse, a whitewashed beach club with an expansive swimming pool and lush green lawn spotted with palm trees and daybeds that evokes all the glam and grandeur of the ultra-exclusive clubs of Palm Springs, opened on the cliff tops of Uluwatu. Headlining the opening party was Mike D of legendary US hip-hop group Beastie Boys.
But the launch date proved inauspicious. Only one week earlier, the Mount Agung volcano in eastern Bali had erupted. Bali's airport closed for 48 hours, forcing hundreds of thousands of travellers to rethink their holiday plans.
"Our team had opened more than 10 venues in Bali and were looking forward to the buzz of the first day," says Ben Jones, CEO of M Development, a Singaporean company that invested $7.5 million in the venue. "But on this occasion, we had a different experience. Hotels across Bali were running on 15-20 per cent occupancy – the lowest since the Bali Bombings of 2002."
Jones' and his team are now looking at Bali's spendthrift expat community to build momentum and cash flow for Ulu Cliffh ouse. "Getting big DJs is great for branding," he says. "But getting customers in the door day-in, day-out is more important, and that's where creating a unique customer experience comes into play because beach clubs are about so much more than F&B. They're about lifestyle, about people-watching, and an element of sex goes with that. We're in the process of building a new members' only clubhouse and pool and eight luxury suites. Basically, what we're trying to do is offer much more to our loyal clients who live on the island. It's a niche no other beach club in Bali is yet to capture."
If there's one beach club operator in Bali who knows about niches, it's John Spence, former manager of Brit-pop icon Boy George and now CEO of the Karma Kandara resort and beach club in Uluwatu. A barefoot-style venue made of natural materials in a sandy cove edged by a turquoise lagoon and accessible only via a ticketed inclinator, Karma is credited with kick-starting the construction boom in Uluwatu that's seen property values double each year for a decade.
"There are two business models for beach clubs," he says. "The first starts from the ground up and grows organically like Le Club 55, one of the original beach clubs on the French Riviera. It began as a shack selling sandwiches to tourists. Then one day, Brigitte Bardot and the crew filming And God Created Women turned up for lunch and it became famous. That's how most of the big beach clubs in the Mediterranean began. As business grew, the owners put more money into them but the venues retained a simple, sexy feel. That's how we built Karma. We've added a few things over the years – a day spa and sushi bar – but it's still basically the same thing."
"The second model," Spence says, "is you drop millions building something fancy and hope to make millions more in turnover, which is what's happening now in Bali. But there are fundamental problems with that. First, there's too much supply coming online too quickly. And secondly, those really big beach clubs are good only when they're full. But business in Bali is very seasonal.
"I think the beach clubs that'll survive are those with accommodation as it gives them steady customers and a second income stream. But even more important is being in a good location. If you have a good location, people will always come. But if you're just running on gimmicks and famous DJs, well, the beach club business is very fickle, and what's trendy now may not be trendy in two or three years. Take my word for it: Many of those new venues, they're going to close." 
01 SEE AND BE SEEN
The 57m-long infinity pool at Sundara within Four Seasons Jimbaran Bay provides ample ground to flaunt gym-honed physiques.
02 BEACH CUISINE
The barefootluxury vibe of Karma Kandara comes with tantalising food.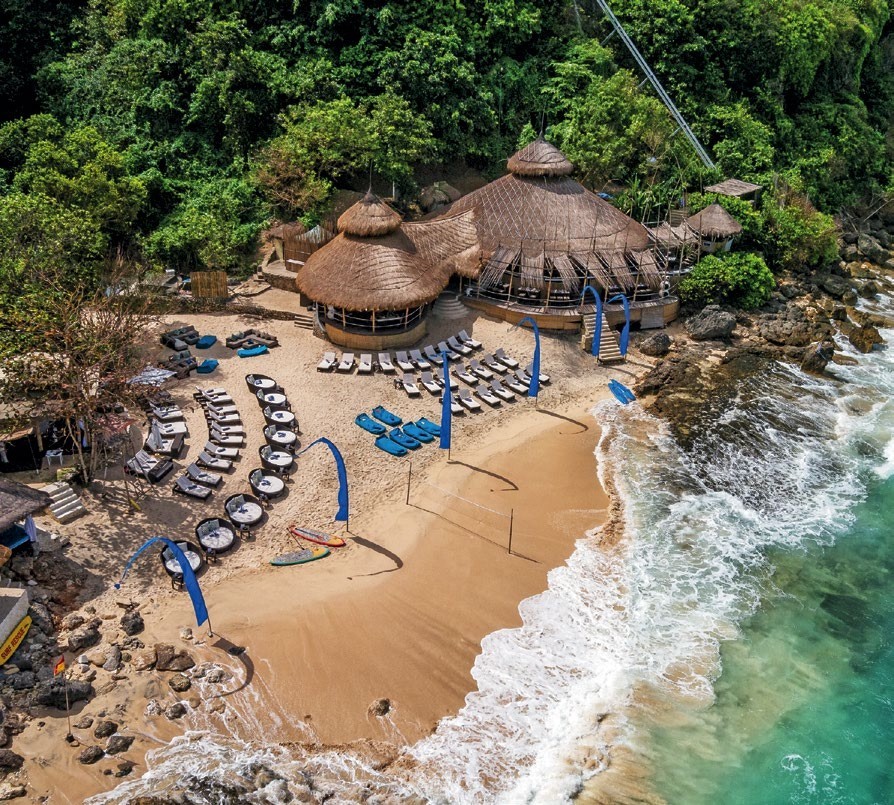 03 PRIVATE COVE
The lagoon at Karma is only accessible via a ticketed inclinator.
GOURMET, OF COURSE
Crab and coconut salad at Sundara.
04 TAPPING LOCALS
Ulu Cliffhouse is building a members' only clubhouse to attract expat islanders.
05, 06 MIAMI SPICE
The vivid yellow aesthetic of new beach club Tropicola is reminiscent of Miami Beach in the '80s.
TEXT IAN LLOYD NEUBAUER