A small and landlocked principality, Liechtenstein is promulgating "Princely Moments", the promise of brushes with royalty, to draw travellers.
SMALL BUT MIGHTY Liechtenstein punches above its weight when it comes to corporate achievement. 
It is a little principality with grand claims to fame. Anybody with even a vague knowledge of fine arts would have seen, or at least heard of, their royal family's Princely Collections, deemed one of the most important private art collections in the world, with some 1,700 paintings, including masterpieces by the likes of Rubens and Rembrandt. Those in finance might remember its (former) reputation as a tax haven for the elite – until the country abolished its banking secrecy laws in 2009. It is also one of the most industrialised countries in Europe; and its per capita income stands as one of the highest in the world.
Liechtenstein is a small country with a huge reach. In its 300 years of history, the sliver of land separated from Switzerland by the river Rhine has transformed from an agricultural region plagued with floods and landslides to a formidable economy with a global presence.
If you've ever had "Europe-made" orthodontic product fitted into your cavity, you might actually be carrying a little piece of Liechtenstein with you, for Ivoclar Vivadent is a leading dental company, with its products available in more than 120 countries. Liechtenstein is also home to the number one roller coaster construction company in the world, Intamin; and Hoval, which provides heating and indoor climate solutions for big luxury hotels, as well as the Vatican and Buckingham Palace. And LGT – the world's largest family-owned private banking and asset management group, owned by the Princely House of Liechtenstein – has its footprints in more than 20 locations worldwide and manages some US$200 billion in assets for private and institutional clients. 
VADUZ CASTLE The residence of the royal family is opened to the public for a beer party on Liechtenstein's national day. 
OLD, OLD VINES Princely Wine Cellars produces 120,000 bottles yearly from centuries-old vines. 
Yet for all the impressive corporate achievements Liechtenstein is known for, it is likely the small things that it will be remembered for. Such as how it is a highly democratic state whose population even voted on the opening of a McDonald's (though the population doesn't seem to have an issue with the opening of casinos, of which there are a handful).
Or how the Vaduz castle, which serves as the princely family's primary residence and a vault for pieces in the Princely Collection, is out of bounds but is the venue for a public beer party on Aug 15, Liechtenstein's national day. It is not uncommon for local kids to be invited over for playdates by the youngest members of the von Liechtenstein clan. And children who top their cohort are also invited to tea with the Territorial Prince, as education has always been an emphasis and a key to Liechtenstein's development. Beneath the orderly, no-nonsense facade of this prosperous country are quirks and idiosyncrasies that make the place charmingly human. 
CROSS BORDER The wine estate has vineyards in Liechtenstein and Austria.
ART VAULT Vaduz castle houses art from the Princely Collection. 
Travellers can drop by for the "Princely Moments", proudly advertised as the "creed of Liechtenstein's touristic offering". You certainly have the opportunity to shake hands and rub shoulders with royalty here. In a town that is all of 160.5 sq km, the royal family drives itself around with no security detail, and a prince or princess just might be supping at the same Michelin-starred restaurant (of which the country has two) as you.
The town certainly deserves more time than a drive-through or a pit-stop at the city centre's inordinately large watch boutique ("We sell more watches than we have residents!" one local cracks) teeming with Chinese tourists checking off yet another country on their multi-city European package tour. Here, the highlights. 
GET HIGH ON HIKING
For the nation's 300th birthday in 2019, a 75km hiking route was created. The trail – designed for hikers of all fitness levels – takes them through all 11 municipalities of the country, and highlights 147 historical sites and events. Sights to behold on this cross-country trail include the mediaeval Vaduz and Gutenberg castles, as well as the minimalist (and very Instagram-worthy) parliament building designed by German architect Hansjorg Goritz. Beyond learning about the history and development of the nation, the walk – which can take some five days, but can also be accessed mid-way from any of the 11 communities – also takes hikers through mountain ridges and dense forests, rolling hills with the sound of cow bells in the air, quaint townships with ancient churches, and delightfully varied scenery along the way. www.tourismus.li/en/activities/the-liechtenstein-trail/
SKI RESORT OF THE CHAMPIONS
Liechtensteiners like to joke that they have the highest number of Olympic medallists per capita – it is a bit of a cheat when there are only 38,000 people to share 10 medals with, and these come all from their Alpine skiers. Being the only country in the world which has its borders within the Alps, it is understandable that local kids dive into the sport as soon as they can walk. And everybody, from Olympic medallists to aspirants, to tumbling tots, heads to Malbun. In 1983, Prince Charles and Lady Diana also left their tracks in the snow here, during a visit to Liechtenstein. 
Just a 20-minute drive up from the capital of Vaduz, Malbun is a popular getaway for the locals, and the idyllic landscape of grazing pastures is a contrast from the more densely populated areas along the Rhine. A cluster of log cabins sit at the foot of the 2000m-high Sareisjoch mountain ridge, and among them is the stylish yet very family-oriented Hotel Gorfion.
The local institution was about to be demolished by a new owner, to the locals' dismay – until the princely family stepped in to take over the ownership, like true knights in shining armour. Relaunched in December 2016, it is a gem that offers plush creature comforts and wellness programmes that will be appreciated by the adults, and a plethora of options for the kids, from an indoor pool complete with toys and ski-in/ski-out access to the local kids' ski school. www.gorfion.li 
WHO THEY ARE The culture, history and landscape of the principality is showcased in Liechtenstein National Museum. 
ART OF THE AGES
Another important private collection from Liechtenstein is that of the Hilti Art Foundation. Started in the 1970s by members of the Hilti family, a world leader in dismantling and fastening technology for the construction industry, it contains some 200 art works from the classical modernism period to the present, including that from the hands of Picasso, Giacometti and Sean Scully. Until Jan 26, select pieces from this collection are juxtaposed against those by the Old Masters from the Princely Collection. This special exhibition, called On The Future Of The Past, is held at the Kunstmuseum Liechtenstein, the state museum of modern and contemporary art in Vaduz. www.kunstmuseum.li 
LITTLE FANFARE The royal family drive themselves around with no security detail. Pictured, Prince Philipp.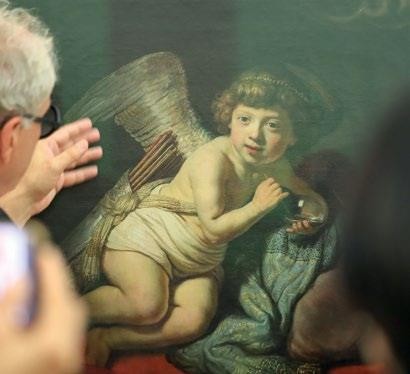 KUNSTMUSEUM LIECHTENSTEIN This month, the modern museum will contrast Old Masters with modern legends like Picasso and Giacometti. 
THE HILLS ARE ALIVE
Music festivals are a big part of Liechtenstein's annual calendar of events. Early last year, Lang Lang played at the third iteration of the Vaduz Classic, the summer highlight of Liechtenstein's cultural calendar where international maestros, rising stars and local artists share the spotlight.
Then there is also the annual Princely Liechtenstein Tattoo, which is held every September, when the castle ruins of Schellenberg are transformed into a stunning backdrop and stage for exhilarating routines performed by an impressive line-up of showbands, bagpipe ensembles and dance troupes from around Europe. There is also the annual Liechtenstein Guitar Days – a week-long festival that attracts world-class guitar ensembles and soloists, offering performances and masterclasses for enthusiasts. 
---
A ROYAL VINTAGE
Princess Marie von und zu Liechtenstein on the Princely Wine Cellars. 
Sporting a pixie haircut, knee-high stiletto boots, and a patterned Michael Kors dress, H.S.H. Princess Marie von und zu Liechtenstein is looking more Hollywood royalty than old European royalty. Formerly Austrian countess Marie Gabriele Franziska Kalnoky de Korospatak and now wife of Prince Constantin von Liechtenstein, third son of the reigning prince, she certainly has a glamorous streak. After all, she used to work for New York fashion PR and event company Bismarck Media. But beneath all that is a self-proclaimed country girl who fell in love with wine after getting down and dirty at her brother-in-law's vineyard during a school holiday in the early '90s. "My sister asked me to stay at her husband's vineyard during harvest time and I thought it was fun to earn a bit of money," she recalls. Following that, she would help to sell the bottles from the winery at fairs in Vienna – all during her days as a student. This love for wines was reignited when she was placed in charge of promoting the Princely Wine Cellars in 2013. Today, the certified sommelier travels the world to tell the story of the Princely Wine Cellars, whose history can be traced to the 14th century. Here, she speaks of the uniqueness of the offerings from its ancient vineyards. 
THOSE WORKING FOR THE ROYAL FAMILY USED TO BE PAID BY BARRELS OF WINE, and the wines were not for sale. And while I would love to take credit for commercialising the enterprise, the family actually started selling the wines in the '50s. Our vineyard was really a bit of a sleeping beauty which people didn't pay much attention to. We simply woke it up, lifted it up with a new spirit, and made it work. We are still working at making it produce new things.
THE WINE ESTATE HAS VINEYARDS IN TWO COUNTRIES: a 4ha vineyard in Vaduz and a 40ha vineyard in north Austria, near the Czech Republic. The latter sees very cold winters and hot summers, whereas the climate in Liechtenstein, which is surrounded by mountains, is more moderate, with warm winds in the day that help to dry out the grapes after the cold nights and rains. The climate is similar to Burgundy.
OUR VINEYARDS ARE PROOF OF HOW SUSTAINABLE OUR METHODS ARE: We are still producing amazing crops after 600 years. Today, we try to work even closer to nature by observing and respecting it, but while I am a huge fan of biodynamic wines, often we forget that biodynamic methods use a lot of copper to combat fungus, and that damages the soil. So I wouldn't say that we are a biodynamic winery, but we adopt an approach that is less harmful to the environment. Last year, while visiting Bordeaux, an old winemaker told me that only with living soil can you get a living product. So I am happy to report that there are lots of creepy-crawlies in our soil!
THE AUSTRIAN AND LIECHTENSTEIN VINEYARDS HAVE A COMBINED PRODUCTION OF 120,000 BOTTLES – though we are probably reducing the numbers to produce higher quality reserve wines, something which we started to do around 2010.
OUR WINES HAVE BEEN PERFORMING WELL AT VARIOUS CHALLENGES in Europe and Decanter Asia, receiving a couple of gold medals and over 90 points at Decanter. About six years ago we sent in five wines to an expo in Hong Kong and all of them won prizes, which is an unusual achievement for any winery!
SOME OF OUR BEST VINTAGES INCLUDE 2009 AND 2012, which had a very hot and dry summer that provided the perfect ripening conditions for our merlot. We also have some vintages from the '80s and the white wines, which are very crisp and light, have aged fantastically well.
WINES NEED A FUN STORY TO TELL AND WE HAVE A GREAT STORY – after all, everybody likes a story involving princes and princesses (laughs). 
TEXT KOH YUEN LIN