This casual-chic Italian bistro in Keong Saik Road instantly transports you to the cobblestoned streets of Europe.
Hams and garlic hang above the bar, which has a '60s iron gate as the face. 
Finding yourself missing the little cafes of Europe during this time of restricted travel? Step into Bar Milano. The restaurant looks like it's been picked up from the quiet, cobblestoned streets of a sleepy Italian town and dropped directly into the bustle of trendy Keong Saik Road.
Launched in early August 2020, the casual-chic Italian bistro was conceived by SJS Group that's behind Pasta Bar and Employees Only at Amoy Street. "It pays homage to the classic tavernas of Europe," says Sarissa Rodriguez-Schwartz, a co-founder of SJS Group. "It's for aperitivo and Italian food lovers alike."
To achieve the quintessentially inviting atmosphere of a European cafe, SJS bucked convention and hired James Page, a movie set designer, to design Bar Milano. Upon stepping inside, one's first impression is that of a cosy, intimate place where time has stopped, thanks to the sunshine yellow hue and old-plaster texture of the walls. 
good to know

Movie set designer James Page has worked on films like Sandcastle and the upcoming Tiong Bahru Social Club. 
Bar Milano's interior is straight out of a small Italian town.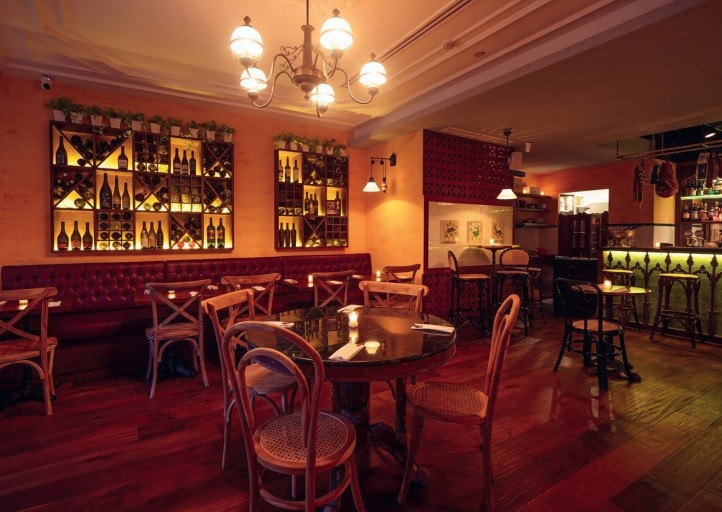 The interior is warm and unassuming, just as an Italian bistro should be. 
A charming wrought-iron chandelier hangs from an intricately moulded ceiling that would not look out of place in an old-world European dining room. Dotted around the room are mismatched wooden and rattan chairs, and taking pride of place is a bar counter at the back, which features an actual gate from a 1960s Italian home as its bar face.
"We researched long and hard for our favourite design features from European cafes and either imported specialty items [like the gate] or used amazing local artists and craftsmen to replicate certain features," shares Sarissa.
Bar Milano strives to stand out in its hip area by delivering an authentic casual Italian dining experience. The menu – written on an old flyblown mirror – shows just a few items, but they're only a fraction of the gastronomic selection available.
Foodies will love the four different pizza frittatas, made of fried pizza dough and known as the "pizza of the people". It's tough finding this dish outside of its native Napoli, and Bar Milano's version is the first of its kind in Singapore.
The rest of the mains include classics like Chicken Milanese served with apple and fennel coleslaw, and an Italian Paella with Pugliese baked rice, mussels, prawn, and potato. Of course, as every self-respecting Italian bistro does, Bar Milano serves an extensive selection of coffees to complete the meal.
"Our goal at all of our venues is not to create a historically accurate simile, but rather an emotion of something transformative," says Josh Schwartz, also a co-founder of SJS Group. "Everything – from our lighting, music selection, food and drink offerings, as well as style of service – is carefully crafted to stir up and evoke a time, a place or a feeling. We know we have succeeded when guests say, this place makes me feel like I am somewhere else." 
Bar Milano is located at #01-02, 55 Keong Saik Road. For more information, visit www.barmilano.sg. 
text MELODY BAY photos SJS GROUP