Planning your trip and deciding where to go in Bangkok? Consider travelling by boat is not only cheap, but super convenient. Here are some of the best places you can cruise to.
Travelling around Bangkok by boat is not only cheap, but super convenient. Here are some of the best places you can cruise to.
When it comes to getting round Bangkok, we usually think of taxis, tuk-tuks and skytrains. But there's another way to travel that doesn't involve gridlock or large crowds. It's boats.
The Chao Phraya Express Boat system is reliable and efficient – the boats run on a fixed schedule, and all piers along the river are clearly marked in English and Thai. Here's our pick of the most interesting pier stops found along the scenic 21km route.
Sathorn
Also known as the Central Pier, this boat interchange is where all five lines of the Chao Phraya Express Boat Company stop. It's also where boats to major hotels drop anchor, and where the boat to Asiatique The Riverfront can be found. Never heard of it? It's a night market with some 1,500 shops, cabaret shows and live Muay Thai performances.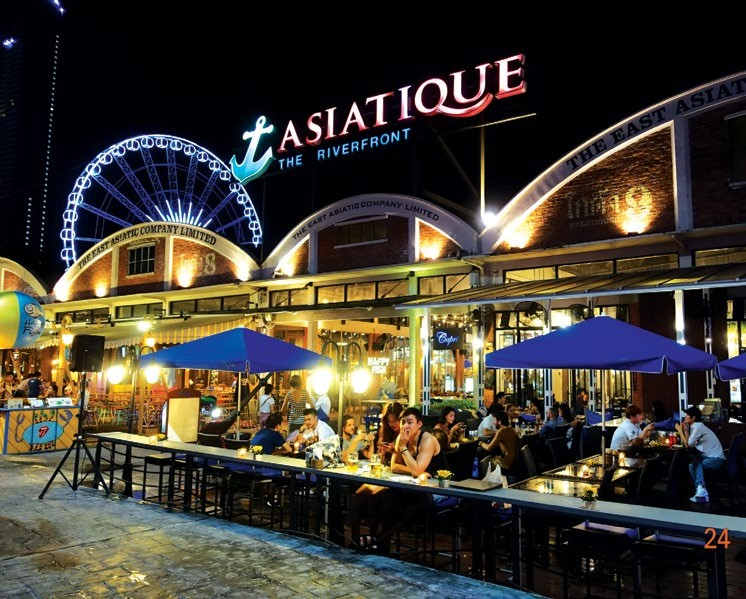 Si Phraya ( N3 )
Upon disembarking, the only attraction in sight is River City Bangkok, a mall specialising in art and antiques. But take a crossriver ferry to the other side and you'll get to The Jam Factory – a creative space with an art gallery, home décor store, bookshop and restaurant – as well as Warehouse 30, a modern art and design complex. This is just the place for indie art lovers.
There are two main types of boat systems in Bangkok…
One is the Chao Phraya river ferry system,system, and the other is the canal ferry system, also known as khlongs. The latter is what earned Bangkok the nickname "Venice of the East".
The river ferry system is what will get you to the major piers, which are near several major attractions. There are five lines available. The canal ferry system travels along the smaller waterways to transport you around inner Bangkok, including to popular spots such as Pratunam Market and the Chidlom shopping district.
Rajchawongse ( N5 )
Make your way from here to Chinatown, which is abuzz with street food and cheap goods. Head to Yaowarat Road for yummy Thai meals and snacks, then to Sampeng Lane for heavily-discounted fabrics, clothes and electronics.
Rajinee ( N7 )
If you want a feast for your eyes, you've got to check out Pak Khlong Talat – Bangkok's primary flower market that also sells fruits and vegetables. It's busiest at dawn but also bustles with people in the evenings, when the street food stalls are set up. Take a cross-river ferry from Rajinee to the other side of the river to visit the iconic Santa Cruz Church, which was built in the 1700s.
Tha Thien ( N8 )
Get off here to visit Wat Pho – one of Bangkok's most renowned temples that houses a 46m-long reclining Buddha statue that's covered in gold leaf. You can also take a cross-river ferry to Wat Arun, a stunning temple and one of the most recognisable landmarks in the city.
Tha Chang ( N9 )
No visit to Bangkok would be complete without a trip to the Grand Palace, which has been the official residence of the kings of Thailand since 1782. Stop here to get to the city's most famous landmark. For an extra dose of Thai history, also check out the National Museum. SC1217E_Bangkok3.indd 124 
Phra Pin-klao Bridge ( N12 )
Once, the river and its tributaries were how all residents, even royalty, travelled around the city. Head to the Royal Barges Museum to check out some stunning vessels used during formal processions (they've only made an appearance 16 times in almost 70 years).
Phra Arthit ( N13 )
This is right next to Khao San Road, which, according to The Beach, is the "centre of the backpacking universe". Khao San is pretty much a tourist street and is where you'll find lots of cafes, burger shacks, shophouse boutiques and electrifying nightclubs.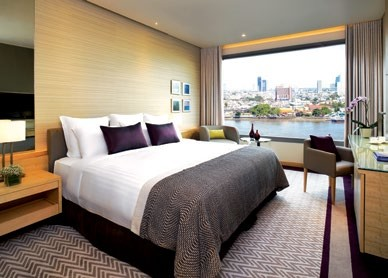 AVANI Riverside Bangkok Hotel
For a luxurious stay that's also close to the action, check out AVANI Riverside Bangkok Hotel. Each and every one of its rooms overlook the river and the city skyline and, get this – the hotel has its very own pier. It's just one stop away from Central Pier, where you can easily change boat lines and which is a short walk away from the Saphan Taksin skytrain station. 
Images 123RF.com Text Adora Wong.