Whether you're after natural beauty and cultural ruins or want to party and lounge poolside, Mexico's Yucatán Peninsula is the place to play.
Mexico's Yucatán Peninsula has made waves in luxury travel in the last few years. The state capital of Mérida is famous for its rich Mayan culture and colonial heritage, with a modest population of over a million. Cancun is home to the Mesoamerican Reef, which is the world's second largest coral reef. Located on the eastern seaboard of the Yucatán Peninsula and along the coast of Quintana Roo is lively and cosmopolitan Riviera Maya, which has revamped itself as an international travel destination for sun worshippers and history buffs. The Riviera Maya region stretches from the quaint town of Puerto Morelos and bustling Playa del Carmen and all the way down south to the small town of Tulum.
Just an hour away from the more commercially developed Cancun, visitors can revel in Playa del Carmen, a chic and trendy coastal town that is quickly shedding its spring breaker reputation for a more upscale one. Less than an hour's drive south of Playa Del Carmen is the hipster bohemian town of Tulum, featuring some of the Riviera Maya's best-preserved Mayan archaeology atop dramatic seaside cliffs overlooking the Caribbean Sea. Through word of mouth, Tulum has become an elite Instagram-worthy respite for celebrities and well-known bloggers.
At the nearby Sian Ka'an Biospshere Reserve, you can explore and immerse yourself in azure lagoons, mangrove swamps and intricate coral reefs inhabited by a myriad of indigenous marine life. There are also freshwater cenotes to swim and snorkel in. Day trips via ferry or speedboats to the offshore islands of Isla Mujeres and Cozumel are perfect spots for snorkelling and sea sports. The mysterious underwater museum of Museo Subacuatico de Arte with its hauntingly beautiful submerged statues attracts divers and eco-travellers with a penchant for the bizarre.
If retail therapy is your thing, head over to the high-end fashion boutiques at downtown shopping mecca La Isla. History and archaeology aficionados can travel two hours west inland to Chichen-Itza, a pre-Columbian city that was the seat of power during the Mayan civilization. This UNESCO world heritage site is chock-full of archaeological wonders such as the famous El Castillo, temple to the god Kulkulkan, the clifftop Sacred Cenote, a 60m-wide sinkhole, and El Caracol, also known as 'The Snail' for its spiral staircase. 
Yucatan cuisine is served in mystical surroundings at The Banyan Tree Mayakoba.
BANYAN TREE MAYAKOBA
Nestled within the private and secluded resort compounds of Mayakoba, (meaning 'village of water') are four of the world's most exclusive luxury resorts — the Banyan Tree Mayakoba, Fairmont Mayakoba, Andaz Mayakoba and Rosewood Mayakoba. The four hotels are connected through a network of pristine canals that inspire the property's tagline, "The Venice of the Caribbean."
The Banyan Tree Mayakoba is an exceptional blend of Mexican culture and Asian hospitality. Its grand lobby opens up to an unforgettable view of a magnificent tree centerpiece with Chinese red lanterns hanging from its branches, and has a dock where riverboats take guests on educational nature river canal cruises of the entire Mayakoba region. With 123 elegant villas, the resort is perfect for family getaways, relaxation, rejuvenation, weddings, and also has fine dining options. Each villa is a self-contained personal sanctuary with spacious interiors, private pool and a garden terrace.
Inspired by ancient Asian wellness traditions passed down through several generations, the award-winning Banyan Tree Spa is a slice of Heaven. Experience the intuitive, nurturing touch of skillful therapists who trained at the Banyan Tree Spa Academy in Thailand. Soothe sore muscles with the signature Rainforest Indulgence hydrothermal spa experience that features an aroma steam chamber, experiential tropical rain showers, ice fountains, restorative acupressure jets and cascading waterfalls. www.banyantree.com 
Views over the Caribbean Sea at Azulik. 
Make a tough choice between pool or ocean.
NIZUC
Located a mere 20 minutes away from Cancun International Airport along the southern tip of the city's hotel strip is Nizuc, an award-winning luxury resort designed by renowned Mexican architect and interior designer Alejandro Escudero. Nizuc, which means 'nose of the dog' in the local tongue, is situated on secluded Punta Nizuc, a former Mexican presidential retreat. This sprawling 29-acre resort consists of 29 garden pool villas, 44 ocean suites and 201 residential suites. The resort has six restaurants serving Mexican and Asian cuisines with a contemporary twist, three cozy lounges, a renowned spa and an activity centre for kids and teenagers.
The award-winning ESPA-branded Spa at Nizuc is 30,000sqft of oceanfront paradise with its own beauty salon, cafe and fitness centre. All therapists are specially trained to ESPA's high standards. Facing the Caribbean Sea, the spa has 10 treatment rooms with sweeping sea views, two private villas for couples, and a yoga movement studio. With a matrix of treatments rooms and quiet meditation gardens, the spa uses metal, wood, stone, fire, and water elements to rejuvenate the senses. Don't leave without taking a dip in the outdoor spa pool with views of the serene meditation garden. www.nizuc.com 
Take a dip in the spa pool and then retreat at Nizuc. 
Azulik's distinctive shape and form integrates with nature.
AZULIK
For nearly 20 years, Azulik has helped guests to reconnect with themselves, and the surrounding environment. Founded and designed by Argentinean artist Eduardo Neira Sterkel, Azulik was handcrafted by local Mayan people using natural materials sourced within the Yucatan vicinity.
The organic shape and form of the resort, integrated with the nature around it are distinguishing features. Nestled between the Caribbean Sea and the jungle of Tulum, its 48 villas and living spaces are dedicated to art, mindfulness, wellness, beauty, fashion, nature, architecture and gastronomy. The resort prioritises environmental sustainability and works closely with the local indigenous culture. Azulik has its own private cenote that provides sacred water to each villa, and the resort is lit only with candles. The absence of artificial lighting creates a romantic ambiance. A perfect honeymoon destination. www.azulik.com 
CASA MALCA
Casa Malca opened in 2014 with just eight rooms after being purchased by prominent New York-based art dealer, collector and gallery owner Lio Malca who transformed this former Tulum abode of Colombian drug lord Pablo Escobar into a trendy boutique hotel. Malca refurbished the building and filled the corridors, walls and living spaces with valuable pieces from his own personal collection of contemporary art.
With eye-catching works from famous contemporary artists such as Keith Haring, KAWS and Marion Peck displayed throughout the resort spaces, Malca created a new gallery concept where guests can interact, mingle and play surrounded by beautiful art. Considered Instagram heaven, hours can be spent taking selfies in front of the famous pieces. This luxury retreat has 72 rooms where art, design and style collide. Ranging between 196 and 300sqft, they are tastefully decorated with unique furniture and artwork personally selected by Lio Malca himself.
Casa Malca also boasts a pristine beachfront, indoor and outdoor pools, two bars, and three restaurants serving fresh, organic produce sourced from the region. The rooftop offers a sweeping 360-degree vista of the jungle and Caribbean Sea where guests can take in the most spectacular sunsets. www.casamalca.com 
Stylish rooms characterise Casa Malca.
THOMPSON PLAYA DEL CARMEN
Centrally located amidst the retail and nightlife action, the beachfront Thompson Playa del Carmen offers a swank experience. The bustling Calle 12 intersection of La Quinta Avenida is a two-mile pedestrian thoroughfare with shopping, dining and the trendiest nightclubs on the Riviera Maya. Mexican culture is interwoven into the hotel's architecture and interior design. The famed dream team of Niz+Chauvet fused mid-century local accents with colourful geometric patterns and dynamic textures to create a glamorous 1950s feel.
Each of the 92 guest rooms in the Main House evokes a youthful metropolitan edge, featuring original art pieces and custom furniture handcrafted in Mexico using indigenous stone, marble and lava rocks. The more intimate and private Beach House offers 27 luxurious and comfortable guest suites, an exclusive pool, boho-chic cabanas and oceanfront restaurant. Room numbers include the corresponding Mayan number to embrace the local culture.
The 30,000sqft rooftop pool oasis is a social hub with cosy cabanas surrounding an infinity pool with in-water loungers flanked by dining options. These include the popular NYC-based restaurant concept Catch, which transitions into a dance party at dusk, an experimental music space that boasts DJ sets and local live performances. Guests can sip cocktails and admire the sunset, or dance all night long to house music. Without a doubt it's a place to see and be seen, as well as the perfect setting for an electrifying Riviera Maya soiree under the stars. www.thompsonhotels.com 
Mexican touches on show at Thompson Playa del Carmen.
LA VALISE
La Valise is a cosy boutique hotel located along Tulum's idyllic white-sand beach. Most guests choose this private hotel as an isolated alternative to the more crowded establishments on the main commercial strip. La Valise has a high-end holiday home feel but with all the comfort and amenities one would expect from a luxury resort. The hotel hosts a maximum of 18 people in four jungle view rooms and five beachfront suites to ensure privacy and exclusivity.
Mexican antique furniture specialist Michael Diaz was hired to curate a fine selection of locally woven textile upholsteries and ornate handmade furniture to beautify the resort's living and communal spaces. Guest suites surround a central building that consists of a 1,000sqft beachfront master suite with a majestic seven-metre, triple palapa thatched roof made from dried palm leaves. The result is an enchanting cross between a Robinson Crusoe-esque refuge and a Mexican handicrafts museum. www.lavalise.com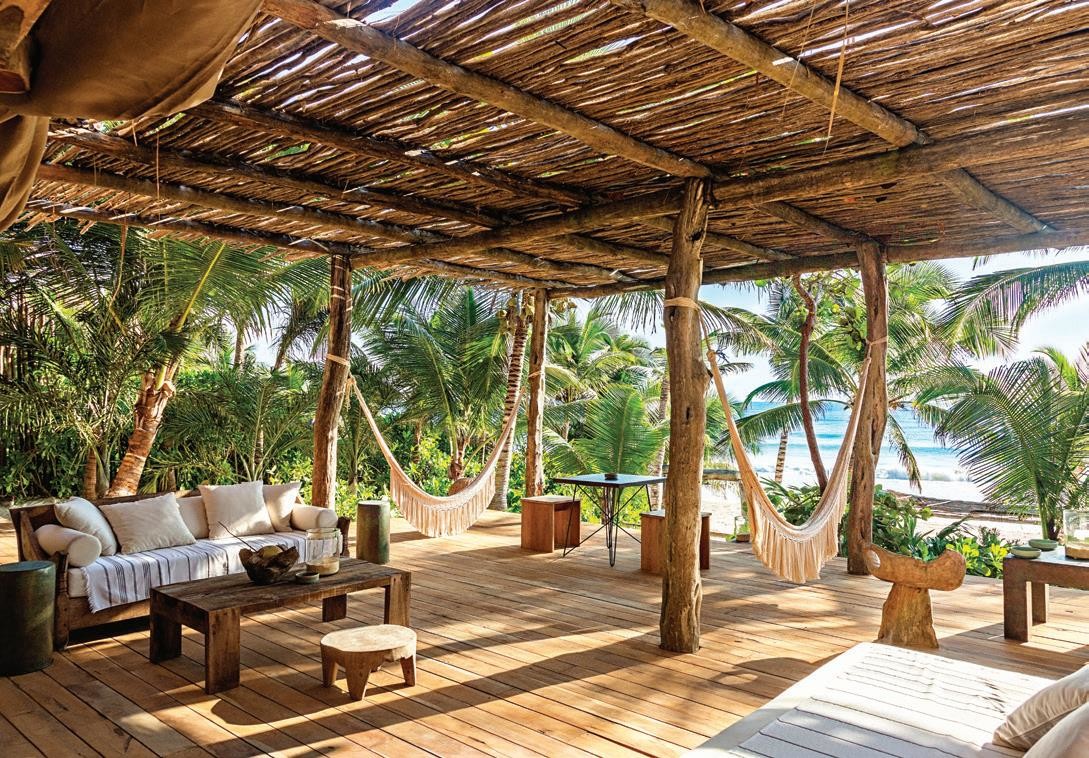 Locally woven textiles are a hallmark at La Valise.