These luxurious getaways have more to offer than sun, sea and sand.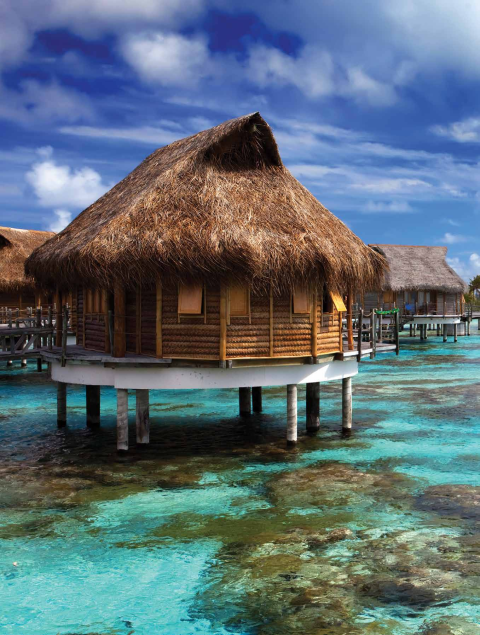 These luxurious getaways have more to offer than sun, sea and sand.
Its azure waters, white sands and beachside villas make the Maldives the most sought-after honeymoon destination, but more than just a romantic hideaway, this archipelago boasts some of the world's most prestigious spas, offering visitors a holistic experience in idyllic surrounds.
The natural beauty of these coral atolls floating in the Indian Ocean has attracted visitors for decades. In the 1970s, travellers in India would find their way to these pristine islands, which back then were still largely untouched. The world quickly caught on to the potential of the Maldives as a hedonistic haven and slowly the beaches became dotted with luxury resorts. Its lush setting with tropical lagoons and powder white sand makes it the perfect locale for pleasure seekers to reset, relax and rewind.
The rich culture and tradition influenced by neighbouring India and Asia inspire many of the healing and wellness practices that are now becoming synonymous with these majestic atolls. From over-water spas to secluded retreats, you are spoilt for choice when it comes to ways to restore body, mind and soul. Uncover the best of the Maldives with these unique spas.
OVER WATER SPA AT CONRAD MALDIVES RANGALI ISLAND
Tucked away on a private island, the Conrad's Over Water Spa is a leader in luxury and exclusivity. Three of the four thatched roof treatment rooms, all set atop stilts and suspended over turquoise waters, boast glass floors to give you an unrivaled view of the marine life below as your body surrenders to the remedial touch of the massage therapist.
Such a tranquil setting calls for healing therapies, which is what the Thalgo Colour Rituals offer. Unique to this spa, they are designed to correspond to the body's chakra system to balance energy.
Using crystals to work on the chakras, each of the seven rituals begins with an indulgent foot bath with Himalayan salts, essential oils and a selection of fruits or flowers, followed by a few minutes of deep breathing to release stagnant energy. While they vary slightly, most offer a full body exfoliation, body wrap and massage, and end with a traditional tea ceremony.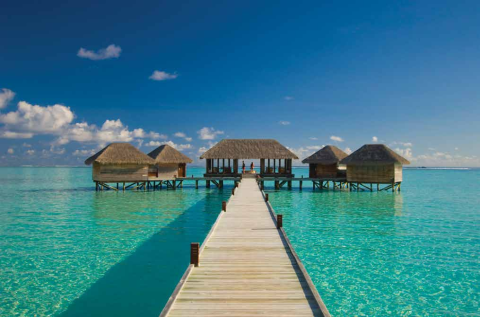 THIS PAGE : Con rad Maldives Rangali Island's Over Water Spa is suspended over turquoise waters; treatment rooms at Per Aquum Niyama's Lime Spa invite nature inside. OPPOSITE PAGE: Be pampered with a view of the marine life at Conrad's Over Water Spa.
Further enhancing the experience is the Serenity Deck with its own open-air Jacuzzi that allows guests to drink in the majestic surrounds. Couples looking for some alone time can venture to the Spa Retreat just 100 metres off the main island, Rangalifinolhu. While this is a full-service spa with a dedicated manicure and pedicure room, it's also a holistic centre offering everything from acupuncture and reiki to iridology, all performed by the resident naturopath. Couple's treatment rooms are equipped with a private steam, sauna and jet bath allowing you to linger longer in this dreamy space. www.conradhotels3.hilton.com
 LIME SPA AT PER AQUUM NIYAMA
With lush surrounds and uninterrupted views of the lagoon, Lime Spa brings new meaning to the term 'island sanctuary'. Unwind in one of the six beautifully appointed treatment rooms overlooking the water or, for something more exclusive, escape to one of the two private spa sanctuaries set in a tropical garden and each with a dedicated outdoor shower, bath and daybed.
Staying true to their heritage, Lime Spa uses Maldivian coconut oil in all of their massages and coral sand as a natural exfoliant. Experienced spa goers will appreciate the 24-hour service – one of the only spas in the Maldives to offer this – and the bespoke therapies, namely the Intraceutical – oxygen facial treatments, which applies oxygen under pressure to deliver a special serum of modified hyaluronic acid, essential vitamins, antioxidants and peptides to the skin to boost hydration and brighten the complexion.
The treatments and around-the-clock service aside, perhaps the biggest draw card is the unique lime tree garden with a sauna and steam zone, plunge pool and Vitality juice bar – the perfect place to watch the world go by. www.peraquum.com
COMO SHAMBHALA RETREAT AT COCOA ISLAND BY COMO
Inspired by the mythological kingdom of Shambhala, which in Buddhist texts denotes a sacred place of bliss, the COMO Shambhala Retreat embraces modern andancient methods to help guests achieve holistic wellness. Each pavilion embodies rustic charm with natural wood interiors, Maldivian coral walls and Kajan thatched roofs.
Floor-to-ceiling windows in the three single treatment rooms offer stunning views of the lagoon while the outdoor shower and bathtub provide great vantage points of the island. Healing is at the heart of this retreat and Ayurvedic practices originating from India strongly influence the treatments at COMO Shambhala. The Sundari Facial in particular uses natural Ayurvedic ingredients such as Neem, known in India as the pharmacy tree for its anti-inflammatory properties, to address skin imbalances.
A wellness retreat wouldn't be complete without a dedicated yoga space. In keeping with the aesthetic of the treatment rooms, the yoga pavilion boasts high rafters and an elevated teak floor. With expansive views of the water, it provides the ideal setting for the complimentary yoga, meditation and pranayama classes that take place weekly. With the beach just a stone's throw away, guests can meditate to the sounds of the waves lapping the shore. When the weather turns, the hydrotherapy pool, cleverly positioned under cover, is the perfect spot for guests to spend a lazy afternoon without forsaking the view. www.comohotels.com
CLOCKWISE FROM LEFT: Dhoni Suites at Como Shambhala Retreat at Cocoa Island by Como; Meera Spa at Gili Lankanfushi offers Ayurvedic treatments; Cheval Blanc is set on its own dedicated spa island.
CHEVAL BLANC SPA AT CHEVAL BLANC RANDHELI
A dedicated spa island, Cheval Blanc is a little utopia. From the moment you step off the dhoni, you're enveloped by a sense of deep relaxation. Two double Orchide Villas set just a few metres from the water provide the perfect setting for the unique Sensorial Journey massage treatments, designed exclusively for the spa by Guerlain. The signature Randheli Sun Ritual is a great choice for sun-kissed skin. A smoothing exfoliation with scrub precedes the soft and harmonious massage with Guerlain's Terracotta Huile du Voyageur to deepen your golden glow.
THIS PAGE: Enjoy Veli Spa's Spa under the Stars experience at Kurumba; Veli Spa incorporates natural materials to create an authentic Maldivian aesthetic. OPPOSITE PAGE: CHI, The Spa at Shangri-La's Villingili Resort & Spa offers a variety of Chinese philosphy-inspired massages.
The spa also boasts a unique 'fusion hammam'. Unlike a traditional hammam, this one is dry, but offers the same benefits. Visitors can experience the Hammam Escape which begins with an invigorating body polish to prepare the skin before a full exfoliation coupled with a steam bath to help release toxins and ease muscle tension – the perfect prelude to the bespoke Guerlain treatment which uses one of four massage elixirs to soften your skin and send you on a sensory journey. Yoga and mindfulness meditation classes complete the holistic experience. www.randheli.chevalblanc.com
MEERA SPA AT GILI LANKANFUSHI MALDIVES
Floating over the turquoise waters of the Lankanfushi Island in the North Mal atoll, Gili Lankanfushi and its award-winning Meera Spa is a haven for locals and visitors alike. Thatched roofs, natural interiors of bamboo, palm wood and plantation teak, and sweeping views of the island transport you to another world.
The 'no news, no shoes' policy allows you to completely disconnect from the outside world. Sink into a state of deep relaxation as the sound of the Tibetan bowl rings through the room before experiencing the healing touch of the Meditation Massage or feel invigorated with the Signature Massage which incorporates Thai stretching, Balinese lomi lomi, Swedish and shiatsu techniques.
The famous 'view hole' in the glass floors below the treatment beds allow you to watch the fish swim by while you're being pampered. For those seeking solitude, the secluded open-air double treatment room is removed from the rest and
surrounded by lush greenery to add to the feeling of privacy. For
something uniquely Maldivian, meander beach side for a traditional sand
scrub. As the name suggests this uses sand and a combination of herbs to
treat a variety of ailments.
Finish your day with a steam or sauna and a detoxifying spa mocktail in the relaxation room with undisturbed views of the ocean. As a member of the Healing Hotels of the World, Meera Spa is visited throughout the year by holistic practitioners who share their knowledge and experience with specialised treatments ranging from crystal, sound and craniosacral therapy. www.gili-lankanfushi.com
VELI SPA AT KURUMBA MALDIVES
Inspired by the island's natural beauty and culture, Veli Spa, meaning 'sand' in the local dialect, incorporates rich earth tones and natural materials to create an authentic Maldivian aesthetic. Thatched roofs made of coconut leaves and sand art in every treatment room complete the picture. While not an over-water spa, they offer an equally special experience called Spa under the Stars.
Couples can enjoy a romantic rendezvous under the stars perched above the water in a thatched pagoda. The two- hour full body massage is followed by a bottle of champagne on the beach where you can watch the sun sink into the ocean. Proud of their Maldivian heritage, Veli Spa uses traditional medicinal practices (Dhivehi-Bey) in all their treatments, which are uniquely named after the particular herb used to create the massage elixir.
All of these herbs and oils are locally sourced from Kurumba and made under the supervision of their traditional Maldivian medicinal practitioner. Using these oils, the therapist works on the muscles and meridian lines of the body to ease tension before applying their signature sand stamp to enhance healing. www.kurumba.com
THIS PAGE: Revel in the calm atmosphere at the Four Seasons Spa Landaa Giraavaru; anti-gravity yoga is a must at Four Seasons Landaa Giraavaru. OPPOSITE PAGE: Indulge in a revitalising massage surrounded by soothing views of the ocean at Shangri-La Villingili's CHI, The Sp.
SPA AND AYURVEDIC RETREAT AT FOUR SEASONS RESORT MALDIVES AT LANDAA GIRAAVARU
An Ayurvedic Retreat that spans three acres, this is a sanctuary for spa aficionados. Surrounded by lush greenery and its own herb garden, it offers a magical setting in which to experience ancient healing rituals. With its own Ayurvedic pharmacy and experienced practitioners on site, visitors can immerse themselves in the retreat's customised Ayurveda programmes. There are seven-, 14- and 21-day Immersions which include a consultation with a practitioner to determine a series of treatments, herbal medicines and tonics to help you on your path to wellness.
For something truly unique, the Om Supti Night Spa Ritual takes place in a secluded jungle clearing where you can soak your tired muscles in Himalayan crystal salts in an outdoor stone bath before reclining in the swinging bed and drifting off under a blanket of stars to the sounds of nature.
Yoga and meditation classes are the perfect complement to the various therapies available. The Ayurvedic Retreat offers different styles of yoga for every level, but for the more adventurous, the anti-gravity variety is a must. Expect to practise a series of traditional postures suspended upside down from swathes of fabric. www.fourseasons.com
CHI, THE SPA AT SHANGRI-LA'S VILLINGILI RESORT & SPA, MALDIVES
Inspired by the legend of Shangri-La, a mythical story about a lost utopia, CHI, The Spa lives up to expectation. The spa boasts impressive treatment villas, some with private gardens and steam rooms. As the name suggests, it embraces traditional Chinese philosophy in which chi represents the universal life force that needs to flow freely to maintain good health. This is evident in their extensive treatment offering, boasting massages designed to balance your yin and yang energy.
The Aroma Vitality massage uses Chinese deep-tissue techniques to ease aching muscles while the Stone Therapy incorporates thermotherapy with gentle massage strokes along the body's meridian lines to restore vitality. Whichever you choose, you are guaranteed to leave with a greater sense of well-being. www.shangri-la.com