Even the most seasoned traveller seeking a hot new travel destination, or elusive ancient land, will be spellbound by magical Bhutan, possibly the 'last Shangri-La on earth' that lives up to its newfound hype
Even the most seasoned traveller seeking a hot new travel destination, or elusive ancient land, will be spellbound by magical Bhutan, possibly the 'last Shangri-La on earth' that lives up to its newfound hype.
 Writer Samantha Coomber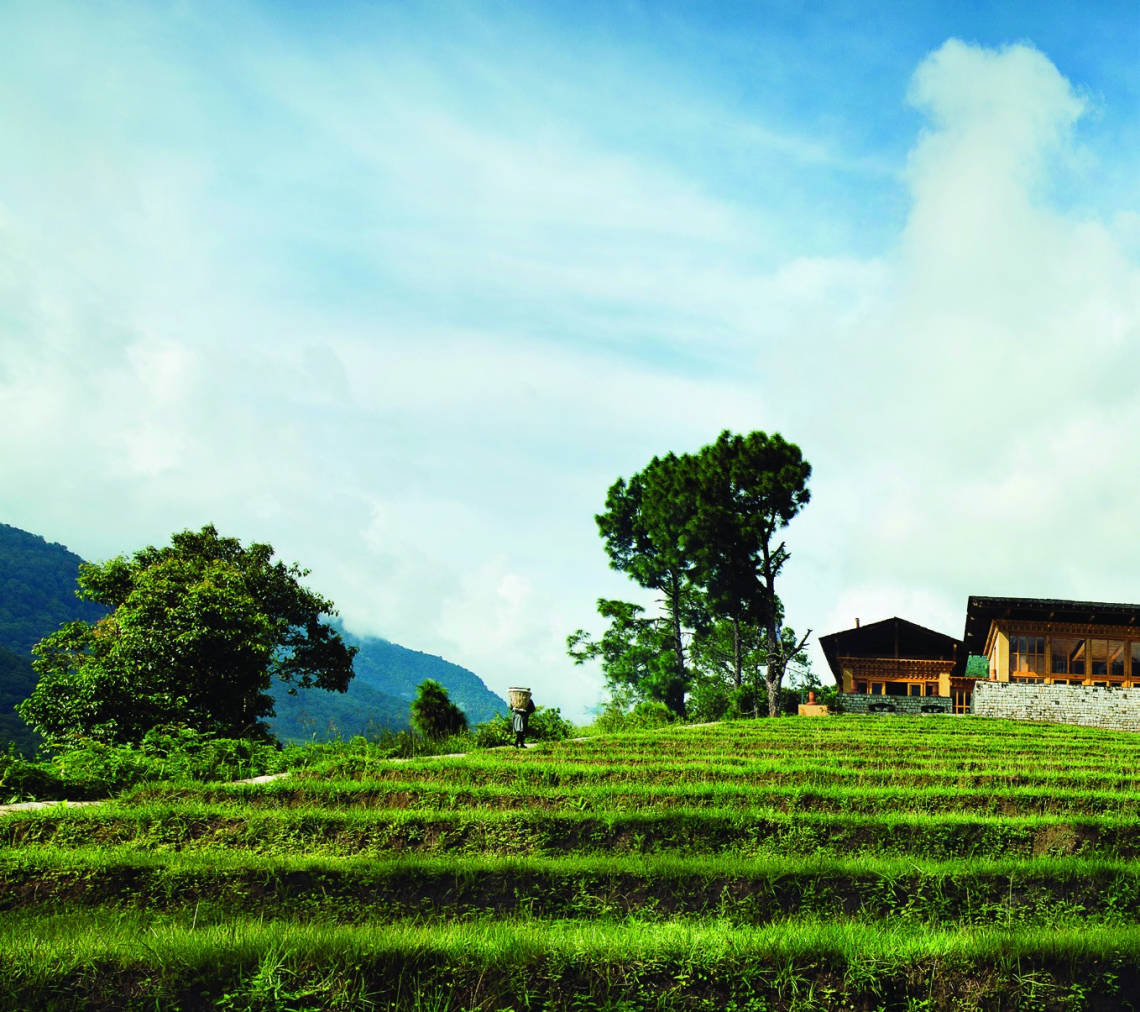 A remote Buddhist kingdom, enshrouded in myths and legends, commonly known as 'Druk Yül', or 'Land of the Thunder Dragon', Bhutan is the stuff of fairy tales. Landlocked in the eastern Himalayas between Tibet and India, its jaw-dropping topography ranges from snow-capped mountain peaks and rolling hills blanketed in evergreen forests bursting with rhododendrons, to southern subtropical plains. The mystical backdrop for countless ancient Buddhist temples, monasteries and magnificent dzongs, 17th century fortresses, is now home to monks and exquisite artwork.
Cut off from the outside world for ions, this last great Himalayan kingdom emanates an endearing innocence and otherworldly charm, beautifully preserving its unique cultural heritage and tangible spirituality, with age-old Buddhist traditions and rituals still permeating daily life.
Bhutan is the world's first nation to measure its success and social priorities based on Gross National Happiness and with strict environmental regulations (there are no industries here) Bhutan isn't just carbon neutral, it's also carbon sink, boasting negative carbon emissions. This is modern life stripped down to its most natural: with all that pure mountain spring water, clean air and organic, just-picked produce, you'll feel healthy and rejuvenated. No wonder the less than one million inhabitants appear pretty content.
Don't, however, expect some time warp museum. Albeit a relative newcomer to modernity, the world's youngest democracy enthusiastically embraces the latest global developments, including the Internet – even monks check their smartphones between devotions. Urban Bhutanese are well informed and cultured, besides savvy enough not to self-destruct their pristine land. Only initiating tourism in the mid-1970s, now everyone wants to experience Bhutan and hotel openings are booming, including five-star international hotel groups. With a 'high value, low volume' approach, tourist numbers are restricted to a maximum annual quota – less than 100,000 visitors – and the privileged few must arrive as part of a pre-arranged package or guided tour, with an all-inclusive minimum daily tariff.
Como Uma Punakha offers a secluded sanctuary with to-die-for views
THE LAY OF THE LAND
First-timers generally book a week's 'introductory' tour, in the Kingdom's more familiar Western region, encompassing Bhutan's three main population hubs (all within driving distance) within three gloriously bucolic river valleys, which are home to Bhutan's key cultural attractions and historic sights. Hotels provide inspiring base camps to explore all this and gems beyond the valleys.
Boasting the only international airport, Paro is Bhutan's gateway and with its wide river valley brimming with wheat and barley plots, terraced rice paddies, fruit orchards and prettily decorated farmhouses, is known as the orient's Switzerland. Paro is also the starting point for iconic Taktsang Lhakhang, aka Tiger's Nest monastery, which is one of the Himalayas' most revered Buddhist monuments, like many Bhutanese monasteries, perched perilously high on a cliff-edge. The capital and royal family seat, Thimphu, is Bhutan's largest 'city' but more resembles a quaint Alpine town flanked by pine-forested Himalayan foothills, while Punakha, the kingdom's ancient capital and another idyllic farming valley – Bhutan's main rice cultivator – offers sultry, subtropical climes.
If time (and budget) permits, travellers also squeeze in little-visited Gangtey Village and Phobjikha Valley, an important wildlife reserve, home to the endangered black-necked cranes that fly in from Tibet to roost each winter. Countless other regions to explore include Bumthang, in central Bhutan, the nation's historic epicentre, spiritual heartland and monarchy's birthplace where some of its venerated religious sites date back to the 7th century. The utterly remote mountainous north is populated with nomadic yak herders and high-altitude trekking routes offering an authentic wilderness experience and upclose Himalayan peak views. Wherever you travel, every day is guaranteed to be crammed with evocative sights, sounds and experiences from breakfast to bedtime.
THIMPHU TAJ TASHI
A joint venture from India's refined Taj Group, Taj Tashi is the first international five-star to open in downtown Thimphu; its imposing yellow building dominates the capital's low-rise skyline, but delivers a feast of traditional Dzong architecture. Crafted by palace-commissioned artisans, interiors reveal classically hand-drawn wall murals detailing Bhutanese emblems such as symbolic thunderbolts, all extending to the 66 rooms and suites – where ethnic decor and natural wood seamlessly blend with heated bathroom floors. All rooms, some providing balconies, offer sweeping Thimphu town and mountain panoramas, but the finest are enjoyed from sumptuous Duplex Suites on the uppermost floors, the master bedroom and opulent marble bathroom with standalone Christina bathtub accessed by a spiral staircase. Candlelit Jiva Spa soothes with ancient Indian, royal and healing traditions, including sound-based meditation and Sammardana massages, while at the charming tea lounge, warming local beverage suja (salted butter tea) is welcome on chilly evenings. Taj Tashi's immersive cultural experiences kicks off with a welcome blessing prayer by a resident monk and Bhutanese dance performances in the courtyard. 
www
.
taj
.
tajhotels
.
com
OPPOSITE PAGE: Taj Tashi offers five-star service; Jiva Spa at Taj Tashi soothes with ancient Indian, royal and healing traditions. THIS PAGE: Le Méridien Thimphu boasts a modern design; soak in the heated pool after a day of hiking at Le Méridien Thimphu
LE MÉRIDIEN THIMPHU
A somewhat cosmopolitan, contemporary alternative is found at Marriott International's design-led hotel brand; again, an imposing downtown five-star, but Le Méridien Thimphu not only stands out as Bhutan's largest hotel, but also for its grandiose porte cochère entrance and modern design. All 78 rooms and suites are designed with bold colours, sleek furnishings and high-tech gadgetry, while the innovative lobby doubles as a stylish socialising hub. Western lifestyle influences prevail with fresh eclairs and barista-prepared coffees indulged at the lounge bar, sophisticated pan-Asian cuisine at Sese Shamu, one of Thimphu's premier restaurants, and traditional yet transformative therapies inspired by European culture at the spa – the largest in town, spanning two levels. Following a day's hiking, the slick heated indoor pool is heaven-sent, so too, the steam room and sauna. Bhutan's cultural heritage is celebrated in flourishes of traditional artwork and artisan crafts. Two lavish Royal Suites on the top floor offer amazing views through floor-to-ceiling windows, or from the bathtub set in the wall. If you prefer Le Méridien style, a second property is located in Paro, along the riverbanks. www.lemeridienthimphu.com
PARO ZHIWA LING HOTEL
The first and only wholly Bhutanese-owned hotel awarded a five-star rating (listed under National Geographic's 'Unique Lodges of the World'), practically everywhere in allsuite Zhiwa Ling which reflects Bhutan's spiritual and artistic heritage. Designed in traditional architectural style and crafted by local artisans, this aptly named 'Place of Peace' features an endless array of chiseled stonework and intricately hand-painted, carved wood beams and cornices and vividly coloured murals. Fine examples include the outrageously ornate, high-ceilinged lobby and second floor, Buddhist temple constructed with centuries-old timber from Gangtey Monastery. Two-bedroom Royal Raven Suite, the most luxurious category with butler service, boasts its own private shrine room and the 10-acre grounds reveal a teahouse, meditation pavilion and hot-stone bath hut. A must-try traditional Bhutanese therapy involves a wooden bathtub filled with native medicinal herbs and fire-heated large river stones that release beneficial minerals to loosen joints, release muscle tensions and induce relaxation. Modern sensibilities prevail with cutting-edge technology, Swedish under-floor heating and a greenhouse, supplying produce for the kitchens. Both the main building and garden cottage accommodations provide private balconies to savour valley views, at their loveliest during the autumn's harvest season.
www.zhiwaling.com
COMO UMA BHUTAN
Como Group's two Bhutan boutique properties – Como Uma Bhutan – are located five hours apart in Paro and Punakha, merging Bhutanese architectural elements and artistic craftmanship (evident in humble yet pretty dwellings across the land) with the group's distinctive ontemporary design and luxe comforts – their private villas are Bhutan's most palatial. Both signature restaurants offer world-class dining options incorporating nutritious, trademark Como Shambhala Cuisine (albeit Himalayan-style) with much of their organic produce sourced from in-house gardens and spas, Como Shambhala Retreats, are heavily influenced by Buddhist culture, particularly in yoga and meditation offerings. Booked as individual or dual-centre stays, Como Uma Bhutan is conceived as an intimate, luxurious wilderness retreat for tailor-made cultural and nature-based activities – anything from white-water rafting to hoisting up prayer flags for karmic merit. Destination packages cover special interest tours like photography and 'Scenic Heli-Adventure' journeys, with guided helicopter forays deep into hard-toaccess regions like Labatama.
The 29-room Como Uma Paro exudes a five-star monastery vibe amongst thick forests above Paro Valley. The main building, the former residence of a Bhutanese nobleman, incorporates a Dzong-like stone and wood design, with flared roofs and hand-painted frescoes. All nine freestanding villas, each secluded in a private glade amongst scented pines provide butler service and personal spa therapy suite. The stately, two-bedroom villa positively inspires romance with an outdoor hot stone bathtub and courtyard with fire pit. At the on-site archery range, try your hand at the national sport. Bhutan's royal family dine here regularly, while Chinese celebrity couple Tony Leung and Carina Lau chose this as their wedding venue. Secluded up on a jade-green hillside at the more remote end of Punakha Valley, all 10 rooms at Como Uma Punakha – including two villas – offer to-die-for views of Mo Chhu River snaking through rice terraces and orchards directly below, especially from the expansive outdoor dining terrace within the mansionlike, two-bedroom villa. 
www
.
comohotels
.
com
OPPOSITE PAGE: Bhutanese-owned Zhiwa Ling Hotel is designed in traditional architectural style. THIS PAGE: Como Uma Paro is frequented by Bhutan's royal family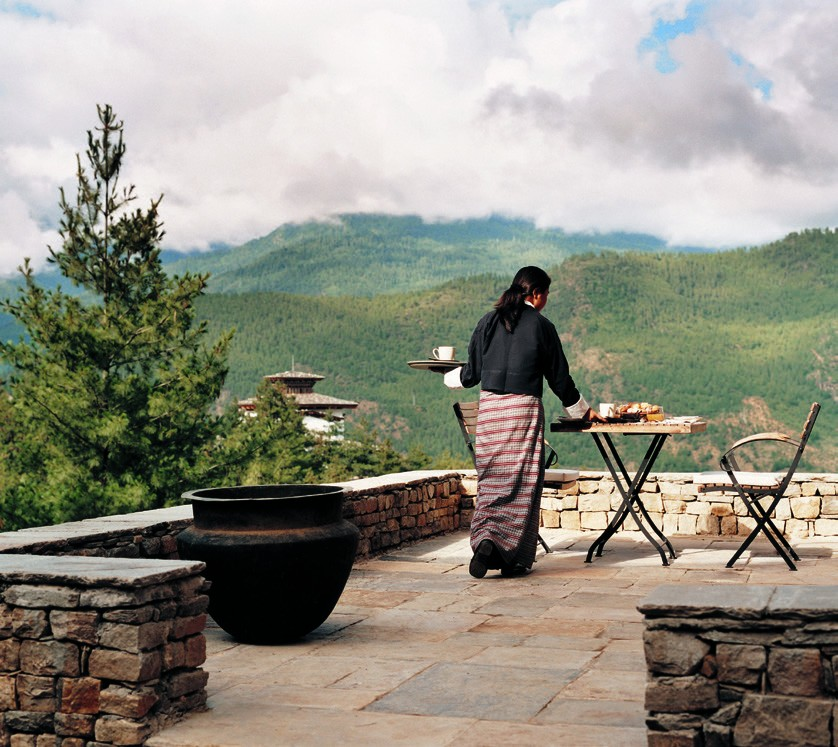 PUNAKHA KUNZANG ZHING RESORT
This stone-clad four-star offers a more affordable option, still providing all the mountain comforts elevated up in Punakha's verdant hills, more jaw-dropping river valley views, but with an additional treat: 17th century Punakha Dzong – one of Bhutan's best-preserved fortresses, its second oldest and largest – positioned directly below at the confluence of Mo Chhu and Pho Chhu rivers. Its 40 sunny, modern rooms are housed in double-storied cottages terraced down the hillside on ledges dotted with wild Himalayan flowers. They are well appointed with clean bathrooms and designer-style fixtures, a sitting area and private balcony for relaxing at the day's end; suites offer additional space and generous-sized private patios. At the canteen-style restaurant, enjoy breakfast or dinner out on the terrace, where you can admire the Dzong and surrounding mountains bathed in early morning sunshine or the moon's silvery glow. www.kunzangzhingresortbhutan.com
GANTEY GANGTEY LODGE
It's well worth the six-hour drive from Paro to stay at Gangtey Lodge, positioned high above Phobjikha Valley in off-the beaten-track Gangtey, facing Gangtey Monastery. The wood and stone upscale lodge echoes the farmhouses sprinkled across this hauntingly beautiful glacial valley. Designed by renowned Australian architect, Mary Lou Thomson, interiors and furnishings feature hand-cut stone floors, exposed brick and polished woods creating earthy natural tones punctuated by bright, handwoven fabrics. All 12 spacious Farmhouse Suites supply a bukhari wood-burning stove and heated floors – essential stuff at 3,000m altitude – and a deep-soaking bathtub positioned beside a bay window for mesmerising monastery peaks. Within the main lodge, the doubleheight dining space and lounge provides equally impressive views through an entire glass wall, besides a sociable focal point, supplying long, communal dining tables and two giant stone fireplaces flanked by comfy sofas. Staff greet guests with a song, shoulder massage and mulled cider and organise Buddhist activities such as butter lamp ceremonies at the monastery and 'fumigation' rituals at the nearby monk school, as well as farmhouse visits. 
www
.
gangteylodge
.
com
AMANKORA
Bhutan's first international offering, Aman Resorts is the only one offering a multidestination, all-inclusive concept of five boutique lodges, Amankora, totaling 72 suites across five destinations. The largest, 24-suite Amankora Paro, boasts views of Mount Jomolhari (Bhutan's highest peak at 7,314m) and Drukgyal Dzong ruins through towering pines. Amankora Thimphu was inspired by traditional dzong architecture and Amankora Bumthang stands beside Wangdicholing, the summer palace for Bhutan's first kings.
Accessed by a river suspension bridge, Amankora Punakha assimilates a traditional farmhouse constructed by a former Chief Abbot and reveals idyllic rice paddy and orange orchard views, while eight-suite Amankora Gangtey lauds it on a forested knoll overlooking Phobjikha Valley and Gangtey monastery; the hot stone bath inside a candlelit stone hut upon a nearby hilltop is a signature treatment. Stay at all or a selection of Amankora lodges, with bespoke itineraries and driver provided, or book spiritual-, cultural- or nature-themed 'journeys' across the kingdom. Exclusive Amankora still honours indigenous touches: natural rammed-earth walls and woodburning stoves, menus showcasing fresh organic ingredients such as yak meat and wild honey and spas that focus on Himalayan plant-based therapies. Each lodge and their wondrous activities reflect unique localities, from hikes to a hidden monk village and astrology readings at a sacred temple. www.aman.com
 CLOCKWISE FROM TOP LEFT: Kunzang Zhing Resort overlooks breathtaking river valley views; Amankora Bumthang is located near Wangdicholing; Gangtey Lodge is poisitioned high above Phobjikha Valley