As five-time winner of Best Asian Marina of the Year, expect nothing but the best from us, Situcted one degree north and 15 minutes away from the Equator, ONE 15 Marina Sentosa Cove, Singapore, features a beautiful marina of 270 berths and a well-appointed and bars, luxurious suite rooms, a modern spa, a well-equipped gymnasium, and a designer infinity pool, for Members and guests.
As five-time winner of Best Asian Marina of the Year, expect nothing but the best from us, Situcted one degree north and 15 minutes away from the Equator, ONE 15 Marina Sentosa Cove, Singapore, features a beautiful marina of 270 berths and a well-appointed and bars, luxurious suite rooms, a modern spa, a well-equipped gymnasium, and a designer infinity pool, for Members and guests.
AZIMUT YACHTS IMPRESSES WITH STRONG SALES
ITALIAN BRAND AZIMUT YACHTS, owned by the Azimut | Benetti Group, reported strong sales with 10 Azimut 43 Atlantis orders placed during the April 7-10 Singapore Yacht Show.
The impressive sales confirm the yachts success as one of the top models in the Azimut collection. The 43 Atlantis was further recognised during the Asia Boating Awards when presented with the 'Best Production Motor Yacht (Up to 15m)' award.
"For us, this model's commercial achievements and the award represent the successful conclusion of a highly satisfying Singapore Yacht show," says Azimut Yachts Area Manager (APAC & MEA) Enrico Chiaussa. "It is a recognition that reflects the real sentiment in a marketplace that appreciates our brand from every point of view. This success is due entirely to the experience we have gained working for over 30 years in this geographical area and to the efforts we have made to strengthen our network. Recently we started to set up a new dealership network based on local partnerships that are fully committed to and exclusively focused on Azimut Yachts, in order to give our customers the best possible service and yachting experience."
"We are extremely proud that our owners have chosen Azimut so enthusiastically and placed such great confidence in us," says Azimut Yachts Singapore CEO Choppy Tan. "It is the result of our expertise and an approach to development that fully exploits synergy between projects. Azimut Yachts has a market leading presence in Asia, built over many years of work to establish solid relations and convey confidence to our clients, who clearly repay us by choosing our yachts."
The Azimut 43 Atlantis is best known for its classic design and layout featuring a skillful organization of both its interior and exterior with an extraordinary spacious deck. It offers maximum comfort and livability, a dynamic and high performance sport line.
NAVAL ARCHITECT ED DUBOIS PASSES AWAY AT AGE 64
DUBOIS NAVAL ARCHITECTS has announced the death of top yacht designer Ed Dubois, 64.
Following a period of illness last year, the designer had been in better health and working as normal. However, he was unexpectedly admitted to the hospital and passed away on Thursday (Mar 24).
Dubois's career spanned decades and his passion, commitment to this work and love of his clients created a unique business, driven by exceptional design and technical talent, and a genuine desire to create the most beautiful and technically advanced yachts.
Senior designer and valued team member for 23 years Peter Bolke has taken over as the company's Managing Director.
With one of the industry's most innovative 58-metre yachts currently in build and a number of similarly ambitious projects in the design stage, Dubois left the business at an exciting moment in its development. He was a huge talent and his legacy will continue as one of the world's great yacht designers.
Known not only for his love of all things boat-related, but also music, art, travel and most of all his family and friends. Dubois leaves behind his wife Honor and four children.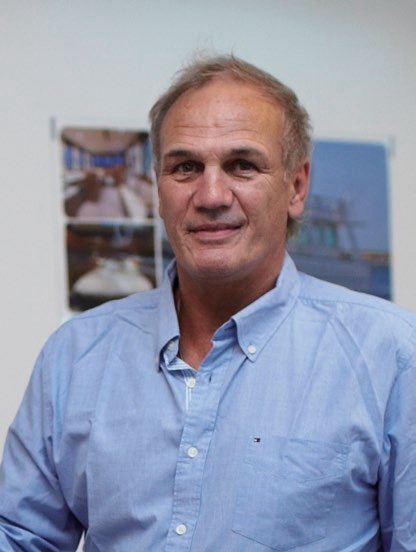 EXPLORER MOTOR YACHTS PARTNERS WITH SEAKEEPER CRUISING MOTORYACHT BUILDER
Explorer Motor Yachts is partnering with US-based gyro stabiliser manufacturer Seakeeper for a joint marketing programme. "We are tying up with Seakeeper as we see more and more demand for their product, especially for stabilisation at anchor," says Explorer Motor Yachts CEO Mark Campion. "Seakeeper is the leading manufacturer of gyro stabilisers for marine applications.
A major advantage of gyro stabilisers is that they are quiet and have none of the downside that fin stabilisers display when the boat is at anchor. Once up to speed, the Seakeeper gyro also draws significantly less power than fin stabilisers." Explorer will offer highly competitive pricing on Seakeeper gyros to its customers and the two companies will cooperate in marketing the gyros both to existing and new Explorer customers.
"A significant advantage of the Seakeeper gyro for existing customers is that it can easily be retro-fitted without haul-out," adds Campion. "The gyro does not require any through-hull fittings."
ARTHUR BROUWER APPOINTED CEO OF HEESEN YACHTS DUTCH SUPERYACHT BUILDER HEESEN
Yachts has appointed Arthur Brouwer as CEO of the company. Brouwer has been serving as Executive Chairman since September 2014.
With an established track record of 19 years both in senior leadership roles as well as CEO positions in listed large family firms and private equity, Brouwer has in-depth experience in retail, automotive wholesale and production.
His current mandate is to take Heesen Yachts, leader in custombuilt superyachts and internationally renowned for creating exceptional performances in speed, range and stability, to the next stage of its development.
"It is a great privilege to head Heesen, an internationally respected company which has been setting standards of excellence and design engineering innovation for the past 38 years," commented Brouwer. "My past experiences have enabled me to acquire great knowledge of the operational excellence, sales and marketing, strategy and my concrete aim moving forward is to capitalise and build on what has previously been achieved by taking Heesen to the next chapter of its history."
PHI YACHTS SIGNS TWO DISTRIBUTION AGREEMENTS MARINE BROKERAGE COMPANY
PHI Yachts is a new high-end marine brokerage company, managed by Nico Laude, which will handle luxury yachts from 50 feet to 145 feet.
Phi Yachts also boasts the recent signing of two distribution agreements: one for Europe, the Middle East and Turkey with the Benetti Sail Division, the other worldwide with the Cantiere Navale Italia, a new brand specialised in aluminium yachts ranging from 40ft to 80ft. With his 20 years of experience in the yachting industry,
Nico Laude and Phi Yachts offer a fully operative worldwide network providing vast experience and expertise. After the successful sales of seven vessels in the first few months of operations, including a Pershing 64 and an Apreamare Maestro 66, the company now adds contracts for two Sanlorenzo models: an SD92 and an SL108.
www.benettisaildivision-ss.com
RIVA PARTNERS WITH F1 SCUDERIA FERRARI AS OFFICIAL SPONSOR
RIVA, PART OF THE FERRETTI GROUP, is joining forces with the Scuderia Ferrari as the official sponsor of the Formula 1 2016 World Championship.
The international yacht brand and the Prancing Horse's single-seater racing machines will be competing together for the first time on all the Formula 1 circuits that will host the 21 Grand Prix races.
The sponsorship was officially announced in Maranello, Italy during the presentation of the new Ferrari SF16-H car, which will compete in the next Formula 1 World Championship.
The Riva logo, featuring the unmistakable aquamarine background, will be visible on the helmets of Scuderia Ferrari's two drivers: Sebastian Vettel and Kimi Raikkonen.
The first Grand Prix race was the Rolex Australian Grand Prix in Melbourne, Australia (Mar 18-20), but the challenge will cover 21 weekends, culminating on November 27 with the Etihad Airways Abu Dhabi Grand Prix, the grand finale of the 2016 World Championship.
YACHTAID GLOBAL LAUNCHES CROWDRISE FUNDRAISING PAGE YACHTAID GLOBAL IS LAUNCHING
its own Crowdrise page, enabling the general public and the superyacht community to make donations to the YachtAid charity, which uses superyachts to deliver aid to remote communities.
Donations will be used to deliver aid and resources to more remote communities globally, as well as assisting in disaster relief efforts worldwide.
With three simple clicks within the Crowdrise campaign, a donor can make a huge impact on helping people in need, with donations ensuring YachtAid Global is ready to act when a natural disaster strikes. Entirely unique in its operation, YachtAid Global has developed a global network combining yacht owners, yacht crew, logistics volunteers and donors who purchase and/or deliver developmental and disaster relief aid to affected remote coastal communities.
YachtAid Global leverages the resources and compassion of the superyacht industry. In its ten years of operation, YachtAid Global has delivered aid to over 20 countries in collaboration with more than 40 superyachts and approximately 400 crew. Those efforts have positively impacted over 100,000 people worldwide.
www.Crowdrise.com/YachtAidGlobal
YPI LINKS UP WITH VIRTUAL REALITY LEADER BRICKS & GOGGLES
YACHTING PARTNERS INTERNATIONAL (YPI) is linking up with virtual reality (vr) leaders Bricks & Goggles to introduce the Oculus Virtual Reality technology enabling owners to virtually walk around their new build projects before they are even built.
"Our system developed with Bricks and Goggles allows owners to walk around a complete virtual construction of their yacht both inside and on deck as well as seeing it from the air," explains YPI Director of Sales, Russell Crump. With our Oculus development, you are transported and immersed inside your yacht."
Based in Holland and the brain-child of Ingmar Vroege and Gertjan Leemans, Bricks & Goggles have been developing Apps and 3D Virtual Reality technology for a few years now especially within the real estate sector. However, a family connection with boats, drew their attention to the possibilities of applying their tools to yachting.
"We had met a few other suppliers," says Crump, "but we were taken with the passion and drive of the guys at Bricks & Goggles. They weren't just mad about what they do, they really understood the nuts and bolts of how we could use it in yachting so we started them off on our new 105-metre new build project RAPTOR...and the rest, as they say, is history."
VOLVO OCEAN RACE NAMES HONG KONG AS STOPOVER
HONG KONG HAS BEEN NAMED AS A STOPOVER for the 13th edition of the Volvo Ocean Race in February 2018. Race organisers announced the collaboration with the Hong Kong Sailing Federation at a press conference on April 13.
This will be the largest world-class sailing event ever staged in Hong Kong. The world's premier offshore race will introduce residents of
Hong Kong to a wide range of race-related activities geared to educate as well as entertain both existing fans and newcomers to the race. An in-port race will also be held in Victoria Harbour before the boats leave for the next leg. Hong Kong brings the confirmed list of stopovers so far for the Volvo Ocean Race 2017- 18 edition to nine, which includes Alicante, Auckland, Cape Town, Cardiff, Newport, U.S, Lisbon, Gothenburg and The Hague.
News of the Hong Kong stopover comes weeks after the announcement of Mark Turner being appointed as the new CEO of the global race.
SUNSEEKER REPORTS STRONG SALES IN ASIA

UK luxury yacht builder Sunseeker is reporting strong results in Asia over the past year, with many models being sold and an impressive win at the 2016 Asia Boating Awards during the Singapore Yacht Show (Apr 7-10). The Sunseeker 155 was named 'Best Production Motor Yacht (25m and above)' in the annual awards event organised by Asia-Pacific Boating and China Boating magazines.
Some of the latest Sunseekers to arrive in Asia have been exhibited at the Singapore Yacht Show and Shanghai Boat Show (Apr 7-10), as well as at the Hong Kong Gold Coast Boat Show (April 29-May 2). This summer, a Sunseeker 116 and the latest 131 are among the yachts being delivered to Asian owners.
Sunseeker Asia reports that in 2015-2016, 16 yachts have been sold so far to buyers in Hong Kong and five in Asia. Other models sold include the Sunseeker Yacht 96 and 86, as well as the Manhattan 65, with the most popular models ranging from 60ft to 90ft.
"The total retail price turnover in Asia for January 2015-April 2016 is £64 million," says Sunseeker Asia Chairman Gordon Hui, who is based in Hong Kong. "This remains short of Sunseeker Asia's busiest years of 2010-2011, after the 2008 market crash, with 2010 turning over £50 million and 2011 turning over £80 million, for a combined £130 million."
Company expectations remain high, as dealers throughout Asia are added. Sunseeker has offices in the Philippines, Vietnam, Japan, Taiwan and Indonesia with the possibility of dealer agreements soon in the Maldives, Korea and India. The new dealers are in addition to those in Thailand and Singapore.
Sunseeker Singapore is located in the plaza at Oneº15 Marina Club and managed by Daniel Au. A recent addition to the team there is Sales Director Peter Mahoney, who in 1999 joined the Sunseeker Sales Group in Poole, England, and has been working in Asia since 2013.
FIJI WELCOMES YACHTS BACK TO ISLANDS FOLLOWING CYCLONE WINSTON
THE RECENT HURRICANE IN FIJI has tragically cost lives and caused serious damage, as widely reported in news reports all over the world.
"The Fijian people are at work to bring assistance to those in need," reports David Jamieson of Asia Pacific Superyachts in Fiji. "However, we feel it is important to share the news that even though a terrible disaster happened and its consequences should not be dimmed, it is important to know the hurricane only hit a few parts of the country (about 10 per cent) and most of the Fiji islands haven't been damaged from the February 20th cyclone and remain as beautiful as ever."
The Tourism Advisory Group (TAG) is focusing on immediate actions to reduce booking cancellations due to the impact of Tropical Cyclone Winston in parts of Fiji. And most importantly, focus on educating visitors that tourism in Fiji is very much active and ready to receive all guests with the usual 'Bula' smile.
"Port Denarau Marina and Nadi International Airport were far enough away from the storm's eye to suffer no damage as evidenced by photos taken March 1st," Jamieson reports. "The cruising areas suffered about 10 per cent damage. By the time the yachting season starts in April/May the situation in the remote areas and villages should have stabilised to the point where subsistence fishing and farming will be taking place. Debris will have been cleared and the foliage will have a good covering. The live-a-board dive boats are back in operation and reporting minimal damage to dive-sites and reefs."
This season, yachts will be able to cruise safely throughout Fiji. The underwater world in the region remains amazing and though it may have been slightly hit in very shallow areas where the hurricane struck, the quality of dives and snorkeling is not affected in most places.
The teams at Superyacht Private Expeditions (SPE) and yacht agent Asia Pacific Superyachts Fiji are ready to bring their expertise to any diver on a superyacht and will adapt the itinerary accordingly.
www.asia-pacific-superyachts.com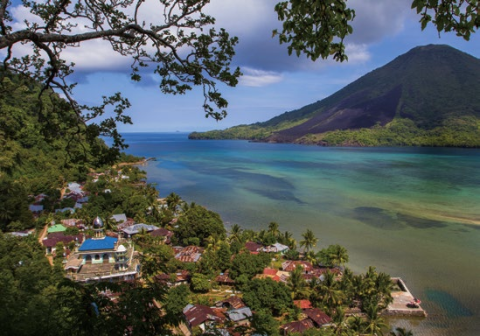 CRUISE INDONESIA'S ARCHIPELAGO WITH SEATREK
OFFERING EXPEDITIONS THROUGHOUT Indonesia for more than 25 years, SeaTrek Sailing Adventures provides the best in yacht chartering aboard Phinisi-style schooners Katharina and Ombak Putih.
Guests of the two charter yachts can visit Central Indonesia including Bali, Komodo, Sulawesi and Flores during April-September and around East Indonesia including Raja Ampat, Maluku and Papua during October-February.
The 35-metre Katharina features six cabins with a capacity of 12. Recently redesigned and constructed of natural woods with classic decor, the stylish cabins offer double or twin berths, individually controlled A/C, safety boxes, storage and en-suite bathrooms. At 42m, Ombak Putih provides accommodation for up to 24 guests in 12 cabins.
Offering 400 square metres of public space, Ombak Putik is perfect for privacy and relaxing. With 14 crew available, guests are sure to have all needs taken care of. Ample on-board facilities and activities keep guests entertained, with equipment for snorkeling, kayaking, fishing and paddle boarding. Specialised activities can also be requested including cooking classes, free diving, rock climbing, kite surfing and wake boarding.
AMERICA'S NEWEST BOATING DESTINATION
THE NEWEST BOATING DESTINATION on America's East Coast is set to open at the beginning of May.
ONE°15 Brooklyn Marina offers state-of-the-art wave attenuation from a 17-foot-wide floating concrete breakwater designed by Marinetek resulting in a targeted wave climate of less than 1ft within the marina; the calmest marina environment on New York Harbor.
Built with many environmental considerations in mind, the Marina used 40 percent translucent decking materials to reduce shading of the water column and encourage marine growth.
Set amidst the Brooklyn Bridge Park with the Manhattan skyline as a backdrop, the marina is poised to attend to all guests' needs with onsite amenities and top-notch security measures. Reservations for seasonal and transient slips are being taken for the 2016 season running May 1 to October 31.
Two classic sailing events will be coming through Brooklyn Marina this spring and summer, including The Transat bakerly solo transatlantic race from Plymouth to New York and the 2016 Atlantic Cup.
SRI LANKA AIMING TO ATTRACT MORE TOURISTS WITH YACHTING INITIATIVE
SRI LANKA RECENTLY EMBARKED on a novel project to manufacture and market luxury yachts as a new initiative under the country's tourism drive.
The foundation stone for the yacht factory was laid at a ceremony presided over by the Minister of Fisheries and Aquatic Resources Development, the Honourable Mahinda Amaraweera, M.P.
The proposed luxury yacht manufacturing facility, located at the Beruwala Fisheries Harbour, is a joint-venture between the Building a Future Foundation (BAFF) and Solar Impulse (Pvt) Ltd.
"We have decided to build boats for the tourism industry," says BAFF Founder and Honourary Consul for Belgium Pierre Pringiers. "That is to build yachts and eventually own the yachts and charter them out to tour and hotel operators and make it a part of the attraction of Sri Lanka as a tourist destination."
The project aims to be "faster, better and more efficient" in order to compete with yachts built overseas.