Tempest Kirin v2
Singapore keyboard company Tempest is back with an improved TKL keyboard called the Kirin v2. It comes in only one colourway, which is a black chassis with a mixture of white, black, and pink keycaps. It's a striking colour scheme and I like it, but if pink isn't your vibe, Tempest provides additional black keycaps for you to swap out.
The chassis is sturdy plastic with a matte finish, so it neither looks nor feels cheap. Inside, there's an aluminium backplate that adds rigidity. The chassis has a slightly angled profile so the top rows sit higher for improved comfort, and it has retractable feet to prop it up even more. You'll also find a USB-C port under the keyboard used for charging or to use in wired mode.
Keycaps are doubleshot PBT, which gives them a textured surface and are also more resistant to wear so you won't get that nasty shine that inevitably shows up on ABS keycaps after prolonged use.
RGB lighting makes an appearance on the Kirin v2, but the problem here is that there's no software included. All customisations are done on the keyboard, limiting options. There're 19 presets that include the usual suspects like flashing, ripple, and sine wave. Within each preset, you can further cycle through eight colours. So while it may be an RGB keyboard, you can't go wild and create custom or game-specific colour templates.
Also, the lights aren't super bright, but I think has more to do with the aforementioned fact that the keycaps are fairly thick. You can choose to swap the keycaps for one of those shine-through or pudding-type keycaps; the Kirin v2 supports any MX-style keycaps.
Bluetooth support has been upped from Bluetooth 3.0 to Bluetooth 5.1, which supposedly helps with power consumption. You can pair it with up to three devices simultaneously and switch between them. It's mighty useful and I use it to swap between my MacBook Pro and iPad.
Battery capacity has been increased by around 45% – from 1,850mAh to 2,700mAh. With the lighting effects set to sine wave and brightness to the max, I got about a week's worth of use. Bear in mind I'm a writer, so I spend about 8 to 10 hours a day on the keyboard. That isn't too bad, at all.
The Kirin v2 has a rather aggressive power-saving feature though, going into standby mode if it detects no usage for five minutes. Sadly, the Kirin v2 still doesn't have a battery level indicator. The FN key turns red when battery levels dip to 10%, but if you are using RGB lighting effects, it can be easy to miss this warning. Luckily, you can use the board in wired mode while plugged in and charging.
Mac users will be happy to know that there's a dedicated Mac mode that maps the Alt key to the Command key and Windows key to the Option key. Also, function keys work as Mac shortcuts, giving you quick access to Mission Control, Launchpad, and media playback options.
As for accessories, apart from some additional keycaps, the Kirin v2 comes with a braided USB-C cable, a keycap puller, a switch puller, a keyboard dust cover, and a sturdy EVA hard carrying case.
The biggest new feature of the Kirin v2 is a hot-swappable PCB. The Kirin v2 will accept both plate and PCB switches for greater versatility, but more importantly the ability to use PCB mount switches without having to clip off the extra legs.
Tempest offers three switches to choose from and they are not your run-of-the-mill Cherry Reds or Blues. Instead, they are Gateron Yellow (linear, 50g), Kailh Box White (clicky, 50g), and NovelKeys Box Royal (tactile, 75g).
Another change is in the stabiliser used. The first-generation Kirin had OEM stabilisers which my colleague noted to be mushy in feel. The Kirin v2 uses Cherry stabilisers, and not only that, they have been clipped and lubricated. The end result is much-improved key feel that's more incisive. It also sounds better – more thonk, less clack.
The Kirin V2 I tested came with NovelKeys Box Royal switches, which were designed by switch-maker Kaihua for NovelKeys as a more tactile alternative to the existing lineup of tactile Box switches. Don't be fooled by the 40g actuation force quoted in most Box Royal spec sheets, the bottom-out force is around 70g so it's considerably heavier and more tactile than your regular Browns. As a fan of heavy switches, I find them very pleasant to use. Key feel is great and there's no annoying wobble even on larger keys like Enter and the Spacebar.
There can be no doubt that the Kirin v2 is a better keyboard. Its new doubleshot PBT keycaps and stabilisers make for a much-improved typing experience, while the ability to swap switches is sure to please veterans and newcomers to the hobby alike. The larger battery (and decently long battery life) is also much welcomed.
There's certainly still room for improvement. Build quality is generally adequate, but a metal chassis would have been nice. Fans of RGB lighting would no doubt prefer full lighting customisations with proper control software. And while we're are at it, can we also have brighter lights and a more robust battery level indicator?
Now, with prices starting at $229, the Kirin v2 isn't just considerably pricier than its predecessor, it has no shortage of competitors too.
To be fair, the Kirin v2 justifies its higher price tag with enthusiast-level features that might not be readily appreciated by folks who are just looking for a decent wireless mechanical keyboard. I mean, how many people reading this know why stabilisers are clipped? The fact is, outside of esoteric enthusiast options, there's aren't many off-the-shelf wireless keyboards with the ability to swap key switches.
You are not going to find many wireless mechanical keyboards that let you swap switches.
You can spec your Kirin v2 keyboard with supers-heavy NovelKeys Box Royal switches.
The quality of the keycaps are much improved. They are thicker and more resistant to backlight bleed.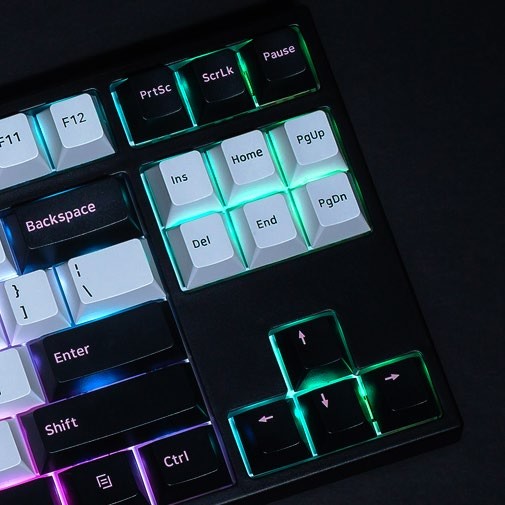 CONCLUSION
IMPROVES ON ITS PREDECESSOR WITH FEATURES ENTHUSIASTS WILL LOVE.
PICTURES TEMPEST