Every eff ort has been made to arm these new Intel Z170 boards to the teeth. As flagships of their respective brands, they feature excesses like a generally inordinate amount of power phases, and an assortment of dedicated overclocking buttons and knobs. But which one of these is the best?
Every eff ort has been made to arm these new Intel Z170 boards to the teeth. As flagships of their respective brands, they feature excesses like a generally inordinate amount of power phases, and an assortment of dedicated overclocking buttons and knobs. But which one of these is the best?

ASROCK Z170 OC FORMULA
As its name suggests, the Z170 OC Formula has been designed unabashedly with overclocking in mind. The board boasts a 18+2 phase digital power design, with the two additional phases dedicated to the memory components. While the number of power phases is a poor indicator of a board's ability to support high overclocks, it does serve as a general guide of overclockability.
But power phases aside, the Z170 OC Formula also comes with a host of other features to improve stability. This includes 60A power chokes for cleaner Vcore voltages, premium memory alloy chokes to feed power more reliably to the memory modules, and dual-stack MOSFETs that double the die area over traditional MOSFETs and make power delivery for the CPU Vcore more efficient.
In addition, there is a wide selection of connectivity options, including a total of four PCIe 3.0 x16 slots, one PCIe 3.0 x1 slot, and one PCIe 2.0 x1 slot. There's even a vertical half-size mini-PCIe slot for a network adapter as the board lacks onboard Wi-Fi.
There's only support for two-way NVIDIA SLI, but if you did have four AMD cards, they could run in x8/x4/x4/x4 mode – not ideal, but it's workable. The Z170 platform really only allocates 16 PCIe 3.0 lanes to the GPUs, so the second PCIe 3.0 x16 slot has been wired to the PCH to tap on the PCIe 3.0 lanes from the chipset itself.
Other standout features include the 10 SATA 6Gbps ports and three M.2 sockets that provide plenty of storage connectivity options. However, you won't be able to populate them all at once because of the finite number of PCIe 3.0 lanes available through the chipset, so do take note which ports have shared lanes so you don't install your devices in conflicting ports.
Finally, the board features a plethora of dedicated hardware switches to allow quicker access to overclocking settings in an open test bench. The "+" and "-" Rapid OC buttons also allow you to tweak your CPU frequency in the Rapid OC Windows application by adjusting the base clock, CPU multiplier, CPU core voltage and CPU cache ratio. Then there's the LN2 mode, Slow mode and XMP DIP switches and Direct Key button that let extreme overclockers resolve potential issues with LN2 overclocking or simply streamline the entire overclocking process
.And as expected of an overclocking-oriented board of this caliber, a dual BIOS switch enables you to switch between the two BIOses and recover from failed overclocks.
Good overclocker with many dedicated controls.
No onboard Wi-Fi.
ASUS ROG MAXIMUS VIII EXTREME
While the ASRock Z170 OC Formula was designed with overclocking in mind, the ASUS ROG Maximus VIII Extreme is an all-round premium board that is intended to offer the best performance to both gamers and overclockers. It is also one of two E-ATX boards in this shootout – ASUS apparently needed more space to cram extra goodies on board.
The board utilizes a 13+2 phase power design that has full control over all elements of power delivery to the CPU, like the Vcore and Vsa voltages. This means smoother and more stable power for the CPU, which should translate into higher and stabler overclocks. An additional 4-pin ATX 12V power connector is also present to deliver even more power for extreme overclocks.
One unique feature is the inclusion of a dedicated U.2 port located beside the eight SATA 6Gbps ports, which means there is no need to go through the hassle of getting an M.2-to-U.2 adapter if you want to install a 2.5-inch form factor PCIe 3.0 x4 drive.
There is also just a single M.2 socket onboard, which may seem a bit wanting compared to what other manufacturers are offering. However, it's possible that ASUS is trying to avoid a situation where the M.2 drives end up overheating beneath a crowded multi-GPU array. This would also explain why ASUS has located the M.2 socket toward the outer edges of the board, where it is less likely to be affected by heat from the graphics cards.
A bundled 3x3 Wi-Fi module adds support for 802.11ac Wi-Fi and Bluetooth 4.0, allowing you to take advantage of the latest AC1900-class routers as well.
The onboard SupremeFX 2015 audio has also been upgraded over last year's solution. ASUS has added a total of four new discrete components – an onboard DAC, a dedicated clock, a TI RC4580 op-amp, and a de-pop relay – to provide better performance for live streaming applications and high-impedance headphones. In sum, this means a cleaner audio signal that is free from jitter, the ability to drive headphones up to 600ohm, and the elimination of loud popping noises when you plug in your audio components.
Rounding out the package is a special area called the OC Zone that hosts a selection of buttons, switches, and voltage readout points to make overclocking easier. For instance, the ReTry button addresses the issue of lockups during POST by setting the system to continually attempt to reboot until it succeeds.

Very capable overclocker.
Fairly expensive.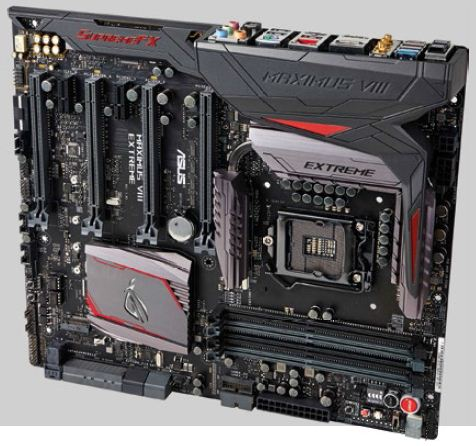 GIGABYTE Z170X GAMING G1
Overclocking comprises the cornerstone of performance for any enthusiast-level board, and the E-ATX Z170X Gaming G1 incorporates a whopping 22-phase digital power delivery design to help with overclocking stability. This includes a combination of IR digital power controllers and PowlRstage ICs to detect the current more accurately. According to Gigabyte, this will help to distribute the thermal load more evenly among the individual ICs, which will in turn improve reliability.
The VRM heatsinks themselves are equipped with built-in G1/4 threaded fittings that will work with the majority of water-cooling components.
Gigabyte has gone all out in every aspect of the board's features. All four PCIe 3.0 x16 slots are reinforced with metal, and there are a further two PCIe 2.0 x1 slots.
But what really helps the board distinguish itself from the pack is its use of a PLX PEX8747 PCIe lane switcher, which allows Gigabyte to direct the PCIe lanes however it wants to the slots and run four-way graphics setups (including four-way NVIDIA SLI) in x8/x8/x8/x8 mode.
The onboard audio solution is a similarly extravagant affair. The Gaming G1 uses a dedicated quad-core Creative Sound Core3D audio processor and features a Burr-Brown 127dB DAC that supports 192kHz/24-bit audio and upgradeable op-amps. The entire configuration is Creative Sound Blaster ZxRi-certified, and you should get good audio quality even if you plug your headphones into the front panel.
Gigabyte's flagship also has the most comprehensive networking solution out of all the boards. The dual Gigabit Ethernet ports rely on the latest Killer E2400, albeit without support for teaming. But together with the Killer Wireless-AC 1535 network adapter, they do support the Killer DoubleShot-X3 Pro technology, an intelligent control system that optimizes your network connection for the lowest latency by prioritizing network traffic and sending the highest-priority packages over the fastest interface.
Like the other boards reviewed here, the Gigabyte board likewise has a selection of onboard buttons and switches to allow enthusiasts to tweak their systems more easily. The OC button automatically loads an optimized configuration for your hardware, providing a one-click boost to performance. On the other hand, the ECO button saves power by reducing the overall power consumption according to the current system load.
For the proverbial icing on the cake, Gigabyte has thrown in a USB 3.1 front panel with Type-A and Type-C ports. After all, one can never have too many USB 3.1 ports.
  PCIe lane switcher allows it to support up to four-way NVIDIA SLI.

  Lackluster overclocking performance.
MSI Z170A GAMING M9 ACK
The MSI Z170A Gaming M9 ACK sits at the top of MSI's enthusiast-oriented Gaming series of boards. However, a closer look at its feature set shows that it is a board that is geared more toward the gaming crowd as opposed to overclockers.
It features an 11-phase power design – that may seem paltry in comparison with the other boards, but it is the quality and implementation that matters more than the number of power phases. And like the Gigabyte Z170X Gaming G1, the MSI board also has G1/4 threaded fittings built into its VRM heatsinks should you choose to go the water-cooling route.
We also appreciate MSI's inclusion of a full-length motherboard backplate. It provides some reassuring heft and support to the board and even houses LEDs on the underside, so the board will give you a subtle red underglow when installed in your case.
Another noteworthy feature is something MSI calls DDR4 Boost, which is highlighted by the bright red memory traces on the PCB. By fully isolating the memory circuitry from the other components, DDR4 Boost ensures that the memory signal remains free from interference in order to achieve the best possible performance and stability.
The Gaming M9 ACK has just three PCIe 3.0 x16 slots, making it the only board in our shootout to not have four slots. It's not going to make much of a practical difference to most users, but you could argue that as a flagship board, it should have included a fourth slot anyway. However, it makes up for it by reinforcing the first and third slots with metal, so heavy cards should hold up better in the long term.
In addition, the Xtreme Audio DAC audio solution has been upgraded with components like a Sabre HiFi ESS 9016K2M DAC, and the board now supports high-resolution audio playback at 384kHz/32-bit thanks to the C-Media CM6632A HD audio processor. Nahimic Audio Enhancer technology is supported as well, offering audio enhancements like virtual surround, frequency and voice levellers, and tweaks for voice clarity for clearer in-game communication.
However, overclockers will be more interested in the Game Boost knob that lets you overclock the CPU quickly by just ratcheting up the knob. It does this by tweaking the CPU BCLK, which means you cannot do this on-the-fl y and will have to reboot the system before the change can take effect. Still, it's a convenient way to get a free performance boost for your CPU, although you probably are not going to be able to achieve the maximum 5.0GHz setting without water-cooling.
Unique DDR4 Boost feature for isolating memory signals.

No dual BIOS.
Middle-earth: Shadow of Mordor
(average fps, higher is better)
We tested the boards on Middle-earth: Shadow of Mordor to see how they stack up against each other in terms of real-world gaming performance. As expected, the performance difference between the boards was minuscule, given that the underlying CPU and GPU hardware was the same. Nevertheless, the ASUS board just managed to edge ahead, followed by the MSI and ASRock boards.
SYSmark 2014
(SYSMarks, higher is better)
SYSMark is a general productivity benchmark suite that measures the response times of tasks on a PC using real-world applications like Microsoft Office 2013 and Adobe Photoshop and simulated user input. Task response times are used to generate a performance rating that reflects actual experience, so the faster a PC responds to application workloads, the higher its score.The ASRock board came out on top here, followed by the ASUS and MSI boards respectively. The former did especially well in the Data/Financial Analysis test, which was what helped it clinch first place.
Overclocking
(higher is better)
We first tweaked the CPU multiplier ratio and raised the voltage accordingly. After ascertaining that the achieved clock speed was stable, we then proceeded to increase the BCLK value to get smaller overclock increments. This also enabled us to take advantage of the new overclocking capabilities of Skylake CPUs, which allow a wider range of BCLK values. Changing the BCLK values also overclocks the RAM, so we throttled the speed accordingly to maintain system stability. The ASUS motherboard was the most capable overclocker here and we managed to hit a top speed of 4.83GHz, which translated to around a 17% improvement over default speeds. The ASRock and MSI motherboard also performed decently, coming in second and third respectively. Unfortunately, the Gigabyte motherboard didn't live up to its whopping 22-phase power design at all, managing a top overclock of just 4.66GHz from our trials.
AND THE BEST Z170 MOTHERBOARD IS
ASUS ROG MAXIMUS VIII EXTREME
At the end of the day, it was the ASUS Maximus VIII Extreme that impressed us the most. It topped the majority of our test benchmarks, and was always among the top two performers for the tests it didn't win. Furthermore, its blend of gaming- and enthusiast-oriented features is quite compelling, as it manages to appeal quite successfully to both crowds, setting it apart from the other boards that often look like they are sacrificing one for the other.
In addition to being the best board for overclocking, it also offers a range of hardware buttons – the ReTry button for instance – that speak to ASUS' efforts to make the overclocking process as smooth as possible. It is this attention to detail and user experience, combined with its stellar performance and attractive design, that lead us to unreservedly declare it the winner. It will also cost you a pretty penny at S$809, but what you get is an exceedingly feature-rich board that performs great and looks the part as well.