MASTER YOUR CPU COOLIN.
The cooler master masterair ma620m is a unique dual tower heatsink with enlarged fins. It makes use of six copper heatpipes for enhanced cooling performance, and has addressable RGB lighting effects at its top cover, because it's cool.
MORE INSIDE
XIAOMI MI NOTE 10
Say it with us: 108 megapixels!
ANALOGUE POCKET
The perfect console for oldschool gamers
PIAGGIO GITA
Your robot butler?
PICTURE
COOLER MASTER
16-INCH OF GOODNESS
It sports a 16-inch retina display with a solution of 3,072 x 1,920 pixels (226ppi). It supports truetone and dci-p3 colour space. It has a revamped, "proper", magic keyboard. It's the new apple macBook pro 16-inch.
PICTURE APPLE
IT'S A SMART MUG
The ember mug 2 keeps your drink warm at the exact temperature you want. With improved battery performance, it's able to stick to its task for up to 1.5 hours. The smart mug is easy to clean and can be submerged up to 1 metre in water.
PICTURE EMBER
FOR VINYL LOVERS….
Targeted at novice and experienced vinyl record aficionadas with its plug and play capabilities, the gearbox automatic turntable mkii has an upgraded belt drive with aluminium pulley for improved speed stability and onboard music recognition that helps you add tracks from your record collection to your spotify playlist.
PICTURE GEARBOX RECORDS 
YES, THEY COME IN BLACK TOO!
Powered by huawei's new kirin a1 chipset, these earphones have active noise-cancellation, Bluetooth 5.1 and true independent audio transmission to the individual ear pieces. The Freebuds 3 also feature 14mm dynamic drivers, a bass tube for better bass response, as well as advanced bone vibration sensing tech, so your voice is captured in more detail on a call.
PICTURE HUAWEI
ZEN OUT WITH THIS WI-FI 6 MESH NETWORKING SYSTEM
The asus ZenWiFi aX tri-band mesh networking system supports the latest Wi-Fi 6 standard, and the system allows users to choose how they want to use and deploy the ZenWiFi's three networks. Different SSIDs can be assigned to each network, or reserve one of the 5ghz network for dedicated backhaul communications!
PICTURE ASUS
YOUR PERSONAL BUTLER
The piaggio gita is a carrier robot that makes use of onboard cameras and sensors to follow you around while carrying your personal effects at the same time. It 's not an autonomous device but it can follow you around, even on slopes of up to 9 degrees.
PICTURE PIAGGIO
HOP ONTO THE WI-FI 6 BANDWAGON
If you want your home networking solution to look more futuristc, enter netgear's tri-band orbi aX6000 mesh networking system. For one, its tower design doesn't look like a traditional router, but more importantly, it can handle up to 12 streams of delicious Wi-Fi 6 connectivity, up to speeds of 6gbps.
PICTURE NETGEAR
IT'S A KINDA OF MAGIC....
The new huawei Watch gt 2 is powered by huawei's kirin a1 chipset and it boasts of up to 2 weeks of battery life. It has 15 goal-based fitness modes including 8 outdoor and 8 indoor sports ranging from running, hiking, cycling to indoor pool. It's also capable of tracking and diagnosing 6 common types of sleep disorders!
PICTURE HUAWEI
IT'S RAINING MESH.....
Some people just like google. maybe it's the simplicity, maybe it's the design. Whatever it is, the Nest Wifi system consists of a dedicated Nest Wifi Router and can be expanded with Nest Wifi Points. Each Nest Wifi Point can also be a Google assistant speaker, so it can play music and listen to your voice commands. However, the system only supports up to the Wi-Fi 5 standard, and only comes in white.
PICTURE GOOGLE
WE LIKE TO MOVE IT, MOVE IT....
The sonos move comes with two class d digital amplifiers, a downward firing tweeter, and a fairly large mid-woofer that supposed to capture both mid-range and deliver rich bass. Its builtin battery lets it operate up to 10 hours, and this portable speaker has an ip56 rating for protection against dust and water.
PICTURE SONOS
EASY TO USE SINGLE-BAY NAS
The compact single-bay ds120 nas is designed to archive and protect your digital assets. It's easy to set up and users are able to back up photos and videos on their mobile devices to this personal nas with little effort. It runs on DiskStation Manager for easy operation and data management.
PICTURE  SYNOLOGY 
SHEER PENTACAMERA POWER
We won't blame you if at first glance, the colours remind you of huawei, but this is Xiaomi's latest and greatest camera phone, the mi note 10. Not only does it boast of a 5-rear camera setup, it as a 108-megapixel main camera. 108mp! This phone is touted to offer an "ultimate photography" experience in a mid-range phone package!
PICTURE XIAOMI
1. HAVE PLANAR MAGNETIC DRIVERS WILL TRAVEL
These headphones feature 90mm planar magnetic drivers and yet still manage to keep its design compact and lightweight. In fact, the audeze lcd-1 can fold away for easy traveling, featuring ultra-thin uniforce diaphragms and Fluxor magnets to provide powerful sound and great accuracy to complement those planar magnetic drivers.
AUDEZE LCD-1 HEADPHONES
2. MIXING WORK AND PLEASURE
This 15.6-inch notebook is powered by the 9th-gen intel core i7-9750h cpu, with 16gB ddr4-ram, and nvidia geForce gtX 1650 graphics. This device is intended for the office worker, who need to unwind the end of his day in the office with some light PC gaming.
ASUS VIVOBOOK PRO 15 NOTEBOOK (F571)
3. TOUTED AS A TRIBUTE TO PORTABLE GAMING
The analogue pocket supports a slew of game systems that include game Boy, game Boy color and game Boy advance game cartridges. With the help of add-on cartridge adapters, it even supports game gear, neo geo pocket color, atari lynx and more. It features a 3.5-inch lcd display with 10 times the resolution of the original game Boy, preserving retro gaming in high-def!
ANALOGUE POCKET
PICTURES
AUDEZE, ASUS, ANALOGUE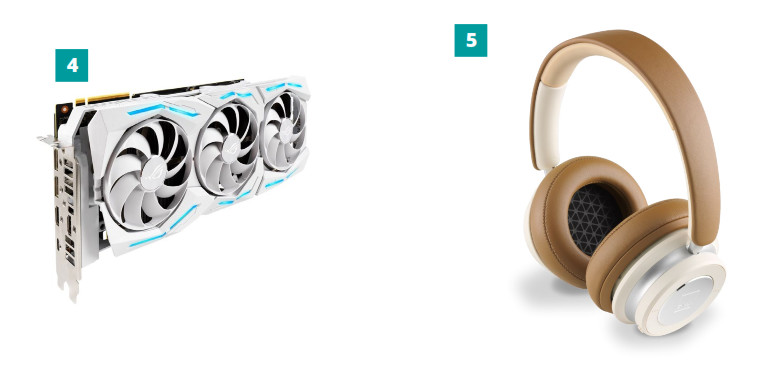 4. FOR A WHITE X'MAS
This graphics card sports the nvidia turing gpu with real-time ray tracing capabilities and the card's all-white treatment covers the fan shroud, cooling fans, and backplate. The card boasts of gaming and oc modes to let you boost its performance according to your requirements.
ASUS ROG STRIX GEFORCE RTX 2080 TI WHITE EDITION
5. NOT YOUR USUAL DANISH COOKIE
Designed and engineered in denmark, the dali io-6 is a pair of wireless headphones with noise cancellation. It supports Bluetooth aptX, aptX hd and apple aac for wireless connections, and it also incorporates a wired analogue mini-jack and a usB type-c connector. 
DALI IO-6 WIRELESS NOISE CANCELLING HI-FI HEADPHONES
6. FOR THE GIANTS WHO WALK AMONGST US....
The secretlab titan Xl 2020 series gaming chair is based on the titan Xl, boasting of a taller backrest and wider seat base. In fact, it's 25% larger than the titan Xl, and features improved core mechanisms with heavier and sturdier construct materials. The new chair's tilt mechanism has been upgraded too, as well as its wheel base that has been enlarged to support the extra weight.
SECRETLAB TITAN XL 2020 SERIES
7. IT'S NOT MEANT FOR THE SHOWER
This coffee maker features a unique 29-hole spiral showerhead that "evenly saturates coffee grounds for optimal extraction", to make a cup of joe that's so robust and full of flavour It even comes with an optional programmable warming plate to keep your coffee at the right temperature.
KITCHENAID DRIP COFFEE MAKER WITH SPIRAL SHOWERHEAD
8. WORLD'S FIRST USB 3.2 GEN 2X2 PCIE EXPANSION CARD
This new add-on card from gigabyte supports usB 3.2 gen 2x2 standard on amd and intel platforms for transfer speeds up to its theoretical maximum of 20gbps, which is double of the previous generation usB 3.2 gen 2 standard. The card sports a rear usB type-c port that's backward compatible right down to usB 2.0 standard.
GIGABYTE USB 3.2 GEN 2X2 PCIE EXPANSION CARD
9. IT TAKES YOUR PRIVACY AND DEVICE SECURITY VERY SERIOUSLY
This 13.3-inch notebook weighs just under 1kg but its magnesium alloy body allows it to pass stringent mil-std-810g tests for rugged usage. It's powered by intel's 8thgen core vpro cpus, and supports Wi-Fi 6 networking. It has a built-in privacy screen, a privacy shutter for its webcam, and a suite of proprietary features to protect against malware, even at firmware level.
HP ELITE DRAGONFLY
10. WHEN IKEA MEETS SONOS
This table lamp speaker is a collaborative product between ikea and sonos. It combines ikea's experience in home furnishing design, with sono's extensive audio engineering capabilities. This speaker functions as a decorative table lamp and is also able to connect with other sonos speakers.
IKEA SYMFONISK TABLE LAMP SPEAKER
11. ATOUGHRAM UP YOUR RAM MODULES!!!
This 16gB memory kit comprises a pair of 8gB ddr4 ram modules, and each sports a 10-layer pcB and aluminum heatspreader for improved overclocking performance and stability. They also make use of tightly selected memory chips and a 2oz copper pcB for better electrical conduction. Their RGB lighting effects also make for a visual treat!
THERMALTAKE TOUGHRAM Z-ONE RGB DDR4 3200MHZ RAM
PICTURES
GIGABYTE, HP, IKEA, THERMALTAKE
12. IT'S A PRESSURE COOKER AND MORE....
This pressure cooker from us-based ninja kitchen can double up as a conventional oven with air frying features. It comes in different capacities that can fit whole chickens of different sizes. There are also online recipes to keep this pressure cooker well utilized.
NINJA KITCHEN FOODI PRESSURE COOKER
13. ALL CAMO GOODNESS!
The latest casio g-shock mtgB1000dcm-1 is designed with laser-printed camo patterns on its stainless steel bezel and band, while the casio g-shock gmWB5000tcm-1 sports a titanium case and band with the same cutting-edge camo prints. These limited-edition timepieces feature Bluetooth connectivity, atomic timekeeping, and tough solar technology for self-charging capabilities.
CASIO G-SHOCK MT-G AND GMWB5000 LIMITED EDITION
14. IT'S ANOTHER DROID THAT YOU ARE LOOKING FOR
This toy is a Bluetoothcontrolled self-balancing robot that's based on the d-o droid in "the rise of skywalker". The toy has light-up led eyes, sound effects and decorated with details that mimic its big screen appearance.
HASBRO STAR WARS D-O INTERACTIVE DROID
PICTURES NINJA KITCHEN, HASBRO, CASIO