Tecware Phantom RGB.
Tecware Phantom RGB.
Mechanical keyboards are expensive. That's almost a given by now, so when the Tecware Phantom RGB dropped by my desk, there was genuine reason to get excited.
A look at its feature list also shows that this keyboard isn't some cheap bargain bin knockoff , and it offers far more than its price suggests.
For starters, it uses Outemu Blue switches, which are eff ectively Cherry MX Blue clones. They're nearly indistinguishable from their Cherry counterparts, with the same tactile, clicky feedback. Blue switches have been said to be among the most enjoyable for typing, and the Phantom doesn't disappoint. However, they can also be quite noisy and distracting.
The Phantom supports per-key RGB lighting and macro recording, which is a huge bonus at this price point. I had thought the Razer Cynosa Chroma did a good job in offering per-key customizations at a sub-$100 price point, but that doesn't even come with mechanical switches.
You can set up to three profiles in Tecware's software utility, and if per-key customization sounds too tedious, you can pick from 18 different lighting presets. The software itself is intuitive to use, and first-time users should have little problem finding their way around.
The Phantom uses surface-mounted LEDs, which sit directly on top of the PCB. Each LED is positioned directly beneath the key legends, so you get fairly even illumination. It's a small detail, but one that many keyboards overlook. This goes well with the modular switch design, as you can use the included tool to pluck out individual switches while leaving the LED untouched.
In addition, most of the function keys double up as media controls and convenient shortcuts to your music player, calculator, web browser, and even file explorer. It's small usability features like these that make the keyboard more impressive, as it'd have been easy to leave them out in the design phase. I'm not a fan of the secondary legends though, the bright white and slightly uneven coloring could use more refinement.
Nevertheless, Tecware needs to be commended for its use of double shot ABS keycaps, which is still a rarity even on keyboards that cost twice as much. These comprise two different pieces of plastic molded into each other, so the legends won't fade.
CONCLUSION
A solid, well-built keyboard that offers great value and a ton of features.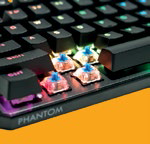 The Outemu Blue switches feature transparent housings and are modular.
AT A GLANCE
SWITCHES
Outemu Blue
BACKLIGHT
RGB lighting with 18 presets
DIMENSIONS
444.5 x 133.5 x 22.5 mm
WEIGHT
1.14kg
PRICE
$79 
PICTURES TECWARE