The web browser is your window to the world, so pick wisely.
FIREFOX
Firefox is powered by a browser engine called Quantum — an improved version of Gecko — making it one of the few browsers today to be powered by an engine that isn't Blink or WebKit. Quantum was introduced in late 2017 and introduced numerous performance, feature, and interface updates to Firefox to give it a fresh look and to make it competitive with other browsers. To be honest, it desperately needed this makeover as it was becoming slow and a resource hog.
Customizability is still one of Firefox's tenets. Firefox's interface is slick as it is but there are themes to download to augment its looks. And the toolbar, your main means of interacting with the browser, can be easily rearranged and buttons can be added for quick access to commonly used features and extensions.
Speaking of extensions, Firefox's extensive library of extensions and themes is matched only by Google Chrome's. What this means for users is that you can customize Firefox to your liking. Apart from your usual ad blockers and password managers, there are extensions that can help you quickly download videos, translate text, and even automatically dim the page when you are watching videos.
And if you want a cohesive web browsing experience across your devices, you can create a Firefox Account that syncs your bookmarks, opened tabs, passwords, and even add-ons and preferences across all of your devices that have Firefox installed.
On the security front, Firefox has tracking protection that blocks third-party trackers from monitoring your browsing behavior. In keeping with the times, it also has the ability to detect and block scripts that mine cryptocurrency in the background without the users' knowledge. It also has a rudimentary form of password manager.
When Quantum was first announced, Mozilla claimed that it was faster and used less memory than the competition. That, however, was over one and a half years ago. In our tests, Firefox achieved the lowest scores on the JetStream benchmark; and it recorded the highest memory usage as well as one of the highest CPU utilization rates. If it's any consolation, at least its HTML 5 scores were quite good.
In my time using Firefox on the new MacBook Air, I found it to be mostly quick and snappy. It only showed signs of slowing down when I was scrolling through media-rich sites and that was only after I had over 20 tabs opened. Unless you are the kind that likes to have multiple windows and tabs opened, I think most users will do just fine with Firefox.
Though Firefox scored poorly in our benchmarks, I still found it to be pleasant enough to use and I enjoyed its customization options and various features. If you are concerned about Google's attitude toward privacy, Firefox could very well be the next best thing. 
(+) Highly customizable, slick interface, good security features.
(-) Poor benchmark scores, a little sluggish.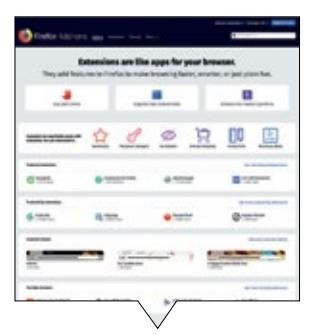 Firefox users have access to a wide range of extensions to customize their browsing experience. 
You can sync your bookmarks, history, preferences, and passwords across devices using Firefox by creating a Firefox Account. 
AT A GLANCE
DEVELOPER Mozilla Foundation
ENGINE Gecko
DESKTOP PLATFORMS Windows, macOS, Linux
PRICE Free 
PICTURE 123RF, MOZILLA FOUNDATION
GOOGLE CHROME
One of the reasons for Google Chrome's popularity is its customizability. Like its rival Firefox, Google Chrome has a library of extensions that range from the useful and practical — like adblockers and quick translators — to the whimsical and fancy — like Tabby Cat, an extension that opens every new tab with an interactive kitty cat. On top of extensions, you have Themes that enable users to change the look of the browser too.
Another reason for Google Chrome's popularity is Android. If you are an Android phone user, there's a good chance you want to use Google Chrome on your desktop too just so you can consolidate and sync all of your opened tabs, bookmarks, and browsing history on your Google account. Doing so allows you to quickly switch between devices and continue browsing. It's not quite as seamless as Safari on an iPhone and Mac but it's probably the next best thing.
It's also worth mentioning that the above-mentioned syncing feature isn't limited to Android devices. Because Google Chrome is available on every major platform, you can even do this if you are using an iPhone or iPad. Simply download Google Chrome on your iOS device and you are good.
One of Google Chrome's standout feature is its smart address bar. You can type questions like, "How many grams is 1kg" or "Japan weather", and get answers directly in the address bar without having to navigate to another page. It even searches your Google Drive to see if there are relevant documents. It's intuitive and fast and makes you wonder why this feature isn't available on more browsers. Only Safari has something similar but its implementation is a little different.
Performance was Google Chrome's biggest advantage when it was first released. But over the years, it gained a reputation for being a resource hog. Fortunately, recent updates have been aimed at addressing this and it seems to have paid off. Google Chrome is powered by the Blink engine, which is actually a fork of the WebKit engine. Compared to WebKit, Blink favors flexibility over efficiency.
In our tests with 20 tabs opened, Google Chrome recorded the least memory usage. Its CPU utilization was also one of the lowest and it managed one of the highest scores on JetStream 2. I concur with these findings as I found Google Chrome to be really snappy and responsive, even with many tabs opened and on my 2018 MacBook Air - which isn't the most powerful device. It seems then that its reputation for being bloated and a memory hog is undeserved.
Overall, I found Google Chrome to be a capable browser offering good performance, customization options, and useful features. Its position as the world's most popular browser is well deserved even if there are surrounding concerns around privacy and security. 
(+) Fast, intuitive, clever smart address bar, tight integration with Android. 
(-) Concerns around security and privacy. 
You can enter questions into the address bar and get immediate answers, which is very helpful. 
You can tweak your Google Chrome experience with thousands of extensions. 
AT A GLANCE
DEVELOPER Google
ENGINE Blink (Chromium)
DESKTOP PLATFORMS Windows, macOS, Linux
PRICE Free 
PICTURE 123RF, GOOGLE
OPERA
In 2013, Opera made the switch from its own Presto engine to Blink. And because Opera now runs on Blink, it is highly similar to Google Chrome in terms of features and functionality. You can even get Opera to run Google Chrome extensions with some tweaking. This makes Opera one of the more customizable browsers, even if customizing it takes a bit more work.
Opera has a couple of standout features that distinguish it from Google Chrome and the competitor. There's a sidebar that works like a dock, giving access to frequently used services and features. From the sidebar, you can quickly launch popular chat services like WhatsApp, Facebook Messenger, Telegram, and VK. It makes it very easy to chat with friends and get back to your browsing. Unfortunately, there's no option to add services so bad news if you use other services like Google Hangouts, Slack, or Discord.
Another highlight feature is the built-in free VPN. It can be easily turn on or off from the address bar and you can even select your VPN location. There's the option of Europe, the Americas, or Asia. Like any VPN, Opera claims it reduces online tracking and makes it hard for websites to track your browsing behavior and computer. However, Opera is vague about how the VPN actually works so you don't know your data is encrypted or if browsing and traffic are being logged. In short, if you are concerned about security, you should still seek out a full-fledged VPN provider.
Opera also has other thoughtful little features that make it pleasant to use. It has a built-in currency, measurement, and time zone converters that can be especially useful to avid online shoppers. If you are shopping online, you can quickly get currency conversions into your local currency. For those frequently on the go, there's a handy battery saver feature that turns off plug-ins, reduces background activity, disables theme animations, and more to eke out more battery life.
Since Opera is powered by Blink, it was no surprise to see it scoring well in our benchmarks. CPU utilization and memory usage were amongst the lowest, which is in line with my own user experience with the browser. Even with over 20 tabs opened on a MacBook Air, I found scrolling through webpages and opening webpages in new tabs to be generally smooth and fluid.
All things considered, Opera is a charming browser that off ers good performance, neat features, and customizability that comes to close rivals like Google Chrome and Firefox. And because it has syncing features and is available on a variety of platforms, it could be the one browser that you use across your desktop and mobile devices. 
(+) Fast and comes with useful and thoughtful features.
(-) Not as customizable as rivals. 
The Sidebar gives quick access to chat services like WhatsApp and Facebook Messenger along with other frequently used features. 
Highlight prices during your online shopping and Opera will instantly convert them to your local currency. 
AT A GLANCE
DEVELOPER Opera Software AS
ENGINE Blink (Chromium)
DESKTOP PLATFORMS Windows, macOS, Linux
PRICE Free 
PICTURE 123RF, OPERA SOFTWARE AS
SAFARI
If the ability to customize the interface is important to you, Safari is not the browser for you. There are precious few customization options in the Preferences menu and there are only a smattering of extensions available on the Safari Extensions Gallery and on the Mac App Store. Fortunately, Safari is supported by all major password managers, and you have a selection of various ad blockers and some useful extensions like Polyglot for quick translations.
Privacy and security are amongst Safari's most highest priorities. The built-in password manager aside, it also has Intelligent Tracking Prevention that prevents advertisers from tracking your online behavior, and stops embedded content such as social media like and share buttons from tracking you. Safari also makes it difficult for advertisers to track and identify you by presenting on a simplified system profile when you visit websites.
But the biggest reason why any Mac user would use Safari is because they own additional Apple devices. Safari's tight integration with Apple platforms means bookmarks and even opened tabs are easily synced across your Apple devices. Thanks to a feature called Handoff, you can browse on your desktop and pick up exactly where you left off on your iPhone or iPad when you are ready to leave.
Safari's close integration with Apple's other services extends beyond bookmarks and browsing. On websites that support Apple Pay, you can purchase things directly using Touch ID on your Mac notebook, Face ID or Touch ID on your iPhone or iPad, or even by double-clicking on your Apple Watch.
Safari does have some quirks such as its inability to playback videos above 1080p resolution on YouTube. This has to do with Safari's non-support of VP9, the video codec YouTube uses to encode videos above 1080p. So if YouTube is a big part of your online life, you might want to consider alternatives.
Powered by the WebKit browser engine, Safari is no performance slouch. It racked up one of the highest scores on the intensive JetStream 2 benchmark — matched only by Google Chrome and Vivaldi. Unsurprisingly, CPU utilization and memory usage were amongst the lowest recorded in our tests too. These findings corroborate with my usage experience. Webpages load quickly and the browsing experience was generally responsive even on my not-so-powerful MacBook Air test machine. Safari makes up for what it lacks in customization with blazing performance.
In closing, despite the dearth of customizability, Safari is an easy recommend for Mac users whose priorities are performance, security, and close integration with other Apple devices. 
(+) Excellent performance on macOS, thoughtful security features.
(-) Poor customization on options, only on macOS. 
There are only a handful of extensions available to customize and tweak your browsing experience. 
Safari's deep integration with other Apple devices mean you can pick up browsing from your iPhone on your Mac easily. 
AT A GLANCE
DEVELOPER Apple
ENGINE WebKit
DESKTOP PLATFORMS macOS
PRICE Free 
PICTURE 123RF, APPLE
VIVALDI
Of all the browsers here, Vivaldi is the youngest by far. It was only released about three years ago by Vivaldi Technologies — a new company founded by Jon Stephenson von Tetzchner, who used to be the CEO of Opera Software, and Tatsuki Tomita.
Apart from being the youngest, Vivaldi is also easily the most technical and customizable. After all, it was designed to be a power user's browser and to appeal to users of Opera who missed features of the old Opera browser that it lost after switching from Presto to Blink. And because Vivaldi runs using Blink — the same engine that Google Chrome uses — it will even run Google Chrome extensions.
Vivaldi's customization options will be a boon to fussy users. Most browsers will let you hide or show the status bar, but Vivaldi goes one step further and lets you display it as an overlay instead of a bar affixed to the bottom of the window. In the same vein, the address bar can be positioned either at the top or bottom of the window, and can even be chosen to show a page load progress bar.
But Vivaldi's most attractive feature has got to be its extensive tab management options. If you are the type of user that leaves dozens upon dozens of tabs opened, Vivaldi might just be made for you. For a start, the tab bar, like so many of Vivaldi's other components, can be positioned across the window at the top, bottom, or even to the top left or top right corners.
Tab Stack is arguably Vivaldi's signature feature. With Tab Stack, you can group tabs together on the tab bar. This lets you merge related tabs together or it can be used simply to free up space on the tab bar for even more tabs. There's even a tile view for stacked tabs so that you can quickly see all the pages in the stack.
Vivaldi's performance was a bit of a mixed bag. While it scored well on JetStream 2 and the HTML 5 test, it also recorded the highest CPU utilization rates and memory usage when we opened 20 tabs simultaneously. In real-world use, Vivaldi felt sluggish when multiple tabs were opened, especially if you are using advanced tab management features like Tab Stack and Tile View. Even a beastly Core i9 MacBook Pro with 32GB of memory suffered slowdowns.
Vivaldi's target audience of power users meant that it was always going to be the outsider. Though it's refreshing and fun to use, its performance issues make it hard to recommend unless you have a powerful machine or have a specific need for its unique feature set. In the end, its rivals offer speedier and more fuss-free browsing experience. 
(+) Lots of features and customization, especially with tab management.
(-) Not the most intuitive, sluggish when many tabs are opened. 
If you like to have lots of tabs opened, Vivaldi's rich tab management features might appeal to you. 
In tile mode, you can quickly browse through tabs in a single browser window. 
AT A GLANCE
SPEED RATING Vivaldi Technologies
FREQUENCY BANDS Blink (Chromium)
PORTS Windows, macOS, Linux
PRICE Free 
PICTURE 123RF, VIVALDI TECHNOLOGIES
AND THE BEST BROWSER IS… 
GOOGLE CHROME 
The world's most popular browser turns out to also be the best browser for most people. Boring, I know, but hear me out. For a start, Google Chrome offers really good performance and showed little signs of slowing down even with lots of tabs opened. It also adheres strictly to the HTML5 standard so it shows all pages with no hiccups or quirks. And if you fancy yourself a power user, Google Chrome is also highly customizable, which makes it easy to get it to look and work the way you want it to. It's a solid browser that will meet most people's needs and requirements.
That said, if you are heavily invested in Apple's ecosystem of hardware and services, Safari is a solid choice that offers class-leading performance. It only lacks the customizability of its rivals. Firefox and Opera are decent alternatives too, but the former can be sluggish while the latter isn't quite as customizable. Finally, Vivaldi has features that will appeal to power users and unmatched customizability, but this comes at the cost of poor performance, especially on less powerful machines.