Powerbeats Pro.
Powerbeats Pro.
The Powerbeats Pro is Apple's true wireless headphone for active use. To ensure a secure fit, it has an in-ear design so the headphone goes into your ear canals and earhooks that go over your ears. It also comes with additional ear-tips so you can get a snug fit. The design is effective; unless you are sparring and get punched in the ears, the Powerbeats Pro is unlikely to come off.
Style is important and so the Powerbeats Pro comes in a variety of colors — ivory (beige), moss (dark green), and navy (dark blue). But perhaps most important of all is that it has an IPX4 water resistance rating. This means it will survive water splashes from all directions so sweat and rain won't pose a problem. 
CONCLUSION
True wireless sports headphones that fits snugly, offers usable water resistance, and has excellent sound.
Like the second-generation AirPods, the Powerbeats Pro features Apple's new H1 chip. This means supports for Bluetooth 5.0, hands-free Siri, faster connection and switching between devices, and longer talk-time. The H1 chip provides independent audio transmission so you can choose to only listen to one headphone at a time. This keeps your other ear free so that you can hear more of your surroundings. 
And because the H1 transmits independently, both headphones have the same controls and either can be used. There's a single main button that, depending on how you press it, can be used for taking and cancelling calls, and playing, pausing, and skipping tracks. And then there are volume control buttons.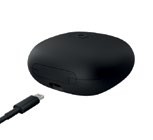 The charging case charges via a Lightning connector.
The Powerbeats Pro doesn't have active noise-cancelling, but I found its noise isolation to be adequate. Of course, this is going to depend greatly on how good a seal you can achieve with the supplied ear-tips. For those who can get a good seal, you'll also find that the Powerbeats Pro projects a wide soundstage with a rich and full sound with controlled bass and a smooth midrange. The treble can have too much energy at times and therefore sound steely on some tracks. Nevertheless, I found the Powerbeats Pro to be a step up from the AirPods, and overall, very fine sounding pair of headphones at its price.
Battery life is rated at 9 hours which is well above average for a headphone of its class. Together with the charging case, you can get over 24 hours of listening time in total. Unfortunately, the charging case doesn't do wireless charging. It does, however, support fast charge and you can get 1.5 hours of playing time with just 5 minutes of charging if the battery level is low. A few things to note: the charging case is huge, and curiously, it charges using a Lightning connector whereas some other Beats headphones, like the Solo3, charge using a micro-USB cable.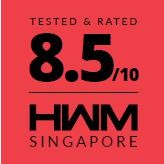 Overall, the Powerbeats Pro is a great exercise companion. It is comparable in cost to the competition, fits well, is water-resistant, has a long battery life, and outstanding sound quality. It's safe to say that the Powerbeats Pro is another true wireless headphone hit from Apple, and probably their finest yet.
AT A GLANCE
BATTERY LIFE
Up to 9 hours
CHARGING TIME
2 hours
WATER RESISTANCE
IPX4
DRIVERS
12mm aluminium piston driver
WIRELESS STANDARD
Bluetooth 5.0
PRICE
$328
PICTURES APPLE