Want to use your gaming laptop forwork and play? With slim bezels, compact chassis, and speedy graphics, gaming laptops have never looked more attractive.
Want to use your gaming laptop forwork and play? With slim bezels, compact chassis, and speedy graphics, gaming laptops have never looked more attractive.
By Koh Wanzi Photography by Angela Guo & Phyllicia Wang Art Direction & Digital imaging by Ashruddin Sani
Aftershock APEX-15
• ASUS ROG STRIX Scar II GL504GS
• Gigabyte Aero 15X
• MSI GS65 Stealth Thin 8RF
• Razer Blade 2018
AFTERSHOCK APEX-15
Aftershock's APEX-15 was designed to compete directly with the latest crop of thin-bezel gaming notebooks. That's no easy task, and the field is stacked with competitors like the Gigabyte Aero 15X, MSI GS65 Stealth Thin, and Razer Blade.
However, for its price, the APEX-15 brings quite a lot to the table without sacrificing too much. Like the rest of the competition, one of the most attractive things about the APEX-15 is how compact it is for a 15.6-inch laptop. The slim bezels mean it's closer in size to a 14-inch laptop, so you benefit from the greater screen real estate without having to put up with much more bulk. The aluminum alloy chassis is also lightweight and solid, so this is quite a well-built laptop overall.
That said, one thing stands out, and the APEX-15 is not a Max-Q laptop as you'd expect. This means that the NVIDIA GeForce GTX 1060 6GB in it, is running at full speed. The price you pay for this is subpar battery life. The lack of deliberate optimizations for efficiency and the small 46.74Wh battery mean that it won't last for long away from a power outlet.
The APEX-15 also features a 1,920 x 1,080-pixel AHVA 144Hz display. This is an IPS-type panel manufactured by AUO, and has similar performance characteristics as IPS displays. Colors appeared reasonably vibrant, and I wasn't bothered by any bias toward the colder or warmer end of the color spectrum. Viewing angles were good as well, although I'd have liked the display to be a little brighter.
There's also room in the top bezel for the webcam, which I consider to be a good thing.
One distinctive feature is the optical switch mechanical keyboard. The low-profile switches are of the tactile and clicky variety (60g actuation force, 2.0mm travel distance), and they produce a very distinct click sound when pressed. This means that this probably isn't a laptop you want to take to the lecture hall or meetings as it can get pretty noisy.
In addition, you get N-key rollover and per-key RGB lighting customizations. A separate LED bar runs along the front of the laptop, and you can tweak the effects on that as well.
The trackpad isn't a Windows Precision Touchpad, but it still feels accurate and precise enough. And unlike the Gigabyte Aero 15X, it does support certain three- and four- fingered shortcuts for navigating the desktop.
If there's one area that could sorely use some improvement, it's the speakers. The bottom-firing units are lacking in volume, and when you finally manage to get them loud enough, there's noticeable distortion and your tunes end up sounding quite muddy.
+ Affordable price.
- Weaker graphics configuration than competitors.
Aftershock has eschewed a chiclet-style design here.
The two DisplayPort outputs and HDMI connector are located at the rear.
A dedicated fan boost button sits next to the power button.
AT A GLANCE
DISPLAY 15.6-inch 1,920 x 1,080-pixel 144Hz AHVA
PROCESSOR Intel Core i7-8750H (2.2GHz, 9MB L3 cache)
MEMORY 16GB DDR4-2666 RAM
GRAPHICS NVIDIA GeForce GTX 1060 6GB
STORAGE 256GB PCIe NVMe M.2 SSD
PRICE $2,576
ASUS ROG STRIX SCAR II GL504GS
The ASUS ROG Strix Scar II GL504GS is a laptop with an unabashed gaming-focused aesthetic. Small design decisions also point toward a laptop designed for FPS gamers, but I'm not really a fan of the extensive camouflage patterns in use.
The good news is that build quality feels super solid, despite the mostly plastic build. The laptop is built like a tank, and there's no flex to the lid or keyboard.
You'll find brushed metal on the lid and bottom bezel of the laptop, which as it turns out, is super thick. The slim bezels on the other sides of the screen help create a more immersive feel, but it seems like ASUS simply took whatever bezel it shaved off and put it at the bottom.
Having said that, the screen on the Scar II is excellent. It boasts 100 per cent coverage of the sRGB color space, and ASUS claims it's also the first to have a 144Hz IPS-type panel with a 3ms response time. The screen has a peak brightness of 300 nits, and I'd say it is noticeably brighter than the screens on the Razer Blade and Gigabyte Aero 15X.
Colors also appeared accurate and vivid, and I have no complaints about this particular screen. It's not even a problem that there's no support for G-Sync, because the 144Hz refresh rate ensures that all the on-screen action is super smooth anyway.
The trackpad is a Windows Precision Touchpad, and it feels precise and accurate and supports all of Windows 10's gestures. The difference between a precision touchpad and one that uses thirdparty drivers is pretty huge, and I'm always happy to see the former in use.
The dual side-firing speakers are another bright spot on the Scar II. When I first put on some music, I was surprised by how loud and clear they sounded. There's a definite emphasis on the low-end though, which is good news if you really want to feel the rumble of explosions in your games and movies.
The keyboard feels good as well, and the 1.8mm travel distance is pretty good for a laptop. The Scar II is thicker than the Max-Q laptops I reviewed recently, and the least I'd expect from this is a better typing experience. This is one of the better laptop keyboards I've come across, and it's a pleasure to type on.
ASUS has also done a good job of keeping the Scar II running cool. While the area above the keyboard can get quite toasty, the palm rests remain quite cool throughout, which is what's really important.
There's also an "Overboost" mode if you want additional cooling, but that ramps up noise levels considerably.
+ Powerful performance.
- Relatively thick and heavy.
There are dedicated keys for volume adjustment, muting the microphone, and launching the ROG Gaming Center above the keyboard.
The WASD key cluster is highlighted for FPS gamers.
The webcam sits at the bottom right, which means you'll have a hard time getting a centered picture.
AT A GLANCE
DISPLAY 15.6-inch 1,920 x 1,080-pixel 144Hz IPS-type
PROCESSOR Intel Core i7-8750H (2.2GHz, 9MB L3 cache)
MEMORY 16GB DDR4-2666 RAM
GRAPHICS NVIDIA GeForce GTX 1070
STORAGE 512GB PCIe NVMe M.2 SSD
PRICE $3,398
GIGABYTE AERO 15X
The original Gigabyte Aero 15X was already at the top of its game when it came to slim and lightweight gaming laptops. Its thin bezels were ahead of its time, and the edge-to-edge IPS display was vibrant and gorgeous to look at.
However, its 60Hz panel was still a glaring weakness for a gaming laptop. Gigabyte obviously realized this, and 2018's Aero 15X now boasts a 144Hz IPS display for silky smooth gameplay. That's not the only change however, and the laptop also sports a range of other small improvements.
For starters, the keyboard now supports N-key rollover, or 80 simultaneous key presses to be specific, so you shouldn't run into problems for games that require you to execute complicated combos. In addition, there are per-key lighting customizations so you have access to nearly limitless options.
For such a thin laptop, the keyboard is surprisingly springy and offers nice feedback. The slightly concave keys also help guide your fingers into place.
The SD card reader has also been upgraded to a faster UHS-II interface, which supposedly delivers up to 12 times quicker read and write speeds than the USB 3.0 interface on the previous model.
Finally, the dual 2-watt speakers add support for Dolby Atmos, but you shouldn't expect too much from them. While audio comes through clearly enough, the speakers are still lacking in the lower frequencies.
The Aero 15X's display remains one of the best I've seen on a laptop.
Colors appear spot-on and vibrant, with pleasing contrast levels. My only complaint is that the screen can feel a little dim, so a boost in brightness would have been nice.
The razor-thin bezels on the Aero 15X are some of the thinnest on a gaming laptop.
The screen is gorgeous to look at, but some sacrifices had to be made to accommodate the thin bezels, and the webcam sits at the bottom, just as it did on the previous model.
Unfortunately, the touchpad is merely average. It's not a Windows Precision Touchpad, and it overall feels less precise than the one on the new Razer Blade. It also doesn't support certain three- or four- fingered Windows 10 gestures.
The ebony aluminum chassis feels well put together, and it now comes in a new all-black color scheme. The laptop is also marginally thinner and lighter than its predecessor, measuring just 18.9mm thick and weighing 2kg.
I thought the Aero 15X v7 was a little on the heavy side, so I'll take whatever weight reductions Gigabyte can work into this model.
+ Extremely slim bezels and gorgeous display.
- Awkward webcam placement.
The webcam sits in the bottom bezel, which can make for slightly awkward angles.
There's a Thunderbolt 3 port located on the right.
The indicator lights can double as a battery indicator when the notebook is off.
AT A GLANCE
DISPLAY 15.6-inch 1,920 x 1,080-pixel 144Hz IPS
PROCESSOR Intel Core i7-8750H (2.2GHz, 9MB L3 cache)
MEMORY 16GB DDR4-2666 RAM
GRAPHICS NVIDIA GeForce GTX 1070 Max-Q
STORAGE 512GB PCIe NVMe M.2 SSD
PRICE $3,799
MSI GS65 STEALTH THIN 8RF
The MSI GS65 Stealth Thin features a more subdued design than its predecessor. Gone is the brushed metal, and it now favors copper accents and a muted MSI Dragon logo on the lid. The rest of the black aluminum chassis is rather tasteful as well, although it's interesting that the metal feels more like plastic than actual metal.
Build quality is decent, but not the best. The palm rests, keyboard, and speaker grilles exhibit noticeable flexing and creaking when pressure is applied, but it's nothing too alarming.
Overall, this is one of the most portable gaming laptops available. Its 1.88kg weight is truly impressive, and the large 82Wh battery ensures you get decent battery life. It's also super thin and boasts the slim bezels found on so many gaming laptops today, so you get a more compact space footprint overall.
That said, there's still space on the top bezel for the webcam, so you won't have to put up with any weird camera angles.
The SteelSeries keyboard supports per-key RGB backlighting, and it feels surprisingly nice to type on for such a thin laptop. The touchpad is also a Windows Precision Touchpad, which is great, but the integrated left- and right-click buttons could be improved in terms of feedback and responsiveness.
The display itself boasts vivid colors and deep blacks, and the speedy 144Hz refresh rate makes it even better to use. However, like with most of the other laptops, it was also a little on the dim side.
The Dynaudio speakers sit above the keyboard. While they're loud enough to fill a small room, they're not particularly impressive, and feature an anemic low-end.
When it comes to cooling, the GS65 Stealth Thin exhausts hot air out the sides and back. It is cooled by three fans, instead of the usual two, and four heat pipes provide independent cooling for both the CPU and GPU. Yet, this laptop isn't as loud as you'd expect, and it's quieter than some of the competition.
The palm rests generally stay quite cool, but the area above the keyboard can get quite hot to touch.
The GS65 Stealth Thin has most of the ports and connectors you'd expect, including a Thunderbolt 3 port, HDMI, and DisplayPort outputs for support of up to three external monitors at once. Unfortunately, like most of its rivals, it's also missing an SD card slot. That's disappointing, because it's simpler design means it's also quite suited for use at work.
Finally, MSI's Dragon Center 2 software provides useful tools for monitoring the laptop's performance and tweaking various settings. For example, you can adjust the fan speeds to favor either noise levels or cooling, and also switch between different display profiles.
+ Very light for a gaming notebook.
- Build quality could be better.
The vents feature copper-accented grilles as well.
There's a Thunderbolt 3 port on the right.
There's no gratuitous backlighting on the lid either.
AT A GLANCE
DISPLAY 15.6-inch 1,920 x 1,080-pixel 144Hz IPS-type
PROCESSOR Intel Core i7-8750H (2.2GHz, 9MB L3 cache)
MEMORY 16GB DDR4-2666 RAM
GRAPHICS NVIDIA GeForce GTX 1070 Max-Q
STORAGE 512GB PCIe NVMe M.2 SSD
PRICE $3,799
RAZER BLADE (2018)
Razer is back with a new Blade laptop, and it's the company's best looking machine yet. The 2018 Razer Blade is milled from a single block of aluminum, and the result is a sleek, dusky beauty that you can use for both work and play.
The Blade represents a shift in Razer's design language, and it takes on a more angular and blocky look that is reminiscent of the Razer Phone.
However, Razer says that this sharper (literally) look is also a result of the exigencies of a more compact design. The more squared-off corners allow Razer to push components further to the edge of the chassis, making additional room for things like a larger battery and a more spacious component layout.
Image quality on the Blade's Full HD IPS display is top-notch. Colors really popped for me, and the slim bezels created a more expansive and immersive experience that has been sorely lacking on Razer laptops before this one. Viewing angles were also excellent, as expected of an IPS panel, while the matte finish helps to dull reflections.
However, I found myself running it at 100 per cent brightness most of the time, so it feels like it could be a bit brighter.
The screen's top bezel is also markedly thicker than those at the left and right, but it does mean that there's still room for a webcam there. In the quest for ever slimmer bezels, many manufacturers have had to compromise and relocate the webcam to the bottom bezel, which gives rise to some seriously unflattering camera angles.
If you ask me, a marginally thicker top bezel is a small price to play for a more functional design.
Another thing I really like is the larger than average Windows Precision Touchpad.
At 130 x 80mm, it provides more usable space and improves the overall experience. The glass-topped touchpad is super smooth, precise, and responsive, with good feedback for the integrated left- and right-click buttons.
The RGB backlit keyboard is powered by Razer's Chroma software, and the lighting is bright and even and very pretty to look at. The Chroma conflgurator provides extensive perkey customization options, and you'll have a field day tweaking it to suit your preferences.
As with all slim designs, cooling is a concern, and Razer says the Blade utilizes vapor chamber technology to keep the laptop cool instead of more conventional heat pipes. It uses this for both the CPU and GPU, the vacuum-sealed vaporized liquid helps dissipate heat from the other components as well.
In addition, it employs a special nanoparticle layer between the keyboard and the internal components to block heat transfer to areas that the user touches most often, such as the palm rests.
+ Excellent build quality and performance.
- Fewer ports than competitors.
At 17.3mm thick, this is the thinnest laptop in this shootout.
The Blade charges via a proprietary power connector.
The right Shift key is located next to the arrow instead of the question mark.
AT A GLANCE
DISPLAY 15.6-inch 1,920 x 1,080-pixel 144Hz IPS
PROCESSOR Intel Core i7-8750H (2.2GHz, 9MB L3 cache)
MEMORY 16GB DDR4-2666 RAM
GRAPHICS NVIDIA GeForce GTX 1070 Max-Q
STORAGE 512GB PCIe NVMe M.2 SSD
PRICE $3,899
SPECIFICATIONS
PERFORMANCE BENCHMARKS
PCMARK 10 EXTENDED
PCMark 10 Extended assesses the performance of systems in a variety of workloads, including basic computing tasks, productivity applications, digital content creation, and gaming. The ASUS ROG Strix Scar II took the lead here, largely thanks to its more powerful NVIDIA GeForce GTX 1070. Overall, it was around 11 per cent faster than the MSI GS65 Stealth Thin.
3DMARK
3DMark is a synthetic benchmark that puts the system through a range of graphics and computational performance tests at different resolutions. The ASUS laptop came ahead once again in the 1080p Fire Strike test, which is unsurprising given that it isn't hindered by Max-Q efficiency optimizations. That said, it's worth noting that the Razer Blade was the fastest of all the Max-Q notebooks.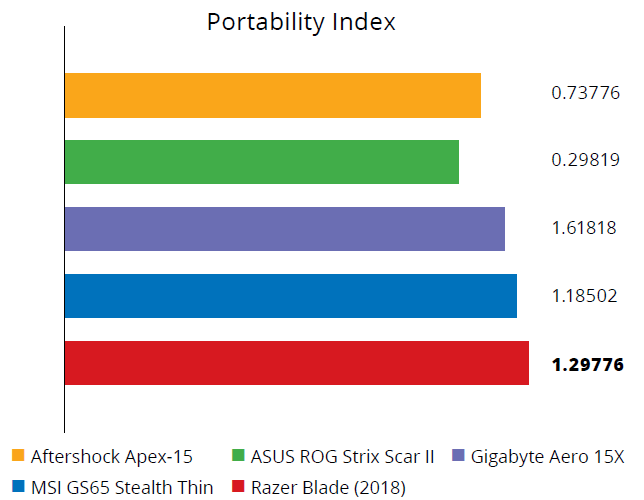 PORTABILITY
The portability index is an objective measure of how portable a notebook is, taking into account factors like size, weight, and battery life. The Razer Blade zipped ahead here, on the back of its strong battery light, relatively light weight, and slim dimensions.
AND THE BEST 15.6-INCH GAMING NOTEBOOK IS…
RAZER BLADE 2018
The Razer Blade offers an attractive combination of performance, portability, and aesthetics. Its build quality is stellar and truly one of the best, and it melds that with a tasteful, subdued design that makes it suitable for both work and play. It is powered by an NVIDIA GeForce GTX 1070 Max-Q, which is capable of handling pretty much any game at 1080p. Furthermore, the 80Wh battery ensures it lasts considerably longer than most of its rivals. The Chroma backlit keyboard also offers one of the most powerful customization engines available, effectively ensuring that despite its modest design, the laptop is anything but plain.
PICTURE (BOXING RING) 123RF