Light, compact, and designed for travel, on-ear wireless headphones are great companions. They've also come a long way with advanced technologies to ensure audio quality over wireless can match up to traditional cable connection. Which one of these will be your next upgrade?
Light, compact, and designed for travel, on-ear wireless headphones are great companions. They've also come a long way with advanced technologies to ensure audio quality over wireless can match up to traditional cable connection. Which one of these will be your next upgrade?
+ Nice sleek design.
- Audio lacks the finesse you expect at this price point.
BEATS SOLO 2
The Beats Solo 2 features a clean  owing design with no visible screws. There are also no noticeable buttons on the headphone, with the playback control button hidden behind the logo on the left ear cup. Pressing it once starts/stops a track (or picks up a call). Two quick presses skips a track, while a triple press goes back one. Pressing on top/bottom of the outer ring surrounding the logo also adjusts the volume, so all your controls are covered.
The ear cups swivel slightly to adjust to your face, while the cushions are relatively plump to allow them to take some of the weight off your ears. However, we found that the rigid neckband exerts quite a bit of clamping on our ears, especially if you wear spectacles. So it isn't something we could comfortably keep on our heads for long periods of time.
In terms of audio performance, we found that the headphones performed best with rock and pop songs that place greater emphasis on vocals to lead the track. Songs like Scar Tissue by the Red Hot Chili Peppers and Knocking on Heaven's Door by Guns 'N Roses worked well, with the headphones pumping out good amounts of bass to bring some much needed energy to both tracks, as they are underscored by a good deal of drum work.
The headphones has tendency to focus more on vocals helps to mask the fact that they struggle a bit to provide detail in the mid and upper ranges. And certainly, on more acoustic tracks like Ana Caram's Correnteza or Sara K's If I Could Sing Your Blues we found ourselves raising the volume just to hear the details in the track that we knew were there. In general, you'd want to stick to pop/rock with these headphones.
AT A GLANCE
FREQUENCY RESPONSE
N.A
IMPEDANCE
 N.A
WEIGHT 215g
PRICE $490
+ Great all-around audio performance.
- Audio calibration doesn't really seem to make a difference.
JBL EVEREST ELITE 300
The JBL Everest Elite 300s have a very nice, modern design that gives it a minimalistic look which should allow it to go well with almost anything. Like the Beats Solo 2s, the Everest Elite 300 feature hidden hinges that allow you to fold the ear cups in for storage.
Controls on the rear of either ear cup allow you to control volume, start/stop play back, and take calls. What's interesting though, is that there's even a companion app that allows you to fine-tune the degree of noise cancellation by adjusting how sensitive the headphone is to external noise. The app also offers a sound calibration feature that's supposed to fine tune the headphones' output to best match what your ears can hear, but we honestly didn't feel that it made a large difference.
Thankfully though, the Everest Elite 300s do a pretty fine job just as they are, as they offer a good amount of depth, detail, and warmth. We were impressed with what they did on a recording of Spanish Harlem, as from the onset the headphones picked up good details in both the strings and the percussion instruments while still keeping good separation from Rebecca Pidgeon's vocals.
On our formal testing, we thought it handled Hotel California and Sail on Soothsayer with equal aplomb, speaking to how balanced the performance is on both the high end and the low. These headphones can generate substantial bass and so will give you highly enjoyable renditions of pop, rock and electronic music. It also has a forward nature, bringing vocals and mids to the front of any presentation, albeit with a slightly smaller soundstage. It gives good details for jazz instrumentals, has more than enough energy for rock, and is certainly a good performer for vocals, so we'd say these headphones will handle just about any genre of music well.
AT A GLANCE
FREQUENCY RESPONSE 10Hz-22kHz
IMPEDANCE N.A
WEIGHT 250g
PRICE $379
+ Nice clean design.
- Lower range can sometimes be a little distorted.
ONKYO H500BT
Yet another set of headphones favoring a minimalistic approach, the H500BTs are so light you barely feel them on your head. There's support for aptX streaming via Bluetooth, allowing the headset to stream CD-quality audio seamlessly. And it also supports High Resolution Audio, but no surprise that this capability is limited to when you're using the headset with a cable.
A large NFC spot on the left ear cup makes pairing easy, and the right ear cup allows you to control playback via touch. Swipe up and down on the right ear shell and it increases or decreases volume, while swiping left or right switches tracks respectively. Tap in the center to start/stop music or to pick up a call. It seems like a simple enough system, but takes some getting used to, as you really need to make swift actions for them to be read properly. Linger too long, and the headset gets confused, stopping your music instead.
In terms of audio, we'd say this pair of headphones boasts a balanced sound signature overall, with just a bit more emphasis on the upper ranges. There's good resolution and plenty of sparkle in string work – like on a recording of Under the Bridge by the Red Hot Chili Peppers for example. The guitar work in the intro riff of that piece really sings out, and the headphones do a good job with the vocals of Anthony Kedis too, though we do feel that the lower range can come off as a little bloomy on pieces with heavy bass parts.
The H500BTs seem to project a medium-sized sound stage which partly explains why it did best on Hotel California and Elements of Life in our formal testing; pieces that need to be projected with enough space to create the necessary atmosphere. Overall, a competent performer that will work well on most genres.
AT A GLANCE
FREQUENCY RESPONSE 7Hz-23.5kHz
IMPEDANCE 16 Ohm
WEIGHT 217g
PRICE $319
+ Nice refined sound.
- Poor battery life on wireless.
PARROT ZIK 3.0
The Parrot Zik 3.0 sticks to the same iconic design but throws in more upgrades under the hood. For example, it now supports wireless charging for convenience and USB audio for the cleanest digital audio feed possible.
Like the Everest Elite 300 above, the Zik 3.0 also comes with its own companion app, but this one really allows you to make meaningful changes to the audio. You can adjust the sensitivity of the noise cancelling, affect the size of the sound stage and the direction of the audio, and even shift the sound profile in a meaningful way. You do this either by selecting a particular genre, or by downloading audio signatures created via other users.
In particular, we were really impressed by how the headsets were able to change the size of the soundstage projected to match the various room settings offered in the app. With Correnteza, by Ana Caram, there are quite a bit of sound effects played throughout the track, and we could really play with the direction of the audio for full effect.
The headphones have a good sense of naturalness to them, and great imaging capabilities. Listening to Spanish Harlem by Rebecca Pidgeon, you really felt as though you were hearing her live. Every note lingers in the air, and there's a nice decay to the bass that's coming from her right. Even when the shakers and violins kick in, there's good separation between all the elements, making it a most enjoyable listen.
Likewise with our standard test tracks, the Zik 3.0 excelled with every piece. In particular, we were impressed with the way the headphones were able to project both depth and width on the recording of The Eagles' Hotel California, making you feel like you were really in a concert hall.
AT A GLANCE
FREQUENCY RESPONSE 20Hz-22kHz
IMPEDANCE 32 Ohm
WEIGHT 245g
PRICE $599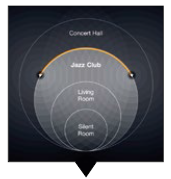 + Dual-sharing is a unique feature.
- Lacks the final bit of clarity to be considered among the best.
PENDULUMIC TACH T1
Pendulumic's headsets have always stood out due to their steampunk-ish aesthetic, and the Tach T1 follows suit, with a gorgeous gunmetal bronze ear cups matched against maroon faux leather. The cushions sport nice, plump cushions that make for comfortable wearing even after long periods of time.
As with the Stance S1, the Tach T1 features both an internal battery and the option to add a standard AAA battery for additional battery life, while still operating without batteries in wired mode. New, is the inclusion of a dual-sharing mode, which is a function that allows you to share your music with another Tach T1 user wirelessly.
In terms of audio, the Tach T1 certainly seems to pick up where the Stance S1 left off, with a nice warm midrange and a roundish sounding bass. There's good separation with these headphones too. For example, on a recording of Quando, Quando, Quando by Michael Buble and Nelly Furtado, the headphones produce a nice, intimate rendition, with both their voices nicely wrapped in sound. The vocals are nicely forward, but not given too much weight as to take away from the band behind, making for a balanced performance overall.
On our formal test tracks, the headphones also demonstrated a good ability to keep up with faster pieces, performing best with Tiesto's Elements of Life. While it wasn't the last word in clarity in this shootout, the Tach T1 was easily able to provide the deep pounding bass that this track needs, while still providing good energy and deliver a good amount of detail.
That ability to carry detail also carries over well to Hotel California by the Eagles, a piece that features plenty of guitar work. There's a good ring to the guitars in this piece, but there isn't as much clarity as what we found from some of top headphones.
AT A GLANCE
FREQUENCY RESPONSE 20Hz-20kHz
IMPEDANCE 32 Ohm
WEIGHT 245g
PRICE $379
+ Works well with all genres of music.
- Bass can be a little dark on certain tracks.
SENNHEISER MOMENTUM ON-EAR WIRELESS
The Sennheiser Momentum On-ear wireless look exactly like their wired counterparts, with the exception of a single push button at the bottom that turns on the headphones and doubles as a Bluetooth pairing button. There's also a slider next to it that lets you adjust the volume of playback, and an NFC spot on the left ear cup to allow for easy pairing.
It's an elegant, classy design that also folds away for easy storage, making it a perfect travel companion. The headphones are also fairly light on the head, and we found the ear pads to be decently comfortable despite not being as plump as those found on some of the others.
When testing these headphones, we found that they seemed to have quite a unique sound signature. The bass registers are slightly rounded off, but yet still have a good deal of weight to them, making them very substantial. For example, with Rebecca Pidgeon's Spanish Harlem, the bass strikes you from the very start as it opens the track, but yet it never overpowers the piano or the percussion instruments in the piece. You can hear each shaker and every finger slide by the guitarists while Pidgeon's vocals remain very much the centerpiece of the track.
As you can imagine, the headphones certainly work well with Jazz and Classical pieces, but we were quite surprised that they work well with rock too. On a classic like Sweet Child of Mine, Slash's guitar work obviously catches your attention, but Izzy Stradlin's drum work and Duff McKagan's bass guitar have more than enough weight to hold their own too.
Likewise, on our formal test tracks we found that they did an excellent job with Sail on Soothsayer. The wide soundstage the headphones create is paired with excellent resolution in the mid-range, letting you really feel immersed in the piece.
AT A GLANCE
FREQUENCY RESPONSE 16Hz-22kHz
IMPEDANCE 28 Ohm
WEIGHT 210g
PRICE $589