Casio G-Shock Mudmaster GG-B100
The reputation of G-Shock was built upon its watches ability to withstand just about anything. And over time, Casio did the only sensible thing which was to make it even more durable and pack it with even more technology and function. And in that regard, it can be said that the Mudmaster GG-B100 is the embodiment of all of G-Shock's accumulated know-how over the past 37 years of the G-Shock's existence.
To start, the Mudmaster GG-B100 uses a new type of case construction called Carbon Core Guard that uses carbon fibre-reinforced materials. This new method of case construction results in a stronger but lighter case. Inside, a new dust and mud resistance structure is used to keep dirt out – hence the Mudmaster name.
Measuring 55mm in diameter, the Mudmaster GG-B100 is a big watch. And its size is further accentuated by the large pushers on the sides of the case. Fortunately, the use of carbon fibre materials means the watch is still incredibly light at just 92g. To ensure the watch remains wearable despite its size, the resin band curves downwards sharply at the lugs. Even though my wrist isn't that big – just over 16.5cm in circumference – the watch still fits nicely.
The Mudmaster GG-B100 comes in a number of colourways and there a couple of limited edition models. However, what they all have in common is a carbon fibre bezel that protects a domed mineral crystal. The lack of sapphire crystal is a disappointing, but entirely forgivable considering the price.
The domed mineral crystal looks good and it also has the added benefit of making it easy to see the dial from any angle. The Mudmaster GG-B100 has an analogue-digital dial. It has traditional hour, minute, and seconds hands, and a small digital readout at 6 o'clock. This is a very practical configuration because you can display one timezone with the analogue hands and another with the digital display, which makes the Mudmaster GGB100 a handy watch for travelling.
Additionally, the digital display also makes it easy to see readings from the Mudmaster GG-B100's numerous sensors. Incidentally, it has one of the most sensors of any G-Shock watch. There are four sensors in total – an altimeter/barometer, a thermometer, a compass, and a step counter. As useful as it may be, it must be said that the digital display can be a little dim and difficult to read in direct sunlight.
Sensors aside, the Mudmaster GG-B100 has a host of other features including world time, alarm, and chronograph. These can be accessed and controlled directly on the watch itself or you could connect the watch to your phone via Bluetooth and use the G-Shock Connected app. Connecting the watch to your phone via the app also syncs the watch to an atomic reference time and ensures accurate timekeeping.
The only glaring feature missing from the watch is Tough Solar, Casio's solar-charging technology. Tough Solar is found on many G-Shock models and I'm sad to see that it's missing on this watch. At any rate, the Mudmaster GG-B100 uses standard CR2025 batteries and has an estimated battery life of two years.
With prices starting at $539, some might feel that smartwatches offer more in terms of functionality, but are they as hardy? And are they still as useful if you take the phone connection away? Insofar as G-Shocks are concerned, the Mudmaster GG-B100 is reasonably priced and offers a distinctive look with advanced construction and loads of useful sensors and features. I only wished it had solar charging so I don't have to worry about running out of battery and battery changes.
The case uses carbon fibre-reinforced materials to improve strength and durability.
CONCLUSION
Chock-full of sensors and a carbon fibre construction, the Mudmaster GG-B100 embodies everything we like about G-Shocks.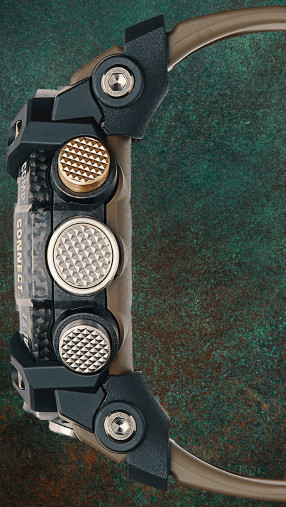 AT A GLANCE
CASE DIAMETER
55mm
GLASS MATERIAL
Mineral crystal
WATER RESISTANCE
200 metres
PRICE
$539