Infiniti's first hatchback is stylish, energetic and well-equipped, but isn't spacious for its size.
Infiniti's first hatchback is stylish, energetic and well-equipped, but isn't spacious for its size.
DRIVER'S LICENCE
55
ISSUES SINCE HIS LAST INFINITI COVER STORY

EDRIC PAN
It was the FX50, the brand's 5-litre V8 SUV flagship at the time and a much bigger vehicle than the Q30.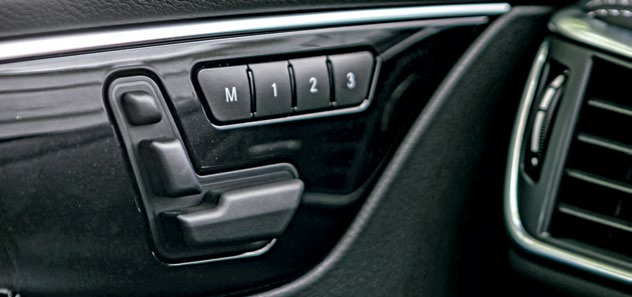 BEHOLD the Infiniti Q30, the first foray by Nissan's premium brand into the hatchback segment. Except that it's not quite what it seems.
The press release coyly makes no mention of the car's provenance, but once you're inside, there is no escaping the fact that the Sunderland-built Q30 is in essence a rebodied Mercedes-Benz GLA.
The clues are there the moment you settle into the cabin. The seat adjusters mounted high on the doors, the dainty little gearlever and practically all the minor switchgear, from the electric window controls to the steering-mounted buttons, will feel oddly familiar to anyone who's driven a recent Merc car.
Another dead giveaway is the trademark chunky column stalk mounted on the left, controlling both indicator and wiper functions. It's a feature unique to the Stuttgart marque.
The Q30's styling does ably disguise its GLA origins, with a pert, streamlined silhouette and a distinctive wave-like creaseline running for most of the body's length. It's a wellproportioned, good-looking car, although the front end and its squinty headlamps look uncomfortably similar to those of the much cheaper Mazda 3.
Like the GLA, the Q30 is positioned as a compact crossover, and hence rides slightly higher than a typical hatchback, although ground clearance is still well short of a true SUV's.
To back up the tough-guy stance, the wheel arches sport a shiny black plastic garnish around their lip, mimicking the protective fender flares that you'll find on some SUVs.
Locally, the Q30 comes in two versions: the front-wheeldrive 1.5D Premium with a 108bhp turbocharged 1.5-litre diesel engine, and the version featured here, the all-wheeldrive 2.0T Sport with its 208bhp turbocharged 2-litre petrol engine lifted straight from the Mercedes GLA250. Both models use Mercedes' now-familiar 7-speed dual-clutch transmission, with paddle-shifters.
Crossover styling and allwheel- drive notwithstanding, it's best to view the Q30 as a mid-size family hatch, because that's essentially what it is underneath. And on that count, there are hits and misses.
The cabin architecture is unmemorable, but logical and visually pleasing enough. Fit and finish are excellent, and befitting the Q30's premium-brand pretensions, interior materials elevate the Infiniti a notch above the more mainstream hatchback contenders, with the leather-wrapped dashtop being a particularly classy touch.
Jarringly, however, there is bare metal visible around the door frames from the inside, something you'd hardly expect on an upmarket brand.
Also, the graphics of the icons on the 7-inch central infotainment touchscreen look quite rudimentary and last-generation, and the air-con controls are mounted too low on the centre stack to be easily operated by the driver while on the move.
The equipment level is very high, though, with a panoramic glass roof, adaptive LED headlights, Nappa leather upholstery, a great-sounding Bose 10-speaker audio system, and a full suite of active safety features such as Lane Departure Warning, Intelligent Brake Assist and Forward Collision Warning.
There is also a unique "rise-up" braking assistance feature, which amplifies the braking effect if it senses sudden braking, while providing more progressive retardation under light braking.
Despite the Q30 being over 4.4 metres long, its cabin is a rather confined place. Up in the front, the pedals are mounted fairly close to the driver, forcing long-legged folks like myself to sit quite far backwards to be comfortable behind the wheel.
This, in turn, eats into the already mediocre rear legroom. The rear bench also feels quite narrow, with subjectively less space than a Civic or Golf, and headroom isn't so great either, thanks to that stylish, tapering roofline.
The long-suffering rear passengers will also have to tolerate a seatback which is unusually upright, a trait shared with the GLA and Mercedes' other front-drive models like the A-Class and B-Class. At least in the Q30, they get their own rear air-con vents.
Things improve once you get moving. The steering is quick-geared and directs a very keen nose, and despite the car's taller-than-normal stance, there is very little body roll.
There isn't a great deal of feel through the wheel's leather rim, but the helm is well-weighted and consistent, and it's accurate enough to allow you to carve through a bend without the need for mid-corner adjustments.
The car's roadholding is very strong, and the chassis always feels nicely balanced, with a satisfying sense of equal grip coming from all four corners.
The 2.0T Sport has a firmer suspension setup and sits 15mm lower than its 1.5D sibling, but despite that, the ride is generally good. You can feel that extra firmness over sharper bumps, but the occupants will remain unruffled no matter what the road surface. Damping is great, too; the car never losing its composure over undulations.
That 2-litre turbo engine is a fairly effective device, propelling the 1.5-tonne Q30 to 100km/h in 7.3 seconds, but it does so without enthusiasm. Mercedes' direct-injection 4-pots have never been aurally entertaining (save for the rabid twin-scroll turbo 2-litre unit powering the A45 AMG and its ilk), and this one is no different, sounding gruff and then increasingly wheezy as you approach the fairly low 5500rpm redline.
By comparison, a Golf GTI's engine, also a turbocharged 2-litre 4-pot, feels considerably punchier, sounds great and revs with buttery keenness.
Ease back a bit, though, and the Q30 proves a capable cruiser, its generous midrange torque giving good overtaking punch in town and at expressway speeds. Refinement is good, too, with little road or wind noise intrusion, and the engine note remains muted provided the revs stay below 4000 or so.
The 7-speed dual-clutch gearbox does its job ably, switching seamlessly between ratios and kicking down without undue delay. Its obedience to commands from the steering-mounted paddles is not as whip-crack-instant as, say, that of BMW's M-DCT, but for all intents and purposes, especially those that the Q30 is likely to face, it's more than quick enough. So, Infiniti's first foray into this segment is something of a mixed bag. It has the ride and handling to back up its sporty looks, and in terms of quality, build and standard equipment, it well justifies its upmarket badge.
But the pedestrian-sounding engine is an aural letdown, although the effectiveness of its actual power delivery can't be faulted. And in terms of cabin space, particularly backseat comfort, the Q30 is wanting.
Overall, it's a worthy first attempt by Infiniti in this class, but one gets the feeling that perhaps reskinning a Mercedes GLA wasn't the best way to go about it.
"THE SUNDERLAND-BUILT Q30 IS IN ESSENCE A REBODIED MERCEDES-BENZ GLA."
INFINITI Q30 2.0T SPORT (A)
DRIVETRAIN
TYPE Inline-4, 16-valves, turbocharged
CAPACITY 1991cc
BORE X STROKE 92mm x 83mm
COMPRESSION RATIO 9.8:1
MAX POWER 208bhp at 5500rpm
MAX TORQUE 350Nm at 1200-4000rpm
POWER TO WEIGHT 135.1bhp per tonne
GEARBOX 7-speed dual-clutch with manual select
DRIVEN WHEELS All
PERFORMANCE
0-100KM/H 7.3 seconds
TOP SPEED 230km/h
CONSUMPTION 14.5km/L (combined)
CO2 EMISSION 156g/km
SUSPENSION
FRONT MacPherson struts, coil springs, anti-roll bar
REAR Multi-link, coil springs, anti-roll bar
BRAKES
FRONT / REAR Ventilated discs
TYRES
TYPE Goodyear EfficientGrip SIZE 235/45 R19
SAFETY
AIRBAGS 7 TRACTION AIDS ABS, VDC
MEASUREMENTS
LENGTH 4425mm
WIDTH 1805mm
HEIGHT 1480mm
WHEELBASE 2700mm
KERB WEIGHT 1540kg
TURNING CIRCLE 11.37m
BUYING IT
PRICE INCL. COE $191,800 (no CEVS rebate/surcharge)
WARRANTY 3 years/100,000km
+ SPORTY LOOKS, KEEN HANDLING, UPMARKET QUALITY AND EQUIPMENT
- UNINSPIRING ENGINE NOTE, POOR REAR ROOM, OBVIOUS MERC PARTS
"THE Q30 IS A WORTHY FIRST ATTEMPT BY INFINITI IN THIS CLASS."
INFINITI Q30 1.5D PREMIUM (A)
ENGINE 1461cc, 8-valves, inline-4, turbo-diesel
MAX POWER 108bhp at 4000rpm
MAX TORQUE 260Nm at 1750-2500rpm
POWER TO WEIGHT 72.7bhp per tonne
GEARBOX 7-speed dual-clutch with manual select 0-100KM/H 11.9 seconds
TOP SPEED 190km/h CONSUMPTION 20km/L
CO2 EMISSION 113g/km
PRICE INCL. COE $154,800 (after $10k CEVS rebate)