The porsche cayenne is a distinguished, practical and highperformance suv that stands out in a sea of run-of-the-mill models.
The porsche cayenne is a distinguished, practical and highperformance suv that stands out in a sea of run-of-the-mill models.
Mention the terms "SUV" and "sports utility vehicle" to most drivers and they'll immediately begin imagining brawny off-roaders with chunky tyres. Images of muddy landscapes will come to mind as well.
But ask any driver to describe the first model that comes to mind when you say "high-performance SUV", and you can be sure that he will mention the Cayenne – even if he's never driven one before. Some will say that the Cayenne's popularity is because of its Porsche badge. Others will opine that it is down to the model's sportiness and off-roading abilities.
But what really leaves the Cayenne etched in the minds of so many is the fact that no other SUV successfully combines performance, practicality, offroading and tarmac-shredding abilities into one great-looking package.
The Cayenne's roadholding and suspension ensure that it always remains planted, while the communicative chassis constantly provides feedback to the driver.
The Cayenne does not have to compromise, it is just as adept off-road as it is on it. With a flick of a rocker switch, the Cayenne's systems immediately transform the vehicle into a terrain-conquering machine, with all relevant drive systems adapted to provide the most optimal traction over a variety of surfaces.
The Cayenne can handle Singapore's concrete sprawl, too. With optional systems such as Porsche Torque Vectoring Plus and Porsche Dynamic Chassis Control, the Cayenne doesn't just tackle corners – it slices through them with precision.
Agility aside, the Cayenne is also powerful. The base Cayenne, with a 3.6-litre V6, offers 300bhp and 400Nm, and a century sprint time of 7.6 seconds.
Meanwhile, the range-topping Cayenne Turbo S delivers 570bhp and 800Nm, and a scintillating zero to 100km/h time of 4.1 seconds. That's the level of performance you'd expect from a supercar, not a SUV. The Cayenne, however, isn't just powerful. It's highly efficient, too. The Cayenne S Diesel, for instance, has a 3-litre turbo-diesel V6 that produces 262bhp and 580Nm. But it also averages 14.7km per litre, which is better than most regular family saloons!
The Cayenne's athleticism is complemented by its roomy and well- appointed cabin. Amenities such as the nifty Porsche Communication Management infotainment system and available Adaptive Cruise Control deliver a high-tech, comfortable and safe driving experience.
NO OTHER SUV SUCCESSFULLY COMBINES PERFORMANCE, PRACTICALITY, OFF-ROADING AND TARMAC-SHREDDING ABILITIES INTO ONE GREAT-LOOKING PACKAGE.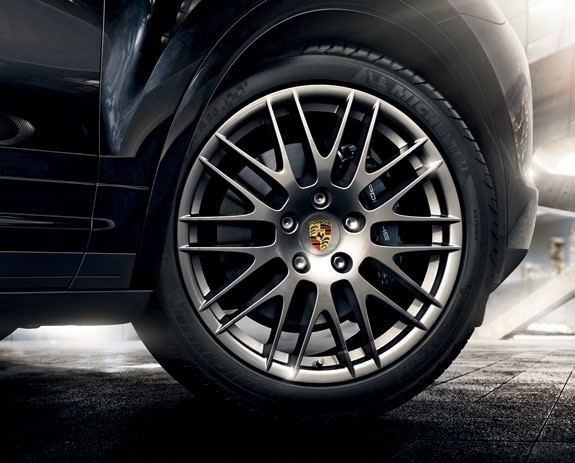 Drivers seeking an even betterequipped Cayenne with even greater road presence can choose one of the three Platinum Edition models.
The Cayenne, Cayenne Diesel and Cayenne S E-Hybrid Platinum Editions come with an expanded list of standard equipment, which include larger 20-inch RS Spyder design wheels finished in Satin Platinum, Bi-xenon headlamps with Porsche Dynamic Light System and Power Steering Plus.
The Platinum Edition models aren't just well-equipped – they offer better value, too. The Cayenne Diesel Platinum Edition, for instance, is priced at $323,088 (before COE). A Cayenne Diesel, on the other hand, starts at $314,888 (before COE).
The Cayenne is a polished, wellengineered and high-performance SUV that can go just about anywhere. As the leader of the pack, it is the SUV that drivers dream of, and the standard by which all rivals are measured.
THE CAYENNE'S ATHLETICISM IS COMPLEMENTED BY ITS ROOMY AND WELL-APPOINTED CABIN.