These celebrities and influencers inspire us – but not because they seem perfect on social media. We love them because they've all overcome challenges in their motherhood journeys, as LYNN WEE discovers.
These celebrities and influencers inspire us – but not because they seem perfect on social media. We love them because they've all overcome challenges in their motherhood journeys, as LYNN WEE discovers.
Velda Tan 
This social media maven seems to have it all: A lovely baby girl, Ellery; a fashion brand, Collate The Label, and an immaculate social media account, @belluspuera, which boasts more than 154,000 followers. 
But this 30-year-old new mum said the "road to conceiving wasn't quite a walk in the park". Diagnosed with polycystic ovary syndrome (PCOS) – a condition that affects a woman's hormone levels and may result in infertility – it took her 2½ years, several visits to gynaecologists and numerous cycles of medication to stimulate her ovaries before she finally got pregnant. 
Her condition was also made worse when she had a bout of depression after leaving her former business – online fashion label Love, Bonito – which she started with her sister, Viola, and best friend, Rachel, at age 18. 
"Looking back, this whole journey makes me feel extremely grateful for our little miracle. I'm so thankful we hung on and didn't lose faith, because God works in the most marvellous ways we can never comprehend," she shared on social media. 
The Duchess of Cambridge 
Kate Middleton's life seems to have come out of a fairy tale – she married her university sweetheart, Prince William, and has two gorgeous children (with Baby No. 3 on the way) – Prince George is now four years old; and Princess Charlotte is two. 
But the stylish royal suffered from hyperemesis gravidarum throughout her pregnancies. The debilitating condition causes severe vomiting in the early stages of pregnancy and may cause dehydration, weight loss and a build-up of ketosis – toxins in the blood or urine. 
It was so unbearable that she was hospitalised while carrying Prince George in 2012, and had to miss his first day of school last year while expecting Baby No.3. 
Kate's pregnancy announcement came as a surprise to many, who thought she would stop at two because of her past struggles with the disease. 
Audrey Ooi 
Similarly, this popular blogger or more commonly known as @fourfeetnine, was also diagnosed with PCOS. However, it didn't take long for the newlywed to conceive her firstborn, Jude – or better known as Fighter – who is now four years old. 
But the good news didn't last long. At 29 weeks, she was diagnosed with preeclampsia – a life-threatening condition that may cause seizures, strokes, blindness, and even death. The only way to protect both mum and child was to deliver the baby. 
The gutsy mum fought against this, but succumbed to the condition at 31 weeks and had to deliver him prematurely. The preemie weighed only 1.1kg and had to be placed in the neonatal intensive care unit for five weeks. 
Thankfully, Audrey's second pregnancy was less dramatic. Other than the occasional episodes of nausea and vomiting, she delivered a healthy baby, Penny – now two years old – at 36 weeks. 
Today, the 32-year-old is co-founder of Colony, a co-working space where working mums with kids in tow can build their careers. 
Celine Dion 
She is widely known for her powerhouse vocals and is a five-time Grammy award winner. But if you think everything has worked out well for the Canadian singer, think again. 
Her journey to conception was a challenging one – she underwent two operations to improve her chances of conceiving before she gave birth to her firstborn, Rene-Charles, in 2001. 
And it was only after six IVF attempts and a miscarriage that she became pregnant with twin sons Nelson and Eddy in 2010. 
But before the pop diva could enjoy her family life to the fullest, her music producer-husband, Rene Angelil, died of cancer in 2016. Two days later, her brother, Daniel, died of the deadly disease, too. 
Today, the 50-year-old is soldiering on bravely. She shared that the kids are growing, they are good, and they feel strong. 
Jamie Yeo 
You know that the Gold 90.5 DJ and TV host is one blessed woman. She has a loving husband, is a mum to two beautiful kids; Alysia, seven; and Luke, nine months old, and has an enviable post-baby bod. 
But did you know both her pregnancies did not come easy? Alysia was born 10 weeks early, weighing only 1.2kg and measuring 36cm. 
The then-new mum was also unable to produce enough breast milk and had to feed her preemie a mixture of breast milk and formula for six months before putting her on formula. 
She beat herself up about it repeatedly as breast milk was important to Aly, because it's Nature's customised nutrition from a mother to a child, she shared in an interview. 
The second pregnancy was a difficult one for the 40-year-old, too. Her water bag started leaking at 30 weeks, and she was put on bed rest in hospital for a month before giving birth to Luke early at 35 weeks. 
"But (he is) healthy and at a respectable 2.35kg," Jamie shared on Instagram. 
Melody Chen 
After trying for a baby for nine years, experiencing a miscarriage in 2012 and a failed in vitro fertilisation (IVF) attempt, the One FM 91.3 DJ finally conceived twins naturally. 
And although a miracle, it had been a delicate pregnancy for Melody, who was placed on strict bed rest at home since she was 20-weeks pregnant. 
The 40-year-old had previously undergone a loop electrosurgical excision procedure surgery, a process to remove abnormal cells in the cervix. This meant that she was more likely to have a preterm birth, which she did. 
She had an emergency C-section delivery at Mount Elizabeth hospital, and shared that "it was truly a dramatic and harrowing experience trying to save them (the twins)" – they were later transferred to Singapore General Hospital's neonatal intensive care unit before reuniting with the new mum three months later.  
 "Even though it was hectic and emotional, I am thankful that the challenges have made our little family stronger and even more fearless about life with each passing day," she wrote.  
Ang Chiew Ting 
The social media star, who goes by the moniker, Bong Qiuqiu, had the life any mum would be envious of. 
That was before she was entangled in a lawsuit with a social-media advertising network and faced up to $250,000 in legal fees. 
While she has given birth to two healthy girls – three-year-old Meredith and one-year-old Amelia – her second pregnancy was both physically and mentally trying. 
She not only had to deal with pregnancy symptoms like breathlessness and heartburn, but stress and abuse as well, when she turned to crowd-funding to raise her legal fees – one person even asked her to miscarry or abort her unborn child. 
"Not sure if it's worse physically dealing with the pregnancy or mentally having to prep for trial for the lawsuits, and having to anticipate how my life will change again with Baby number 2," she shared on social media. 
The 30-year-old has settled the court case, with both parties dropping all legal proceedings made against each other, and is now the co-founder of Cereal Citizen, a cereal cafe in Singapore.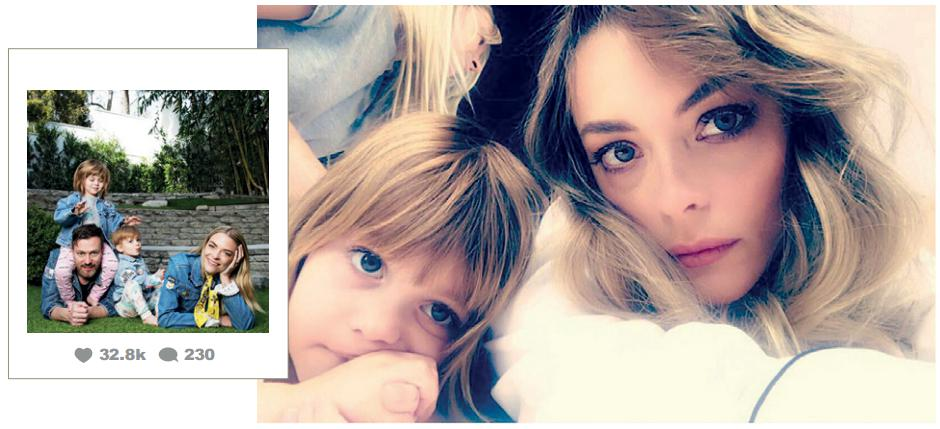 Jaime King 
Take a look at the popular actress' Instagram account, @jaime_king – which has amassed 1 million followers and counting – and you'll spot adorable pictures of her two sons, James Knight, four; and Leo Thames, two. 
But having kids was not an easy process for the 39-year-old. At age 28, she was diagnosed with endometriosis – a painful disorder where tissue that is normally found in the lining of the uterus, grows outside the uterus – and PCOS, which made it difficult for her to conceive. 
Over the span of seven years, the Hart of Dixie star underwent five rounds of IVF treatments, 26 rounds of intrauterine insemination  and suffered five miscarriages before she conceived her firstborn naturally. 
The challenges didn't stop there. Jaime was said to be in labour for 26 hours and had to deliver James early because of sudden preeclampsia. 
She also suffered from postpartum depression. Thankfully, her second pregnancy was a lot smoother, and the plucky mum is now an inspiration to many couples. 
Lindy Tsang 
Affectionately known as Bubz, the Chinese-Northern Irish beauty guru and vlogger has nearly 4 million followers on both her Youtube channels, Bubzbeauty and Bubzvlogz. 
She also owns her own line of beauty products and is the author of the bestselling book, A Beautiful Mind, A Beautiful Life: Guide To Being Unstoppable, in which she talks about her childhood and lessons learnt along the way. 
Her current success masks the scars of her past. The 31-year-old was a victim of racial bullying when she was younger and suffered a miscarriage in late 2016. 
Her pregnancy wasn't an easy one, either. Lindy suffered from polyhydramnios – an abnormal level of fluid that surrounds the baby and may cause shortness of breath and preterm labour – as well as pubis symphysis dysfunction, where the ligaments that keep her pelvic bone aligned become too stretchy – making it excruciatingly painful for her to sleep. 
Despite all the challenges, she is now a mother to two adorable tots – three-year- old Isaac and 10-month-old Ayla. 
Jaymee Ong 
The Chinese-Australian model and host of AXN's entertainment show, eBuzz, had reportedly no issues with both of her pregnancies. But things changed after she gave birth and her life became a downward spiral. 
Jaymee suffered from mild baby blues after delivering her daughter Juliet in 2010 – it took her three months to fall in love with her – and severe postpartum depression three days after she gave birth to her son Harrison in 2015. 
"I thought I would love my son right away. When I felt detached, I was devastated," the 38-year-old shared in an interview. It was only after a visit to the psychiatrist who prescribed her anti-depressants that she felt "1,000-per-cent better".
The tough mum has since rebalanced her life and wants to share that mums who suffer from postpartum depression should not be ashamed to seek help. 
Bella Koh 
Scroll through her beautifully curated Instagram account, @catslavery, and you'd think full-time mum Bella Koh has nailed her multifaceted life effortlessly. 
Besides being the sole caregiver to her two-year-old daughter, Alessandra, the 36-year-old is also the founder of Slowhouse – a one-stop platform where she sells accessories and kitchenware, and shares nutritious recipes and stories. (Turn to page 70 for Bella's recipes) 
She also conducts workshops on topics such as how to make homemade milk for toddlers and dashi broth. 
But in December last year, Bella confessed to her over 74,400 followers on Instagram that she was "running on a mere four hours of sleep each day and had almost fainted in public twice because of insufficient rest". 
However, she does not regret her decision to be a stay-at-home mum and claims it was the best choice she ever made for her and Alessandra. She is learning to let go and delegate responsibilities. 
PHOTOS INSTAGRAM ACCOUNTS