Whether you're just about to embark on your first sewing project, or you're a pro at working needle and thread, Brother's got your back
Whether you're just about to embark on your first sewing project, or you're a pro at working needle and thread, Brother's got your back
Have you ever walked by someone and you just had to have the skirt that she's wearing? Or perhaps you have a specific idea of how you'd like your dinner linens to look, so that they match with your dinnerware and the theme of your party? Whatever the case is, Brother sewing machines put you in the control seat and let you take your ideas from 2D into a 3D product that you can be proud of.
Thanks to the wide range of capabilities it boasts, the Brother Innov-is NV2600 is the perfect one-stop tool to realising your creative vision. Equipped with a full-colour touch screen display and touch sensor keypad, you can create your own customised stitch patterns, or edit and change the in-built template designs to suit your sewing needs.
Pressed for time? You'll be happy to know that every machine also comes with an automatic needle threader and a quick-set drop-in bobbin. As you're sewing, the ICAPS fabric sensor system detects fabric thickness and automatically adjusts the pressure to produce even stitch quality regardless of fabric thickness. First-time machine users will also be happy to know that the machine comes with a help function that gives you clear instructions on how to use your machine.
With so much power at your fingertips, the sky's the limit when it comes to what you can do with your next project!
EMBROIDERY MADE EASY
The Brother Innov-is NV2600 flexes impressive embroidery abilities so you can be queen of crafts (with so much less hassle). See what you can accomplish with it.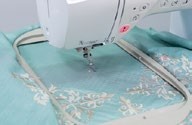 A LARGER CANVAS
With a larger embroidery area that measures 160 mm x 260 mm, you'll never have to worry about having too much creativity for too little space. On top of having more space, you get more control over your final design too. Before a single stitch is applied, you can preview embroidery designs in full colour, and even zoom in closer to inspect the intricate details of your design.
PERFECT YOUR VISION
The Innov-is NV2600 comes with a powerful editing suite that lets you lay out your patterns, combine different designs together, rotate and mirror images to your liking. The choice is yours. The fun continues as you pick from one of the 138 in-built designs. Be spoilt for choice as you pick from one of the many design themes, including pretty florals, adorable animals and so much more!
FRAME IT UP
Fancy up your embroidery designs with one of the 10 frame shapes and 14 border styles that come built into each sewing machine. And where images aren't enough, channel your inner wordsmith and explore the machine's library of fonts. Whether you're looking to personalise your project or write a message, use one of the 11 embroidery fonts or 5 sewing fonts, all of which are included in the Innov-is NV2600.
Brother Innov-is NV2600 sewing machine is available at $5,288 (incl. GST), from Sing Mui Heng, Ban Soon aka Sewing Guru, Spotlight and Courts. Please visit www.brother.com.sg or message @Brothersg on Facebook to find out more.
Enjoy two free lessons with every purchase of the Brother Innov-is NV2600!