Female engineers are as busy as the men in the automotive industry and just as good at their job – we intercept one working in Continental.
Female engineers are as busy as the men in the automotive industry and just as good at their job – we intercept one working in Continental.
MARILYN Yong, a software manager at Continental Automotive Singapore, has been with the company for 10 years. She graduated from Nanyang Technological University with a bachelor's degree in Electrical & Electronic Engineering, majoring in Communication.
Her pre-university school days were spent in Raffles Junior College and Raffles Girls' School.
Before she joined Continental in 2006, she was a software engineer developing PDA phones.
Marilyn is currently in Continental's ID business unit (Instrumentation & Driver HMI), which specialises in instrument clusters, climate control panels, secondary displays and related on-board devices.
Instrument clusters in her case refer to the dashboard components that indicate vehicle information such as speed, fuel level and warnings.
Her department is divided into four different customer segments, with Marilyn doing software development for Asian car manufacturers on a global scale.
How do you feel as a woman working in a male-dominated professional environment?
In my business unit, we have a female-to-male ratio of one to five, which is around the same as when I was in university.
But we have female representation at every level and in every function group. Generally, I feel there are many women in my company.
This is in contrast to my time in South Korea with my previous company, where I was the only female in the software development team of about 20 people.
Tell us a little about your career in Continental so far.
As part of the first batches of engineers to develop instrumentation products, we attended training in Germany. We spent about five months at our headquarters in Babenhausen, a town near the city of Frankfurt.
After I returned to Singapore, I led a team working on joint customer projects in various locations, such as Korea, China, India, Malaysia and Germany.
I took on line management responsibilities as a group leader and, later, as a manager. Most of our customers are Japanese automakers.
Do you travel to meet the corporate customers?
Sometimes, depending on the topic. But I travel more for internal meetings. Due to the global footprint of our R&D centres, I had opportunities to travel to not only Asia for work, but also Mexico and Romania. 
"MY CONTINENTAL COLLEAGUES CONSIST OF SINGAPOREANS, MALAYSIANS, KOREANS, INDIANS, FILIPINOS, CHINESE, GERMANS, BURMESE, JAPANESE, THAIS AND MORE!"
You work with colleagues of different nationalities – please elaborate.
We're a culturally diverse organisation. My Continental colleagues consist of Singaporeans, Malaysians, Koreans, Indians, Filipinos, Chinese, Germans, Burmese, Japanese, Thais and more!
Interacting with them helps me to grow as a person, because they show me different approaches to the same problem. I learn to look at things from different perspectives through such interactions.
How does a typical workday go for you?
Actually, I don't have a fixed daily work schedule, as our work is project-based and it depends on the project's phases and issues.
Were you always technically inclined?
And why did you choose engineering? Since I was young, my favourite subjects have always been mathematics and science.
I like the practical aspect of engineering, especially product development. It's a nice feeling when I'm able to play a part in a product used in the daily lives of others. Hence, product launches are always our team's favourite milestones.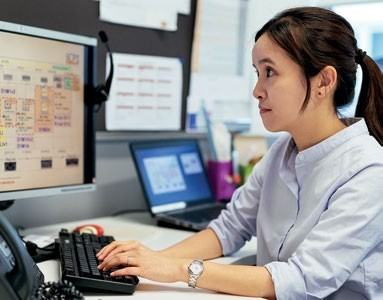 Are there Continental products in your own car?
I do not drive, even though I have a Singapore driving licence. My husband drives me to work every day. The reason is because I do not drive so well, and it's not good to endanger society with my poor motor coordination skills!
I guess this makes me really appreciate all the assisted driving and assisted parking systems that are available. This is also why I'm betting on the new automated driving technologies.
My husband drives a Korean car, which has some components from Continental, including one from our business unit. They were designed by our colleagues in the Korea office.
As the car model in question is eight years old and it typically takes two to three years to develop and introduce a product, and I joined the company 10 years ago, the car has no components which I played a part in developing, sadly.
What are your hobbies?
During my free time, I like to play games on my handphone, watch Korean dramas and read.