Dive into The Peak's furniture guide to creating a home workspace where you can flourish, and constraints are taboo.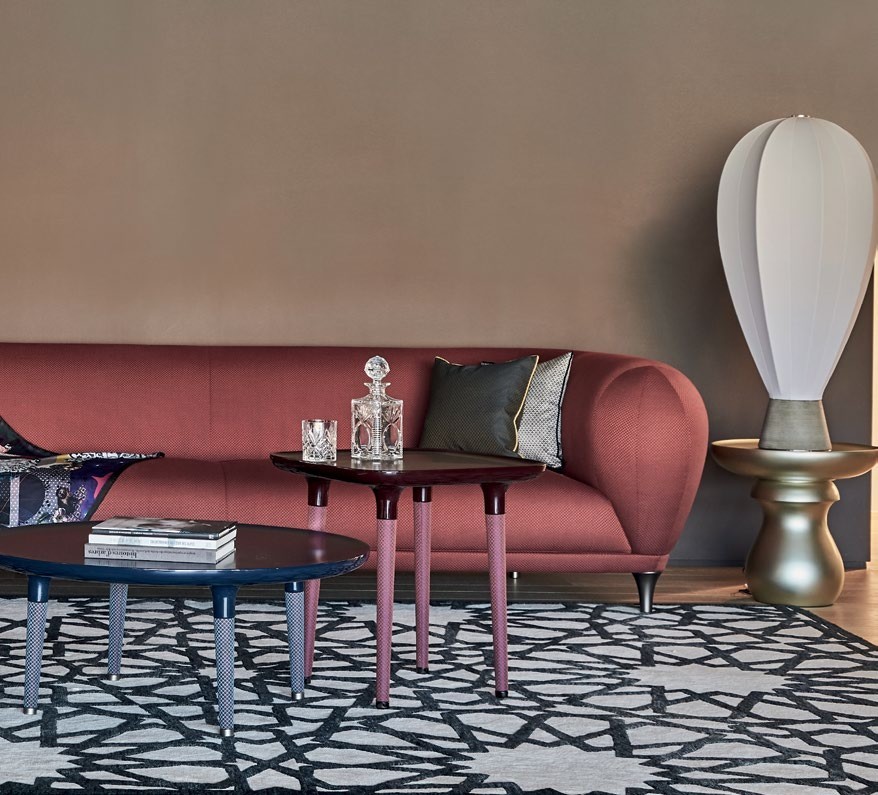 GLOBE TROTTER COLLECTION BY MARCEL WANDERS
This voyagethemed collection creates a space to relax between periods of focused work. Hot air balloons linger in the form of the lamp and the rounded sofa armrests, while the lacquered cabinet adds to the whimsical feel with its colourful interior fresco based on the cities of London, Paris and Istanbul – and an unusual porthole display.
SEAT OF IMPORTANCE
The best thing about being home is you can sprawl on a bean bag, or prop yourself up in bed – all while working. And, if you need a new designer chair to inspire you, well, no one's stopping you either.
01 SERIE UP 2000: UP5_6 ARMCHAIR
GAETANO PESCE FOR B&B ITALIA
This iconic armchair is modelled after the female form, with the ottoman attached to it as a symbol of a woman with a ball and chain. The Italian designer wanted to convey the idea that women are "unwilling prisoners of their own making", and it was ahead of its time when created in 1969. Just last year, an 8m-high installation of it in Milan caused a controversy. A perfect statement piece for debating on, and debating in.
02 SEASON CHAIR
PIERO LISSONI FOR VICCARBE
A master of contemporary design, Piero Lissoni has created a modern take on stuffy-looking office chairs. The Season chair is a blend of cosy and chic, and its interior structure comes in solid perforated wood covered with shape-holding expandable polyurethane foam. Hidden casters add to its sleek look.
03 STANFORD BRIDGE ARMCHAIR
JEAN-MARIE MASSAUD FOR POLIFORM
Based on the elegant Stanford Lounge of 2016, the Stanford Bridge armchair is an enlarged version, while still maintaining the lightness of design. Works by the well-known French architect are a blend of comfort and functionality – and the Stanford Bridge is no different, with an enveloping shell of a seat on a slender frame of die-cast aluminium, and a swivel base. A proper office chair for a professional study.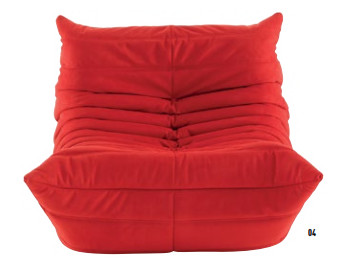 04 TOGO FIRESIDE CHAIR
MICHEL DUCAROY FOR LIGNE ROSET
The classic Togo was created in 1973 by Frenchman Michel Ducaroy – one of Ligne Roset's most integral designers – and remains a best-seller, with its ergonomic design featuring multiple density polyether foam and a quilted cover. As testament to its popularity, the Togo has even evolved to have arms.
05 ARGYLE
DRILL DESIGN FOR TIME & STYLE
The Argyle is a deceptively simple Windsor chair. A closer look reveals the contemporary design twist. For instance, the backrest comprises a few rods that criss cross, in order to support the curve of a person's back. The legs, too, are connected diagonally to the seat surface. It's lightweight yet sturdy, and perfect for those who like a simple seat without the bells and whistles.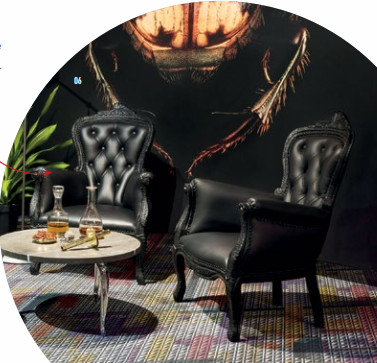 06 SMOKE ARMCHAIR
MAARTEN BAAS FOR MOOOI
Dutch designer-artist Maarten Baas is known for his rebellious style, and this Victorian-style armchair is striking evidence of that. Its beauty is due to a strange production process involving burning wood, a result of his fascination with fire. The burnt wood is finished with epoxy resin, and the chair features fire-retardant foam and leather upholstery. The Smoke collection was named in The New York Times' Top 25 Design Classics of the Future, in 2012.
BURNING TRADITION
Who would have thought? Furniture can be wood-fired too, as this Victorianstyle Smoke armchair is.
07 HIDEOUT LOUNGE CHAIR
FRONT
This distinctive tall lounge chair is defined by a steam-bent solid beech structure that wraps around woven cane on either side. The wide seat is in a similar upholstery to the backrest's centre that extends above the head, creating a spacious hideout for the person who wants an escape from surrounding distractions. This cosy seat is a good fit for those who are easily disturbed.
08 BARCA LOUNGE CHAIR
JAKOB JOERGENSEN FOR CONDE HOUSE
This inviting lounge chair won the coveted "Gold Leaf" distinction at the International Furniture Design Competition Ashahikawa in Japan 12 years ago. Based on traditional boat-manufacturing techniques, 28 curved pieces of ash wood slide into position to form a spacious curved shell. No mean feat. But it's also a work of art – users can move the wood pieces to achieve different shapes – say, for a raw jagged-edged look, or a relaxing rounded appearance. You'd be tempted to crawl in for a cosy siesta. It is also easily dismantled.
SCULPTURAL
From symmetry to chaos, all it takes to switch the look is to slide the strips of bent wood.
09 BOTOLO CHAIR
CINI BOERI FOR ARFLEX
Sink into this plush Mongolian lamb-wool chair if it's a cosy embrace you long for, while slaying monstrous work challenges in the digital realm. Designed by a leading Italian architect, the chair rests securely on three large tubular legs whose colours can be swopped for a touch of liveliness. It is also available in fabric and leather.
FLAT AND FAB WORKTOPS
Nobody says work must be done in a study. If you prefer working near a window on one of your house's multiple landings, get a work desk (or work desks, if you have a nomadic working style). For those sequestered at home with family, a longer desk offers the motivational energy of having company.
01 HOLLAND DESK
METRICA FOR SP01
This classy personal desk is perfect for a home study or studio office. The wood-veneered top comes in Natural Ash, Carbon Stained Ash or Walnut Stained Ash and can be paired with classy finishes such as Gold Chrome, Metallic Brass and Satin Black. These finishes cover the swivel drawers, contrasting feet and the cable management port. If graceful refinement is your design spirit animal, this has your name on it.
02 WERK STATION
NATHAN YONG FOR FOLKS
Founded by Singaporean designer Nathan Yong, Folks pays tribute to traditional carpentry work by Asian craftsmen. This workstation is unique in that it is multifunctional. When telecommuting is no longer necessary, simple repurpose it as a vanity or display sideboard. As a worktop, it is just as nifty, with ample storage.
NOT SO SIMPLE
This space-saving work desk can be repurposed, when it's time to return to the office.
03 BASE HIGH TABLE
MIKA TOLVANEN FOR MUUTO
Are you one of those who love the feel of working at the bar counter in a coffeehouse with the bustle all around while you're plugged into your favourite work playlist? You can re-create that with the Base High Table, which references Scandinavian design. Finnish designer Mika Tolvanen went with a pared-down and sleek look, using clean lines and a simple frame. The handspun aluminium Ambit Rail Lamp by TAF Studio, as well as Nerd bar stools crafted in wood by David Geckeler, pulls the whole look together. Various material and colour options are available.
04 PALLAS INDOOR TABLE
KONSTANTIN GRCIC FOR CLASSICON
Pallas is a table that commands attention with its stark geometric angles. The smooth lines of the table turn at unexpected junctures, resulting in a space that compels people to sit closer together, encouraging communication. This is characteristic of the works by award-winning German industrial designer Konstantin Grcic, whose design approach is heavy on geometric forms and hard edges. The powder-coated metal surface is available in 10 colours.
WORK BOX
A nifty surface for the executive whose documents are all in the cloud – and can work off just a laptop.
O5 NUBO
GAMFRATESI FOR LIGNE ROSET
The quirky round-edged Nubo is three things in one: a decorative wall-mounted display, a shelf, and a compact desk. Its space-saving design is evocative of a suitcase or treasure box, but it is just as capable for work when open, with a slot for cables and a bracket for documents. The combination of natural oak and woollen textile on the external face will add warmth to any spot in the house.
06 TRESTLE TABLE
BY JOHN PAWSON FOR VICCARBE
British architectural designer John Pawson CBE is known for his sense of minimalism, and the Trestle work table is a good example of this. Its simplicity is elegant, but there's actually a whole host of variations available for those who 
07 REWRITE
GAMFRATESI FOR LIGNE ROSET
This whimsical booth design is the creation of Danish architect Stine Gam and Italian architect Enrico Fratesi. It's both visually pleasing and functional, with a lacquered steel chest fixed under the surface to conceal cables. The shell overhead – made of fibreglass clad in polyether foam – is soundproof, giving you much-needed privacy for video meetings.
08 SIGMUND WRITING DESK
STUDIO ASAI FOR ARFLEX
Another elegant workstation is this two-tier oval desk, inspired by psychologist Sigmund Freud. It's a luxe desk, with its marble surfaces (the options are White Carrara, Black Marquinia or Green Guatemala) juxtaposed against a black lacquered metal frame with contrasting brass details.
NEXT LEVEL
Looking more like an artwork is the Furtif desk, whose form was inspired by fighter planes.
09 FURTIF DESK
DANIEL RODE FOR ROCHE BOBOIS
This futuristic looking desk was inspired by fighter planes. Its cantilevered look comprises a spectacular overhang, with a prismatic base. Creative yet professional-looking, this lacquered desk comes in a range of cool hues for the serious executive who doesn't want to be distracted by bright colours.
LIGHTS, ACTION
For illumination, go beyond the utilitarian with these options that range from the poetic and elegant to the peculiar, and which can be easily moved around the home.
01 MINI CRESCENT TABLE LAMP
LEE BROOM
This avant-garde looking orb is sliced asymmetrically, revealing a brushed brass fascia that is crescent in shape. The full-sized version is the popular Crescent Light, which is a ceiling lamp.
02 57 STEM SYSTEM
OMER ARBEL FOR BOCCI
Creatve director Omer Arbel loves sculptural lighting, and you can tell based on his work with Bocci. The 57 Stem is created by a fabrication process that traps pockets of air in a larger mass of dark grey or white opaline glass. When lit up, the unique shapes of those voids are exposed, and, depending on how active your imagination is, each deformed orb may look like a yakitori stick of pufferfish. The lighting system comes in a brass or black finish.
LIGHT STICK
Take a vision break from work and imagine what these deformed orbs resemble.
03 NOCTAMBULE
KONSTANTIN GRCIC FOR FLOS
In the day, this floor lamp (also available in pendant lighting) is a puzzling stack of cylindrical glass modules. In the dark, this turns into a mesmerising column of light discs, thanks to the carefully calibrated LED technology integrated into the junctions between each module. The variations are aplenty – one can opt for single or multiple glass modules, with a glass dome or cone-shaped head for some flair.
04 PERCH LIGHT FLOOR LAMP
UMUT YAMAC FOR MOOOI
Although you are indoors, you can still have wildlife in your midst, with this glowing lamp in the guise of a graceful bird perched on a metal bar. Watch it gently swing at a soft touch. Made of steel and aluminium, this floor lamp is equipped with solid state LED and comes in different heights. Great for adding a whimsical touch to your work environment.
05 BEAM TABLE LAMP
TOM CHUNG FOR MUUTO
Portable, efficient yet innovative. This table lamp is capable of shining from both ends; and users can choose between three light options (dim to strong), or adjust the intensity incrementally by turning a dial. Its sleek body of anodised aluminium can be rotated to act as direct lighting, or to cast an ambient glow.
SUPPORT STUFF
Complete your work-from-home experience with these accessories and storage options.
01 WONDER BOX
NATHAN YONG FOR FOLKS
Turn your filing tasks into a creative exercise with this storage option. The modular walnut boxes are versatile stackable units, w hich you can place beside your pop-up workspaces at home to hide work clutter.
VERSATILE
These drawer units make accessing your work documents easy, yet look sleek in any space.
02 BOOKWORM WALL SHELF
RON ARAD FOR KARTELL
Available in three lengths, Bookworm combines creativity and technology. The wall shelf can be arranged flexibly, in circles or waves, yet its toughness and functionality isn't compromised; the space between each bookend can bear a load of 10kg.
03 ROCKET ESPRESSO R58 MACHINE
Created by New Zealander Andrew Meo and Italian Daniele Berenbruch, and made by craftsmen in a Milan factory, the machine doesn't just make coffee – it's a shining work of art. It also boasts exceptional temperature stability, which means consistent cups of espresso.
04 PERIMETRE TRAYS
HERMES
Workspaces have an inexplicable tendency to accumulate an assortment of bits and bobs. Keep random items sorted with this series of trays. They come in different shapes and sizes, and with various equestrian designs and graphic motifs.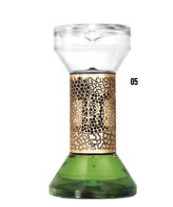 05 HOURGLASS DIFFUSER
DIPTYQUE
Pleasant scents can enhance productivity. Aside from smelling and looking lovely, Diptyque's six sculptural Hourglass diffusers double as elegant timers too: The liquid fragrance flows from the top to the bottom in an hour, with scents such as the outdoorsy, fig-based Figuier shown here.
TEXT ADELINE WONG PHOTOS GRAFUNKT, ROCHE BOBOIS AND SPACE
PHOTOGRAPHY TAN WEI TE  ART DIRECTION FAZLIE HASHIM