Cover girl Denise Keller shares how she feels younger and happier than ever in her mid-30s – thanks to yoga, a healthy diet and living mindfully.
Cover girl Denise Keller shares how she feels younger and happier than ever in her mid-30s – thanks to yoga, a healthy diet and living mindfully.
OUTFIT COTTON T-SHIRT, NYLON-BLEND SHORTS & SNEAKERS FROM MONCLER 
You might remember Denise Keller as the MTV Asia VJ with the megawatt smile. Or the model who fronted multiple international campaigns after winning the Ford's Supermodel of the World finals in 2000.
And if you watch cable TV, you would have seen her hosting Discovery Channel travel shows, like Passage to Malaysia, and Expedition X: Silk Road Rising, in which she journeys from China to Turkey along the ancient Silk Road, and discovers how a new generation of explorers, entrepreneurs and innovators is making it relevant again. 
Fast forward to today, this TV producer and presenter spends more time on her yoga mat than behind the camera. "After a decade in showbiz, I decided to slow down and find a balance between work and my passion for wellness," she says, letting on that she's become more mindful about spending time with her family after getting married in 2015. So far, that work-life balance has paid off.
Denise had yoga teacher training – 1,500 intensive hours, to be exact – and now teaches Yoga Jam (yoga flow to music) at TripleFit Singapore. She also has private students, including expectant mums. 
Besides teaching, she works out at least six times a week for two to three hours each time, doing a mix of yoga, gymnastics, calisthenics and running. 
"I like to switch things up. Some days, I'll run 5km around my neighbourhood, other days I'll just do a yoga flow on my mat till I'm drenched. There are also days when I want to do all the things I used to do as a kid, like jumping around. I need my playtime!"
With her crazy active life, it's no surprise that Denise scored an ambassadorship with Under Armour, and recently made her foray into fitness fashion by collaborating with local brand Vivre Activewear to launch an exclusive collection, which is available on www.vivreactivewear.com and at the #B1-04 Wisma Atria store, while stocks last. 
Truth be told, the Denise Keller we see today is much more self-assured than the one seven years ago, when we first featured her on Shape's July 2010 cover. She's also glowing – and it's not because of makeup.
"I feel the youngest I've ever felt," the 35-year-old confesses. Still at her average weight of 52kg, she has gained significant muscle tone in her arms, abs and thighs, and lost some body fat. Her skin is just as taut and spotless as we remember. And there's an unmistakable sparkle in her eyes whenever she talks about yoga, fitness and wellness.
She's definitely on to something.
SHAPE How did you get started in yoga?
DENISE I've been doing yoga since I was 15. My then-modelling agency suggested I try yoga to maintain my weight and rehabilitate my old injuries from gymnastics. Due to my left knee injury, I was struggling to walk in high heels for fashion shows and needed to learn to strengthen my legs. There weren't many yoga classes back then, but I found one in a community centre. I'll never forget my first class because the women in the room left such an indelible impression on me: so strong, elegant and poised. I was hooked.
SHAPE How has your yoga journey evolved over the years?
DENISE Yoga's the one constant thing in my life. I've always had a hard time controlling my monkey mind and yoga gave me focus and concentration during my TV days. Whenever I felt anxious before the camera rolled, I would find a quiet spot and do prayanama (breathing exercises). On the road, whenever I felt tired, I would do yoga at the airport to recharge.
SHAPE Why did you decide to become a yoga teacher?
DENISE It was a natural progression for me. I had a pretty strong self-practice and read many books about yoga. Arun Rana, Hee Boon, Sandy and Punam from Pure Yoga gave me my first foundations as a yoga teacher and I will always be grateful for their wisdom, support and love.
I'VE ALWAYS HAD A HARD TIME CONTROLLING MY MONKEY MIND AND YOGA GAVE ME FOCUS AND CONCENTRATION DURING MY TV DAYS.
SHAPE Who are your yoga trainers and mentors?
DENISE Tiffany Cruikshank will always be my pillar of yoga training. She inspires me to learn more, study more and observe more. Lisa Low from Sagehouse, who introduced me to Tiffany, mentored me throughout my teacher training. She is my go-to for when I don't know or understand something about the body. Lastly, Firdaus Fidrishah from TripleFit, who coaches me from the heart in gymnastics. I never knew I would return to my gymnastics roots at this age!
SHAPE What inspired you to teach Yoga Jam at TripleFit?
DENISE Yoga Jam was inspired by my love for music. Having been in the industry for so long, I always enjoy a good playlist or jam session. The other inspiration came from a class in Los Angeles, where the teacher taught us simple vinyasa sequences and then allowed students to flow and play to music. It was simply awesome!
SHAPE Who are your favourite music artists for yoga?
DENISE James Brown, Al Green and Curtis Mayfield are some of my classics, but I can hype a class with Eminem or Red Hot Chili Peppers. It varies on people's moods, too. 
SHAPE What's your yoga mantra?
DENISE May the space between where I am and where I want to be inspire me.
SHAPE And your favourite yoga pose?
DENISE Adho mukha vrksasana (handstand). It powers me up better than coffee in the morning.
OUTFIT COTTON HOODIE, COTTON POPLIN BLOUSE & COTTON SKIRT FROM CALVIN KLEIN PLATINUM
SHAPE Many yogis aim to do cool inversion poses like handstands. How important do you think it is to master these poses?
DENISE That depends on how important such poses are to them. Everyone's practice is different. Mastering a physical pose is great, but mastering your mind is even more powerful and rewarding.
SHAPE More people are doing yoga as they believe it will help them lose weight. What do you think of that?
DENISE It's great that yoga has become so popular. But losing weight will only happen if you're mindful of what you eat. I'm all for spreading knowledge about what yoga represents. It means to unite, to connect, to come back to the centre, and to prepare yourself for meditation. All the body conditioning is fantastic, but yoga has no value if you can't meditate afterwards. This is why we have savasana (corpse pose) at the end. It is a conscious sleep; to let your body relax. It's also about being present, staying calm, emptying your mind, and focusing on your breath. Most people can't do a savasana. I couldn't do it when I first started.
SHAPE How would you describe your yoga style?
DENISE My yoga style has shifted to a more yin and meditation practice. I meditate for five to 10 minutes daily as it helps me focus, and I do breathing exercises. It gets me through my day. I would highly recommend this to anyone who, like me, can't sit still.
SHAPE What do you say to motivate your students in class?
DENISE What you are feeling will pass… Ride the wave.
SHAPE Any pet peeves when teaching?
DENISE Hand phones. Leave yours in the locker or put it on silent, and don't make phone calls. It's just disrespectful.
SHAPE You always seem so optimistic. What's been your biggest obstacle?
DENISE Letting go of the toxic people in my life. After I hit 30 and became more meditative, it was an epiphany for me. In my younger days, it was hard to set healthy boundaries and say no to people who were hurting me. To a certain degree, people in showbiz are trained to always say yes or at least have a can-do attitude, but when it leaks into your personal space, it can be quite debilitating. I want to be surrounded by positive people, not negative people who drag me down. If something doesn't make you happy or feel good, get rid of it.
SHAPE What do you do when you're not exercising?
DENISE I love going to the movies, checking out new brunch spots or simply cooking at home. The simplest things give me joy. I also love spending time with my fur babies – three cats, a dog and a turtle. They ground me, heal me and love me unconditionally. I would adopt more animals if I could, but I think my husband would go mad.
SHAPE What's the most extreme thing you've done in the name of fitness?
DENISE I once went up and down Bukit Timah Hill with a big rucksack of stones for weeks to train for mountain climbing in Malaysia. I also walked barefoot in the jungle to learn more about the creepy crawlies, and how to heal my cuts and bites.
SHAPE Do you follow a specific diet?
DENISE I was a vegetarian for 11 years before I realised how terrible of a vegetarian I was, so I changed my diet to a flexitarian diet – 30 percent protein and 70 percent fruits and veggies.
SHAPE What do you usually have for breakfast, lunch and dinner?
DENISE Breakfast is green juice with lemon. When I'm really hungry, I'll have an egg white omelette with an avocado. And coffee when I'm desperate. Lunch would be a protein bowl I'd prepare myself or order from The Daily Cut or The Green Bar. For protein, I usually take steamed fish or chicken, and beef when I'm on my period. Dinner is something light, like brown rice porridge with chopped leafy greens or an egg white omelette. I also like making soups using kale, spinach or lentils to keep my tummy warm.
SHAPE What's the most extreme thing you've done to look good?
DENISE Fasting for two weeks to lose weight for a role. I was on a liquid diet of broth, juice and alkalised water. I thought I was going to die but it worked. I lost 2kg to 3kg and actually felt way better afterwards!
SHAPE Pray share your beauty tips for such flawless skin.
DENISE 1. Hydrate more than you think you should be hydrating. 2. Sleep, snooze, power-nap, and meditate. 3. Exercise at least twice or thrice a week. 4. Use less makeup, and more sunblock. 5. Eat a balanced diet of non-processed foods: whole grains, lots of fruits, leafy veggies, and your favourite protein.
Writer Estelle demonstrates the partner poses with Denise. Denise wears Under Armour. Estelle wears Calvin Klein Performance.
BUDDY UP!
Whether the last time you did yoga was never or last week, these partner poses will inspire you to hop onto the mat. They're extremely beginner-friendly and super fun. You get to deepen the stretch, and the connection with your partner. And did we mention that they're Insta-worthy, too?
PARTNER TREE
Strengthens core, thighs, calves, ankles and spine; stretches groin and inner thighs. Also improves balance
Stand shoulder to shoulder, facing opposite directions. Partner A, align left foot with Partner B's right palm as she gets into handstand. Partner A, support her ankle with left hand, shift your weight to the left and press your right foot firmly into your left inner thigh. Hold for as long as possible. Switch sides.
*Try this only if one of you is comfortable doing an unsupported handstand.
PARTNER BOAT
Stretches hamstrings and strengthens core
Sit opposite each other and hold hands outside your legs. Raise both your legs and place the soles of your feet together. Find your balance and try straightening your legs. Depending on your flexibility, you may need to move closer or farther away from each other. If you can't straighten your legs, bend your knees so your shins are parallel to the ground (half-boat pose). Hold for five deep breaths or more.
PARTNER WARRIOR 1
Strengthens arms, shoulders, back, legs and ankles; opens hips, chest and lungs. Also improves focus, balance and stability
Stand about two arm's length opposite your partner and get into warrior 1 pose on the same side: Lunge forward with your left foot, bending the left knee at 90 degrees. Straighten the right leg behind you, with toes pointing 45 degrees forward. Adjust your position so your left thigh overlaps your partner's. Extend arms overhead, palms together. Make sure your core is activated and body weight is evenly distributed on both legs. Hold for five deep breaths or more. Switch sides.
PARTNER RAGDOLL
Stretches hamstrings, calves and hips; strengthens thighs and knees
Stand back to back with the backs of your heels touching or close together. Keep both your legs straightened and – one person at a time – fold forward from the hips. Grab each other's arms to stabilise. Hold for five deep breaths or more.
BACKBEND-CHILD'S POSE
Stretches back and hip flexors; opens chest and shoulders
Sit back to back in the child's pose. Partner A, lean backwards and rest against Partner B, from head to hips. Straighten your legs in front of you. Breathe in and out together for three to five minutes. Switch positions.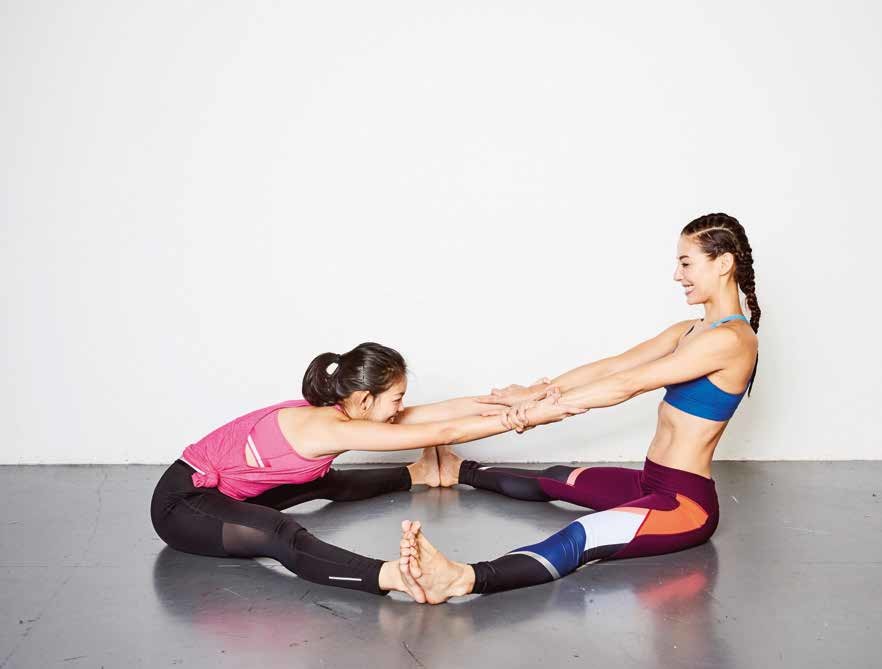 PARTNER SEATED FORWARD FOLD 
Stretches back, shoulders, hamstrings and inner thighs
Sit opposite your partner with legs straightened and wide apart. Place the soles of your feet together and grab each other's forearms. Partner A, fold forward while Partner B pulls you. Stop when you feel a deep stretch in your hamstrings. Hold for five deep breaths or more. Switch positions.
BACK-TO-BACK CHAIR
Strengthens thighs, butt and hips
Stand back to back and interlock elbows. Lean on each other's back as you walk feet forward and lower your body towards ground in a squat. Your knees should be bent at 90 degrees and directly above your ankles. Hold for five deep breaths or more.
PHOTOGRAPHY VEE CHIN
PHOTOS VEE CHIN ASSISTED BY SHERMAN SEE-THO
ART DIRECTION RAY TICSAY
STYLING DOLPHIN YEO ASSISTED BY KARIN TAN
HAIR KENNETH ONG, USING KEUNE
MAKEUP DOLLEI SEAH/THE MAKEUP ENTOURAGE, USING SISLEY