These five social-media darlings don't just post fun #ootds, they also peddle their "wears".
These five social-media darlings don't just post fun #ootds, they also peddle their "wears".

BEATRICE TAN, 26 Her look: Feminine and minimalist Instagram: @beatricesays Shop: www.klarra.com Prices: From $35 for a top
We're not surprised if Beatrice looks familiar to you. After all, she has made regular appearances in TV commercials and on popular e-store Love, Bonito. Now, the former model is focusing on Klarra, her threeyear- old label. What to shop for at her store? Trendy weekend gear like rompers and boxy culottes, which Beatrice designs and gets made in Indonesia and China. Other popular items: matching two-piece sets, like the top-andskirt combo she's wearing here.
On Instagram, Beatrice has more than 57,000 followers, and each of her #ootd posts featuring clothes from Klarra gets more than 3,000 likes. To learn how to grow her business, Beatrice spent three months last year at the renowned London art school, Central Saint Martins, where she took fashion and business courses. Since then, she has introduced a returns policy at Klarra and one-on-one shopping sessions with an inhouse stylist. The best bit? The services are complimentary, and you're not obliged to buy.
Beatrice is wearing her own Klarra top and skirt, Michael Kors watch, Accessorize bangle, BCBG ring and Go Jane sandals. The Klarra clutch is also her own.
ANNIE ONG, 29 Her look: Menswear-inspired and rock 'n' roll Instagram: @priveememories Store: www.thescarletroom.com Prices: From $23.90 for a top
Her seven-year-old online store was around even before blogshops became a thing. It started out on blog site Livejournal in 2007 as a way for Annie to get rid of her old clothes. Now, she stocks factorysourced clothes from China as well as her own designs, like biker vest s and asymmetric tops. Her store has amassed a following that includes local bloggers such as Arissa Ha and Nicole Wong.
While Annie uploads only two to five posts a month, her feed is well curated with fl at lays and #ootds. Her fashion weakness? Nike sneakers, which she pairs with maxi dresses or distressed jeans. She also loves basics with unexpected details – like the fringed skirts you'll fi nd at her store. Th e unexpected bestseller? "Bralets do exceptionally well," she says.
Every drop of 200 pieces usually sells out within two months. Each bralet – which Annie fi lls with a nude lining – costs $23.90. Last month, she launched a new brand called Hyphenthelabel at Th e Scarlet Room, featuring tops and dresses with stripes and leopard prints, designed by Annie herself. What's next: She's in talks with overseas stores to sell her collections in Australia and Indonesia.
Annie is wearing her own The Scarlet Room vest, top, pants, bangle and ring, hat from Bangkok, earrings from China, Casio watch, Cos ring and Zara sandals.
LAUREN TAN, 24 Her look: Casual and boyfriendinspired Instagram: @xxlaurentan Shop: www.oakandbones.com Prices: From $23.50 for a top
Lauren was quite the fashionista at university (she graduated two years ago) and always got quizzed about her outfits. Over the past year, she juggled work as a freelance fashion stylist while running Oak & Bones with a primary school friend (also named Lauren). Working as a stylist while managing her store has honed her eye for pieces like shirts with exaggerated collars, marble-print A-line skirts and white leather midi skirts, all of which she sources from around Asia.
When Lauren needs extra inspiration, she turns to famous American blogger Leandra Medine. "She has a great way of accessorising and putting together items in unexpected ways, like styling a jumpsuit with a bandana," she says. Now, Lauren's committed to running Oak & Bones full time, and has realised that the most popular items at her store are "contemporary basics" – like "classic white shirts with a pleat at the back", she says. What's next for her? In a few years, she hopes to turn Oak & Bones into a lifestyle store that also sells homeware and art.
Lauren is wearing her own Oak & Bones dress, choker and cuffs, H&M earrings and Zara boots.

SOPHIA CHONG, 24 Her look: Sexy and edgy Instagram: @sophiachong Store: www.thejuicemarket.com Prices: From $20 for a top "Most of my customers are Instagram followers," says Sophia. And she has more than 35,000 of them, so she makes it a point to post an #ootd almost every day, featuring new pieces. It's not just Sophia's followers who love her store. Th e Juice Market is a fave among other top local Instagrammers like Naomi Neo and Eunice Lim, who love the sexy pieces, like cropped bralets, sourced from around Asia.
The store also refl ects Sophia's subtler side. "I like basics, and go for white or black clothes," she says. Her style icon: model Kendall Jenner, who's known for the sleek and minimalist looks she wears. Sophia loves her distressed jeans too, so it's no wonder the store's bestsellers are the ripped boyfriend jeans ($29.90) – she has sold 600 pairs in six months, and people are still asking for them. Something else her customers love? The "monokini", Sophia's favourite style of swimwear.
Her first design in 2011 featured horizontal cut-outs on the torso, and to her surprise, all 60 pieces available sold out in an hour. Since then, she has launched a new design every few months, with each priced from $30. What's next for Th e Juice Market? A new premium range that features pieces in heavier fabrics – like the full skirt she's wearing here.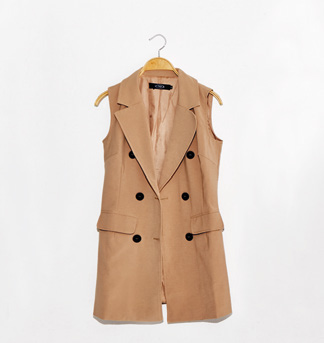 Sophia is wearing her own The Juice Market dress (worn as a top) and skirt, accessories from Ho Chi Minh and Zara sandals.

YEN KOH, 37 Her look: Whimsical Instagram: @yenkyen Shop: www.soeurs.co Prices: From $25 for a top
Yen is not a fan of the typically feminine look. But when our stylist put her in this rarely worn midi skirt and ruffled top (from Yen's own wardrobe), she gushed in surprise: "I didn't think I would look good in something so girlie!" Yen's three-year-old online store Soeurs.co does offer feminine skirts and statement earrings like the ones she's wearing here, but her personal style is more tomboyish. You'll also spot quirky extras on her – like the clock clutch and the pumps in the picture.
Co-owned by Yen and her younger sister Mel (soeurs means sisters in French, after all), Soeurs. co is popular for playful finds like acrylic necklaces and novelty clutches. Th e store's Instagram following (@soeursco) is impressive enough to evoke Insta-envy. Local Instagram It girls like Hosanna Swee and Andrea Chong are among its followers. Soeurs.co launches up to 90 new styles every month, and the more popular ones go out of stock three hours after they are made available on the site. Because Yen's customers can't get enough of the quirky items, Soeurs.co will introduce a label later this year designed by the siblings, offering all-occasion dresses, skirts and menswearinspired pieces.
Yen is wearing her own Soeurs.co top, pumps and earrings, and her own skirt, H&M bracelet and ring. The Soeurs.co clutch is also her own.