Keeping your peepers healthy requires regular eye tests and treatments.
Keeping your peepers healthy requires regular eye tests and treatments.

Singapore has one of the highest incidences of myopia in the world. Cataracts (where the lens of the eye degrades and becomes clouded over time) are another common affliction – and they can develop even before you turn 45.
To protect your vision, go for regular eye tests. Myopia may not be a serious condition, but it tends to worsen with age. And cataracts should not be taken lightly as they can lead to blindness. So if you're over 45 years old, visit an ophthalmologist even if you aren't experiencing any eye issues, because conditions such as cataracts, age-related macular degeneration (AMD) and diabetic retinopathy can start with virtually no symptoms. If a problem is diagnosed early, you can seek treatment early and have a better prognosis.
Those looking for a long-term solution to myopia, astigmatism and presbyopia or long-sightedness can consider Lasik. Eye Max Centre uses the new high-definition iLasik, a bladeless procedure that is said to be safer and more precise.
NEW ADVANCES
According to Dr Leonard Ang, Medical Director and senior consultant ophthalmologist of Eye Max Centre, iLasik is more precise than traditional Lasik and can be customised to the exact degree of correction, which means better vision and faster recovery with negligible risks.
To treat cataracts, surgery is needed to remove the cloudy lens and replace it with an artificial one. Dr Leonard Ang says: "It's no longer the case that cataracts have to be 'ripe' or the vision very poor before surgery can be performed. Removing the cataract early will prevent it from getting worse, so you don't have to live with progressively worse vision through the years."
Modern cataract surgery is extremely safe and has a short recovery time. With newer lenses, myopia, astigmatism and presbyopia can be simultaneously corrected, giving patients sharper vision with less reliance on spectacles and therefore a better quality of life.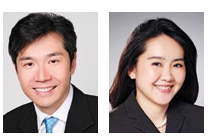 Meet the Docs
Dr Leonard Ang and Dr Nikolle Tan are senior consultant ophthalmologists at Eye Max Centre at Mount Elizabeth Novena Hospital. Eye Max Centre is a comprehensive one-stop eye specialist clinic that offers the latest cutting-edge treatments for general and complex eye diseases, including cataracts, diseases of the cornea, glaucoma and retinal disease. It also performs cornea transplants and offers the new High Definition iLasik and Implantable Contact Lens surgery for correcting short-sightedness, astigmatism and presbyopia to give patients better vision without the need for spectacles or contact lenses.
"Modern cataract surgery is very safe and effective, and patients can enjoy better vision with less dependence on spectacles. Patients need not wait for cataracts to be severe or the vision very bad before doing surgery. The more advanced the cataract, the higher the risk for surgery and the longer the recovery. " – Dr Leonard Ang
For details, call 6694-1000 / 8181-8563 / 6684-1000 / 9760-3020, e-mail manager@eyemax.sg or visit www.eyemax.sg. Eye Max Centre is at #07-42 Mount Elizabeth Novena Hospital, 38 Irrawaddy Road.