Treat your senses – and your partner – to the new, exotic Spa of the WorldTM range from The Body Shop for a spa-like experience in the comfort of your home.
Treat your senses – and your partner – to the new, exotic Spa of the WorldTM range from The Body Shop for a spa-like experience in the comfort of your home.

Our busy lifestyles hardly give us enough time for ourselves, much less quality time with our partners. A rushed spa treatment sandwiched between work meetings isn't at all enjoyable, and a romantic vacation for two can be a nightmare to plan, no thanks to factors such as differing schedules and the perpetual question of "Who will look after the kids?".
With the new Spa of The World range from The Body Shop, you'll no longer face these issues. Thanks to its body-care products with exotic scents and pampering ingredients, you'll be treated to a relaxing, multi-sensory experience much like that you'll get at a spa or on a lazy getaway. The most important takeaway here? This pampering takes place right in your own home.
Inspired by beauty rituals across the world, the range boasts ingredients, used for centuries for their beneficial properties, sourced from all over the globe – think kukui oil from Hawaii, charcoal clay from the Himalayas, sea salt from the Dead Sea and camellia oil from Japan.
The range comprises two body-care tools and 11 body-care products – including purifying and firming clays, decadent creams and luxurious oils – that can be used on their own or together, as part of the brand's Relaxing Ritual, Revitalising Ritual and Blissful Ritual.
DIY SPA  Escapism starts at home with Th e Body Shop's five-step Relaxing Ritual, comprising Spa of The World products that are specially formulated to calm the senses while smoothing and moisturising the skin. It's the perfect way to de-stress and unwind – not to mention put you in a sensual mood and prep yourself for some precious couple time with your partner.
STEP1: SCRUB
African Ximenia Scrub (350ml), $55.90. Start the ritual with this skin-softening body scrub that gently exfoliates. It is formulated with oil extracted from ximenia trees in Namibia – the tree is also known as the "Tree of Life" because of the skin-softening properties of its oil. Rich in oleic acid, ximenia oil leaves your skin moisturised and protected.
TIP: Apply the scrub using gentle circular motions, starting from your feet and moving up to your shoulders.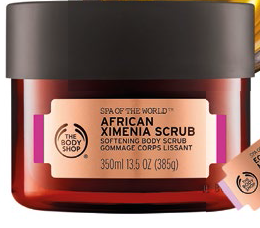 STEP2: TREAT
Himalayan Charcoal Body Clay (200ml), $36.90. One of the secrets to glowing skin: charcoal, which draws out impurities and toxins from the skin, and leaves it softer and thoroughly cleansed. This body mask is made with charcoal clay from the Himalayas and kaolin – the very same clay that the Chinese have used for making porcelain and in beauty treatments for centuries.
TIP: For even application, use the Spa of Th e World Body Mask Brush to spread a thin layer of the mask all over your body. Th en, wrap up in a warm towel to maximise the mask's skin-purifying effects.
STEP3: RELAX
Egyptian Milk & Honey Bath (250g), $32.90. Do like Egyptian beauty Cleopatra supposedly did, and indulge in a milk-and-honey bath to soft en and reportedly nourish your skin. Pour some of this powder into your bath, then sit back and enjoy some me time – or invite your partner to spend some quality time with you in the tub. The fragrant scent of honey, rose and cedarwood will calm your senses and set the mood for a tranquil evening.
TIP: For an ultra soothing soak, use bath water that is slightly warmer than your body temperature (roughly 37 deg C).
STEP4: MOISTURISE
Japanese Camellia Cream (350ml), $59.90. Camellia oil has been used by Japanese women since the 8th century to gently soften and moisturise the skin. High in oleic acid, this body cream leaves your skin smooth and subtly scented.
TIP: Warm the cream between your palms before massaging it into skin.
STEP5: MASSAGE
French Lavender Massage Oil (170ml), $30.90. The natural scent of the lavender oil sourced from the south of France will leave you feeling calm and relaxed.
TIP: For optimal results, focus on your breathing while applying the oil.
The Body Shop Spa of The World range is available at all The Body Shop outlets islandwide.