The Ayurdvedic Immersion at the Four Seasons Resort Landaa Giraavaru paves the way for wellness through medical expertise and therapists with heart Writer Stephanie Shiu
The Ayurdvedic Immersion at the Four Seasons Resort Landaa Giraavaru paves the way for wellness through medical expertise and therapists with heart Writer Stephanie Shiu
Though famous for its pristine beaches and turquoise waters, the serene Maldives also possesses incredible healing power. You would be hard pressed to find a more authentic Ayurvedic Retreat outside India than the Spa at Four Seasons Resort Landaa Giraavaru where in-house physicians work alongside therapists, acupuncturists and yoga teachers selected for their healing and intuitive qualities from Bhutan, Indonesia and other spiritual hubs. It's no secret that people make a place, and there is something really special about the perceptive, supportive souls here. The fact that healing takes place in tropical paradise is just the frosting on a very indulgent cake.
DAY 1
Having been on my share of retreat programmes, it's become easier to spot the real deal straight away, and Dr Sooraj is just that. Recruited from a hospital in India, he is the heart and soul of the immersion, leading the way for the only dedicated Ayurvedic offering of any Four Seasons property. After reading my pulse, he tells me that my blood pressure is on the low side and that circulation could be improved.
Dr Sooraj is spot on, but also able to read me on a much deeper level. He tells me things about my character that even those closest to me may be unaware of – that my mind is relentlessly on the go, which he says is both a strength and a downfall. That I should spend more time savouring than inhaling food so that nutrients are better absorbed. That I spend more time thinking about the tasks I have yet to do, than those crossed off my list. That I need to stop second-guessing myself when making decisions. Anyone who has seen me order at a restaurant, and then have to call the waiter back after five minutes after changing my mind, can attest to this.
After discussing the customised plan for my stay with Dr Sooraj, I am off to the spa for an Abhyhanga massage, where the initial head and shoulder rub by Phurpha, an energy healer with a background in reiki, makes me immediately melt like butter. Created to boost immunity and nourish the body, he and Wirda, my other lovely therapist, work together in a well choreographed dance. Phurpha knows exactly the right pressure to use and I'm tempted to say he's the best, most intuitive therapist I have met.
Following a steam, scrub and herbal shampoo, it's time for a delicious dinner at Moroccan and Lebanese eatery Al Barakat with Dr Sooraj, where I pick his brain about his fascinating Ayurvedic training, some of which even involved the meticulous observation of frogs and snakes. The training helped him hone on letting no detail go unnoticed, but his gift is one I suspect cannot be taught, yet he still maintains that a pulse reading is necessary for confirmation. In my case, he says physical health is not too much of an issue and that calming the mind should be the priority. He suggests a simple exercise to do as I prepare for sleep – to replay the day's events, from the seaplane ride, to the new faces I encountered, which he promises will be an irritating, but most useful task. I gladly oblige.
The fact that healing takes place in tropical paradise is the icing on a very indulgent cake
DAY 2
The day begins with a private yoga session with Sanjiv in a gorgeous pavilion overlooking the cerulean water, which at sunrise, is calm as the sun pours over its surface in a wash of gold. After discussing the mind-body connection basics, he takes me through some intense stretching, setting the tone for a powerful class. We perform sun salutations, but not in the flowing fashion I'm used to, instead pushing my limits with each stretch and holds that seem like an eternity, so I understand how challenging it should be.
We move on to detoxifying Kapalabhati breathing, which Sanjiv deems the most important exercise, to release stress and toxins from the body through forceful exhalations. He asks me to continue for three minutes, and trying to find the right pace without exerting too much effort, is challenging. For my elevated cortisol levels, he recommends Nadi Shodhana, alternative nostril breathing to quiet the thoughts and settle the body.
It's rare to have the opportunity to see the preparation that goes into a treatment, but Dr Sooraj invited me to watch how the poultice for the Elakkizhi treatment is made using herbs and spices heated in medicated oils. After enjoying the aromas wafting from the pan, I am led to the massage table where therapists Deki and Tenzin work in sync using sesame oil specific to my vata dosha, and pounding the heated bundles into the skin.
I'm almost sheepish to make another appearance at the spa just a few hours later for the Verjú Body Contouring, a bit of a change from the more traditional Ayurvedic treatments, which aims to break down fat using laser diode technology. I chose to focus on the stomach and thighs, spending 15 minutes on each side being zapped, though I don't feel anything. To finish, a Lymphatic day is something I have started looking forward to.
I save my appetite for a dosha-specific Ayurvedic cooking class at Al Barakat where the chef teaches me how to make minted green pea soup, spicy crushed wheat pilaf with carrots and celery, and caramelised banana. All are surprisingly easy to whip up, wholesome and delicious. Dr Sooraj and I tuck in with the most tranquil view in the house to ourselves, Draining Massage by Wirda helps speed up the elimination process. Three treatments are recommended for the best results, but even if you can only squeeze in one, it's an afternoon well spent.
DAY 4
Despite aching arms from yesterday's obstacle course, I make some progress in the private yoga session with Sanjiv, managing to get through seven minutes of Kapalabhati without passing out. He takes sun salutations up a notch with jumps, holding poses longer for stability, planks and assisted stretching. I'm learning to use breath as a tool to overcome physical challenges.
I am in for a treat in the hands of knowledgeable, effervescent Paula who makes my first acupuncture experience most pleasant. She spends plenty of time asking questions about my state of mind, health issues, and what I wanted to achieve overall during the Ayurvedic Immersion. Though the Constitutional Facial Acupuncture is not part of the programme, she is so highly recommended that I make the most of the opportunity to have a session with her.
Paula needles my back, shoulders and ankles, and I am surprised that there is no pain at all, quite the opposite as she massages the acupressure points on my feet. After turning over, she places needles between my eyes, on both cheeks, around my abdomen and on both hands and feet, making the time pass quickly with a dreamy shoulder and back massage. I wake feeling light with no recollection that I had even dozed off. With endorphins coursing through me, I see how acupuncture can help achieve balance, and ease stress and the toll of travel.
Today is a bit of a spa marathon and the afternoon's Zaanta Nidraa, meaning 'peaceful sleep' in Sanskrit is a three-hour affair designed to improve sleep through meditative chanting, smudging of chakras, a Himalayan sea salt scrub, purification (read petal-laden bath complete with tea) to balance the throat chakra, or the body's sleep centre. The concept aims to help the body fall in sync with the ocean and solar cycle of the island, ending with a massage using essential oils and a nourishing Ila facial. Whether it was the sea air, calming treatment, Dr Sooraj's prescription of stress reduction herbal tea or a combination, I slept like a baby that night. Following his suggestion to replay the day's events, I have yet to manage to stay awake for a full recap.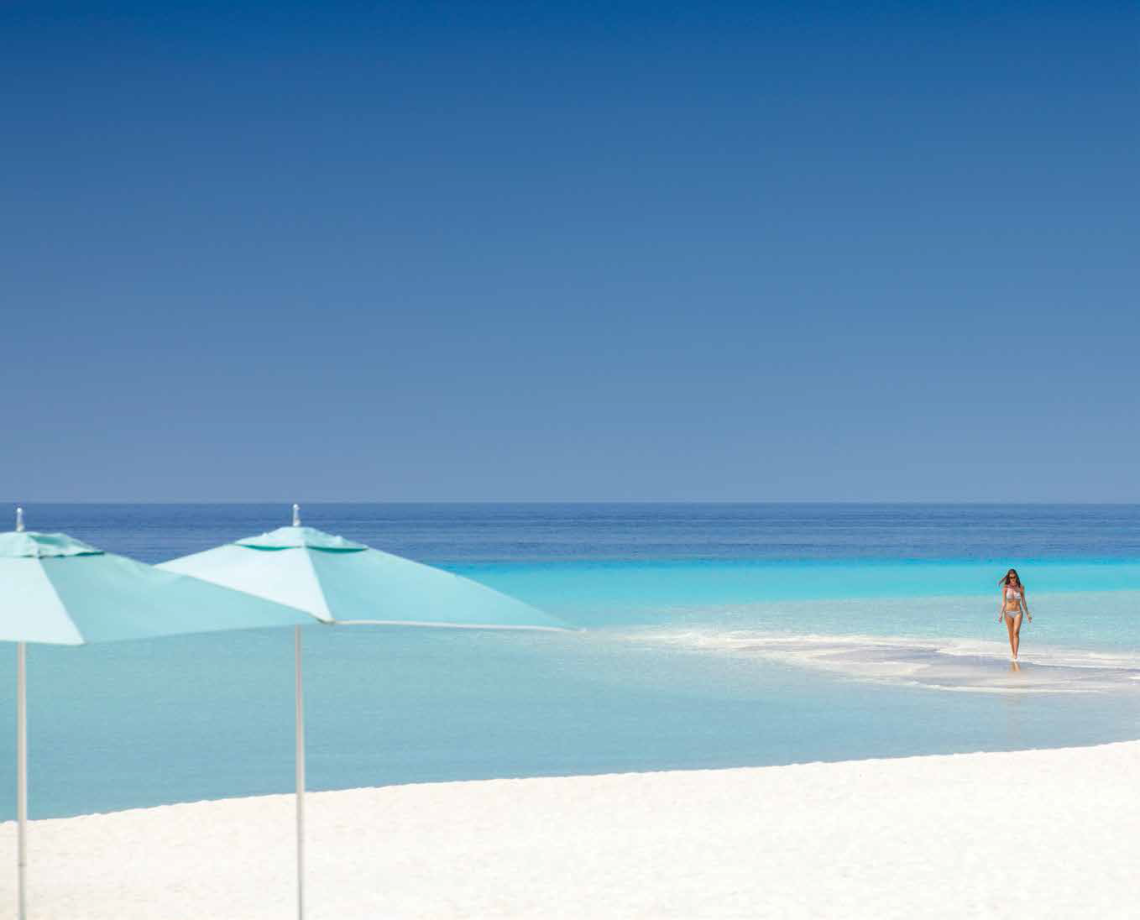 Watching the water dance during the quietest time of day is something I have started looking forward to
DAY 5
It's hard to believe how quickly my last full day has rolled around. Typically the Ayurvedic Explore Immersion is seven (ranging up to 14 or 21 days) but unfortunately my schedule would not allow for this. Still, the time here has given me a real taste of what a full programme would be like, and I can see why it has been so well received. The day is off to a great start with an introduction to tai chi and qigong, as suggested by Paula, using force in a more energetically economic internal way, than the outward expenditure of martial arts for example. She teaches me the basic tai chi stance and walk, and introduces qigong postures, performing them with far more grace.
My first time trying both, I feel quite uncoordinated and moving slowly with control is much harder than it looks. I have even more respect for the elderly in the park who start their days this way, now realising how much there is to think about. I understand why Paula considers it the ultimate anti-dementia exercise with so many postures to memorise and perform in a specific way. Focusing on keeping the correct stance means less time for the mind to drift, which is literally what the doctor ordered.
I notice afterwards, I feel as if I have done something, but am not drained in the slightest. Paula believes in sustainable movement that people can continue to practise as they age, to balance the competitive nature of more extreme kinds of fitness. She also believes in a teaching approach that is more individualised, catering to a wide range of personal limits. A complete joy to be around, she is warm, engaging and caring.
After a decadent banana pancake breakfast at Blu, it's time for Anti-Gravity Yova with Sanjiv. The group setting mixes up the dynamic, as we familiarise ourselves with the silk hammocks. They provide a sense of weightlessness as we flip into inverted postures, and poses aptly named 'superman' and 'batman', dangling giddily while taking in the lush garden views upside down. Sanjiv is excellent as usual, knowing just how far to push each guest, giving the less confident a reassuring nudge forward. We also try 'flying' with the silk supporting our hips, and a hilarious attempt to join hands and form a circle mid-air, followed by stretching and finally swinging in our own private cocoons, which was so relaxing that some guests even dozed off.
An afternoon highlight is hearing the ring of my Manta Mobile, having signed up to be alerted if manta rays are spotted. Half an hour later, the guests gather by the jetty armed with snorkel and fins, hop into a speedboat headed for the area the gentle giants were observed, within the Baa Atoll, a UNESCO World Biosphere Reserve. We are lucky enough to see three or four mantas. One got so close I had to lift my feet up to let it pass, spellbound by its elegance that I am even unfazed as its large gaping mouth looms before me. This has turned out to be my lucky day.
To top things off, I am booked in for the award-winning Devi Bhavani Ritual for Women, the Hindu goddess and Divine Mother, designed to empower women through beauty, delight and creativity. Delivered by two tantric therapists, they perform breathing exercises to prepare the energy to be delivered, and they are completely in sync with one another as I have come to expect. 
There is a distinct spiritual element about this treatment with breathing exercises, chanting, sacred singing and mantras designed to inspire positive change. The two-hour extravaganza consists of a fullbody and face massage, cleansing using sacred powder, a breast mask and more interestingly, pengasapan or Indonesian genital smoking. I sit on a seat with a hole cut in the middle. The idea is that rising smoke strengthens the reproductive organs and deep cleanses. Followed by a steam and herbal bath, my therapists Lastri and Cici apply lotion to my already pampered body. Though all the treatments were tender, nurturing and generally superb, the bonding and care expressed through this one makes it my favourite.
Each therapist places their hands on me as they sing beautiful mantras and songs about friendship that is completely moving
DAY 6
Before bidding a hesistant farewell, a special surprise is in store. Dr Sooraj leads me to the yoga pavilion, where the whole team of therapists wait, greeting me with huge smiles and "good mornings" as I am led to the centre of the circle they have formed. They ask me to lie down on a petal-covered bed, close my eyes and relax as they chant in unison, feeling the positive energy created by all these lovely people.
Each therapist places their hands on me as they sing beautiful mantras, and songs about our new friendship, that is completely moving. I open my eyes to a sea of smiling faces, Lastri presenting me with a crown of flowers that they have made by hand, especially for me. The touching gift sums up the whole stay, which has been a shining example of compassion and selflessness which I am indescribably grateful for. As I make my way to the jetty, I am accompanied by the gaggle of friends I have made over the last few days – Sanjiv, Paula, Lastri, everyone in senior management swarm around me with well wishes as I board the speedboat, a warm comforting embrace I'm not quite ready to pull away from. www.fourseasons.com