Looking to change things up around the house? Here are 15 speedy ways to inject colour and style to refresh your home
1 Light it up
Use a range of lamps and light sources to brighten the living area. Floor and table lamps, lanterns and candles are all portable options that can be positioned wherever they're needed
2 Stack your tomes
If you have too many books for your bookshelf, why not use your books as decorative objects on the coffee table? They'll be a good conversation starter with your guests and you can display vases, dishes or glass trays on top as well.
3 Cushion choices
Change up your cushion covers to spruce up the living room. Try this simple trick to make things modern: Mix textures and tones such as by pairing floral prints and solid-colour covers and you'll instantly get a fresh, new look. To make your couch feel even more comfy, layer with a chunky knitted throw.
4 Build texture
Don't be afraid to play with texture when refreshing your home. Make use of the ground as a starting point to layer tactile elements. Start off by defining the room with a rug, and if you're creating a cosy zone in an open space, go for the biggest rug you can afford.
5 Get hooked
Install a row of hooks by the front door and you've got a second closet for scarves, jackets, hats and bags that you throw on just before you leave the house. It won't take up floor space and it's a great way to display items that can be hung, such as baskets and your children's artwork. To ensure things don't look messy, choose garments and accessories in similar tones and colours.
6 Curtain call
If you have dark heavy curtains, swop them for light semi-sheer ones to keep your privacy while allowing more light to enter the space. This will make your space look bigger and brighter as well.
7 Create a DIY pendant light
Decorating isn't just about buying the "right" pieces, it's also a chance to recreate and experiment with what you have. A light bulb with loops of colourful cord looks contemporary on its own, but add a mason jar or a small copper basket and you've got a unique industrial light fixture.
8 Display bar
Create a shelf-top bar display with glasses, decanters and cocktail shakers to dress up a plain wall. Caffeine fiends can do the same using espresso cups, milk jugs and their favourite coffee beans.
9 Flower power
A vase (or two) of flowers can do wonders to a home. Place them on the coffee table or a high shelf to freshen up the space. To get more life from fresh flowers, choose long-lasting varieties like orchids and peace lilies. Change the water daily to extend their longevity at home. Remember not to place them near fruits or vegetables as that can cause them to wilt even faster!
10 A touch of green
If your home is made up of a neutral palette, an easy way to freshen up the space is to add a potted plant. Pick double-duty plants that beautify as well as filter the indoor air. Hardy plants like the snakeplant and aloe vera can help to remove air pollutants.
11 Raise the bar
If you have a high kitchen island, use it as a casual dining space by adding a few bar stools. It's an inexpensive but transformative option which will allow more interaction with family and guests. They can also see you in action while you cook up a storm.
12 Work on it
Use the wall near your desk to hang inspirational pictures to inspire you when you are working from home. These motivational quotes not only look pretty but will help you to get into the right frame of mind when you're missing your mojo.
13 Embrace art
Add a dose of colour to a lifeless bathroom by adding a bright painting. If you're thinking about hanging art above the bath or by the sink just remember that photographs and prints will need to be professionally framed with a sealed back. Pick ceramic and glass objects and avoid woven hangings, the fabric simply won't fare well in the damp environment.
14 Cupboard magic
Refresh your bedroom by adding some ornate handles or knobs to your cupboards or cabinets. Brass, marble, leather, acrylic or glass – choose a new material and play with colours for a quickie transformation.
15 Make a splash
A fast and easy way to refresh your kitchen is by repainting your faded tiled back splash. First give it a good scrub then paint over with tile paint. Try Ronseal one coat tile paint, $124 (750 ml), from Home-Fix.
Lily barstool. $900, from Originals.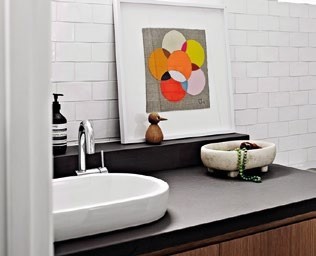 TEXT: BAUERSYNDICATION.COM.AU / ADDITIONAL REPORTING: SEAH PEI JUN / PHOTOS: MAREE HOMER & SHARYN CAIRNS/BAUERSYNDICATION.COM.AU