Even as the global economic forecast remains downbeat, furniture and product producers and designers gathered at the 55th edition of the Salone del Mobile in Milan in April to celebrate innovative design.
Even as the global economic forecast remains downbeat, furniture and product producers and designers gathered at the 55th edition of the Salone del Mobile in Milan in April to celebrate innovative design.
Although the new designs didn't push the envelope as they are wont to, there were interesting variations in the use of materials. We round up the products that stood out.
Materials
Marble continues its golden run with many designers using the stone in a contemporary manner. One of Zaha Hadid's last collections for Citco comprised accessories and furniture in her signature sculptural style. An interesting take on the material was that of Dutch designer Piet Hein Eek's marbled wallpaper in black for NLXL. In the absence of new materials, antiquated materials and processes were also revived. Many galleries such as Spazio Pontaccio presented stained glass collections, including the Credenza piece by Patricia Urquiola and Federico Pepe. Inspired by the stainless windows of the Cologne Cathedral designed by celebrated artist Gerhard Richter, it features geometric panels of red, yellow and blue glass installed in a series of cabinets.
The Campana Brothers' Aquario cabinet and table for Spanish brand BD Barcelona Design feature coloured glass, too, drawing upon a playful aquarium theme. The bubble-shaped windows along the surface of the cabinet, made of ash wood or stained pine, have glass shelves inside that conserve the material's transparency by allowing light to pass through. Glass was also presented in a familiar way, but with a new spin in the form of mirrors. Ron Gilad's striped mirrors for Cassina and the graphic print New Perspective mirror by Alan Gilles for Bonaldo addressed this often overlooked item in interiors with a fresh way.
Wood, a timeless material, also received special treatment. For instance, the Couture armchair by Fredrik Farg and Emma Marga Blanche for BD Barcelona Design makes use of the brand's patented wood tailoring technique.
Prints & Patterns
Aquario side cabinet by Brazilian duo Campana Brothers, for Spanish fi rm BD Barcelona.Prints made an impression with dramatic motifs such as the Malmaison carpet series by Maison Christian Lacroix for the latest Moooi rug collection, Barber & Osgerby's Puzzle tiles for Mutina and mosaic patterns designed by Studio Job for Bisazza.
Dutch designer Bertjan Pot's colourful upholstery textile for Cassina's Utrecht armchair, designed by Gerrit Rietveld in 1935, makes over the design classic, which has been exclusively produced by Cassina since 1988. Each of the three versions of Pot's geometric-patterned fabric, made using innovative weaving technology, will cover 90 limited-edition chairs. Using a computercontrolled Jacquard weaving machine, eight coloured threads are mixed two at a time to create 19 different colours on a template outlining the shape of the armchair. The result is a unique geometric pattern in which the combination of triangles is never repeated.
"My concepts are never single-lined, or step by step. They are always a meeting point of different ideas and feelings," says Pot, who has previously designed products for Moooi and Arco. "For the Box Blocks textile of the Utrecht chair, it was important for me to do something today that was not technically possible at the time of the armchair's creation."
Children's Furniture
Japanese studio Nendo and Swedish design collective Front debuted their versions of rocking horses among plenty of other brands that aimed to attract young users.
Italian brand Kartell launched a full range of plastic children's furniture, while wellknown Dutch designer Marcel Wanders presented a collection of embroidered high chairs, bouncers and rockers, in his signature modern baroque style. Swiss studio Big-Game also added to the growing list of children's products shown in Milan with a miniature adjustable plastic chair.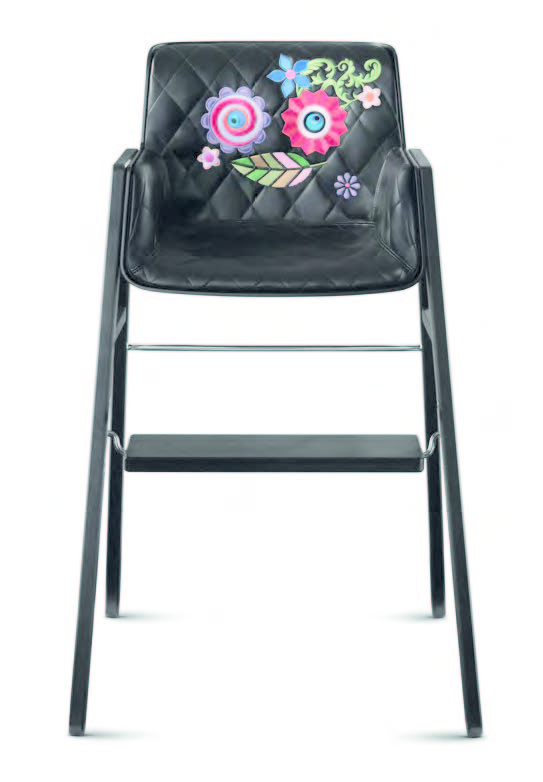 Novelty Pieces
Even if the Milan show was lacking in new objects on a bigger scale, as seen in previous editions of the fair, there were some novelties to be found. Dutch designer Maarten Baas' proposal for an oversized Tree Trunk armchair grown around a mould in a tree was one of the most unique presentations, even if it bordered on the gimmicky.
Gufram marked its 50th anniversary with the Gufram On The Rocks exhibition, 50 Years Of Design Against The Tide. It showcased classic pieces in a new light alongside new products by Ross Lovegrove and Alessandro Mendini. For one of its most iconic products, the Gufram and Paul Smith Psychedelic Cactus coat hanger, the Italian brand collaborated with British fashion designer Paul Smith. Available in a limited edition of just 169 pieces, the piece combines Gufram's playful design with the unmistakable colour palette of the designer.
Marcel Wanders' Upended sofa for Moooi is actually his earlier classic Charleston chair, a seat inspired by the deepbuttoned leather Chesterfi eld sofa, turned on its end, which leaves it pointing almost vertically upwards. Patrizia Moroso of her eponymous Italian brand Moroso teamed up with renowned American architect Daniel Libeskind to design a furniture collection. The starchitect created a range of faceted and sculptural sofas in ombre shades, further accentuating the sharp angular features of the seating furniture.
Fashion Collaborations
High-profile luxury fashion labels such as Hermes, Bottega Veneta, Marni, Swarovski and Dolce & Gabbana got in with the design crowd, and brought chic offerings to the fair.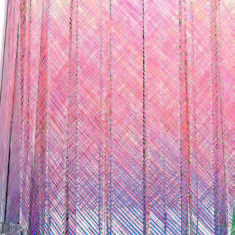 Dolce & Gabbana's collaboration with Smeg, the home appliance brand known for its retro, pastel, and pop art style, resulted in a refrigerator that could double as a work of art. The designer duo paid tribute to their Italian heritage with 100 limited-edition handpainted refrigerators by artists they commissioned themselves. French brand Hermes' collection of lighting, furniture and textiles is a nod to its heritage of fi ne leather craftsmanship and its equestrian-inspired pedigree.
Recently, Swarovski made some strong inroads into the design industry with interesting partnerships. This year, the Austrian crystal brand teamed up with well-known designer Ron Arad and architect Daniel Libeskind, as well as up-andcoming talent, Raw-Edges design studio, founded by London-based duo Yael Mer and Shay Alkalay. While Arad created the Alphabet and Numbers collection of crystal digits, letters and square-form bookends, Raw-Edges' Printed range highlighted a new laser-jet crystal printing technique that creates patterns on faceted crystal bowls.
Technology
In these digital times, it's rare to come across anything that doesn't have an interface with technology. The latest is the Lift-Bit sofa that utilises the Internet of Things technology to define a new radical living experience. Designed by Carlo Ratti Associati with the support of Vitra, it's the world's first digitally transformable sofa that can reconfigure the space in a number of combinations with the help of a tablet app.