Living in a compact home can be chic and functional. All you need are clever design ideas to make the most of your space.
Dwelling in constrained physical boundaries doesn't mean you can't live big with the help of clever space planning and furnishing tricks. However, your home design should ultimately be centred around your living habits and serve functional purposes. Here are 20 ideas to get you inspired.
FLOOR TO CEILING CURTAINS
Hang curtains from the ceiling and let them flow down to the floor, instead of where your window begins and ends. This visual trick helps to emphasise the height of the room, making the space appear larger.
ID BOWERMAN INTERIOR PLANNER 
VERTICAL SPACE
When every bit of floor space is a precious commodity, storage should take up as little room as possible. Opt for floating shelves, wall lights, and other items that can be mounted vertically to save room.
ID EIGHTYTWO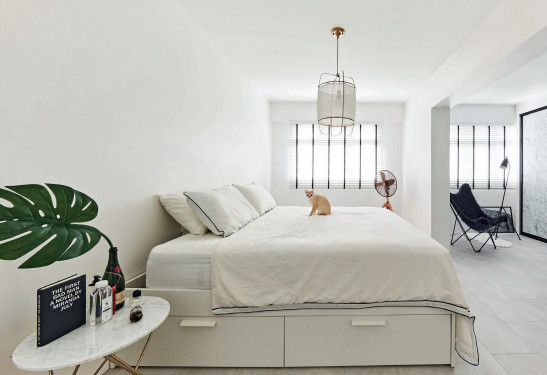 LIGHT COLOURS
Bright and light colours reflect light around a space, making it appear visually more expansive. It doesn't have to be white — pastels work just as well. As a bonus, they're easier to maintain than dark colours.
ID THE MERRY MEN INTERIORS 
ID SPACE SENSE STUDIO
MULTI-PURPOSE APPLIANCES
Appliances with dual or multiple functions not only save space, but also time and effort on cleaning and maintenance. The Thermomix TM6, for instance, is a versatile workhorse that can replace a slew of appliances that would otherwise occupy your countertop. Equipped with Wi-Fi connectivity and a large touchscreen, it combines over 22 cooking functions including chopping, grating, sous vide, slow cooking, kneading and steaming.
The Thermomix TM6 retails at $2,528 and a complimentary virtual cooking demo can be arranged. Visit www.thermomix.com.sg for more information
MIRRORS
Mirrors instantly double the size of a space without much effort. They reflect not only the room's interior, creating the illusion of a wider space, but also bounce light around a room. Opt for generous full-height mirrors for maximum impact, or simply lean one against the wall as a stylish, functional accent.
ID APRIL ATELIER INTERIORS
THINGS ON WHEELS
When you have a compact home, it's essential to have a setup that can be tidied and rearranged in a snap when guests are coming over. Wheels can come in handy on tables, kitchen island, and storage boxes when they need to be moved around or put away.
DESIGN JASON CHANG
BRIGHT & BOLD
While light colours widen a room, those looking to dip their toes into a bolder palette can go with vividly-hued accessories, appliances or upholstery. Darker tones on the walls can also impart a sense of intimacy and a dramatic jewel box effect. Balance and brighten the space with light-coloured accents.
ID FUSE CONCEPT
KEEP IT LOW
Low-profile furniture (ones that sit lower to the ground) like a sofa or TV console with shorter legs gives you more wall surface and the appearance of a higher ceiling. But that's not to say it applies to every piece in the room. Mix it up with regular-height pieces with a streamlined design; think stools with narrow legs or a sleek floor lamp to avoid monotony and add balance.
Seb TV Console, $859, from Castlery
SCREEN PLAY
No room for a home theatre? Replicate one in your bedroom with a handy compact projector and a blank wall or pull-down screen. You can even do away with a TV, especially if you rely on streaming services for entertainment. The ViewSonic M2 is a smart portable LED projector that offers connectivity via Wi-Fi, and is outfitted with dual Harman Kardon speakers, a 1080p resolution as well as a Cinema SuperColor+ Technology for true-to-life colours.
ViewSonic M2 retails at $1,299 on Lazada and Qoo10. For more information, visit www.viewsonic.com/sg.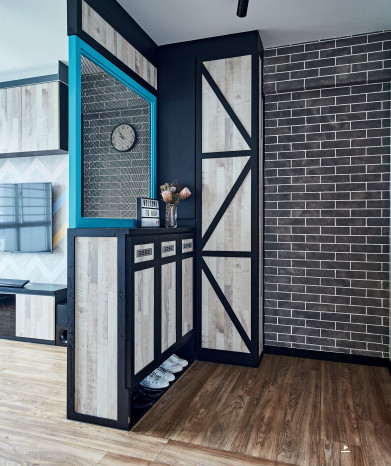 DIVIDE AND CONQUER
Rom dividers or screens can give a semblance of privacy , lend decorative personality to a room, define new areas in an open space and offer additional storage. Use them to separate your living and dining areas, carve out a study nook, or even partition a bigger bedroom into two.
ID ETHEREALL
EMBRACE AWKWARD CORNERS
Awkward spaces or nooks don't have to be the bane of those dwelling in petite abodes. Put them to good use with shelves, dedicate it as a cosy home office or use it as your vanity. Bring in an extra dose of personality with plants, art pieces or framed quotes.
ID AKIHAUS DESIGN STUDIO 
LIGHTWEIGHT FABRICS
Avoid dense fabrics like velvet when choosing upholstery as they absorb light and can visually weigh a room down. Opt for lightweight, breathable fabrics instead, like linen sheers at the window that can let partial light in.
ID SYNC INTERIOR 
GO FOR LARGER-SCALE FURNITURE
A lack of square footage doesn't mean you have to go for tiny furniture. Conversely, a hodgepodge of small items can create visual clutter. While you should still get furniture that's proportionate to the space, stick to a few prominent pieces for a well-curated and uncluttered look.
ID ATELIER INTERIORS
FLOAT FURNITURE AWAY FROM THE WALLS
Furniture pressed up against the wall wastes the space in the middle and emphasises the size of the room. If your layout allows for it, creating space behind furniture offers visual flow and makes your room look wider than it is. Ensure enough space in between each to allow "breathing space", and keep them away from windows so they don't hinder natural light streaming in.
DESIGN JASON CHANG
SLIDING DOORS OR GLASS WALLS
Want better spatial flow, but need to keep your walls intact? Opt for sliding doors that can be left open when not in use, or glass walls – perfect for the kitchen if you want to let in more natural light but don't want the fumes to escape into the living space.
ID FUSE CONCEPT
FUNCTIONAL FURNITURE
Get functional decor and furniture that can double up as storage or can fold away easily. For example, plenty of ottomans and dining benches have a seat that can be lifted to reveal hidden storage beneath, and some coffee tables have a nesting system where you can tuck them out of sight or pull them out for extra space as needed.
ID SPACE SENSE STUDIO
STRIKING ART PIECES
An eye-catching art work creates a focal point and sets the tone of your room decor. Large-scale pieces, especially ones that extend to the ceiling, can give the illusion of a larger space.
ID WOLF WOOF
FURNITURE WITH SLIM PROFILES
Heavy furniture is a no-no in small spaces because they take up too much visual room. Opt for furniture with sleek, minimalist profiles, such as floating shelves or a coffee table with hairpin legs that look like they're barely there.
ID WOLF WOOF
WALLPAPER THE CEILING
Draw the eye upwards and add an unexpected design element to a room by having wallpaper on the ceiling. When choosing one, consider the furniture in the room as well as the lighting. We love this cartography-themed one in a home by Design Intervention — it complements the reading nook well.
GET LIT
A hero decor piece such as a dramatic chandelier or pendant light can pack a punch in a petite space. Plus, it won't take up precious real estate, too. Keeping your rooms well-lit and bright also makes them feel larger.
Heat Pendant Lamp, from $1,184, from Danish Design Co.
text MICHELLE LEE & MELODY BAY