All it takes to conceal your household shelter is a bit of creativity.
All it takes to conceal your household shelter is a bit of creativity.
ID STUDIO
Ideasxchange Interior
An eye-catching geometric pattern, echoing the pendant lamps, helps disguise the door's lines.
Often an undesirable but necessary feature, household shelters – more commonly known as bomb shelters – are the bane of every new homeowner's existence. With their utilitarian white blast door and metal ventilation plate, they can disrupt a home's aesthetics – unless you happen to love the industrial look. With the right design techniques, though, you can effectively conceal these features, integrate them into your home and even make use of them. Our interior design (ID) experts share 10 creative ways to disguise your shelter in style.
ID STUDIO
WYKN
Bold colour blocking distracts from the outline of the blast door.
COVER UP THE BLAST DOOR WITH PAINT OR WALLPAPER
Two of the easiest solutions, both help merge the door with the wall. A darker paint shade or boldly patterned wallpaper hides the lines of the door more effectively. If you're going the paint route, you'll need to remove the existing layer of paint first. According to HDB regulations, the layer of paint cannot be too thick as it could affect the ease of opening or closing the door.
ID STUDIO
Prozfile
The blast door is hidden behind a full-length cabinet in white and oak.
CUSTOMISE A CUPBOARD
DESIGNER
Oz Titus Hong
What looks like a display shelf actually swings open to reveal the household shelter – a cool secret door concept that's sure to wow your guests.
If your blast door sits along a wall of its own, consider getting your ID or carpenter to build a custom cupboard or cabinet for you that creates extra storage space while concealing the blast door. Opt for handleless doors with a push to open latch mechanism or a moulded finger for a sleeker profile.
ID STUDIO
Sirius Art
A section of this bookshelf pops open to reveal the household shelter.
ID STUDIO
Vertical Green
An ordinary blast door gets a makeover with faux greenery, turning it into a feature in its own right.
CREATE A FAUX VERTICAL GARDEN
Looking to inject some greenery into your home? Creating a green wall of artificial plants is an aesthetically pleasing way to disguise the blast door and ventilation plate. You can also paint the handle dark green so it doesn't stick out too much, but be sure to leave it easily accessible in case of an emergency.
ID Studio
Space Sense
The mirror opens up to reveal the shelter's entrance.
TURN THE DOOR INTO A FULL-LENGTH MIRROR
You'll be surprised by the transformation a simple change can make. In this case, an ordinary blast door doubles as a full-length mirror for checking out appearances. Most suppliers can do it in a variety of tints to match your home. 
ID STUDIO
Muffinsaurs
A mural adds a playful touch to the home.
ADD A MURAL
This is a great opportunity for budding or inner artists to showcase their skills while drawing the eye away from the outline of the door. If you'd rather hire someone to customise a mural, check out Stephanie of Muffinsaurs, whose adorable animal medleys are very popular. She can even incorporate your favourite characters.
ID STUDIO
Hue D
The red panels conceal not only the shelter, but the guest bathroom, too.
COVER IT UP WITH A WALL PANEL
ID STUDIO
The Scientist
The blast door is hidden behind wall panels with moulding.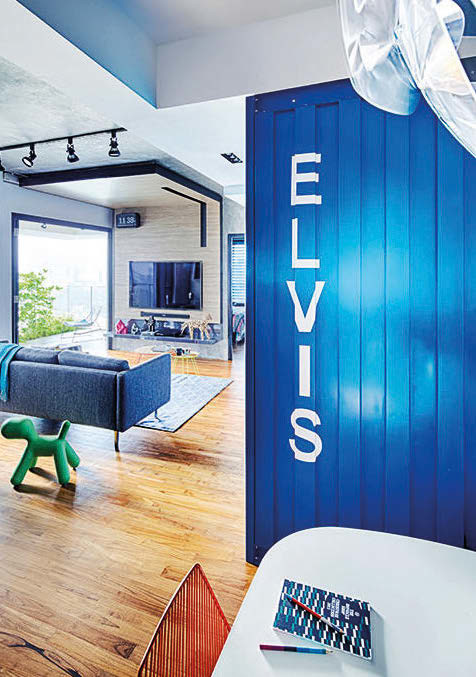 ID STUDIO
Prozfile
Vertical planks give the shelter the look of a shipping container.
Slimmer than a cabinet and sturdier than wallpaper, a panel could be the answer if you want to conceal the shelter behind a solid structure but lack space. Panelling has the added advantage of concealing wires and cables, too.
ID STUDIO
Renaissance Planners & Designers
The wooden doors of this home match the panelling used to conceal the blast door.
BLEND IT WITH THE REST OF THE DOORS
While you can't actually swop out the metal door for something else, you can disguise so that it looks like any other door in your home. This can be easily done with trim or laminate.
PROJECT
Wolf Woof
A visually arresting custom decal distracts from the lines.
USE A GIANT DECAL
If painting an entire mural isn't up your alley or if you'd prefer a look that you can change after a while, a large decal can make the door a highlight instead of drawing attention away from it. 
ID STUDIO
Space Sense
This decal redefines the lines of the blast door and features the homeowner's favourite quote.
HDB REGULATIONS ON HOUSEHOLD SHELTERS
Household shelters are designed to be civil defence shelters in case of an emergency. They are fitted with reinforced floors, walls and ceilings, as well as steel doors.
Since they are a structural component of HDB flats, hacking or tampering with them is not allowed. If you do use fixtures to disguise the shelter's entrance or ventilation plate cover, they must be easily removable in case of an emergency.