With health and wellness a focus of many people's concerns right now, check out these innovative appliances you'll want to invest in to keep your home a safe haven.
DISINFECT ON THE GO
Plug this nifty portable device into a USB port and turn normal tap water into electrolysed water that purportedly disinfects and deodorises surfaces. Activating chloride ions in tap water, the Heyo Water Electrolytic Steriliser promises to kill up to 99.9% of bacteria, including E.Coli and Salmonella, and can even be used on food. There are three levels of intensity available: Low level for use on food, a medium level for cleaning surfaces, and high level for areas like toilets or for deep cleaning.
The Heyo Water Electrolytic Steriliser retails at $150 and is available online at Lazada via its sole authorised distributor Amconics Singapore.
FULL STEAM AHEAD
If you aren't a fan of the amount of chemicals used to achieve a sparkling clean home, consider LG's suite of appliances enabled with its proprietary TrueSteam technology. From its dishwasher range to the Styler clothing care system, and washing machines, they rely less on chemicals and detergents and instead, utilise high-temperature steam to penetrate fabrics and cut through dirt and stains while tackling germs. Those with sensitive skin will appreciate the LG Styler, which reduces allergens, odours and creases in fabrics. Likewise, the TWINLoad Smart Washing Machine launders and de-wrinkles clothes while eliminating bacteria and allergens. LG's range of dishwashers uses steam to remove caked-on food residue, while effectively sterilising dishes with a natural sanitary solution.
The LG Styler retails at $3,299, the TWIN Load Smart Washing Machine at $3,499 and the LG dishwashers from $2,299. For more information, visit www.lg.com/sg. Photos: LG Electronics Singapore
MAXIMUM EFFICIENCY
Cleaning up is a cinch with Samsung's new lightweight Jet Cordless Stick Vacuum Cleaner. Boasting a five-layer HEPA filtration system, a Digital Inverter Motor and multi-cyclone system, it ramps up suction power while trapping up to 99.999 percent of ultra-fine dust particles and allergens. Pick up fine dust on hard floors with a detachable soft brush that's easy to maneuver; the 200W model also has an attachment that doubles as a mop. It can run for up to 60 minutes before you need to pop it back on the charging station, which can be wall-mounted or used on its own. A click and twist mechanism as well as washable components make cleaning the device fuss-free, too. Reach for its additional tools to help with cleaning bedding and fabric furniture, or to reach crevices and elevated areas.
The Samsung Jet Cordless Stick Vacuum Cleaner retails at $669 (150W) and $869 (200W), available at the Samsung Online Store and major consumer electronics & IT stores.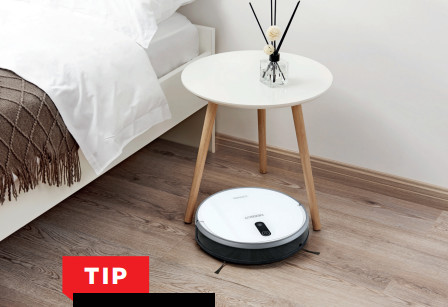 To help protect against viruses in your home, mop the floor and wipe down frequently touched areas and toilet surfaces with an appropriate disinfectant or bleach, then allow it to dry.
CLEANING WHIZZ
Want to offload the cleaning to a robot vacuum cleaner? Consider the Ecovacs Deebot 710. Its Smart Navi 2.0 Mapping technology maps your layout, plans an efficient cleaning path, and keeps it from skipping or repeating areas. Tricky messes or areas with different surfaces can be handled using the Max Mode, which doubles up on suction power. Other modes include Auto for general cleaning and Spot for edges and specific areas. Anti-drop, anti-collision sensors and soft cushion bumpers help it clean around stairs, and avoid obstacles and furniture. Fully charged, it delivers up to 110 minutes of cleaning time. The Google Home and Amazon Echo-compatible gadget can also be remotely controlled via the Ecovacs Home App. You can set up a cleaning schedule for daily cleaning, toggle between cleaning modes and monitor the robot's progress.
The Ecovacs Deebot 710 retails at $429 and is available at authorised Ecovacs retailers and online flagship stores such as Lazada, Shopee and Qoo10. For more information, visit www.ecovacs.com/global.
IT'S A BREEZE
More than ever, you'll want to be breathing in clean air. One common home pollutant: formaldehyde, a colourless gas that can trigger skin, eye and other irritations. It can be released from household items, including pressed wood products, paint and cleaning agents. The Dyson Pure Cryptomic purifying fan tackles this with a new technology that continuously eradicates and converts formaldehyde into water and carbon dioxide. That aside, its advanced HEPA and carbon filtration system captures 99.95% of potentially harmful and ultra-fine pollutants, domestic fumes and gases, according to the company, and delivers purified air throughout the room. Keep cool with the fan mode, or turn on the diffused mode for less noise and energy consumption. An LCD display shows airborne particle and gas readings in real time, as well as the filter's lifespan before it needs replacing. Remotely control your device or monitor indoor and outdoor air quality with the Dyson Link app, available on iOS and Android devices.
The Dyson Pure Cryptomic purifying fan retails at $999 on dyson.com.sg and at the Dyson Demo Store – Owner Centre.
COOL AID
Outfitted with WiFi capabilities, LG's ArtCool Plus Air-conditioners allow you to effortlessly control and monitor them via the LG SmartThinQ app on Android and iOS smartphones, even while you're away from home. On top of that, they are built with the Plasmaster Ionizer+. This projects ions that sterilise and get rid of aerial bacteria and microscopic contaminants for fresher air that LG says is 99.9 per cent cleaner. Plus, they operate at a low noise level, come with an auto-cleaning function and a four-way swing feature that cools every part of your room.
ArtCool Plus Air Conditioners start from $2,588 for a System 2 solution and are available at Audio House, Best Denki, COURTS, Gain City, Mega Discounts Store and Harvey Norman.
HIGH FUNCTIONALITY 
Storage space tops the list of concerns when it comes to kitchens. For space-maximising kitchen solutions, make your way to customised home furniture company SP Homes. Getting your space tidy is a cinch thanks to stylish cabinet designs with compartments for efficient storage and organisation of appliances like the refrigerator and stove.
Integrated with smart kitchen accessories, you'll be able to easily organise ingredients, tools and wares. Pull-out baskets make optimal use of awkward corners so you can easily retrieve items, and underutilised walls can be turned into functional spaces, too - the company's hanging cabinet designs are ideal for storing cooking tools like knives and paper towel rolls.
Visit SP Homes at 12 Tai Seng Link, or find out more at www.sphomes.com.
TAKE IT OUTSIDE
Aptly named "Hybrid", the new sofa collection by Italian architect Antonio Citterio for B&B Italia bridges the gap between indoor and outdoor living. The design is evocative of the padded comfort and aesthetics of indoor seating, with a construction and functions that are made to weather the elements. A modular seating system allows for a number of configurations to suit your preferences. Customise yours with a myriad of outdoor fabric options, and a platform that is available in eight sizes and two depths. The armrest and backrest come in two heights.
B&B Italia's Hybrid collection is available at Space Furniture, price upon enquiry.
SLEEK STYLE
Featuring the same chic design and a body crafted from an anti-rust ABS material, fan specialist Efenz's Kith ceiling fan now comes in a limited-edition Black Dutch Cocoa colour that adds sophistication to any modern space. You can choose between the Original Downrod or Hugger Version, and from three sizes: 46, 52 and 60 inches. All come with a three-year on-site warranty.
The Black Dutch Cocoa collection currently retails at soft launch prices, while stocks last: from $598 for a 46inch Downrod fan (No Light) to $738 for a 60-inch Hugger fan (with LED light). Visit www.efenz.com.sg.
text MICHELLE LEE
TEXT MICHELLE LEE