Created for children and their parents, this whimsical Beijing space comprises a sophisticated restaurant and play areas.
Created for children and their parents, this whimsical Beijing space comprises a sophisticated restaurant and play areas.
The 10,764 sq ft YooYuumi Kids Club caters to both parents and children.
For this 10,764 sq ft project, the X+Living design team analysed the psychological differences and needs between parents and children. For parents, comfort is key, and for children, play is key. Located in Beijing, YooYuumi Kids Club is unlike a traditional playground in many ways, and that includes its bold aesthetic.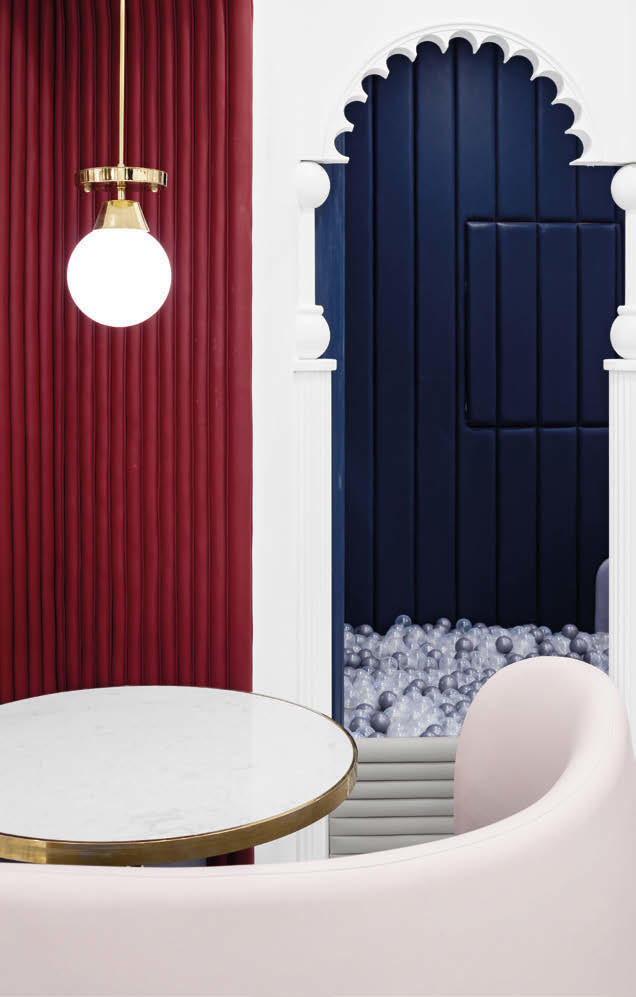 X+Living did the interior design.
The L-shaped layout comprises a reception area dressed with blue and white as well as touches of black and gold, a sales section, and a shoe exchange area. Also not to be missed are a restaurant, a party room with leaves and green, soft pink, black and white geometric patterns, the children's recreation area and a classroom.
The furniture is by XiangCASA.
The innovative furniture customised by XiangCASA — a brand established by Li Xiang, founder of X+Living — and sculptural installations are some of the space's many surprising visual elements.
In the theatre-inspired restaurant, tables and chairs are positioned in the style of a banquet hall, maximising views for all guests, regardless of where they sit. The organisation allows parents to enjoy an elegant dining environment while children play in the castle-like entertainment area, and other kid-friendly corners.
Chinese and Western influences meet in this project.
Marrying two cultures, the soft curves of the delicate art of traditional Chinese paper cutting are combined with Western visual elements such as European-style door arches. The backdrop is mostly white, with splashes of bright colours throughout, fusing harmony and contrast. Every detail stimulates the senses and sparks the imagination, leaving both parents and children feeling at ease. 
Bridging the gap between art and life, Xiang approached this project with a "design creates value" philosophy. Always looking to inject positive energy into her surroundings, Xiang — who graduated as an architect from Birmingham City University in the UK before returning to China — has an ambitious definition of design and vision for what it can achieve. YooYuumi Kids Club uniquely exemplifies just that.
Colours were added to punch up the white areas.
Good to know
This unique parent-and-child restaurant and play zone concept was conceived by Chinese actress and singer Dong Xuan. 
Visit www.xl-muse.com for more on the design team.
Photos SHAO FENG