Live, work and play in one snazzy shared space.
Live, work and play in one snazzy shared space.
Co-working spaces have been sprouting everywhere lately, so most of us should by now be familiar with the concept of a shared workplace. But what about a place not just for coworking, but also for co-living and playing, all in one? Enter Kafnu Taipei, the Taiwanese flagship of the full-service lifestyle space by hospitality and real estate company The Next Story Group.
Targeted towards entrepreneurs and professionals from the tech, media and design industry, the membersonly facility occupies a 12-floor building in the Songshan neighbourhood. This "vertical village" is divided into designated zones for activities like working, living and resting, and playing. Creatives will especially appreciate specialised facilities, like the music recording studios and green screen rooms filled with professional equipment, in the media zones. Kafnu's belief in the importance of play is expressed in its 24-hour Oxygen Lab fitness centre and in-house tapas restaurant Morsel, just two of the places available where you can take a break from work.
Taking its name from the Indian village where hikers begin their Himalayan ascent, Kafnu postures itself as a springboard from which creatives can launch their careers and businesses. It offers four membership plans that start at $135 and go up to $1,355 a month, depending on the resources you require. NonTaipei residents need not be green with envy for long too, for Kafnu is expanding to five other cities in the Asia-Pacific later in the year, such as Melbourne and Ho Chi Minh. By creating a real-life social network through its lifestyle spaces, Kafnu believes that the synergy arising from a community of minds will ful filits vision that "together, we go faster".
Kafnu Taipei is located in the Songshan neighbourhood of Taipei. For more details, visit www.kafnu. com/taipei.
The inviting dining area in the co-living space even features a well-equipped pantry.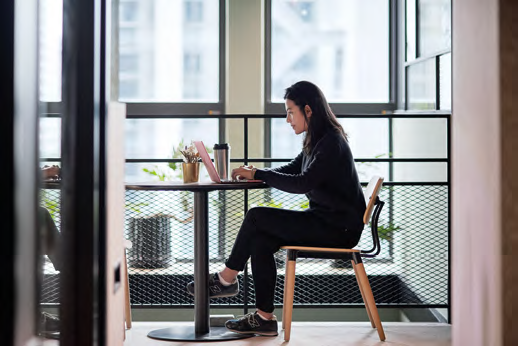 TOP
Open six days a week, Morsel offers Nordic cuisine with a Taiwanese twist.
ABOVE
Work at a spot that's comfortable for you – be it a private office, or at a sunlit desk in an open space.
BELOW
Formerly an industrial district, Kafnu Taipei's Songshan neighbourhood has been recently gentrified into a hip area popular with creatives.
text ISABELLE TOW photos KAFNU