Birthplace of minimalism and the omotenashi ( Japanese hospitality) concept, Japan has always been a tourists' favourite. Here are eight new hotels that offer the best of Japanese design and heritage.
Birthplace of minimalism and the omotenashi ( Japanese hospitality) concept, Japan has always been a tourists' favourite. Here are eight new hotels that offer the best of Japanese design and heritage.
HOSHINOYA KARUIZAWA, NAGANO
Nestled in the Yukawa River valley and located at the foot of Mount Asama, an active volcano, this hot spring resort is embedded in mesmerising nature. There are guest pavilions that sit by the river – built in harmony with the natural contours of the land – as well as those atop a hill, shrouded by trees and with a view of a wild bird sanctuary. Here, you can catch a glimpse of a flying squirrel, hear the symphonies of songbirds and watch waterfowl play. This back-tonature philosophy also runs through the activities: You can trek through forests, explore the area on horseback, or soak in the outdoor Tombo-no-yu onsen while enjoying spring's cherry blossoms, the autumn foliage or snowscapes.
Must know
As a sustainable resort, Hoshinoya Karuizawa is 75 per cent self-sufficient energy-wise, has a mandatory recycling programme, and promotes protection of the local wilderness.
SHIKI JUR AKU, KYOTO
This boutique hotel, which consists of 10 machiya townhouses, was designed around the concept of Junin-Juraku, which means "10 talents for 10 delights", the latter referring to exemplary service. For the Delight of Graphic, Kazuya Takaoka – who counts Burberry and Shiseido as former clients – designed the hotel's logotype and shop curtain; for the Delight of Garden, plant-hunter Seijun Nishihata was tasked with curating a selection of trees; for Delight of Taste, breakfast is directed by food coordinator Kimiko Hiyamizu, who opts for seasonal ingredients. These layers of hospitality cover every aspect, and, hopefully, you will achieve juraku ("escape from stress") while you are here.
Must know
Each house is designed differently. The Ichi-Go house features a Japanese cypress bath and a view of the garden, whereas Nana-Go features a tatami room and antique furniture.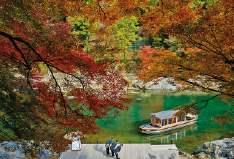 HOSHINOYA KYOTO, KYOTO
To get to the century-old ryokan that is now Hoshinoya Kyoto, you will first – just like court nobles in the past – have to take a scenic boat ride up the Oi River. Today, the establishment aims to immerse guests in Japanese tradition via Japanese craftwork. The 25 rooms offer river views and unique layouts, and have sliding doors clad in Kyoto-style wood block printed paper, intricate lattices, as well as tatami sofas made of cedar and pine. And, if you look closely, you'll see chrysanthemum motifs etched into the iron floor plates of the Tsukihashi maisonette garden. Ask the staff about the design details, and they will be more than happy to tell you.
Must know
The woodblock-printed paper in the rooms were made by Takeo Honjo, the master printmaker who has created paper for the Nijo Castle restoration, as well as Detached Palace.
RYOKAN S ANGA, KUMAMOTO
This family-run, eight-room ryokan was built by Kenji Gotoh in 1977, before his son, Kengo, took over and renovated it in 2003. The mountain trees you see in the garden were planted by Kengo himself – a landscape designed to "enable people to experience the original landscape of Japan", says Kengo's daughter, Mayu. The highlight of Ryokan Sanga, located in Kurokawa Onsen, would be its two hot springs: one is a medicinal bath, and the other a soothing treat for your skin. As with any ryokan, you can expect a high level of service; the staff will greet you at the bus stop and walk you to the ryokan.
Must know
Kurokawa Onsen is famed as a hot spring destination, with a town centre that is easily explored on foot. To keep its traditional atmosphere, no concrete buildings have been built here.
HOSHINOYA TAKETOMI ISL AND, OKINAWA
The well-thought-out architecture of this island resort was informed by the lifestyles and beliefs of the Taketomi natives. Designed by Azuma Architect & Associates, the space features windows by the baths so guests can enjoy yard views, as well as Gukku walls which allow guests privacy. Outdoors, the white sand gardens consist of glimmering crushed corals, while the trees have been strategically planted to block strong wind. Each pavilion roof also features the evilwarding shisa (Okinawan for lion), made using leftover materials from the tiledroof construction. A visit to the library and spa will complete the experience.
Must know
Only 350 people live on this small island, so the blue waters are all yours to enjoy. Taketomi island is also on the government issued list of preserved districts.
TRUNK, TOKYO
Two philosophies permeate this 15-room hotel: eco-friendliness and using as many made-in Japan items as possible. Mount Fuji Architects Studio gave Trunk a geometric grey stone facade enhanced by upcycled wood and lush greenery, while Jamo Associates designed contemporary minimalist rooms that are accessorised with local art. Furniture with weathered leather finishes and characteristic wood grain, by Osaka brand Truck, exudes a home-away-fromhome ambience. Hungry for a snack? Drop by the hotel's own convenience store. Feel like it's the perfect time to get married? You'll love the wood and glass chapel on the roof terrace.
Must know
The upcycled bicycles, wine by Tokyo's Fujimaru Winery, and fruit from a local shop keep the hotel's carbon footprint low.
AMANEMU, MIE
Amanemu's idyllic location at Ise Shima National Park is the perfect place to soak up the sights. The low-slung tiled roofs let tourists catch sunsets, while the floor-to-ceiling windows open to unobstructed views of Ago Bay or romantic maple and cherry trees. Inside, a classic ryokan aesthetic — light-coloured Japanese timber, woven textiles, and basalt stone tiles in the bathrooms — puts you in a restful mood. Two of the villas come with private onsen.
Must know
Amanemu keeps true to ryokan traditions with an "okami", a female manager who has been honed in the art of Japanese hospitality.
KIMAMAYA, HOKKAIDO
This hotel's name, Kimamaya, translates to "be yourself". With a toasty fireplace that encourages you to put your feet up and sip some hot chocolate, we say this invitation is hardly necessary. Owned by Odin Property, this nine-room mountain lodge was redesigned in 2009 to combine the classic features of a Nordic chalet with the zen and eco-consciousness of Japanese design. Architect Koichi Ishiguro made sure to use sustainable and recyclable materials, and created rooms that exude laidback luxury. The chocolate-hued wood and elm floors add to the cosiness, and the premium down bedding and cotton linen are perfect for unwinding in, after a day in the mountains.
Must know
No stay at Kimamaya is complete without a dining experience at the gorgeous Barn by Odin, whose design was inspired by the architecture of a Hokkaido barn. It uses fresh ingredients and serves craft beer from Hokkaido.
Check it out at www.designhotels.com.
text ELIZA HAMIZAH