The annual AD Interieurs exhibition recently unveiled its latest showcase in Paris, comprising a series of rooms designed by 10 iconic interior designers. Home & Decor travels to France for a first-hand visit.
The annual AD Interieurs exhibition recently unveiled its latest showcase in Paris, comprising a series of rooms designed by 10 iconic interior designers. Home & Decor travels to France for a first-hand visit.
For the past eight years, Marie Kalt, Editor-in-Chief of Architectural Digest France magazine, and her team have given carte blanche to 10 selected decorators and interior architects.
These talents create domestic spaces to showcase works of art and curiosities, enhanced by works of the finest craftsmen in the celebration of haute decor. This year, they arranged bedrooms, kitchens and living rooms around the theme of a specific material in 18th-century salons of the Paris Mint.
THE ARTIST'S WARDROBE
By Gert VoorjansFeature
Antwerp-based Gert Voorjans comes from a family of furniture traders and carpenters. After studying interior design in his native Belgium and art history in Siena and Florence, he trained at Sotheby's London before becoming the assistant of antiques collector and decorator Axel Vervoordt, and has designed the boutiques of Belgian fashion designer Dries van Noten worldwide since 1995. Mixing antiques, explosive shades and ethnic touches, his motto is "colour, character, craftsmanship". He explains: "What matters to me is making interiors that feel as though they have been there forever. When it comes to materials, it is authenticity that matters most to me: The distressed surface of an aged timber floor or the faded glory of an antique rug."
For this exhibition, he invented an eclectic universe with influences from the East and West, merging generosity with intimacy. Inspired by Rudolf Nureyev's Parisian apartment, Voorjans imagines a dressing room straight out of a Balthus painting with the grandeur of Palazzo Valguarnera-Gangi's ballroom as featured in Luchino Visconti's Il Gattopardo. Beautiful screens of golden brown Cordoba leather and mirrors enliven the space – perfect for trying on the silk kimonos from his soon-to-be-launched collection in collaboration with Jim Thompson.
THE SURREALIST BEDROOM
By Maurizio Galante & Tal Lancman
Maurizio Galante and Tal Lancman dare to use colour – and lots of it – in the creation of objects of desire, while displaying a sensual relationship to materials and respect for traditional craftsmanship.
Associated since 2003 under the name Interware, the duo enjoy forging links between fashion, design and architecture. The pair developed an environment for AD Interieurs where visual enchantment and technical research are fused. Summoning a dream state, the striking plush Rorschach Test carpeting in red, burgundy and white from Tai Ping covers the floors, walls and ceilings.
Pierre-Auguste Renoir's Deux Roses hangs above a canopy bed surrounded by pleated origami curtains, while a life-size lion and unicorn neon light by Mirko Cannizzaro and Tatiana di Raimo occupy an entire wall. An armchair and pouffes draped in faux fur, ceramic vases dotted with talismanic eyes, a chandelier undulating like fabric, a shiny red table with ribbon-like base and a mirrored Gaga cabinet with a Red Wave silk fabric artwork emphasise the decor's psychedelic and surrealist stance.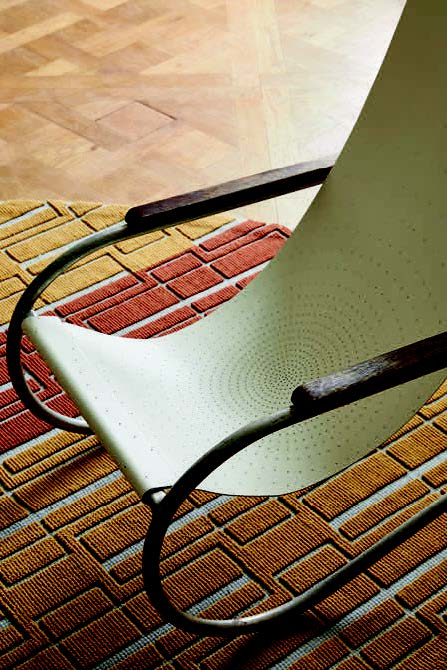 THE COIN COLLECTOR'S SALON
By Elliott Barnes
Los Angeles-born architect Elliott Barnes' passion for developing materials is reflected in the line of furniture he has designed in recent years. Focusing for the past four years on leather not just as a material that covers, but also a structural element, he breathes life into a natural material and develops novel artisanal techniques.
For AD Interieurs, he uses leather to make furniture, adorn walls and create art, showcasing French savoir-faire. Leather columns doubling as shelves encircle a round apse presenting Louis d'or gold coins minted by Jean Varin, the first controller and master engraver of the Monnaie de France in 1647.
As a nod to the engraver's protective leather apron that Varin would have worn, Barnes experimented with new treatments of this material, as seen in a perforated leather sling lounge chair, pleated leather benches, a lamp suspended from the ceiling via leather straps, and side tables with leather bases supporting marble tops.
Also seen were shiny wall panels in embossed metallic Cordoba leather and three medallion artworks by Daniela Busarello, featuring three Cosmographies landscape acrylic and watercolour paintings.
THE ROCAILLE CABINET
By Thomas Boog
BoogEnamoured of nature since childhood, Thomas Boog is adept at transforming corals, shells, rocks and mother-of-pearl into Rocaille furniture, producing fantastic ornamental combinations characteristic of the Rococo period. Originating from the Swiss mountains, these aquatic materials always seemed exotic to him.
Here, he revisits the spirit of Rocaille caves, in vogue during the Regency period, converted into luxurious little corners. He creates a whimsical English powder room for ladies, complete with seashell-decorated toilet, comfortable armchairs upholstered in Larsen fabrics and low tables in brass, stainless steel and travertine.
As the centrepiece, he carved out a faceted rock made from metal by Pouenat Ferronniers, whose interiors are covered with mother-of-pearl and shells and the faces of strange marine creatures composed of various seashells. A console table in seashells, corals and stones, a candleholder wall panel in bronze and seashells, 1970s' bird sculptures in Murano blown glass, a heavily patterned ceramic vase by Louise Gelderblom, and a mirror frame and Gessi copper sink adorned with multicoloured crystals highlight the project's sophistication.
THE PANORAMIC BOUDOIR
By Oitoemponto
Founded in 1993, Porto-based Oitoemponto brings together the French touch of Jacques Bec and the daring Portuguese vision of Artur Miranda. Working on projects in Lisbon, London, Paris and Sao Paulo, its work pays tribute to the skills of Portuguese craftsmen and mixes furniture by the leading designers of the 1940s to 1970s with Oitoemponto-designed creations.
For its third participation in AD Interieurs, it imagines Dutch exotic dancer and spy Mata Hari's boudoir that's full of glamour and vintage furniture. Wrapping the entire room, the handmade, textured De Gournay Namban panoramic wallpaper with touches of gold leaf depicting cranes in flight mixes a Japanese and Art Deco spirit, matched with a black Tai Ping carpet resembling strands of hair mixed with gold thread – aptly named Mata Hari's Hair.
The collective says: "We love mixing styles; our approach is transversal. We combine elements from different periods and designs, for example from Egyptian art through to 18th-century and contemporary art or furniture. We trust in the art of living, comfort and a made-to-measure (lifestyle)."
THE MARBLE BEDROOM
By Mathieu Lehanneur
In creating an object or a space, Mathieu Lehanneur combines nature and science, artistry and advanced technology, classical elegance and futuristic design.
Imagined as a sanctuary of serenity, his room proposes a colour palette of soothing white, black, grey, green, blue and pale pink. It is a space to sleep but also for entertaining, thus the sofa is placed at the end of the bed. Also a place to work out, he designed Marquina black marble weights in front of an oversized rock-shaped mirror.
Taking on a futuristic dimension with the presence of a robot by Gael Langevin, the room also references history with the display of an antique bust of, perhaps, the third-century Roman emperor Severus Alexander. Travertine is used for the walls and marble is found in abundance: A Marquina black marble low table depicting waves, a Volakas white marble fireplace with a Power of Love gold resin sculpture in the shape of flames, an Irish green marble console table, an Apuan fantasy marble cabinet on a hand-blown glass base that seems to float and Spring table lamps of Irish green marble and fluted glass tubes.
Other noteworthy items include Smoke mouth-blown glass lamps with pink onyx stands, a chandelier composed of steel loops and algae submerged in water in mouth-blown glass vases.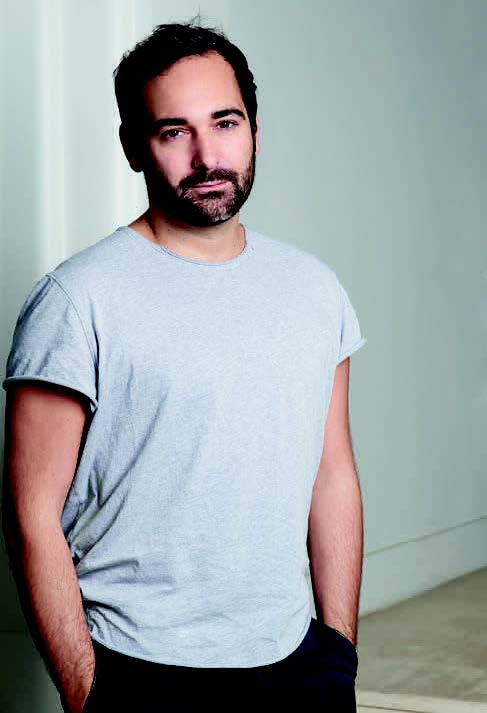 THE METAL-POP LINEN ROOM
By Rodolphe Parente
French interior architect and designer Rodolphe Parente likes experimenting with techniques, materials and colours. The result is a personal, graphic, glamorous and bold style. "I have a common process for my projects: I create scenarios like a film director and define characters, scenes and environments," he notes.
A great admirer of interior designers like Pierre Chareau, Gio Ponti and Carlo Scarpa, he studied interior architecture at the Fine Arts School of Dijon and the Decorative Arts School of Strasbourg and product design at Ecal in Lausanne, then made his debut with Andree Putman in Paris before setting up his own agency in 2010.
This year, he questions the notion of the beautiful in everyday life and his creative approach is directed towards a room in the house that's often ignored. He believes that one can decorate secondary spaces with the same aesthetic concern as a living room or bedroom. Maintaining the room's basic functions of washing, drying and ironing, he presented a wash basin in raw lava stone dripping with coloured enamels, an ironing board in precious wood and brushed brass, a built-in washing machine, a woven laundry basket and iconic household products. Exploring the art of marquetry, he composes a spectacular mosaic floor of coloured enamels and textured metals that resemble spilt cleaning liquid or a large abstract painting. In the same subversive spirit, he covers the walls in corrugate mirror-polished stainless steel, reflecting the floor's graphics.
THE PAVILION DINING ROOM
By Denis Montel for RDAI
Best known for his work in fitting out Hermes boutiques around the world, Denis Montel is just at ease working on architectural projects as he is in interior and furniture design.
As the head of RDAI, the interior architecture agency created in 1972 by the late Rena Dumas – wife of Jean-Louis Dumas – he develops new projects with Elie Saab, Wolford and Remy Martin cognac.
For AD Interieurs, he mounts a complex piece of micro-architecture: A spectacular white pine wood and woven wicker domed pavilion to house an intimate dining room. Containing little furniture and objects, natural materials are highlighted. The ambience is sober, lit by a single glass lantern, and the architecture evokes Roman arches and Japanese tea houses.
A recurring element in his projects, circles appear consistently in the pavilion's furniture: A round table with an enamelled lava top and a single leg made up of stacked layers of wood rings, a carpet featuring a concentric circle design and two circular ash wood-framed mirrors facing one another.
The four maple and cowhide Pippa armchairs were designed by Rena Dumas for Hermes and ceramic dinner plates and cups by Kasper H. Wurtz, with Normandie cutlery manufactured by Puiforcat.
THE KITCHEN-LIVING ROOM
By Isabelle Stanislas
A decorator and designer with an architectural approach, Isabelle Stanislas is renowned for her minimalist, rigorous and luxurious interiors. Through her Parisian agency So-An, established in 2000, she has also created boutiques for fashion labels and designed restaurants and hotels.
The kitchen, with a mix of brass, concrete, glass petals and embroidered silk is the heart of the home, a place where the family spends the most time. "Through a welcoming room, I wanted to demonstrate that concrete, one of my materials of predilection, possesses a delicateness, softness and sophistication that we don't always recognise," she says.
Architectural lamps in gilt brass, modular lighting elements running across the walls and a Bulthaup custom-made system of brass legs that support different elements of the central kitchen island, including the concrete countertop slabs that appear to float, bring a touch of technical glamour to her presentation.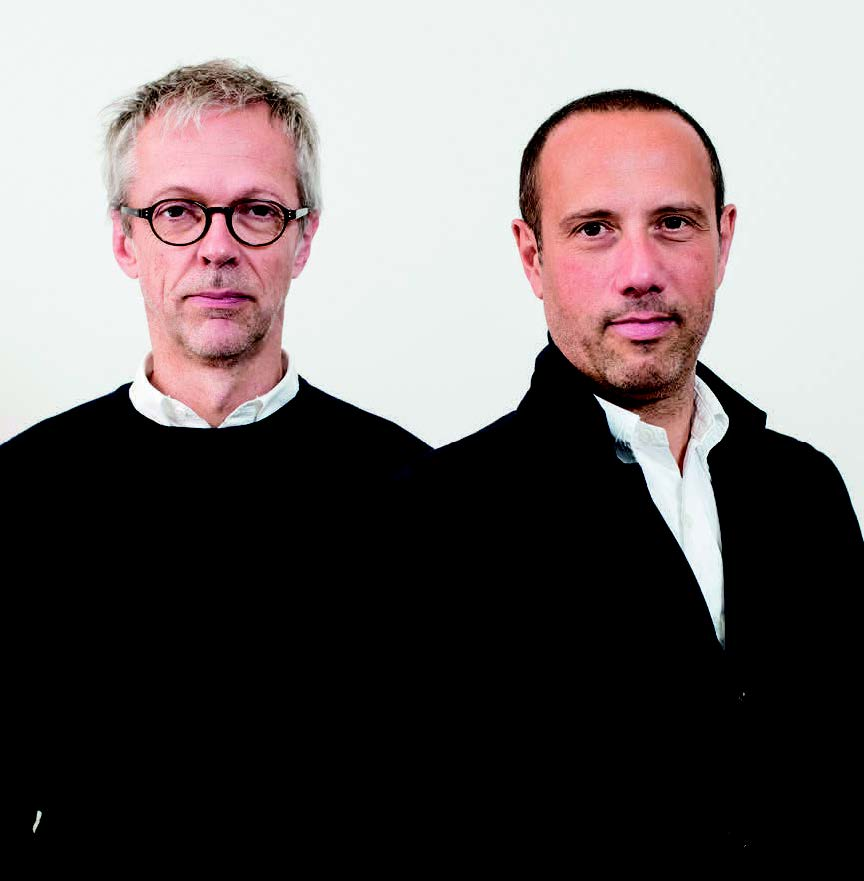 THE COUTURE EMBROIDERED SALON
By Daniel Suduca & Thierry Merillou
After studies in architecture, design and art, the duo opened Galerie Saint Jacques, an architectural firm and 20th-century "antiques" gallery, in Toulouse at the beginning of the 1990s.
The two friends have a taste for beautiful objects, natural materials and soft tones, while defining a new form of French classicism. For AD Interieurs, they bring together a welcoming sofa by Maison Jansen, two neoclassical armchairs, a vintage coffee table by Jean Prouve, a mirror by the Campana brothers, a glass lamp by Jean-Michel Othoniel, a candleholder by Francois-Xavier Lalanne, a Cesar sculpture, a vase by Jean Lurcat and a folding screen tagged by Franco-German artists KRM.
The faceted design of the carpet responds to 18th-century floor tiles, while the fireplace frame and beige velvet-upholstered walls are embroidered in an explosion of green ceramic leaves by Portuguese artist Bela Silva in the manner of a couture gown.
Text Y-JEAN MUN-DELSALLEA