Q: I would love to have a kitchen island countertop in my HDB flat , but that involves re-routing the plumbing . Is this very messy and expensive ?
Q: I would love to have a kitchen island countertop in my HDB flat, but that involves re-routing the plumbing. Is this very messy and expensive?
A : HDB regulations concerning renovation of bathrooms and kitchens are pretty strict, and for good reason, as waterproofing has already been done, and water damage can affect your neighbours' homes. For newer HDB rules, water pipes are not allowed to be concealed within the floor slabs or walls, due to possible leakage when waterproofing is compromised. For newer HDB flats, the water pipes are concealed by the developer, so any alteration has to be exposed. You can conceal them only with cabinets," says Gary Boo of Arte Living Studio. But island countertops are possible in HDB kitchens! Gary offers two solutions, the first is to run the water pipe along the top edge of the kitchen wall and drop it form the ceiling above the island. You will need to design a ceiling pelmet to hide the piping and vertical panel which connects to the island. You will also have to hack the floor tiles, and re-run the wasteoutlet PVC pipe. The second solution is to create a platform, on which the island will sit, to hide the pipes. You will need to create an access panel so that you can reach the water pipes where the joints are, in case of leakage. Gary estimates the cost of the plumbing work to be around $1,000 to $1,500.
Q: I recently bought new kitchen appliances, but they are cluttering my tabletop! I'm thinking of getting a kitchen island to store them and also to use as a worktop, but I don 't want the island to be permanent. What options do I have?
A : An organised kitchen isn't only more pleasing to the eye, it's also safer as power cords and heavy appliances are kept out of the way when not in use. A kitchen island is a great depository for your new gadgets, and you'll be increasing your usable space with a countertop, too. April Kwan, interior design specialist at Ikea Singapore, advises that when choosing one, make sure you have a minimum of 120cm of space between the fixed kitchen units and your new island, so there is enough space for the doors and drawers to open from both sides (kitchen cabinets are typically 60cm in depth). Otherwise, get a mobile version which can be moved when clearance is needed. Ensure that there is adequate light for you to work safely. Ikea stocks both mobile and non-mobile kitchen islands that come in a variety of materials and with different storage options such as drawers, cabinets and open shelves of varying heights.
Q: I've been told that, for fengshui reasons, the stove and the kitchen sink should not be placed side by side as fire and water will "clash ". How can I resolve this if the stove and sink have already been fixed in my kitchen?
A : According to geomancer master Jet Lee, it is all right for the kitchen stove and sink to be positioned side by side, or adjacent to each other at a 90-degree angle. The stove and kitchen can also be placed opposite each another, but they should not face each other directly. If they are, you can place a small plant (which resembles the wood element) between them. This is because in the constructive cycle of elements, Water gives rise to Wood, which gives rise to Fire. This ensures that the fire and water elements now work together instead of against each other.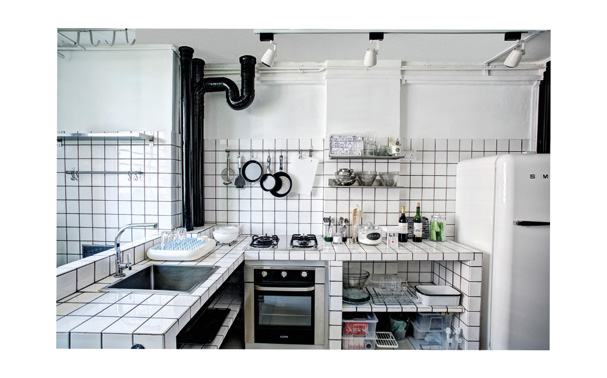 Q: I won 't be using my kitchen much, and don 't see the point in building cabinets, which will cost a lot. What other options do I have?
A : We're so used to seeing the typical two rows of cabinets (overhead and under-counter) in kitchens that we don't usually ask ourselves if they're even necessary. Carpentry usually makes up the bulk of the cost of a kitchen renovation, and if you don't plan to cook that much, save on costs by building only what you need. You'll still need a countertop to work on, and you can build storage spaces underneath that, but doors are optional! For example, homeowner Christine Choo designed a basic concrete and- tile frame for her kitchen countertop and left it with open shelving. Without overhead cabinets, your kitchen will look brighter and "lighter". Use that vertical space to mount rails for hanging pots and pans, and cooking implements. They'll be easier to access, too!
Q: My current kitchen cabinets are made of wood, and I'm tired of the current look. As they are in good condition, it would be a pity to rip them out and install new ones. I'm thinking of painting them white. Is this a good idea?
A : Paint is one good way to refresh the look of your home, whether it's applied to your walls or furniture. Painting over your old cabinets also gives them a new protective finish. A spokesman for Nippon Paint suggests using Nippon Paint's Aqua Bodelac, which comes in white and "has anti-fungus properties and good coverage". First, prep your surface by filling in any holes or cracks with a nail-hole filler or plaster, using a putty knife. Lightly sandpaper the surface to get rid of debris. Wipe your kitchen cabinets with a mild detergent and let them dry thoroughly before painting. Cover with a layer of undercoat such as the waterbased Nippon Paint Aqua Primer Sealer Undercoat to help the paint adhere better to the surface. Lene recommends applying two layers of Aqua Bodelac paint over the undercoat. As this paint is low in volatile organic compounds, can be wiped down easily and resistant to stains, it's a great choice for kitchens.