Build your new home with the environment in mind. Every element counts in maintaining a greener lifestyle, and renovating your place is a good time to start afresh!
Build your new home with the environment in mind. Every element counts in maintaining a greener lifestyle, and renovating your place is a good time to start afresh!
SOFT FURNISHINGS
ACACIA FABRICS
The Montenegro fabric (pictured) from Acacia Fabrics passes the Oeko-Tex 100 Standard, is noncarcinogenic and free from harmful substances. Its fabrics are also fire-retardant and have been tested to ensure that even lit cigarette butts will not burn the material.
KIRKBY DESIGN  BY TATUM
Kirkby Design offers the eco-friendly Leaf collection, which uses recycled wool obtained from salvaged yarns used in the fashion industry. The reconstituted wool from the Prato district in Italy has a limited impact on the environment. The range includes fabric in now trendy pastel shades of mint, yellow and blue.
SUSANNA DAVIS FROM E & A INTERIORS
The Susanna Davis range of linens is made of the highest quality flax fibres from Belgium – dedicated farmers use only ecological non-toxic chemicals in the yarn dying process. They then work directly with weavers in Latvia and Lithuania to create the stylish fabrics.
EVOFABRIC FROM GOODRICH GLOBAL
Goodrich Global's Evofabric padded faux leather range comes in designs such as embossed contours in metallic colours and with glass beads. Created using an ultrasonic sealing process, Evofabric has a 3-D look that's flexible enough for easy upholstering. It's durable and free from polyvinyl chloride (PVC), phthalate, formaldehyde and heavy metals.
HEMPTECH FROM BODE
Hemptech uses hemp and linen that require little to no chemical sprays during the growing cycle. Via the environmentallyfriendly dewretting method, the harvesting and processing of these fibres also use less energy and water. All dyes used in Hemptech's fabrics also comply with strict European Reach regulations, and are 100 per cent chloride-free.
RAGNO TILES FROM RICE
Italian tile brand Ragno has stylish yet eco-friendly ranges, such as Bistrot (above) and Brick (left), which are Leadership in Energy and Environmental Design (LEED)–certified by the US Green Building Council, for its recycled material content of at least 40 per cent.
WALLS AND FLOORS
BELKA
An alternative to wallpaper and paint, Belka is an eco-friendly wall coating made of premium recyclable cotton, cellulose fibres and mineral flakes, bonded together by a natural adhesive. As such, there are no chemicals, pollutants and volatile organic compounds. Just add water to apply it or remove it!
NEOSTONETILES FROM HAFARY
This collection of porcelain tiles is made of recycled materials. The products have been awarded the Green Label by the Singapore Environment Council.
QUERCUS & CO WALLPAPER FROM E & A INTERIORS
This Australia-based wallpaper brand makes use of eco-friendly paper to create its beautiful hand-painted and hand-drawn designs. The paper is made from renewable and sustainable resources, with 30 per cent being recycled post-consumer waste. The company has Forest Stewardship Council (FSC) and LEED certification, and makes the wallpaper to order — meaning no stock is held and wastage is minimised
SYMPHONY WALLPAPER FROM GOODRICH GLOBAL
Wallpaper by Symphony is produced in New Jersey, according to standards that fulfil the US Environment Protection Agency requirements, and the Clean Air and Water Acts. The brand's printing facility recycles printing inks, using a closed-loop ink system. Not just decorative, but durable as well, the wallpapers are easy to maintain and will last a lifetime.
WOODEN FLOORING FROM WOW FLOORS
The hardwood used used in flooring by the brand have been certified by the FSC and awarded the Green Label. You can select from species such as maple, black walnut, white oak and hickory.
MAFI ENGINEERED WOOD FLOORING FROM MIMI
Mafi handmade engineered wood floor boards are sustainable and durable. The product, from Austria, is FSC-certified, and contains no chemicals and volatile organic compounds.
KEBONY TIMBER CLADDING FROM MIMI
Kebony is a sustainable softwood, enhanced with a bio-based liquid to become an alternative to tropical hardwood! Used as exterior decking and cladding, it is resistant to rot, mould and decay, and doesn't require maintenance. The product is FSC, Programme for the Endorsement of Forest Certification (PEFC) and Good Environment Choice Australia (GECA)-certified. The Norway-based brand is listed as a Global Cleantech 100 company, too.
DECODE THESE L OGOS
These are labels which denote that the products and materials you're buying are eco-friendly. Here are what they represent.
FSC
The FSC (Forest Stewardship Council) trademark provides a guarantee to consumers that the products they're buying come from responsible sources, such as companies that support forest conservation, offer social benefits, and enable the market to provide an incentive for better forest management. FSC is most commonly used for paper and products made of wood.
For more information: https://ic.fsc.org/en
Singapore Green Labelling Scheme
The Singapore Green Label is a seal of endorsement on industrial and consumer products that have less harmful effects on our environment. Recognised by ministries, governmental agencies, procurement and industry professionals in Singapore and regionally, Green Label-certified products have become more marketable.
For more information: http://sgls.sec.org.sg
Mandatory Energy Labelling Scheme
The National Environment Agency's (NEA's) Mandatory Energy Labelling Scheme is used to denote how energy-saving appliances are, depending on the rating of between one and five ticks – with five ticks indicating the most efficient models, and one tick, the least. They also include estimated annual energy cost and energy consumption information.
For more information: www.nea.gov.sg
Step by Oeko-Tex – International Association for Research and Testing in the Field of Textile Ecology
The Step by Oeko-Tex certification includes an audited assessment to determine sustainable, environmentally and socially responsible textile and apparel facilities. It addresses the reduction of hazards and risks across the entire textile production chain, with the goal of increasing the sustainability, quality and resource efficiencies of factories.
For more information: www.testex.com
COUNTERTOPS

SILESTONE ECO FROM COSENTINO
This product is manufactured from 75 per cent recycled materials, such as porcelain from tiles and sinks, glass, vitrified ash, and waste generated by blast furnaces. Furthermore, 94 per cent of the water used in its manufacturing process is reused. It also has Greenguard certification.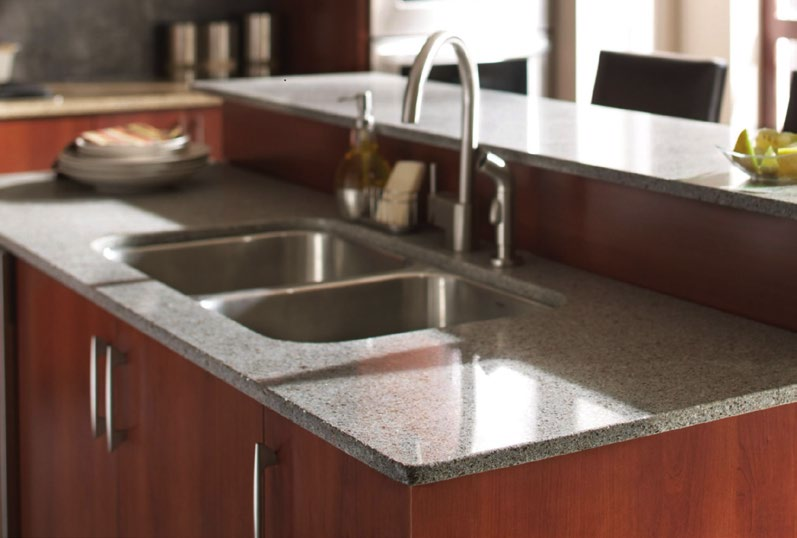 LAMINATES

MADE IN ITALY RANGE FROM EDL
EDL's Made in Italy range of laminates has FSC certification, which means that the paperbased materials used to make them come from responsibly managed forests.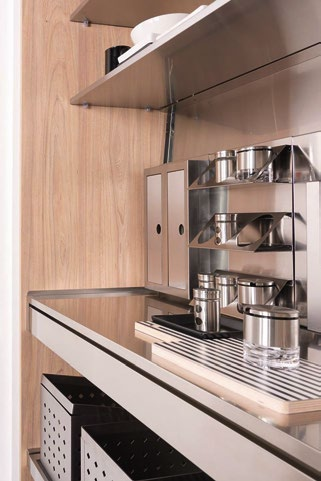 LAMITAK
Lamitak laminates from TAK are awarded with both Greenguard certification for indoor air quality, and Green Label Singapore certification for low emissions and low toxicity.
ORGANOID RANGE FROM PANELOGUE
Developed using green technology from Tyrol, Austria, Organoid by Panelogue is all-natural and makes use of recycled raw materials, such as peppermint stalks, vanilla husks and coffee beans. The natural fragrances of the materials are also persevered, so you can get not just decorative, but also scented, interiors.
GLASS AND WINDOWS

As sunlight begins to heat up your room, your first line of defence is the window. The right type of glass and window will help keep your home cool, which in turn saves energy on air-conditioning.
VARISHIELD FROM SINGAPORE SAFETY GLASS
Varishield adopts a thermochromic approach to cooling your home – glass panes become tinted when heat from sunlight is directed at it. When there is no heat, the window remains clear. The technology requires no wires, power supply or control apparatus, and is purely heat-activated, so you'll never have to worry about a technical glitch.
PRESTIGE WINDOW FILM FROM 3M
This specially treated product – which is made of a non-metallised, multilayer optical film with nanotechnology – will cut the sun's infrared heat by as much as 97 per cent, and keep your rooms cooler all day. Designed to maximise daylight without UV rays and heat entering the home, the film helps to reduce glare and strain on the eyes due to excessive light. It also helps extend the life of home furnishings, as UV rays are known to be the single largest cause of colour-fading.
VARISHADE FROM SINGAPORE SAFETY GLASS
An electronically controlled blind system housed within insulated double-glazed glass, Varishade helps regulate light in the home, while buffering heat and sound entering from outside. The layer of air between glass panels reduces the amount of solar heat and sound transfer. In addition, the materials used are durable and the blinds do not require cleaning as they are kept enclosed.
TIP
Before you switch on the air-conditioner, open all the windows to let out the trapped heat. Let the breeze ventilate the room first, otherwise, the air-con will have to work extra hard to cool down the hot, humid space.
PAINT
NIPPON PAINT
Paints from Nippon Paint are part of the Singapore Green Building Product, a project by the Singapore Green Building Council. Paints, such as the Odour-less Premium all-in-1 and the Odourless Easy Wash, have low levels of volatile organic compounds. Besides being non-toxic, the paints are water-based and formulated with a solvent-free resin, which limits air pollutants.
DULUX
Dulux Light & Space paint is not only Green Label-certified, but it also has low volatile organic compounds. Furthermore, it features the brand's Lumitec technology — it reflects twice as much light as normal emulsion paint does, brightening your space. This means you'll use less artificial lighting!
TIP
Opt for paints and finishes with low volatile organic compounds (VOCs) — not only are VOCs damaging to the environment, but they are also harmful to humans! - Yun Ho from Green Vine Design.
GREEN WALLS

Whether it is a small wall or a tall air well, green walls add a beautiful natural element to your space, both indoors and outdoors. Functionally, they help keep out the heat by acting as a barrier on the wall surface that traps a layer of air within the plants. This means there's less need for cooling systems —and significantly less energy usage and costs. They also help in soundproofing. Best of all, because they are installed vertically, they don't take up precious floor area!
HYGRO WALL FROM VERTICAL GREEN
This is made up of different layers of irrigation geotextile, which the plants grow on, and can be easily installed onto curved surfaces and cut into shapes. Its highly automated irrigation and fertigation systems provide the plants with a nutrient solution and needs only minimal maintenance.
GREENOLOGY VERTICAL GREENERY FROM GREENOLOGY
This green wall system comes in the form of fireproof substrate panels customisable to various sizes and shapes. It features an automated drip irrigation system, which not only allows plants to retain water, but decreases overall water consumption for the green wall to only 0.8 to 1 litre per square metre.
BENETTI MOSS FROM FREEPLAY SOLUTIONS
In tile format, this is a natural preserved lichen for indoors, and can be easily installed and shaped. The moss is collected without any damage to vegetation and processed using non-toxic substances. Because it does not grow, it doesn't require watering, pruning or sunlight. Requiring at least a 40 per cent humidity rate, it is perfect for our climate! It comes in nine colours.