We answer your renovation and decorating questions with help from industry experts. E-mail questions to maghomedecor@sph.com.sg.
We answer your renovation and decorating questions with help from industry experts. E-mail questions to maghomedecor@sph.com.sg.
How do I style my tabletops to make my home look good?
This can be done with things you already have at home! For an attractive table display on your coffee table or hallway console, you'll need to "layer" the objects on it – which means displaying items of different heights. Use something tall such as a vase, or a potted plant, and pair that with a stack of hardback books. You can top the flat surface of the books with something small, such as an object you treasure. Trays are also great for bringing together various small objects which would otherwise just look like clutter around the home. Apply the same tip of using items of different heights on the tray – try adding metallic items to make the display stand out!
For a longer surface, like a hallway table, use symmetry to create impact. Use something tall on both sides on the table to "frame" the space – table lamps and vases are the usual suspects. To fill the blank space in the middle, and create a focal point, hang a large mirror, a painting, or create a photo collage, on the wall. Or use a tray like before, with a mix of items in different heights. The display will become more meaningful if you use items you love – the idea is to move things around till you're happy with the look; and have fun doing it!
Should I secure my bookshelves to the wall?
I'm afraid of creating cracks on the wall, which will be visible if I move the shelves in the future. If well-made, your storebought bookshelves and cabinets – especially those made of solid wood and metal – should be stable enough to stand on their own without being secured to the wall. The items you place in them will also help to weigh them down and stabilise them. That said, do not overload them, if they are made of flimsy material. If your floor is uneven, and the shelf "rocks" when you touch it, it may help if you weighed the bottom down with your heaviest books to make it more stable. Some furniture pieces come with adjustable legs that can adapt the piece to uneven floors. Furniture that is attached to walls are usually the built-in type, such as kitchen cabinets or customised storage units. Carpenters will attach them to the wall using screws which are about 6cm long, at strategic points. If you decide to remove the cabinets, any visible marks or holes on the wall can be easily filled in with plaster. After sanding down the area and repainting the wall, you won't be able to see the marks any more.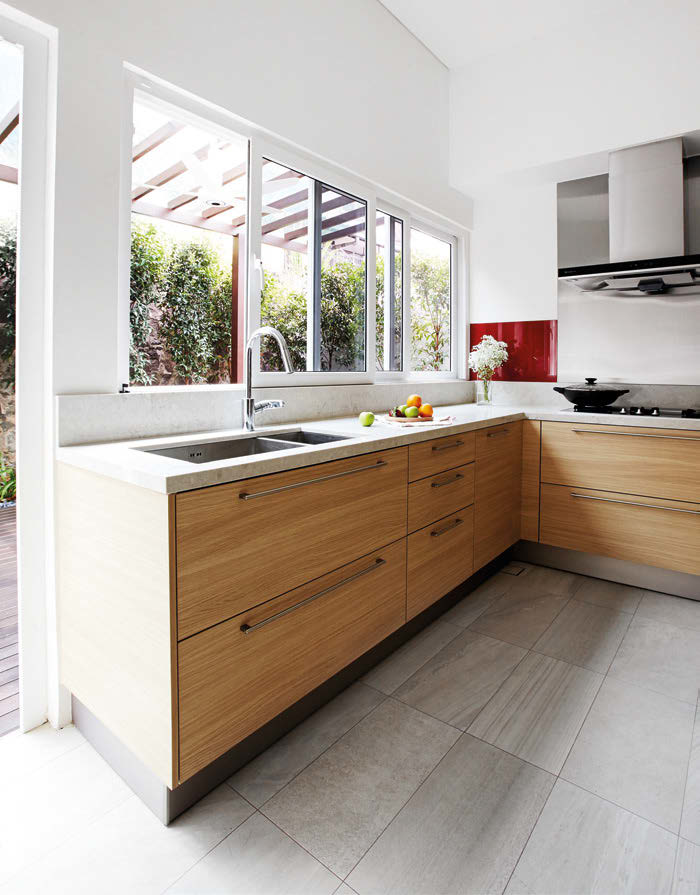 My stainless steel kitchen cabinet handles have rust spots. I think it's because my hands are usually wet when I use the handles. How can I restore them?
Stainless steel is a metal alloy made with an element called chromium. When exposed to air, a chromium oxide layer forms on the metal. This marvellous substance is what protects the steel from air and moisture, and hence from rusting. So stainless steel shouldn't rust, unless it has a low composition of chromium, or if the layer of chromium oxide has been compromised by acids, which may be in found in strong cleaners. If the former is the reason, and the stainless steel handles are of a low quality, then you should change them so they'll be easier to maintain. If the rust is caused by a temporary removal of the chromium oxide layer, then the solution is much simpler! Clean off the rust gently using less abrasive methods such as a non-metal scouring pad or a paste of baking soda and water, and leave it to dry. The chromium oxide layer will naturally form again.